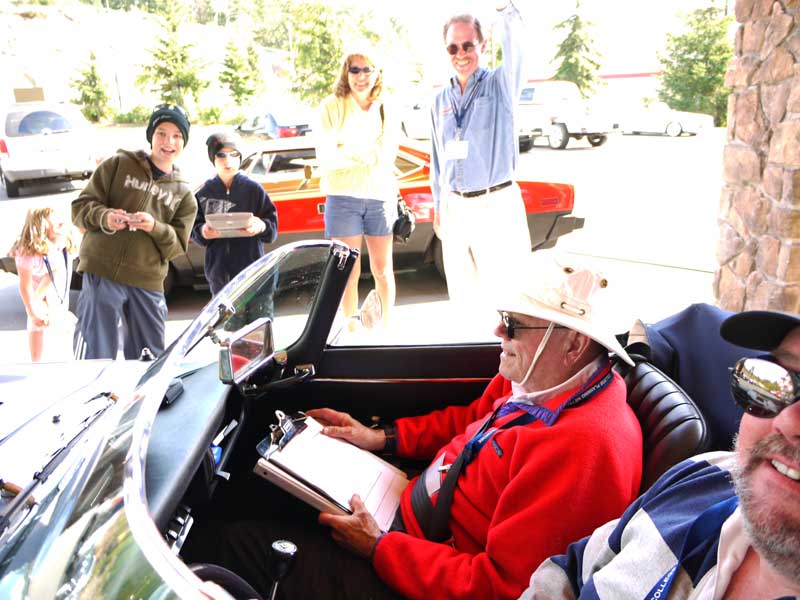 Above: Team Mental Midget at the start!
We lost the Rally within a couple of hours of the start. We've racked up so much penalty points that we're as mathematically eliminated from 1st place as the Chicago Cubs usually are away from the National League Pennant by the end of July.
We started calm and confident, and even made the first checkpoint at what we assumed was perfect time. We had all the complicated stuff down cold: Timing & Speed. Where we had to be and when. What we did was make a completely boneheaded error, missing a left turn at a stop sign (if you can believe that!) Somehow my dad lost his place in the route instructions and told me my next turn was an acute right at something called "Lovers Lane" (really!) at 8.6 miles into the second segment. Unfortunately he missed the "Left Turn at Stop" direction that was twoish miles before that one. We sailed through the stop and drove about 3 miles, looking for a right turn that wasn't there. By the time we figured it out we were so far behind that we pretty much had blown that segment.
Of course then we suffered the curse of the off course: The Passive-Aggressive Citizen Traffic Watch. Some guy in a pickup truck was making sure that EVERYONE drove the 50 Km/Hr speed limit. He had two cars backed up behind him while he moseyed along at 45. Those two cars turned off onto side streets leaving just us stuck behind him. I was glued to his tail looking for a chance to pass with the hope that we could get to the start of the next segment before it was scheduled to start. No passing zone ever appeared. He stared at me in his rear view, and literally stopped several times on the road, while yelling at me… as if somehow his extremely bad behavior was somehow beneficial, while mine was somehow evil? I don't understand people like this. I wasn't speeding. I couldn't with him leaving a slime trail as he did his slug impersonation along Lake Shawnigan Road. But he really wanted me to know that he was detremined to control my behavior!
We followed the route after finding our "Left at Stop Sign" (now right as we approached from the south) and made some time. Unfortunately the route looped and looped and we lost time trying to stay on it. Eventually we came to Highway 1 and realized that we were 12 miles from the end of the second segment and had now blown the start time for the third segment. We consulted Google Maps on my phone and figured out we were better off jumping on the Trans-Canada highway and heading north to Chemainus for lunch.
Dad was very upset with himself. He had clearly blown our chances for any sort of win, and likely any chance for a reasonable place in the standings. I wasn't going to beat him up about it though. No need really. We zipped up to Chemanius, filled the car with gas, and found the lunch stop. It was at a place called Ennerdale Engineering. It was home of a Super 7 dealership, and a car repair shop. The owner has a Can-Am racing history.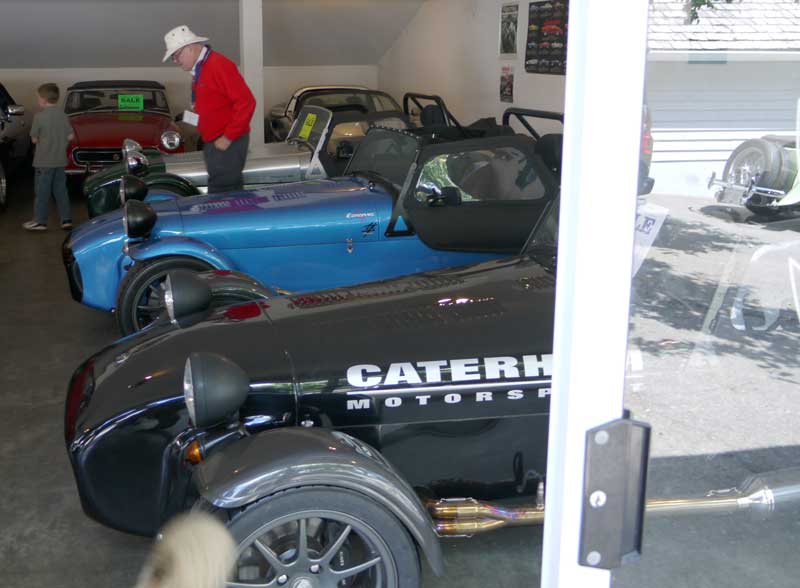 Above: Dad inspects the Sevens
We were the first car to arrive much to the surprise of the rally master (we had called the sweep truck en-route and told them that we were proceeding directly to lunch, as no doubt they were worried about us.) The rest of the rally cars arrived soon after.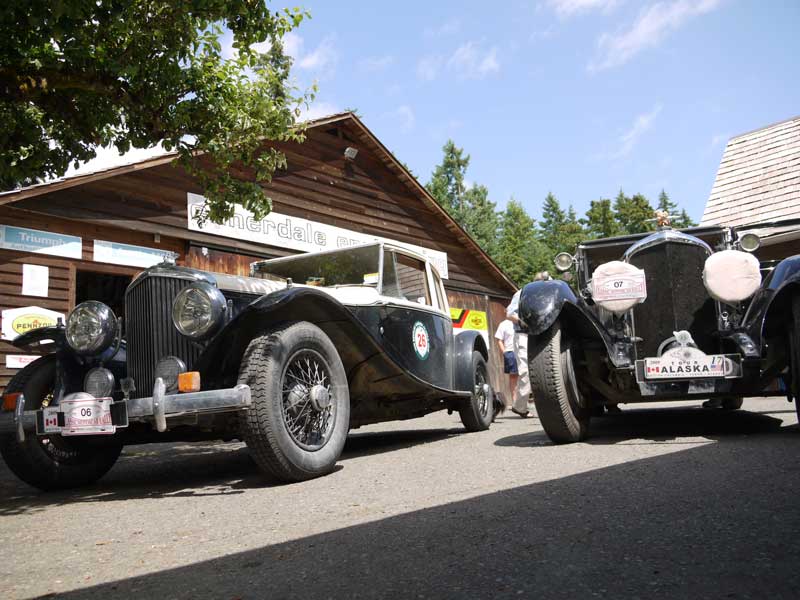 Above: the two Bentleys.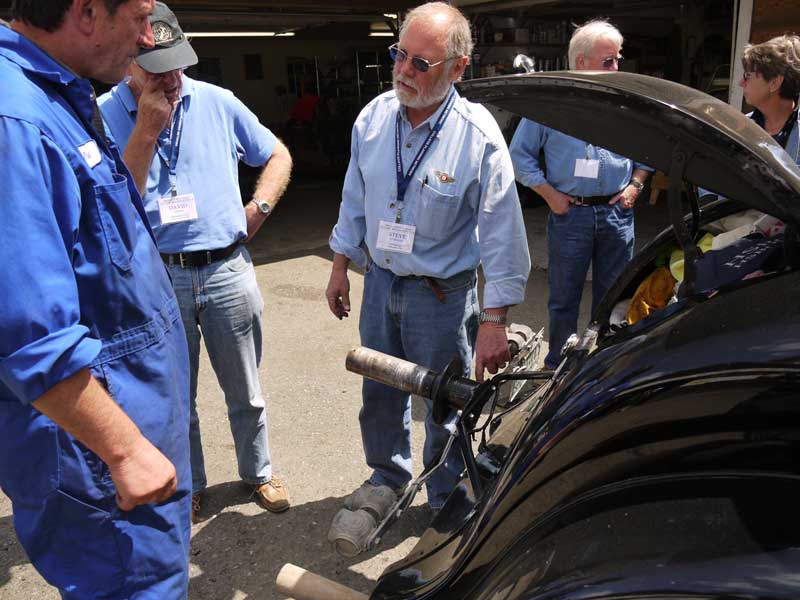 Above: Steve Norman getting his spare tire rack fixed.
We enjoyed a picnic lunch then I grabbed some shots of the cars collected at this place, many of which will show up as "Car Photo of the Day: Name that car!" shots soon. We then prepared ourselves for the afternoon's segments. Determined not to repeat the morning's performance we never missed a turn, though we were nearly rear-ended by a big Bentley TWICE (his clock is obviously off, as he was on our tail, rather than a minute behind, all afternoon!) as my brakes are WAY better, and my car much lighter than his!
We are fairly confident that we nailed the afternoon's checkpoints and traps. The final segment was a 'Monte Carlo' meaning that the checkpoint was at the end… in fact it was at the hotel… and our order of departure was irrelevant.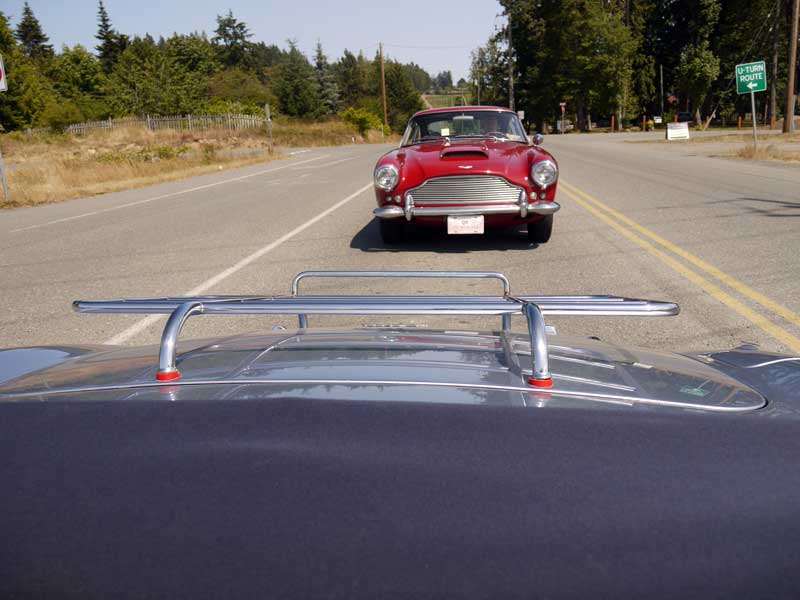 Above: Car #1, and Aston-Martin follows us at one point.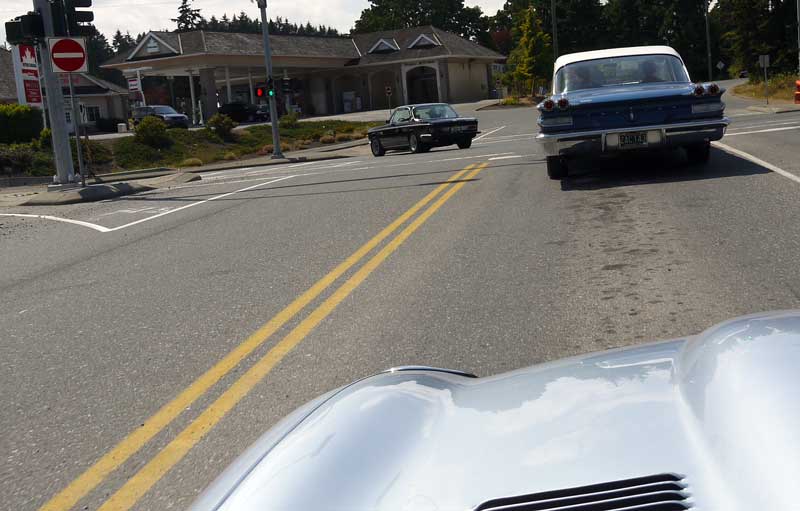 Above: Cars 3 & 4 make a left in front of us on the Monte Carlo segment.
The Monte was easy and we nailed our time… only to have the #6 Bentley come flying in a few seconds later and nearly rear-end us …again!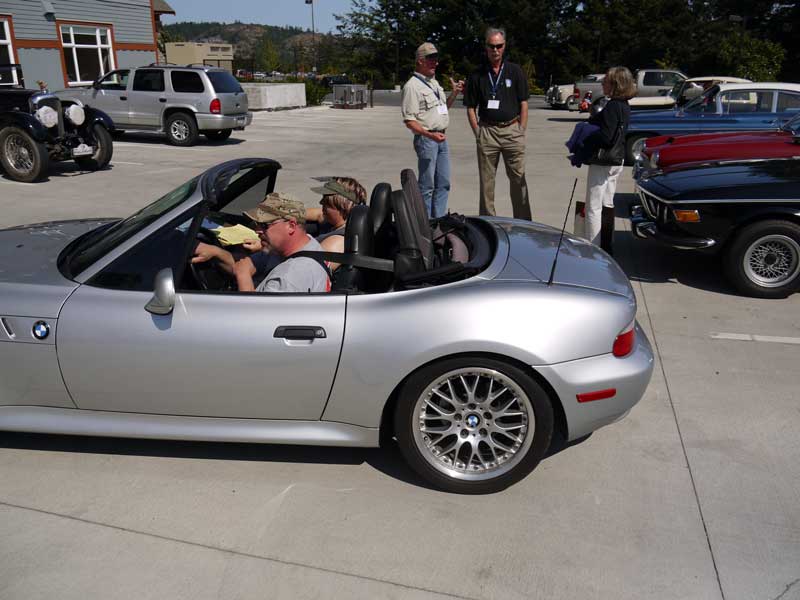 Dana & Michelle Swanson arrive at the finish in their BMW Z3.
After all the cars made it back we ran to the liquor store and bought some scotch, along with some cider for me to bring home to Sue. We're nursing our wounds with single malt right now as we prepare for dinner and seeing the day's results. More news as it arrives!
UPDATE 11pm: If you take away our missed checkpoints we could be in 1st or 2nd place! When we were ON course today we scored: 0,1,1,0,1,0, plus a -2 bonus for nailing the Monte. Go figure.
Tomorrow will be better!