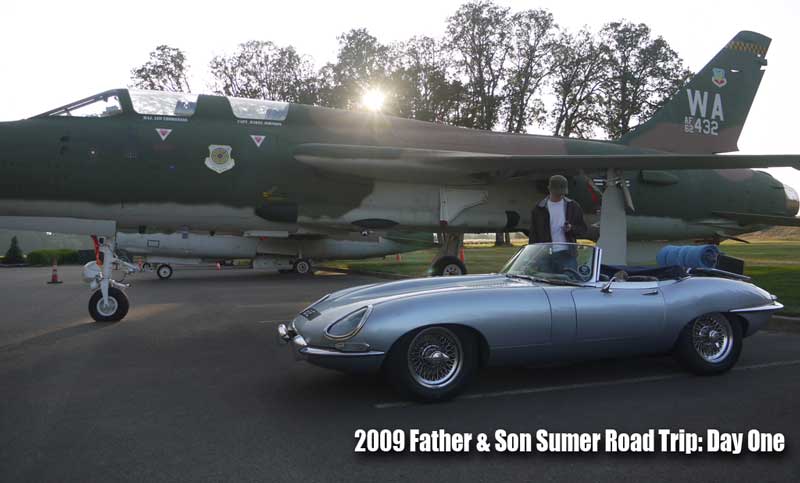 Today we drove from our home in Arlington, Washington to McMinnville, Oregon.
(damn Google maps! Zoom out to see our route)
We had originally planned to do this drive yesterday (Sunday), but stormy, rainy weather kept us at home until after mid-day Monday. The rain stopped about 11 am and I had the car packed and ready to go… when I noted a worn spot on the v-belt(!) I removed it from the car and indeed it was soft all over and pretty badly worn. I drove the VW down into town and found a close enough belt to get us on the road (plus two spares!) and went home to install it. It popped right on and seemed to work fine when I fired up the engine, so I gathered up Christopher and saddled up.
We bought some gas out by the freeway, and hit Interstate 5 southbound.
Long time readers just had their necks snap a bit… yes, I said we took the freeway.
President Eisenhower is said to have wanted to create a replica of Germany's Autobahns with the creation of the Interstate Highway System in the mid-1950s. The highways were sold as keys to bolstering our national defense which have made them an odd sort of Federal & State melange. For moving of goods, long-distance driving, and commuting to work they are a wonderful thing. For a road trip though? Horrible. Being on the freeway in the Jaguar is a trying experience. The noise is overwhelming, making conversation impossible. The cars and trucks around you are huge and loud. You don't even appear in the mirrors of the vast majority of vehicles on the road. It just is not very pleasant. It is however the fastest way to travel, and since we were 30-some hours "behind" our original schedule, and the weather still looked iffy, it seemed the best course of action.
The alternatives were all just too long: East of the Cascades and south? The weather was even worse over there. West of the Puget Sound? (which involve going north to Fidalgo Island and Deception Pass, then west by ferry to Port Townsend, then south along US 101) If we had started early that was my planned escape route to bypass the Seattle-Tacoma metro area. But since we did not get moving until almost 1pm we just gave up and attacked the city via its main artery: Interstate 5. We rode the wide concrete monster, through occasional rain squalls, all the way to Kelso, WA, where we bailed onto Washington State Route 4, and into Longview. Here we topped off the Jaguar with the last self-serve gasoline available before we entered Oregon (where employment for losers is a guarantee with no self-serve gas.)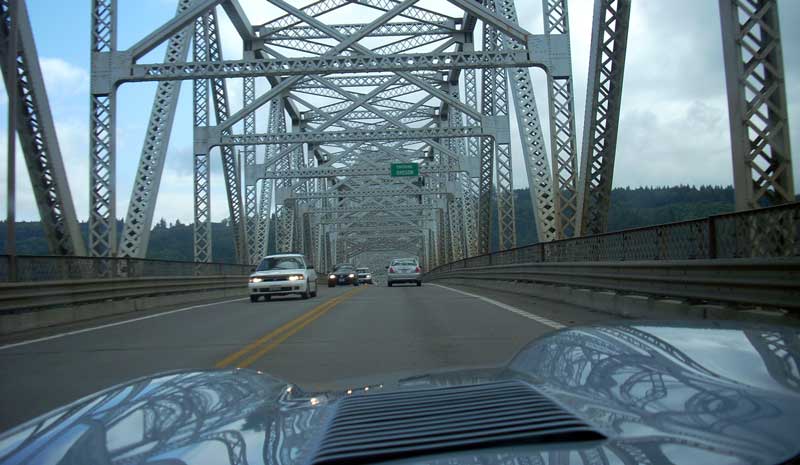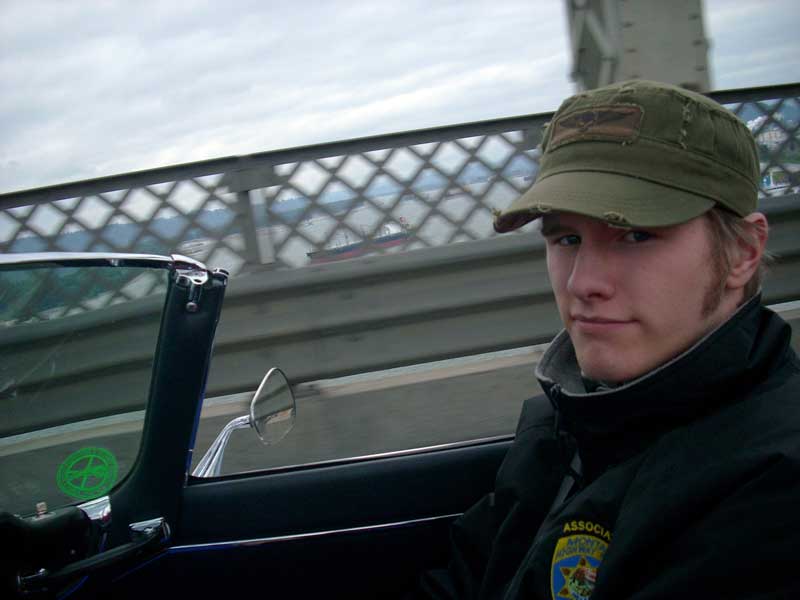 Once on the south bank of the Mighty River of the West we jogged west on US 30 for a bit, then south on a wonderful little Oregon State Highway named "47"… it climbed and looped through forested hills, then wound down into the Willamette Valley Wine Country. It was a welcome change from the Interstate and precisely the kind of driving this car was meant for. Chris & I were able to carry on conversations and even the sun came out!
We made our way to McMinnville and found the Evergreen Air & Space Museum, current home of the "Spruce Goose" to see where it was located. The museum was closed (it was almost 7pm) but Chris & I walked all around it and looked at the planes parked outside, as well as a collection of old Soviet armor parked ominously up on a hill behind the museum.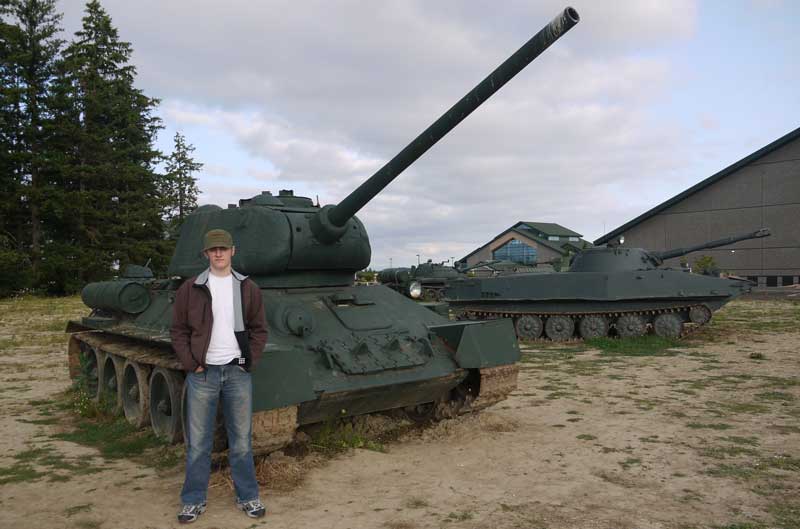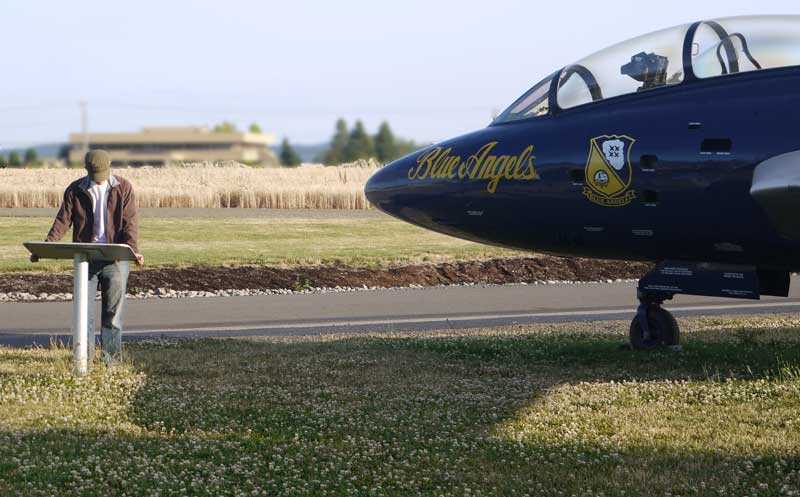 After we walked all around the museum (and noted when it opens in the morning) we drove into downtown McMinnville and enjoyed a nice dinner at McMenamins Hotel Oregon. They had free wifi, so I got online to check out our options for a place to sleep. Our order of preference goes:
1. Stay with friends.
2. Camp out.
3. Find a cheap hotel.
We don't know anyone in McMinnville, and I could not find a campground nearby. We did find a hotel for a bit over $50 with my AAA discount, so that's where we are now. They do have free wifi as well, so I'm happy. The hotel is very old-school, reminding me a lot of places we stayed when I was a kid. I'll have to grab a photo in the morning.
Tomorrow we should be in Northern California somewhere.