Nick & I started the day unsure if we would drive all the way home. There is plenty to explore in western Washington, and we still had the rest of the Oregon Coast to drive. In the end, like horses who can "smell the barn" home called us and we answered.
We were up pretty early and had the car running with the help of a little gravity and a few other hotel guests who wanted to help get the old machine running. We drove a bit before breakfast, 30 minutes or so to Newport, where we ate at The Pig-n-Pancake (How could we pass that up!?) After breakfast Nick spotted an ironic grouping of signs and I got out the long lens to make the most of it: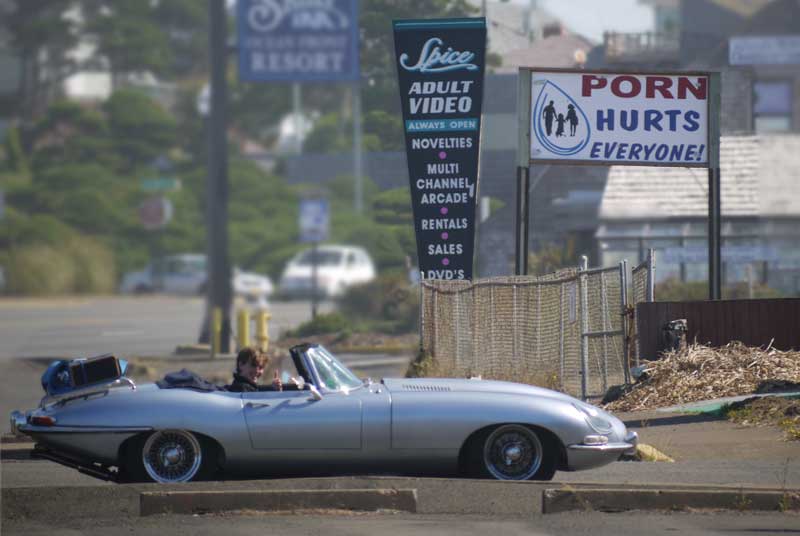 The signs are not as close as they appear in the above shot. Here's a regular lens look at the same scene: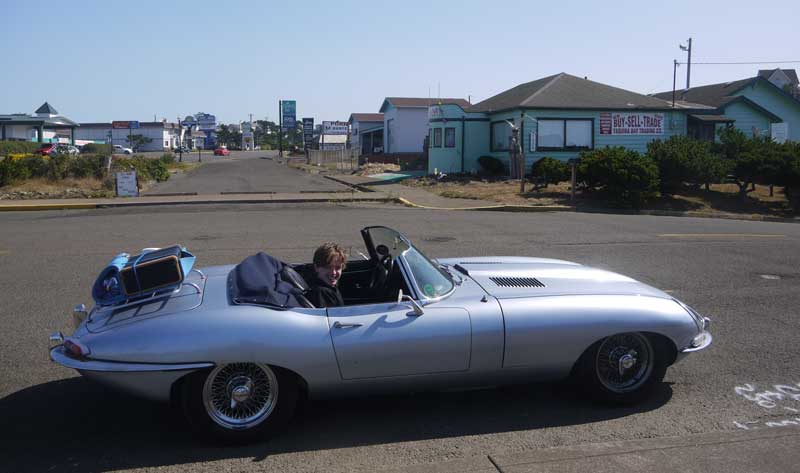 Our plan decided over breakfast was to drive the length of the Oregon Coast, cross the Columbia at Astoria, then take 101 up the west side of Hood Canal to Port Townsend, then across Puget Sound to Whidbey Island and home via Deception Pass. If we made it all the way, fine. If not, we'd stay the night somewhere. I contacted a friend (via email on my Blackberry) in Port Townsend to see if we could meet for dinner or something. Plans in motion, we started north again. This part of the Oregon Coast is where the tourist destinations are the most dense. The heart of the Willamette Valley is just east of here, with Eugene, Corvallis, Salem, etc nearby. Unlike the southern part, the beaches are less "wild" and more "domesticated." The same can be said about the landscape. The towns are larger, and closer together.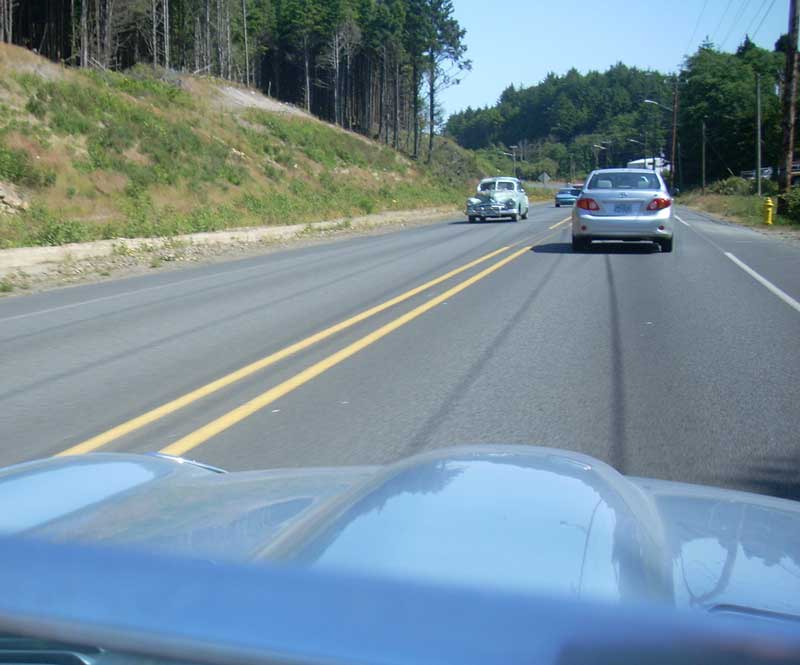 Between Lincoln City & Tillamook US 101 is pretty dull so when a scenic alternate was indicated we took it. At first it wasn't very scenic, but eventually it rewarded us with a very nice drive. The road itself was almost empty (unlike 101) and the views were pretty nice.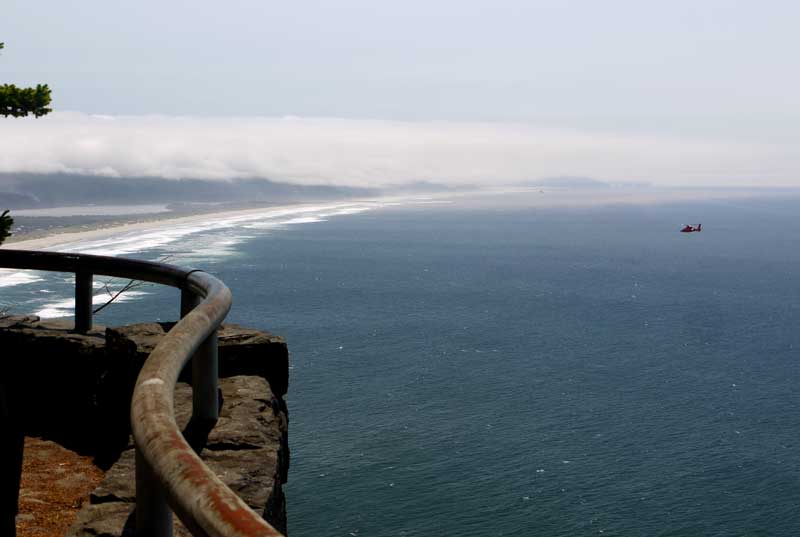 We rejoin 101 in Tillamook and head north along the coast, through Cannon Beach and Seaside. As we approach Astoria Nicholas's tummy starts growling and he wants food. He insists upon either Taco Time or Dairy Queen. I know, breaking the rules, but I acquiesce. We see a DQ and pull over, and find a parking spot with a bit of run out to it that will help us get going again. We grab a burger and a couple of Blizzards and chill out for a while in the cool interior of the DQ out of the sun. I check my phone and while we were driving I received a reply from my friend in Port Townsend. They are leaving for the weekend to go to Vancouver BC. I talk with Nick about our route options. As we were driving I was thinking about the cross-sound ferry to Whidbey Island and recalled that it is a small, single-deck boat. Our ability to roll-start the car on it's flat deck will be limited, and I bet the Washington State Ferry workers would NOT be happy to find us on board without a functioning starter. I discuss this with Nick and we decide to head north to Olympia, then just take the freeway home.
The car starts after a good shove from both of us, and we head for the bridge over the Columbia at Astoria, Oregon. The river here is at least four miles wide, and the bridge is amazing to drive. I can recall doing it for the first time on a summer climbing road trip when I was in college in the early 80s. It was a toll bridge then and I did not have enough cash to pay the four bucks. I remember crossing the bridge and arriving at the booth, fishing in my car for coins when the toll booth guy told me: "get out of here!" and I drove off. (I know this will come as a shock to east coast readers, but once the construction of bridges is paid for in Washington, the take down the toll booths.)
I have the cash now, but no toll required!
We arrive in our home state and continue north on US 101. We're delayed a bit now and then by construction. At one construction spot a car honks at us while we're waiting and I think nothing of it, as it happens fairly often. Our turn to go arrives and I take off. A few minutes later my phone rings and it is my little sister. She says they're driving down to the Oregon Coast for a week and just saw us. Small world!
A bit later I try to make a pass around a slow-moving pickup truck but as I pull out I see a flag-man ahead for a construction zone. I brake hard and pull in behind the truck and we both come to a stop when we arrive at the flag-man. Our turn to go comes along and once past the construction the pickup floor it and roars off. I think: Rabbit! Now that I'm in my home state the risk of a speeding ticket is higher so I'm happy to have a big fat red pickup play rabbit for me. He's easily doing 80+ so I hang back a bit off him and pace him for 40 miles or so. Excellent.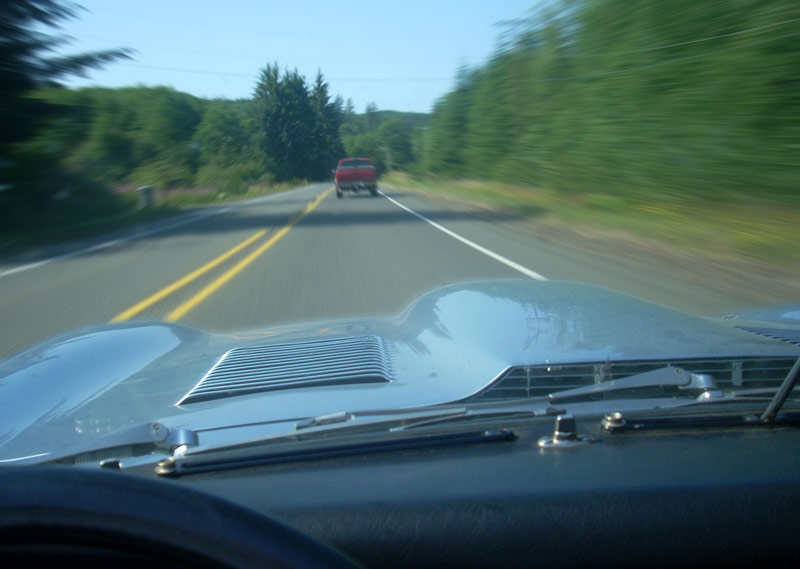 Unfortunately when we get to the main west-east highway he heads west towards Aberdeen and I go east towards Olympia. Oh well, it was nice to have him while it lasted.
We stop for gas in Elma, using the last of Nick's Shell gas gift cards that he won at the rally in the Spring. At Olympia we join Interstate 5 and take the well-worn and familiar route home. Not as fun as 101 and a ferry, but it gets us home quickly. The only bummer is Friday evening traffic through Tacoma and Seattle. I'm reminded once more about how annoying and inconsiderate American drivers are when in Seattle as the traffic breaks up and we al start rolling fast again I come up behind a car in the fast lane, having just left the HOV lane to pass a slow bus. The car is lazing along in the left lane, and I'd like to get ahead of the slow bus in the HOV lane, so I flash my lights at the car ahead of me. It has plenty of room in the lane to its right (whereas I don't, as a car is next to me) and instead of moving over, they stab their brakes! Sigh. I end up moving back into the HOV lane and following the bus for a several more miles before I can get around it in south Everett. Silly.
We finally arrive at our exit in north Snohomish County and head east towards Arlington. As we come close to town we can see that there is a thunderstorm (rare in the Pacific Northwest!) moving along the foothills. From it springs a rainbow that falls right at the base of Ebey Mountain… about where we live. So home is literally at the end of this rainbow! It is a fitting end to our amazing trip. I try to capture the rainbow with the camera, but it is very dim…
We pass through Arlington and head towards home. Right as we get within about 3 miles of home the rains start. We get wet, but just keep driving as we're so close.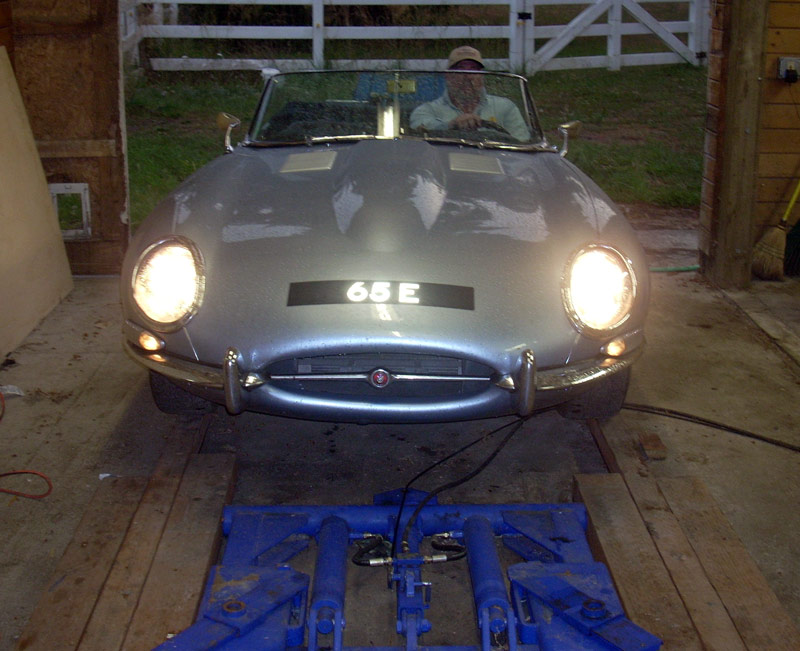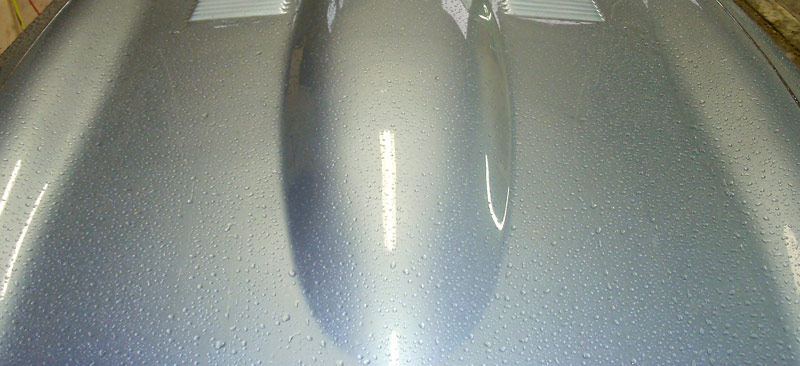 Nick hops out and opens the barn door and I pull in and park the Jag at its normal home. I place it at the exact right spot on the lift in my workshop as I know that when I shut this car off it will be stuck where it lies, as there's no place to push start it here! As soon as it cools down I'll begin the job of swapping this starter out and a new one in, as I have the Monte Shelton Northwest Classic Rally coming up in ten days.
Nick and I stumble into the house to hugs from Chris & Sue. We're home.