As many of you know, my son Christopher is leaving for a semester abroad in Chile, literally within hours. As you can imagine, things around here are a bit… stressed. His mother was just in here literally crying on my shoulder… at the thought of her son being gone for the next six months.
My emotions, well let's just say I'm too distracted to really be emotional about Christopher. Why? Because I am really angry at the shipper UPS right now to be worried about my son. In fact, until UPS finds their ass with either hand Christopher won't be going anywhere.
Let me start at the beginning. For some reason we did not receive notification of WHERE Chris was going until very late. Right before Christmas in fact. Usually exchange students are notified several months in advance… maybe Chris was slow to get picked because he's a boy (I noted in the orientation that the female/male ratio of exchange students was literally 20/1!) Who knows.
The process for getting a Student Visa usually takes a few months. In our case we had weeks, and those weeks started with the Holidays, so we were already behind. The hoops we had to jump through were numerous; A new US passport, criminal background checks from the State Police and FBI, immunizations, blood tests for various diseases such as HIV, letters from Chile, letters from AFS in NYC, fingerprints, etc. All these bureaucracies had to get their paperwork in order (and take their fee) BEFORE we could submit his passport to the Chilean Consulate for a visa.
I tried, when I was down in San Francisco in early January to sweet-talk the Chilean Consulate out of a visa, with incomplete paperwork, with zero luck. My previous experience with obtaining visas (when we moved to the UK) was much simpler, though almost as stressful, and BEING THERE counted for more than paperwork back then. I left SF empty-handed, but with a clearer picture of what we had to get done.
As of two weeks ago, we still had not received ALL our paperwork, but all we were missing (I think) was the FBI CHC. Sue went to the UPS store in Colorado where we were visiting my parents and overnight-shipped everything that we had to the Chilean Consulate in San Francisco, with a pre-paid envelope addressed to our house for return. I spent all last week calling and emailing the consulate to help push the process through. FINALLY on Thursday I was able to speak to the lady there (who sent me away in January) and convinced her that time was running out and we needed to get things wrapped up ASAP. She agreed and with some calling and faxing back and forth we got the visa arranged, approved, and returned in record time. There was still some paperwork we had to fill out when it arrived and get back to her prior to his departure so it was up to UPS to deliver. I specifically asked her, and confirmed that we had checked off the package for Saturday delivery. I knew we were cutting it close, but with the wonders of overnight shipping, I was confident it was well in hand.
I watched in satisfaction as the package tracking website followed it towards us…. but then…
---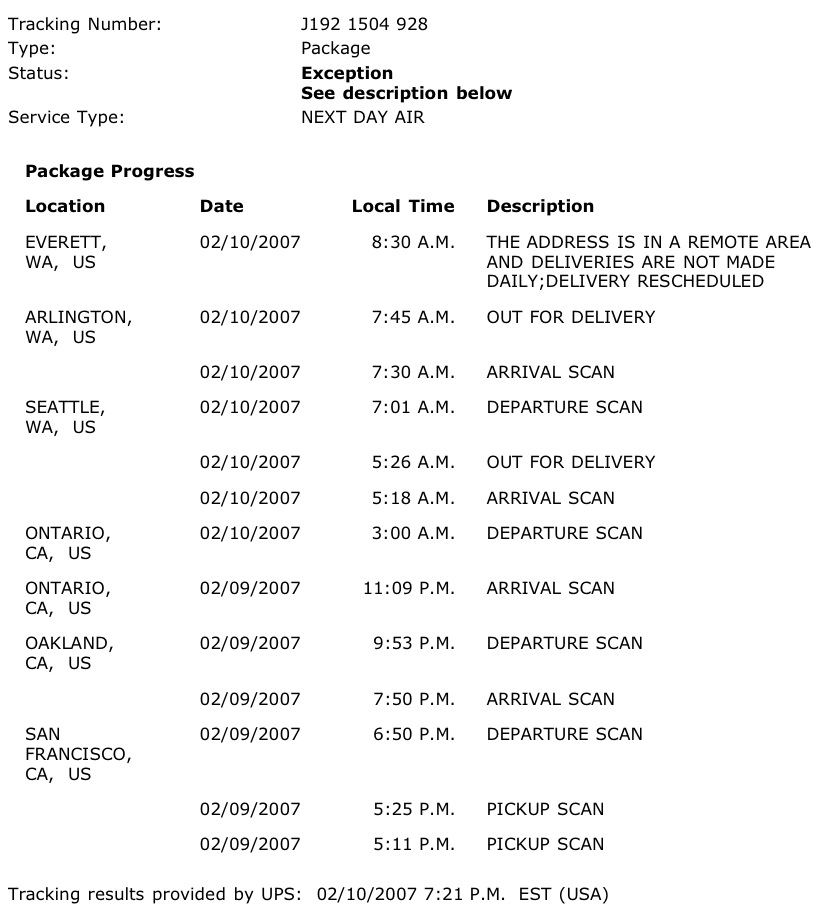 ---
It travelled over 1385 miles in less than 15 hours… OVERNIGHT, but will take SEVERAL DAYS to make it those last few miles. I could walk that distance many times over in those days. Sad really.
Update:
I called UPS this morning, in the vain hope that somebody with a clue would be able to make something happen, or at least would direct me to some executive I could write to and get a whole pack of people fired. As you can imagine, based on my prior experience… I got nowhere.
sigh.
Update:
The envelope arrived Monday morning, and I missed work to spend the day filling out forms and sending faxes to various places around the globe… something I had planned to have done a day and half ago… hopefully the red tape will untangle before he leaves tomorrow! Click the link above to read more info.