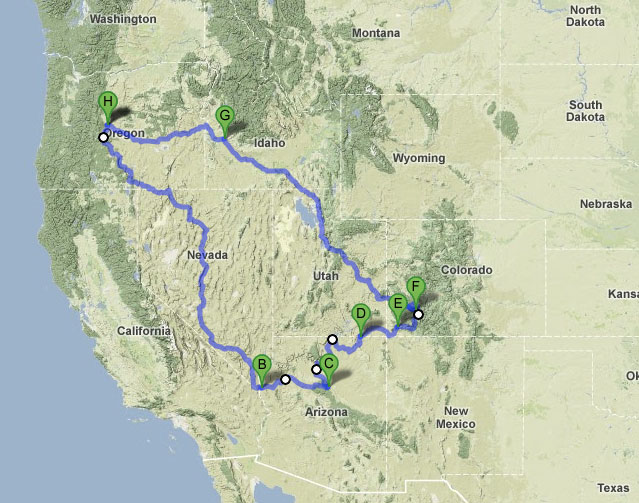 I hinted at this earlier in the year, and the time has arrived to pack the car, the camera, and the laptop and head off towards the Vanishing Point on the Horizon.
My friend Paul Wigton dreamed up the goofy adventure three years ago to commemorate the 50th Anniversary of the E-type Jaguar. A bunch of us "Loon-Es" are going to converge on Laughlin, NV this weekend from all over the USA. On Monday morning we'll be off on Old Route 66, heading east, stopping at a few sights along the way such as the Grand Canyon and Monument Valley, then proceed up to Cortez, CO to cool off in the mountains of SW Colorado, drive the Million Dollar Highway, and Mesa Verde.
I'll be caravanning with the contingent from the Pacific Northwest, leaving tomorrow morning. Provided I can get online I'll be posting daily summaries and photographs here on my site. I'll also post a running stream of where I am and what we're doing on my Facebook page, and maybe on Twitter if I can.
I'm prepping the 65E and packing as we speak. Stay tuned and follow along!