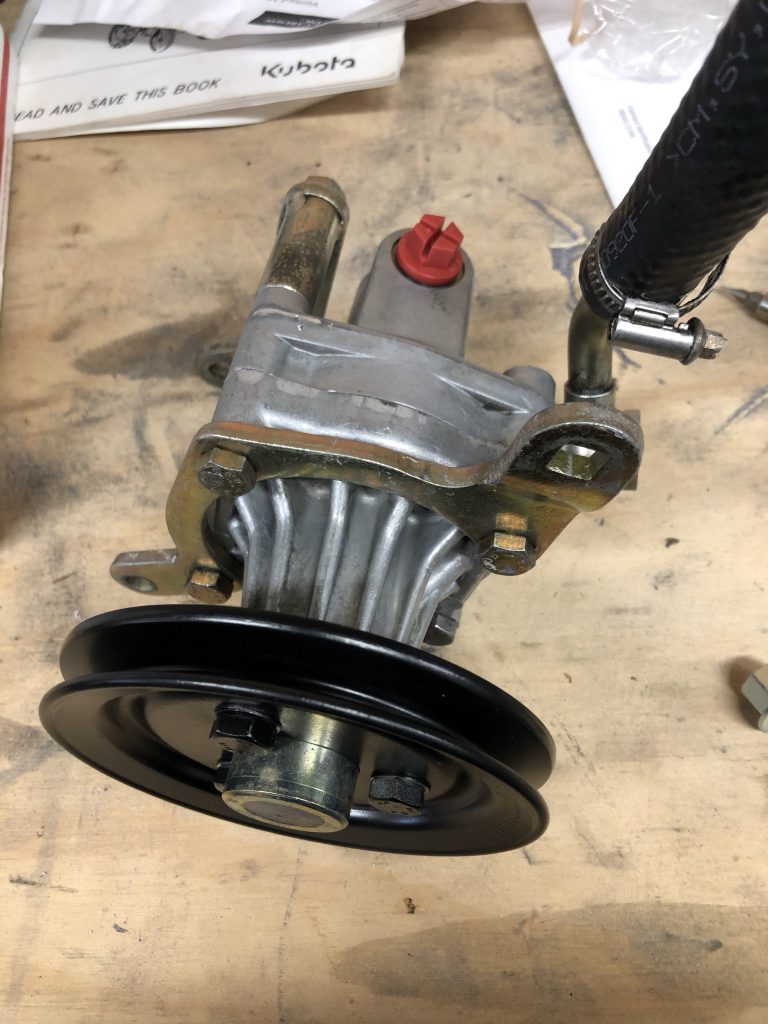 When I drove this car home from its previous owner in Wisconsin I noted an odd, barely perceptible vibration when the steering wheel was anywhere right of TDC. It grew worse over the following year, to the point I stopped driving it. From the leaks I could tell that this pump was dying. Eventually all the fluid came out, even while parked.
I replaced the alternator soon after driving it home (its bushings had collapsed) so it's not surprising that these thirty-plus year old seals had hardened to the point of uselessness. I also was a bit daunted by the pump's location and what appears to be a complicated bracket setup. The alternator turned out to require removal of some radiator hoses, which didn't happen this time, but it still wasn't easy.
The PS pump has two hydraulic connections, and a multiple set of brackets on both front and back, along with a toothed adjustment bracket to set the belt tension.
It was tough to remove, mostly due to the difficulty in reaching the top hydraulic banjo bolt. Thankfully I had the car on the scissor lift and could find the sweet spot for reach while lying on a carpet remnant on the cold concrete of the shop floor. It took multiple attempts at multiple heights to get all seven or so regular bolts and the two banjo bolts undone. I then sent the pump off to a guy in California for the rebuilding.
A bit of hilarity ensued when he mixed up two pumps and sent each to the wrong clients. Thankfully he figured out quickly where each of them were and had us ship them to each other on his dime. I don't mind some human error now and then, what matters is how it gets handled. Compared to our experiences with Dan Mooney of Classic Jaguar (which was a costly nightmare) this experience was smooth and I'm still a happy customer in the end. This car needs another pump rebuilt, and I'm very likely to send it to the same guy. He was fast, communicative, and swift to rectify his shipping error. The pump looks great (almost like new, only the "West Germany" label betrays its age!) and arrived pre-primed with fluid. So far I'm impressed.
Less impressive is my mechanical ineptitude as always. It required three attempts to get it back into the car properly. All due to me. 100%. On the second attempt I figured out that the hydraulics need to be attached FIRST since the hoses have to be "just so" in order to properly sink those banjo bolts into the right spots. Of course, they are not visible while you're doing this and so you're holding up the pump with one hand while reaching around to the top with the other to blindly turn a bolt, hose, and two washers (which always want to fall out and roll off to some dim, unlit corner of the shop!) into the right spot. After I figured that part out, I found that the adjuster bracket really needed to be installed on the bench prior to installation in the car: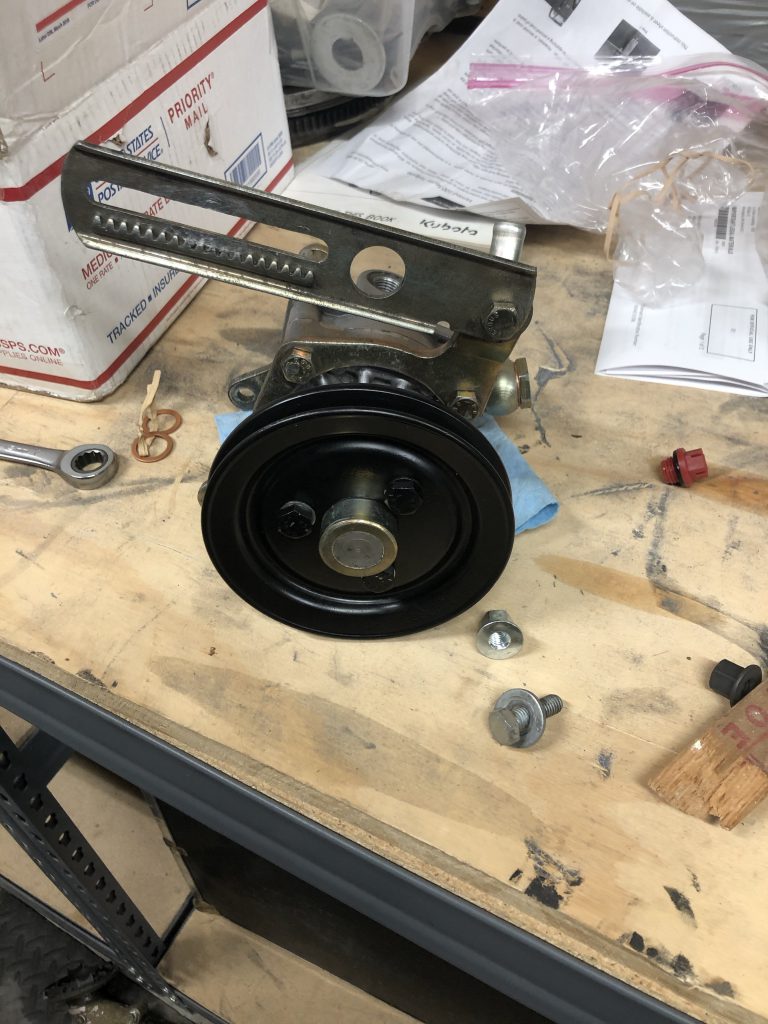 One more lap around the hydraulic hose install and then one fixed bracket bolt and THEN the adjustment bracket and finally all the other bolts and it is done.
I figure about the time I figure everything out, I'll die.
But at least now I can get this car moving under its own power again, and off the lift so I can get back to swapping snow tires on and off cars. Winter has come!