Power came back on around 4 AM. Again, the sudden flashing of the alarm clock woke me. I got up and turned on the heat again. I sat around reading in my office until Sue got up. I wanted to get started on the pipe repair but the noise of the Dremel cutting through a pipe would certainly wake Sue, and I'm trying to be a considerate husband. 😉
The day before I shot this photo to show all of you what I'm dealing with:
My idea was to put a shut-off in the wall a few feet above the faucet. Wrap insulation around the whole thing, then worry about reconnecting the faucet and fixing the drywall later.
Once Sue woke up I started, and actually had it done pretty quick. Amazing what having electricity will do for you. 😉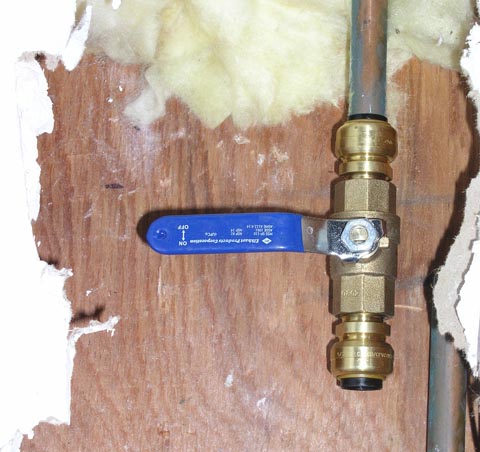 I turned the water back on, and the fix held!
We showered (ahhh… so nice!) and I set my work phone to forward to my cell, and then drove Sue up to her job. I brought along my computer, hoping to get on her office's network and maybe get some work done. No dice. I left her, drove around Mount Vernon, picked up some candles, found some unsecured wifi, and did a bit of work.
I shot this series and badly stitched them together… it is one of the bends in the Skagit River as it goes through Mount Vernon. Sort of captures the mood today.
Sue ended up having to go into Court for some matter, so I snoozed in the Jeep for a while, occasionally chatting with the office. We finally got on the road back home around 3. Sue insisted on stopping at Costco which is in Marysville, I resisted, but… resistance is futile. As I suspected, traffic was completely snarled around it. We spent an hour getting in and out. Traffic was snarled at the Arlington/Darrington exit too, as we can only assume an accident on SR 530 had it backed up. We overshot exit 208, took 210 and navigated surface streets back to Arlington via SR9. I called Les Schwab and they said they had JUST received our new tire, so we stopped there and picked that up. They had the tire mounted and offered to put it back on the Jeep. They took the spare off, put the right rear wheel back on and sent us on our way… all for no charge. I love Les Schwab. If you live in the Pacific Northwest I highly recommend them for tires.
I'm now collecting and editing all the timelapse footage I've gathered over the past few days. Stay tuned.