So, it isn't a car picture I know… but I like it.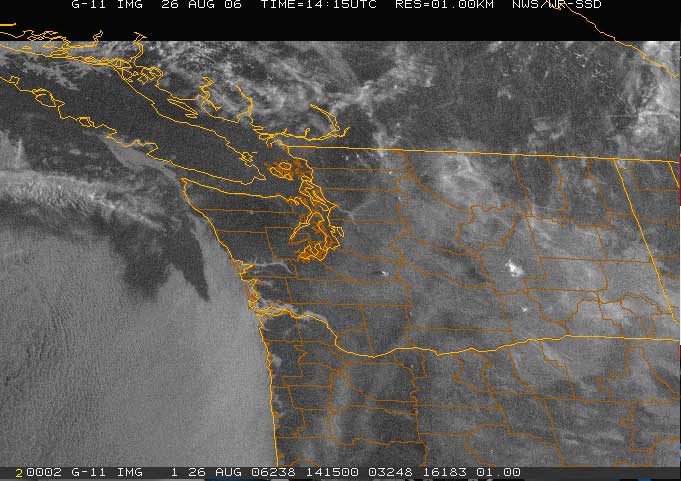 This is an image captured via the GOES widget yesterday morning. I love several things about this image… The coastal fog, and how it describes the valleys along Gray's Harbor and the Columbia River so well. There is also morning fog through the Snohomish River valley. Most impressive though is the massive bulk of Mt. Rainier, rising up and dominating its corner of Pierce county, the rising sun illuminating the glaciated eastern slopes, and casting a dark shadow to the west.
If you look closely you can make out the forms of other mountains; Olympus, Baker, Shuksan, Glacier Peak, Mt. Adams, and even Hood and Jefferson in Oregon, but none stand out like Rainier.
I spent yesterday travelling from our house to Roche Harbor on San Juan Island (and back) to attend a wedding of a friend and colleague at digital.forest. Dave & Tanya Anderson married each other on a the day that dawned in the image above… in perhaps one of the most beautiful places in the world.
We drove out to Anacortes, and boarded the 11 am ferry to Friday Harbor, where we enjoyed a lunch, had a brief stop at the "English Encampment (from the "Pig War" that established the final boundary between the US & Canada. We've been to the American Camp before, but had never yet visited the English one.) Then on to the wedding ceremony and reception in the garden of the Hotel de Haro at Roche Harbor. It was a truly wonderful day. We returned via the 10PM ferry which stops at every ferry-serviced island in the San Juans, which allowed us a nice car-deck nap of two hours, interrupted only by the occasional docking and an idiot in an Audi who set his frigging car alarm when he wandered off to the passenger deck. (Thankfully the WSF tracks these idiots down and delivers public embarrassment.)