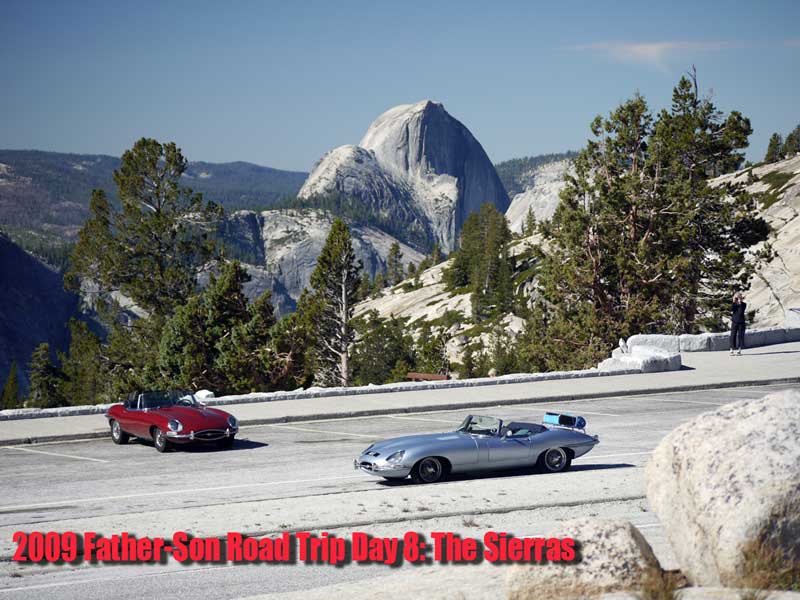 Nick suffered a bit from sleeping at altitude, but I slept like a baby. Unlike the others though, I awoke early, before sunrise, and went for a walk. Partly to seek a restroom, but also to explore the campground in something close to "daylight". We were in camp site #9, and in daylight it seems this place has nearly 100 campsites, arrayed in two concentric circles. The restrooms were all clustered in the center, with no obvious way of getting to them from the outer ring where #9 lies. I gave up and wandered through the sites of slumbering campers to get there. Bad design. In my walk I also found plenty of open sites, several with nice sloping areas for roll-starting a starter-less vintage Jaguar. Oh well, too late to relocate now!
(Our day's drive)
My body clock must be all messed up because I went to sleep long after everyone else, yet awake long before them as well. It seems like hours before my companions (and the rest of the campground) awake and start moving around. Thankfully the meagre cargo (hah! wrong word!) carrying capacity of our mounts makes for minimalist camping so packing up to go takes literally a few moments. Nick & I snarf a cold pop-tart for breakfast along with some water. Then the four of us require a couple of shoves to get the 65E started (morning starts are bad enough with a functioning starter!) I was hoping the return to a cool locale would bring the starter back to life, but no such luck.
We left White Wolf and headed east towards Tuolumne and Tioga, first stop: Olmsted Point.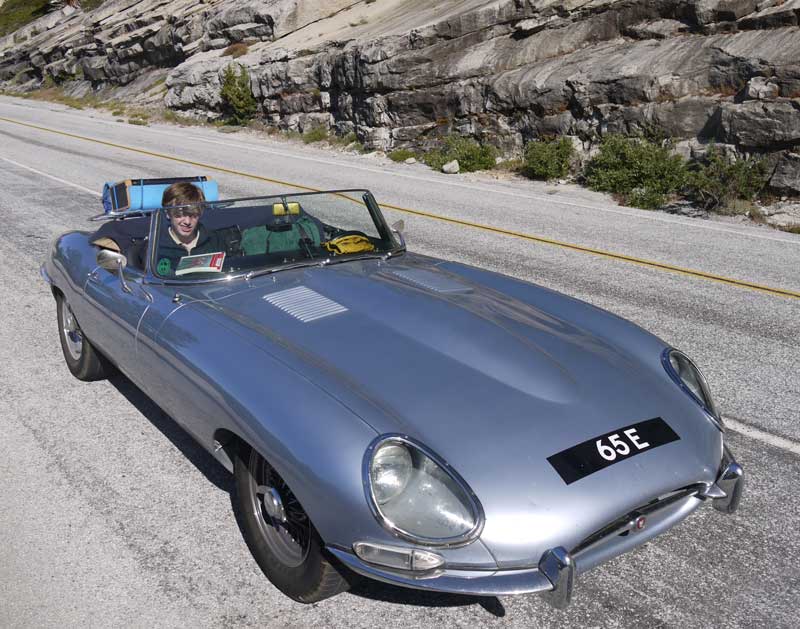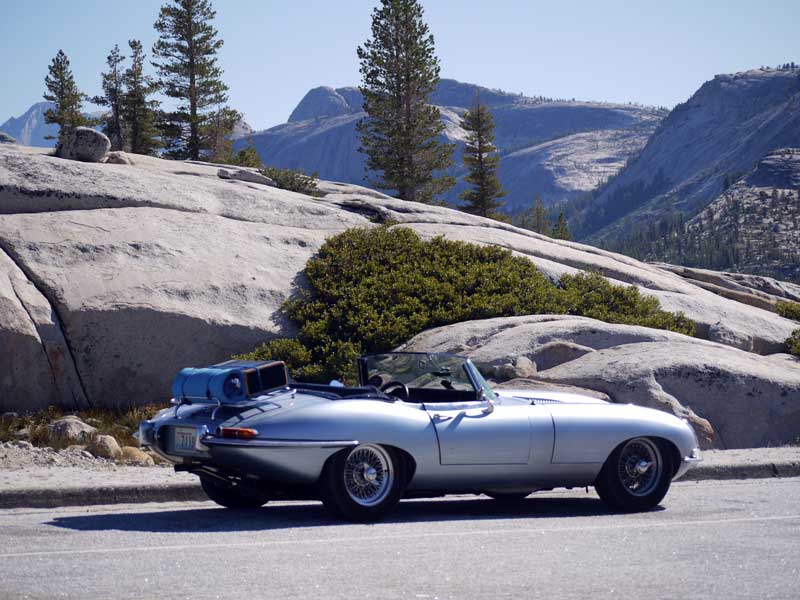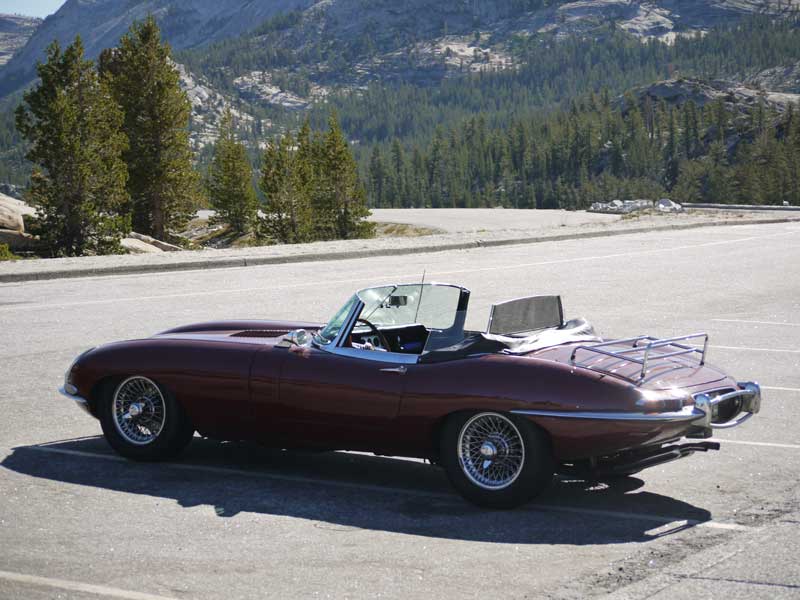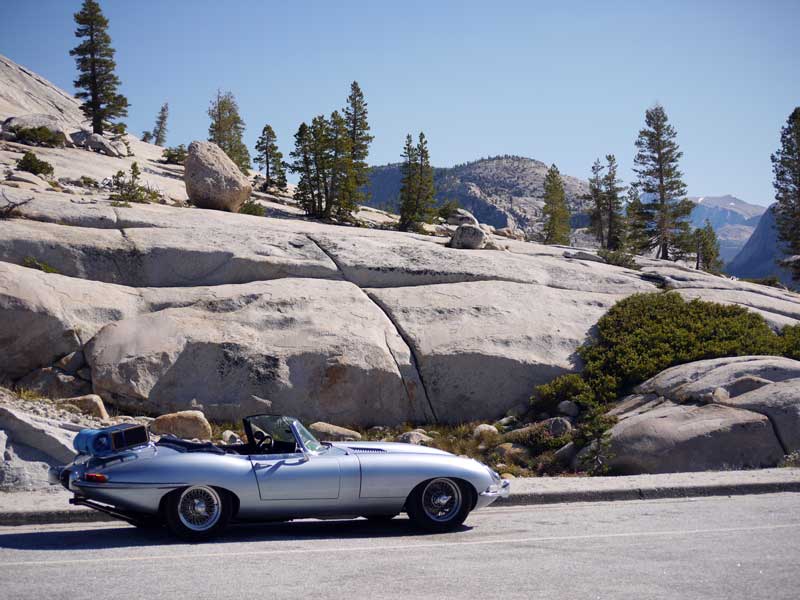 What a wonderful place. From here you really get a sense for the geological forces that created the essence of Yosemite: granitic domes. Half Dome is seen from the reverse angle, and Cloud's Rest present themselves in the south. Tenaya Lake and the granite domes of Tuolumne Meadows to the north. I always wanted to climb the "Regular Route" on Fairview Dome since I was Chris' age. Kids and a bad knee injury in my late 20s put my climbing days behind me though, so now I can just look… and photograph. For a short while our two E-types were the only cars there, so I scrambled up the rocks across the road with my telephoto lens to get some photos with Half Dome behind the Jags.
Nick meanwhile, was chasing lizards, trying to get pictures of them. The little Nikon Coolpix he carries though just wasn't really up to the task:
…so I pointed the Lumix G1 with the 200mm lens at one of them to grab a shot for him:
Larry & Øyvind took off towards Tuolumne Meadows to find a bite for breakfast, we told them we'd catch up with them there. Meanwhile I repositioned the 65E for a shot looking north towards Tenaya Lake and the domes.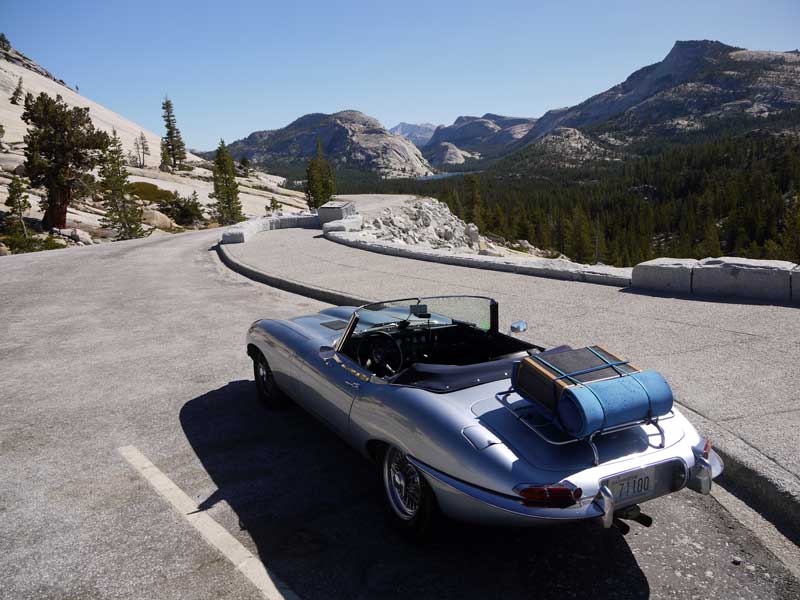 This shot was harder to get than it looks. I move the car, and slot it into this spot, which is way down at the end of the overlook parking area. ALL of the other cars are at the opposite end, where the view towards Half Dome is best. I climb out and get Nick to help me juggle lenses and whatnot to prepare to shoot it and sure enough a car comes and parks RIGHT NEXT TO mine. I politely ask them if they could move so I can get a photo and they comply. I turn back to Nick to finish swapping lenses, filters, etc and he says to me: "another car just parked there." Ugh! Lather, Rinse, Repeat.
Shot taken, we saddle up and head for the Meadows. We drive along slowly just soaking in all this granite. Even Nick is enthused about it. Since the Valley is too hot the climbers have moved up here and we see them on several nice faces. I regret never coming to this place when I was younger. Of course I may never have left if I did!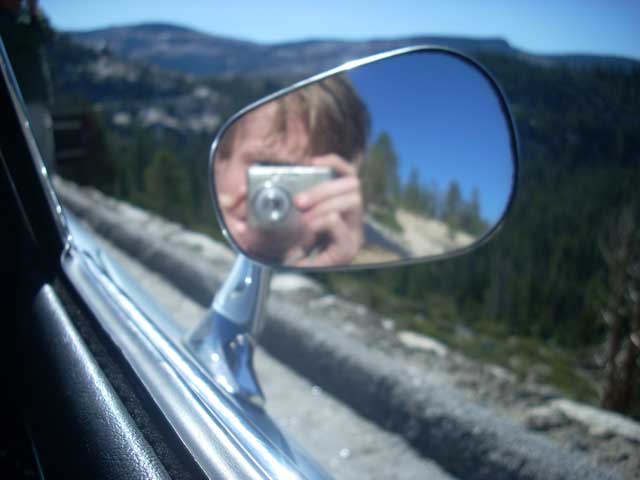 We finally arrive at Tuolumne Meadows itself: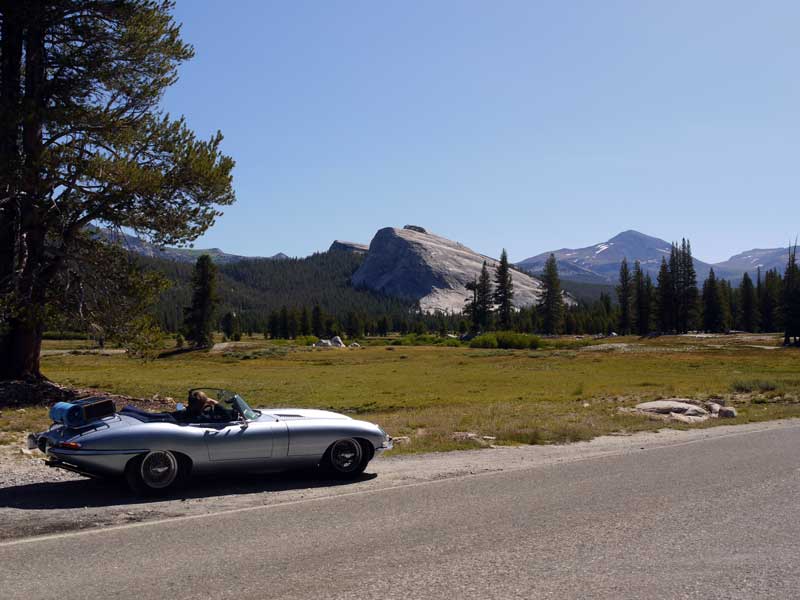 …and find Larry & Øyvind at the small cafe & store there. Like us they have tarried a bit along the way so they have not completed their tasks so we plan to meet up again somewhere on Tioga Pass. Nick & I motor off (the meadows are flat, so not a great place for us to stop and shut off the engine.)
Just before we reached the park exit we pull over for a quick break at a nice spot and I note this sign. Had to grab a photo.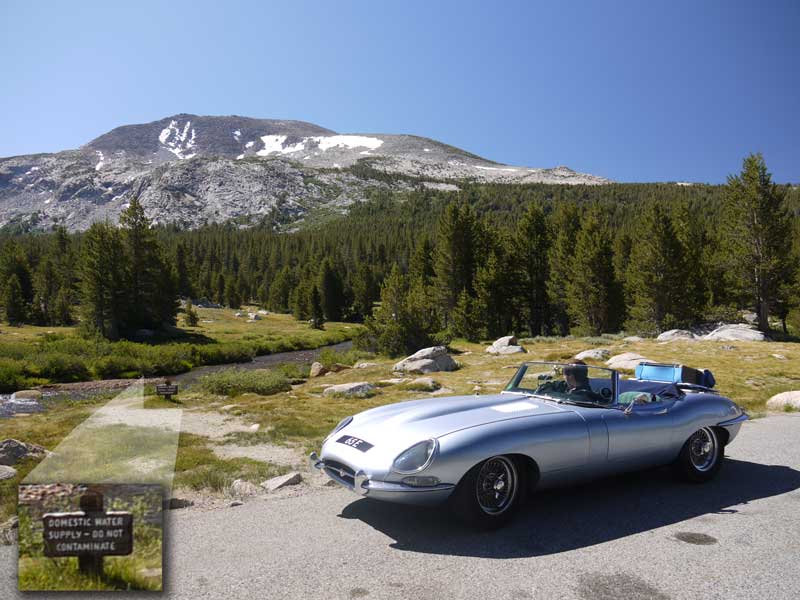 At the park exit the kiosk has a sign that reads "stop and show receipt" so we stop. The nice lady never asks to see a receipt but she does ask a lot of questions about the Jaguar. "What year is it?" "What kind of car is that?" etc. We answer them all and let her know that another one is coming soon. She asks what year the other car is so she could surprise them… "That looks like a 1963!"
Now that I think about it, I forgot to ask Larry about his encounter. Oh well.
From Tioga Pass it is all downhill. We can stop and shut off the car anywhere! The views are pretty amazing, so I stop several times to shot more "beauty shots" of the car (like any so far Roger?) As I'm shooting at a point roughly halfway down, Larry rolls up behind us.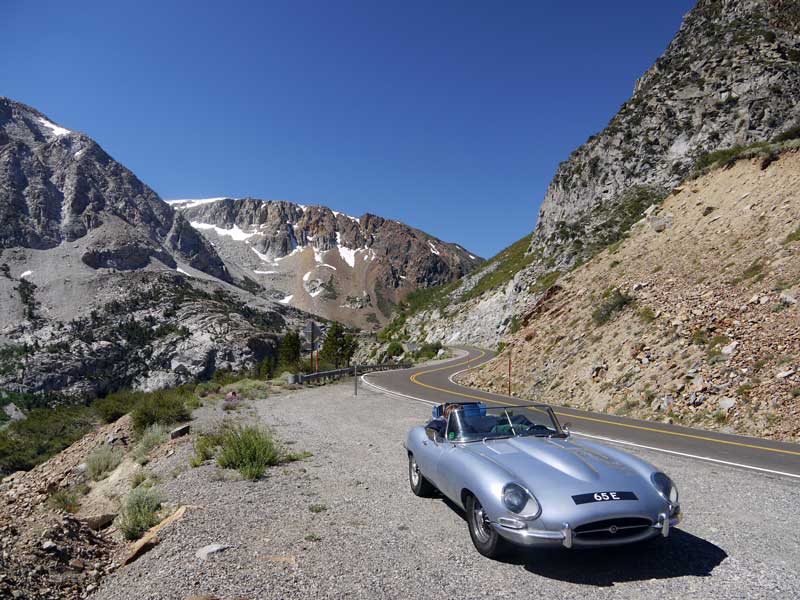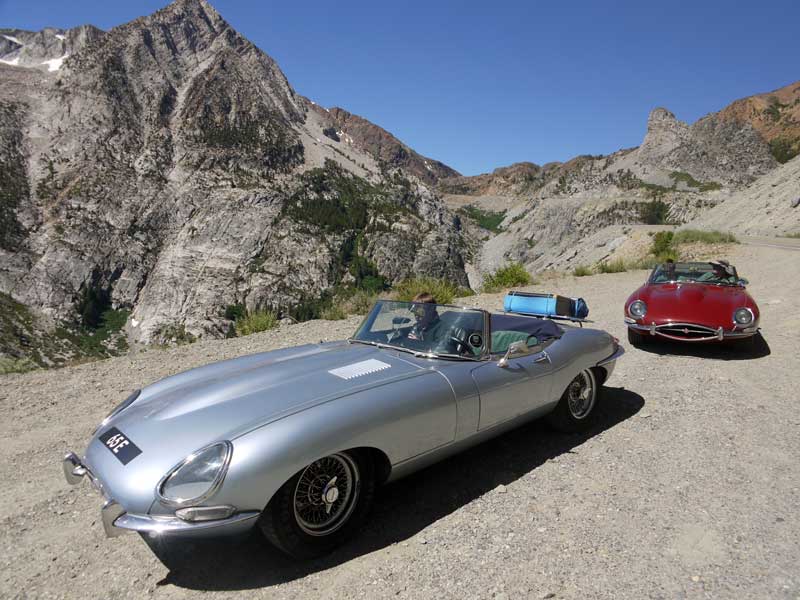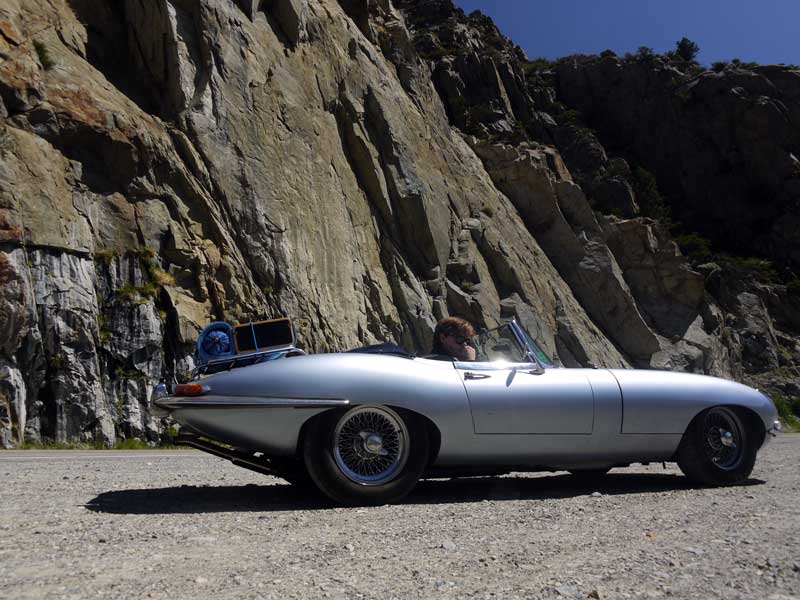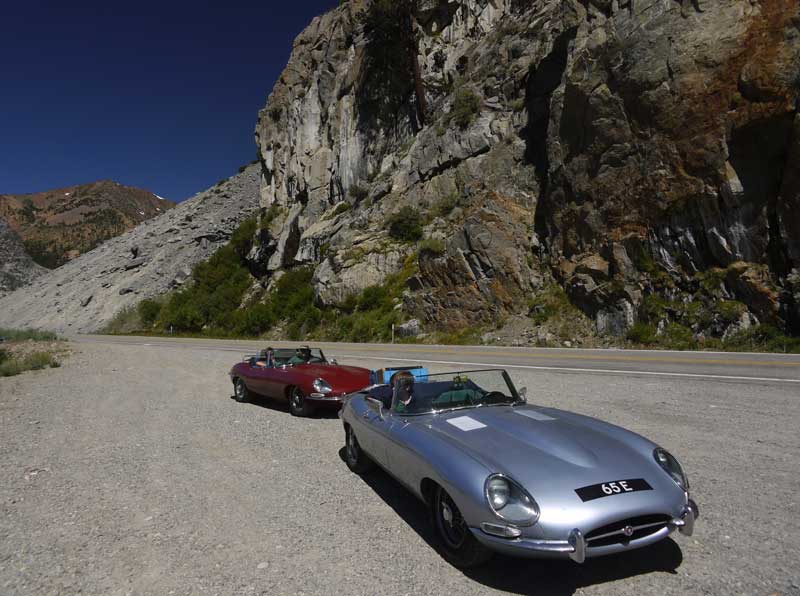 From here we descend to Lee Vining and Mono Lake (setting of the Eastwood classic "High Plains Drifter") we stop at a Shell station for gas and oil. I pick the Shell for two reasons: Nick won two Shell gas gift cards for 1st in class at one of our recent rallies, so I told him we'd save them for this trip, and I use Shell Rotella oil in my car. Rotella is an oil for Diesel engines, but it packs plenty of Zinc & Phosphorus (ZDDP) additives which are required by my old flat-tappet XK engine. These additives have been phased out of oils for gasoline engines in the past decade as they are no longer needed by modern roller-tappet engines and apparently can cause damage to catalytic converters. Diesel oil is the way to go, so I buy Rotella (or Delo) in bulk at home and us it in the Jaguar as well as the Goolsbee fleet of Diesel cars (all two of them.) We started the trip with a gallon jug of Rotella but have used it all now. I borrowed some Castrol from Larry this morning as the car was low on oil but I'd prefer to use the Diesel stuff. I fill up the car using one of Nick's cards, then wander into the shop for my Rotella. Oddly however they don't carry it, but instead carry Union 76's version of Diesel oil which will have to do. I plan on changing the 65E's oil as soon as we get home anyway. The boys all shove the Jag to get it going. Larry wants to hit the next town for lunch and it can't come soon enough… Nick & I are starving.
Down here on the dry side of the mountains it is very dry, and getting very hot. We've slathered the Crisco all over ourselves and I'm once again sporting the big hat, long sleeves, and gloves to keep my sensitive skin away from that searing broiler in the sky.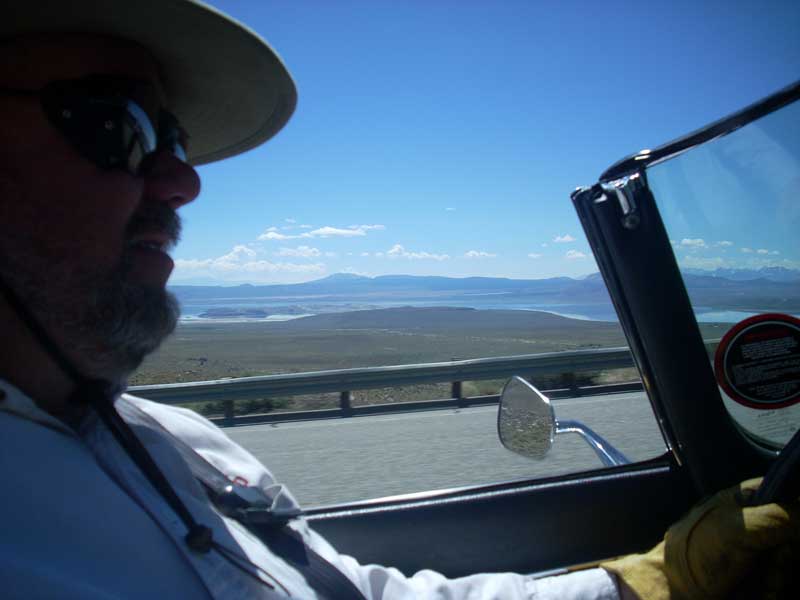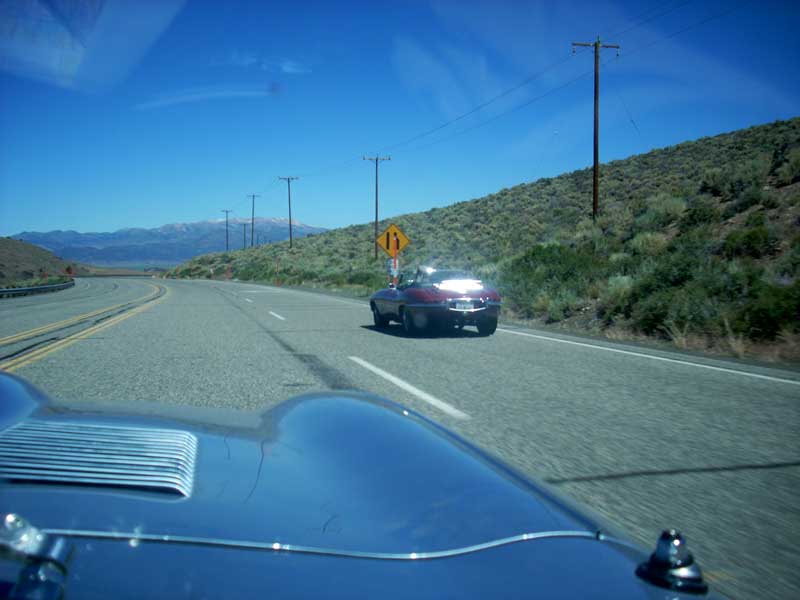 The road into Bridgeport, CA looks deceptively green and pleasant. The valley has a western Montana appearance to it, with grassy pastures and grazing cattle. The town however on this day is like being in an oven set to BROIL. Not one speck of shade, and flat as a pan. I give up on finding either a slope or any shade and just park on the street. There is a tree and maybe it will throw a bit of shade over the car. Nick & I gather up some garbage from the car and then cover up the cockpit with the tonneau hoping the artificial shade will save our hides when we climb back in (yeah, right!) The main street through town is very wide and there isn't a garbage can to be found. I end up wandering into a store/deli and dumping our stuff there. Very odd. Larry tells us to find a table at a pub-ish looking place on the north side of the street while he goes off to buy more sunscreen, so Nick & I wander over and get a booth. We order drinks and food before Larry and Øyvind arrive. We're too hungry to be polite!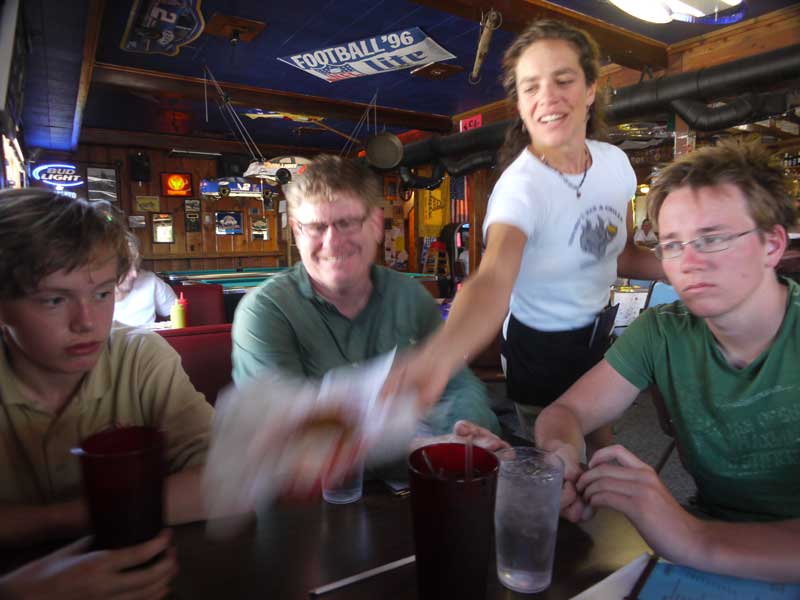 I inhale twenty seven glasses of iced tea and a turkey club sandwich. Nick treats a burger likewise. I have no idea what Larry or Øyvind eat, but if they had reached over near my mouth they would have lost an arm, or at least a finger. Hunger satisfied I pull out the road atlas and Larry & I talk about routes. I plan to stay the night with a friend in the Bay Area, I want to show Nick Lake Tahoe, and if possible I'd like to stop and say "hi" to some jag-lovers.org buddies near Sacramento. These goals conflict with Larry's plans for trout fishing somewhere nearby, so we agree to part ways here in Bridgeport. We might pass each other going opposite directions later in the day, so we promise to stop if we meet later. The Wade's have been great hosts in Southern California, excellent traveling companions, and of course the whole inspiration for this up/down Chris/Nick Father-Son Road Trip. In an odd way it is tough to say goodbye.
Nick & I try to push-start the Jaguar in the flat, hot broiling pan that is the town of Bridgeport. Twice we fail to get enough momentum and a passerby takes pity on us and lends a hand. The car fires and Nick climbs in. Whatever rest and cooling we had at lunch is now blown away in exertion of pushing a ton of metal over hot asphalt. We hang a U-turn and get out of the oven. The deceptively green pastures look the same on the west side of town as they did the south side of town and Nick questions me for a few moments if we're headed in the right direction.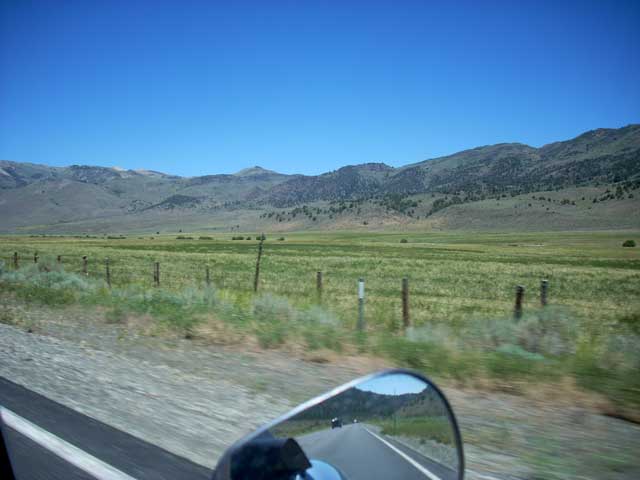 We climb a couple of passes, the most entertaining and scenic of which is Monitor Pass on CA 89. I'm pretty sure this road was where my father & I drove through on Day One of the La Carrera Nevada back in 2000. Nick likes it as much as I do as the road climbs steeply up a headwall with a nice green valley running south to our left.
On the downside I stop the car to check and add a bit more oil, as I forgot to do so earlier when I bought it and the gallon jug is swollen from the altitude. I figure it is best to open it now before it bursts and twelve bucks worth of dinosaur juice pours all over our tent, tools, and car. The car takes a bit more than a quart… must be the heat and hard work of pass climbing.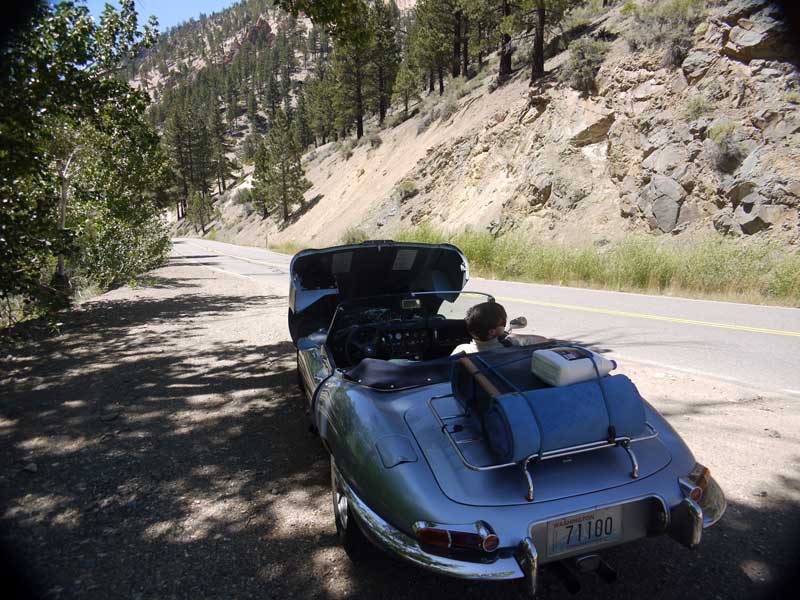 Once down in the next valley it is obvious we are nearing a population center… it no longer feels like we are in the outback. South Lake Tahoe is still a ways up the road but the character of the environment has changed to reflect its influence. I have driven just about all the way around the lake itself over the course of a few rallies so I know that most of it is an endless strip-mall and condo line. The south-west quadrant of the lake though remains in the care of the US Forest Service and I plan on taking Nick on a quick tour of that part, which includes an amazing scenic overlook at Emerald Bay. As we arrive in South Lake Tahoe proper we take advantage of the "strip mall" nature of it and grab a pair of Slurpees from a 7-11. They prove to be a wonderful antidote to the extreme heat. Thusly fortified , we continue on to Emerald bay so Nick can see Lake Tahoe.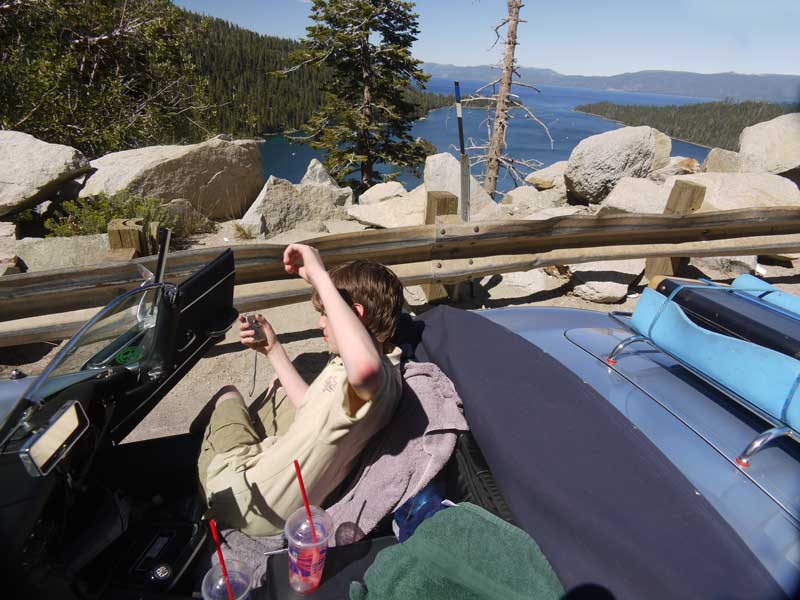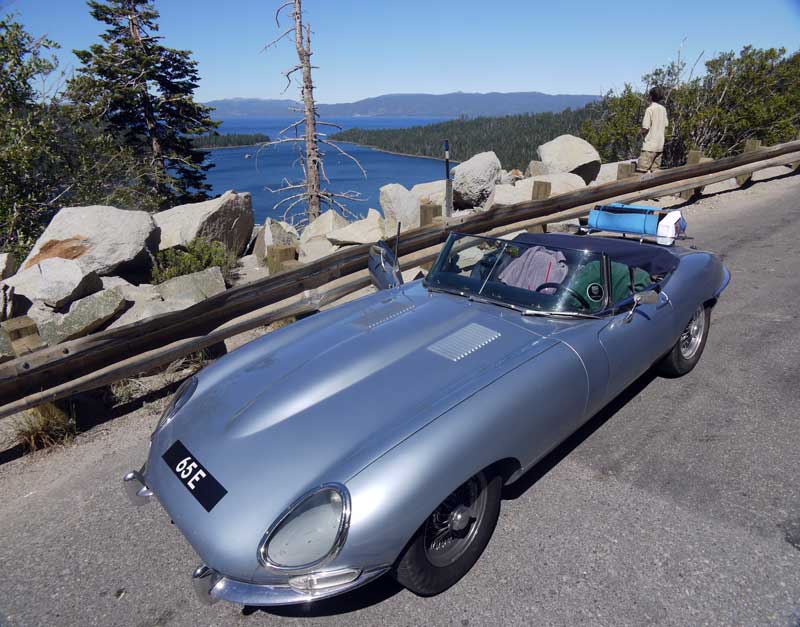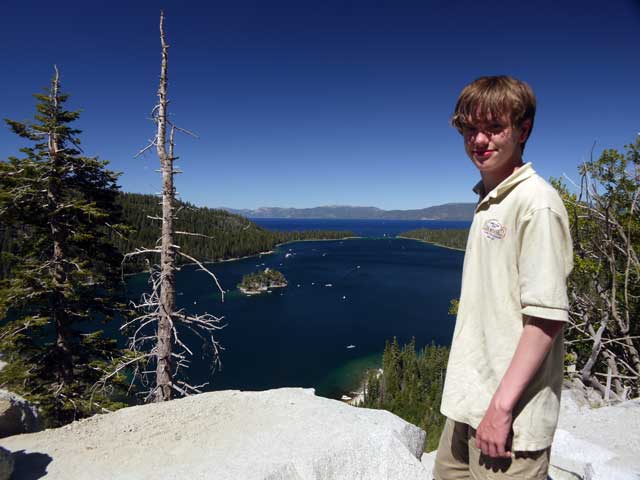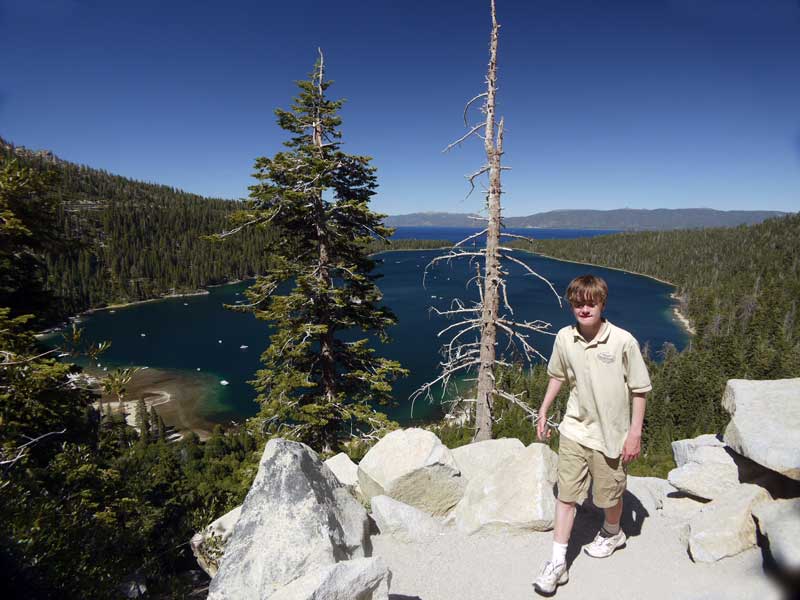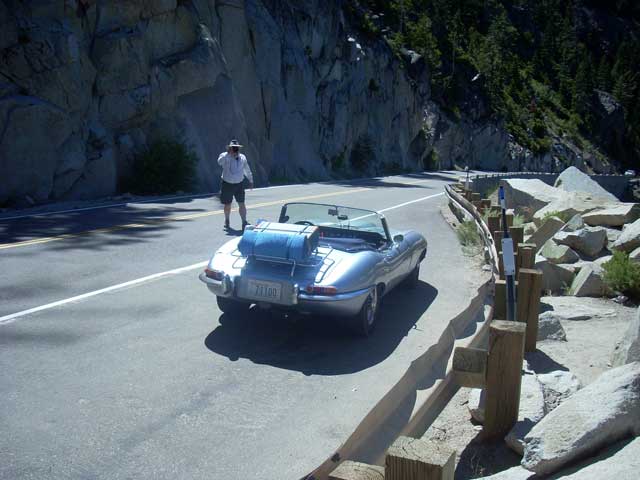 Satisfied at seeing Lake Tahoe we spin around and head back south. Given the hour we elect to take US HWY 50 west and try to meet our commitments. The drive is pleasant, and passing is easy. I pick up a tail in the form of a new MINI. Bright yellow he seems to like following me. Never passes, just tucks in behind me wherever I go. When we finally arrive at the "freeway" portion lower down the hills I slow down and he gives us a wave as he passes. I like to drive fast on the slow parts and slow on the fast parts as freeways in the car (unless they are Autobahns) are rather dull in the E-type. No challenge, all noise really… so why bother? I spy an ARCO station on a steep hill and even though I never buy ARCO gas I figure this is the perfect place to do so due to the slope. The heat is oppressive and I go inside to pre-pay (cash) for the gas and fill up our water bottles with ice and water. I drink half of one before I'm even back to the car! After filling up the car's tank I bring the bottle back and refill it again. I buy Nick an ice cream as he looks like he's about to faint. Before I fire up the car I call David Shield in El Dorado Hills and see if he's interested in getting together. My plan is to delay our crossing of the Central Valley until after sundown, so either we can do that alone, or with some company. David is thrilled to hear from me, and directs us to a cafe just off the highway where he'll meet us. Nick & I drive there and find a perfect parking place with a slope for starting. As we are climbing out of the car a bunch of college age kids all pile out of a car opposite us and start shooting video. They are in costume and I say to Nick: "look, it's the Mario Brothers." (Chuck Triva: I worked for Nintendo of America for a while in the early 90s. late NES/Early Game Boy era.)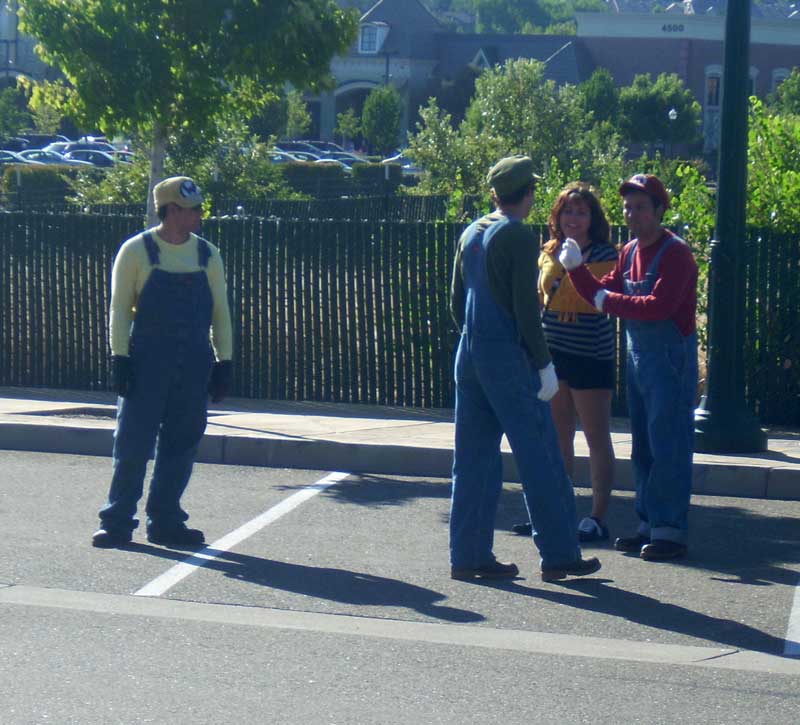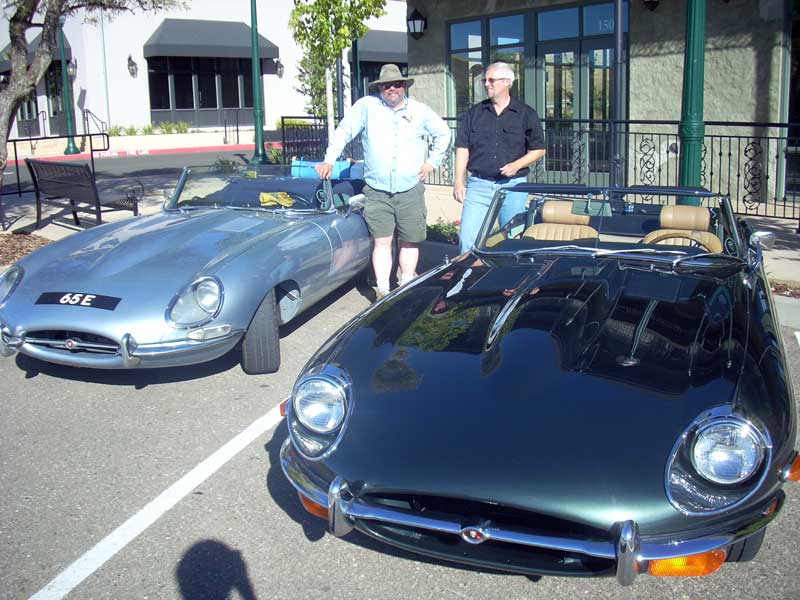 David arrives, in his beautiful Opalescent Dark Green Series 2, followed soon afterwards by his friend Tom Pope in an equally perfect and stunning MG TC. We look at cars (and kids dressed like Mario) for a while and head into the cafe for drinks in cool shade. I order a bucket of iced tea, and an appetizer that I suspect both Nick and I will like, and enjoy a long, pleasant conversation with two car guys. We trade tales of repairs, trips, adventures, frustrations and joys. The talk occasionally strays into matters of life and work, but always veers back to where it belongs: cars. Nick does indeed enjoy the eats, and we both hydrate ourselves well. The sun has reached the horizon and cooling is palpable all around us. It is time for us to head west into the sunset. We wander back the cars and take a photo:
Nick & I depart, following David back out towards the freeway. We enjoy a brief little moment where both our lanes are clear and we drop down into an underpass. Instinctively we both mash our throttles simultaneously and our ears are awash in Sir William's Sixth Symphony, in two part stereophonic harmony reverberating off the concrete enclosures that surround us. A perfect way to part ways, me, left after the underpass, David straight off towards the north.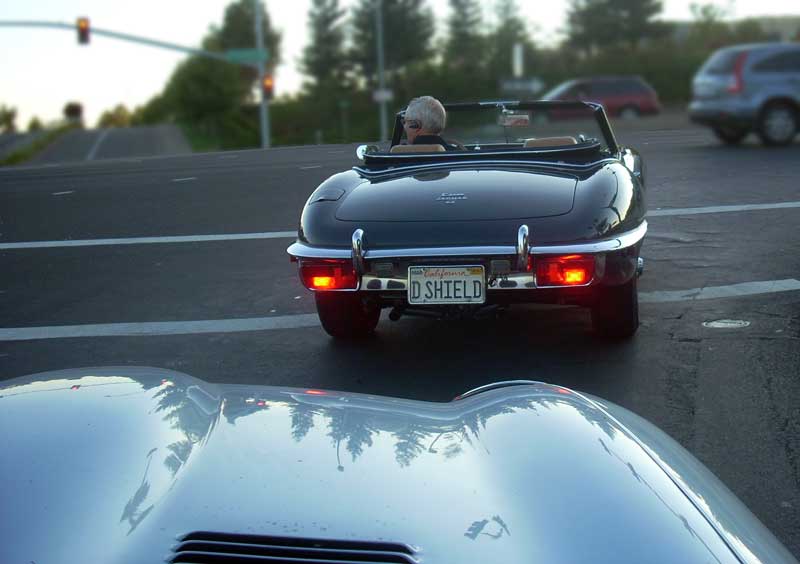 From here the navigation is pretty simple: Go west. Drop out of the Sierra foothills, through Sacramento, continue west to the Bay Area, then south to our destination. We stopped once to call our host for the night Michael Swan. We'd been conversing via email up to this point, but it was good to check in via voice. The air had cooled down quite far and in fact the evening air was downright pleasant. A wonderful change for the oppressive heat we'd been in since we left Tioga Pass.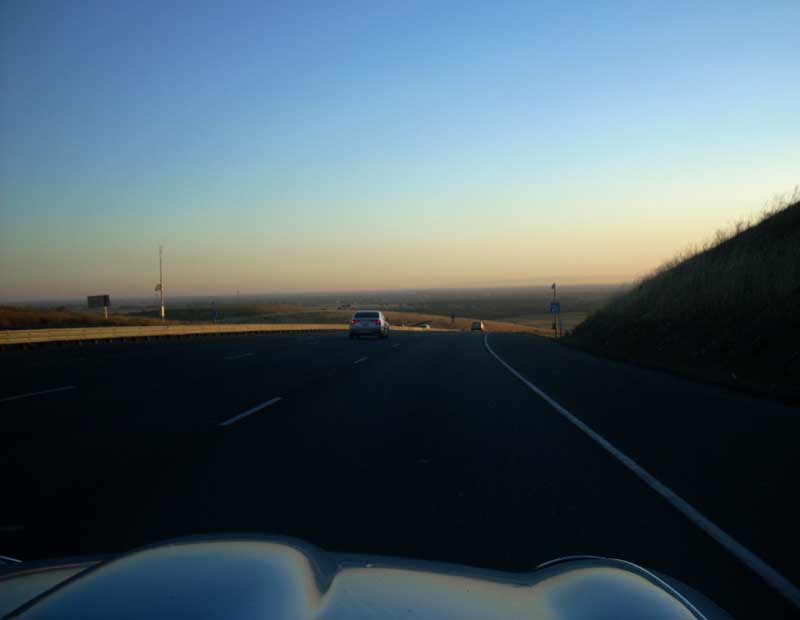 It cooled down so much that Nick & I stopped not long after turning onto I-680 and put on our coats. The winds had seriously picked up and cooled the air even more. With Nicholas navigating using Google Maps on my blackberry we were able to find Michael & Sharon's home in the dark. I've stayed with them many times before as a traditional last night in the Bay Area during the week of Macworld Expo, but this is the first time I've paid them a visit outside of a professional engagement. They are waiting up for us and show us to our accommodations for the night after I introduce them to Nick and we catch up for a while around the table.
Another long day, and I sleep like a log.