Our hope was to make it to Bozeman, or maybe Missoula, Montana today, in order to be within a days drive of home.
Instead we are delayed in Fargo while we have our grinding rear brake looked at.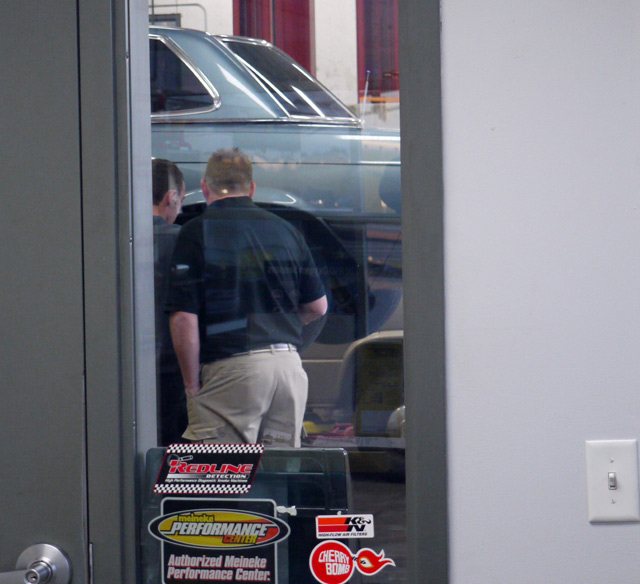 It turns out the right rear brake pads are shot, and have borked the rotor. Dad opts to have the rears completely rebuilt as they have the parts nearby.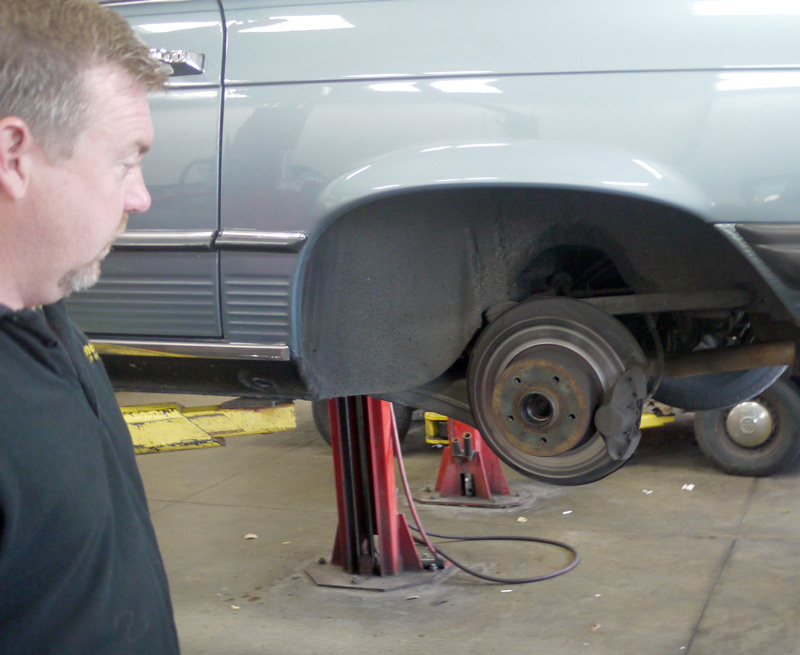 Our departure is delayed until around 11 AM. I take the wheel and drive west across North Dakota. Around noon, Dad gets an important call so I pull over in a rest area and walk around in the freezing cold wind while he talks on the phone.
The clouds thin out and the sun bathes North Dakota, though not with any warmth. The road is clear and travel is nice with the speed limit at 75 MPH, a refreshing change from the clogged eastern states and low limits.
It has been thirty five years since I was last in North Dakota, and that trip was by rail. My family road Amtrak's "Empire Builder" from Chicago out to Montana for a ski vacation in 1974. Every time I have driven west since I've taken I-90, through South Dakota. Since both I-90 and I-94 from where we joined to the west coast are about the same distance, we chose I-94… just because. Variety is after all, the spice of life.
North Dakota certainly delivered variety and spice: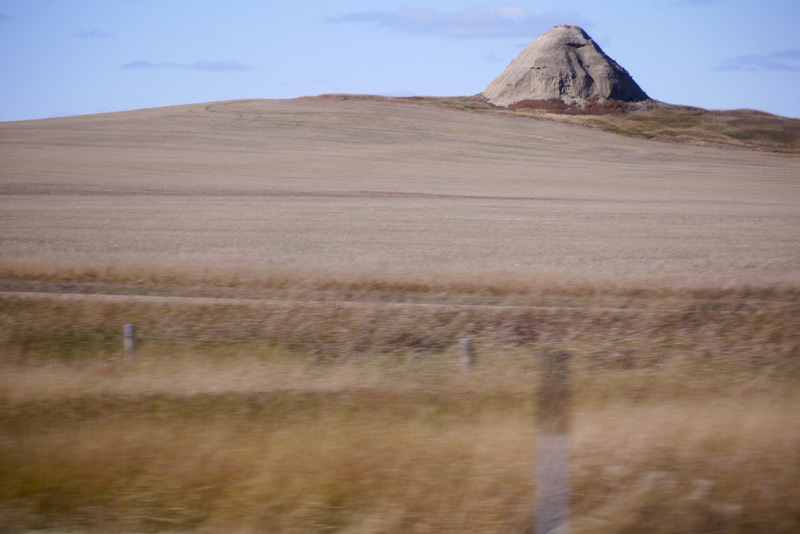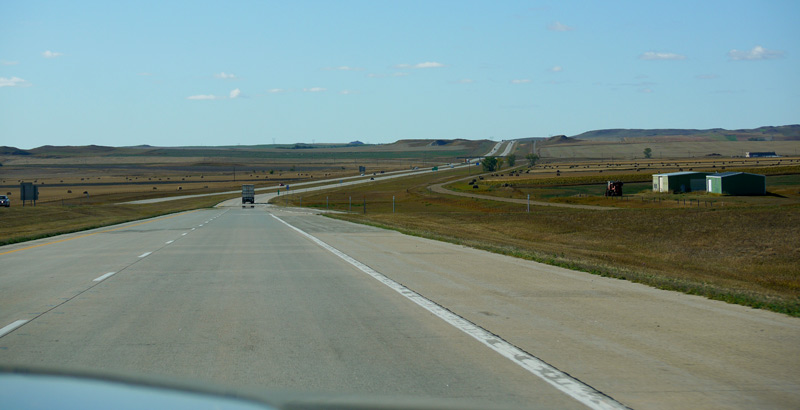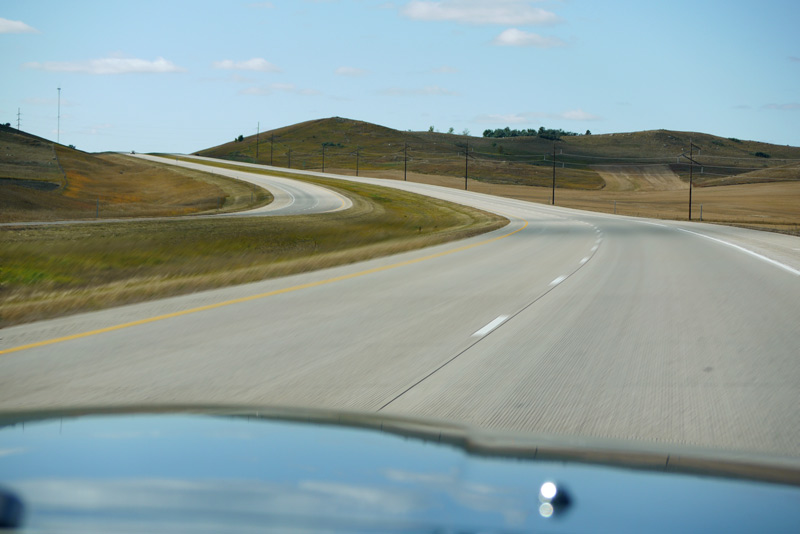 After filling up in Dickerson, and switching drivers again, we leave North Dakota behind and arrive in Montana with me at the wheel. The road is even emptier, with maybe two miles between cars or trucks. Clear skies and sunshine. Blissful driving conditions. I let the 450sl stretch its legs. While still within the realms of "reasonable and prudent" we come over a rise and the Valentine squawks loudly. On the eastbound shoulder, hiding behind a barrier is a Montana State Trooper.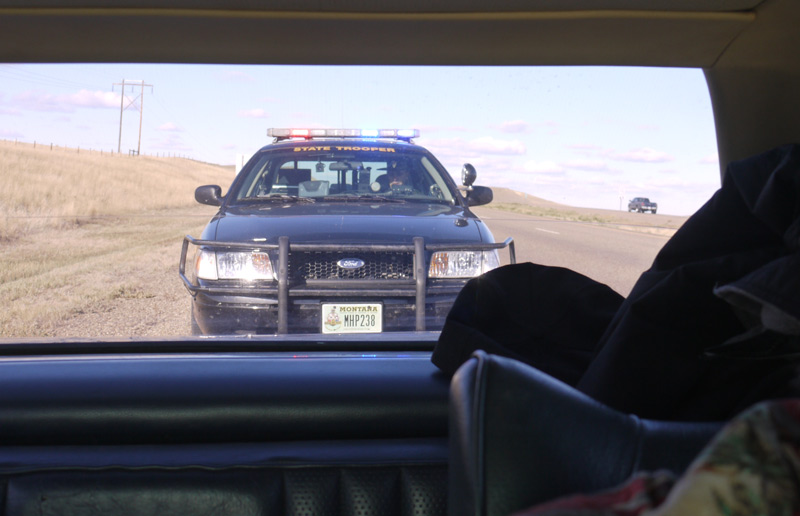 Trooper Briggs is courteous and professional, and unlike so many state troopers in my home state, he has a sense of humor. I have violated "Montana Code 61-8-303(1)(a)[2] SPEEDING ON INTERSTATE, EXCEED DAY LIMIT OF 75 MPH." We settle the issue amicably on the shoulder of the freeway and Dad & I head off on our way towards Billings.
At milepost 80 we see what is likely the most unusual vehicle of our trip so far: A maroon Fiat X-1/9. It is traveling eastbound and looking in great shape. Nice to see on the road!
A while after the Fiat sighting we swap drivers again at a rest area somewhere east of Billings and before sunset.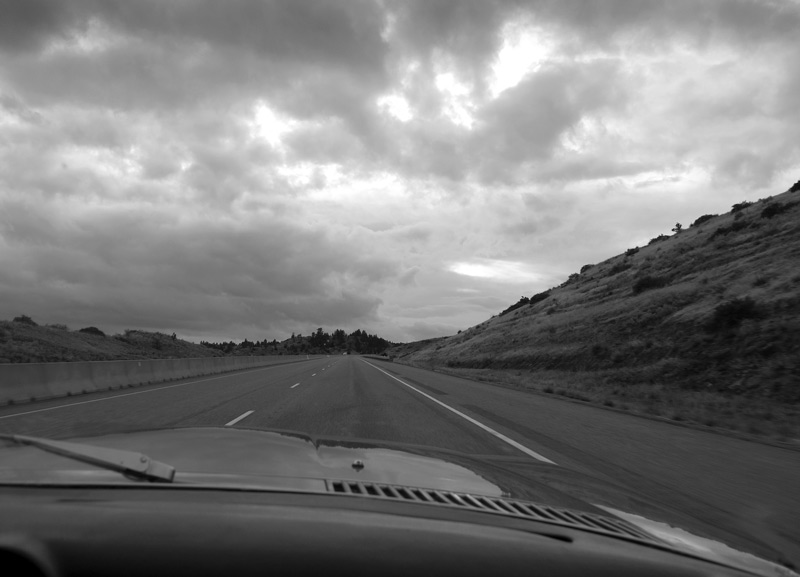 If all goes well we will be home tomorrow, despite the delayed start today. It will be a long day for sure.
Read on for the recap of the same day a decade ago in the Cannonball Classic:
---
Thursday, Sept, 30th 1999: Lincoln, NB to Steamboat Springs, CO.
Today was a great day. The weather was great, the route was fantastic, and the Jag ran (top down!) very well with only one minor problem.
We left Lincoln slightly behind the main group, but seemed to pass quite a few folks early. The route followed US Highway 6, 34, and 40. It was classic "blue highway" driving. We were again treated to a wonderful jaguar shadow show on the corn during sunrise. As we traveled farther west the country opened up and the sky got bigger and the horizon farther and farther away… we had arrived in The West. I was back on familiar ground.
We encountered a few interesting sights in this big country: Very early we saw a Nebraska Highway Patrolman with a few of our group pulled over.

Above: Martin Swig tries to sweet-talk out of another one.
Later at a road work area, the 20-year-old or so woman holding the "stop/slow" stick breaks out in an ear to ear grin as we pull up. She never says a word to us, but just jumps up and down yelling "COOL!" as we roll by. I guess we made her day.
Left: Caddy in Cornfields.
Left: Going up the Big Thompson Canyon. Right: Our passport through the park.
We were car number 5 to arrive at Steamboat. Estes park was even more wonderful than I remember… I want to climb on Lumpy Ridge again! The drive over Trail Ridge Road was spectacular… clouded by only a single problem: It is obvious that we have some air in out clutch hydraulics. As we gained in altitude (we topped out above 12,000 feet today!) our little bubble grew to a giant balloon! The clutch would not work at all, so we had to speed shift all the way from west of Loveland, over the Divide and most of the way into Steamboat. We plan on bleeding it after it warms up tomorrow. I also notice an odd low-frequency vibration now and then. Hmmmm….
Above: Trail Ridge Road. A trip over the Continental Divide at 12,000 feet. Longs Peak is above dad's hat on the left.
Left: Hairpin turn at 11,000 feet. Trail Ridge Road, Rocky Mountain National Park.
We did have a close call with a complete moron in a blue pickup illegally passing on highway 40 as we went up Rabbit Ears Pass. If it weren't for some fast reflexes and the excellent brakes of the jag, we'd be on the buzzard breakfast buffet.
Today on the Buzzard's Buffet: 9 Raccoons, 4 Gophers, 6 Skunks, 2 Opossum, 2 Jackrabbits (I know were are heading west now!), 1 Jaguar clutch, and 11 indistinguishable piles of flesh guts and fur/feathers.
–chuck