Part Three of my collection of favorite photos from 2009. Tell me your favorite from this batch in the comments.
---
Shot with the Lumix G1 on our Father/Son Road Trip this photo has a somewhat funny story to it. It was morning at Olmstead Overlook, with good light and very few cars around. I was hoping to get a good photo of both my car and Larry Wade's for the XKEdata.com 2010 calendar. After shooting the cars while looking south towards Half Dome, Larry took off to maybe get some fishing done up in Tuolumne Meadows. I repositioned the 65E down at the far end of the overlook's parking area facing towards Tenaya Lake. For the entire 45 minutes or so that we'd been at this location not a single car had EVER parked at this far end of the overlook. That is, until I parked my car there. Three times over the course of me trying to get this shot, a car pulled in from the highway and parked RIGHT next to the Jaguar, despite having several hundred empty spaces elsewhere in the overlook area, all of them much closer to the Yosemite Valley overlook that this location is noted for. This must be some Photographers variation of Murphy's Law! Literally every time I had the lens on right, and everything set where I wanted it to be a car would pull up and park… one time as I was standing in the parking spot they were pulling into! I'd politely explain what I was doing and request that they move their car, and then as soon as I was ready again, another car would arrive. Very strange.
---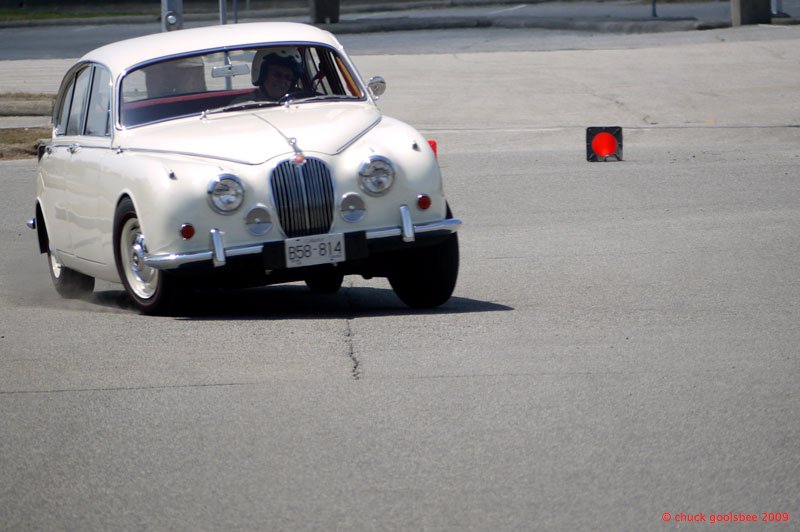 Shot with the G1 with telephoto at a JCNA slalom competition in Vancouver, British Columbia. Among the sports cars and modern machinery attending the Slalom this stately Gentleman's Saloon Car took to the course like a duck to water. It was a hoot to see it being driven at 10/10ths (albeit in 1st gear.) This about this photo I like: The driver's posture, willing the wallow to flatten out, and the dust flying off the oversteering front wheels.
---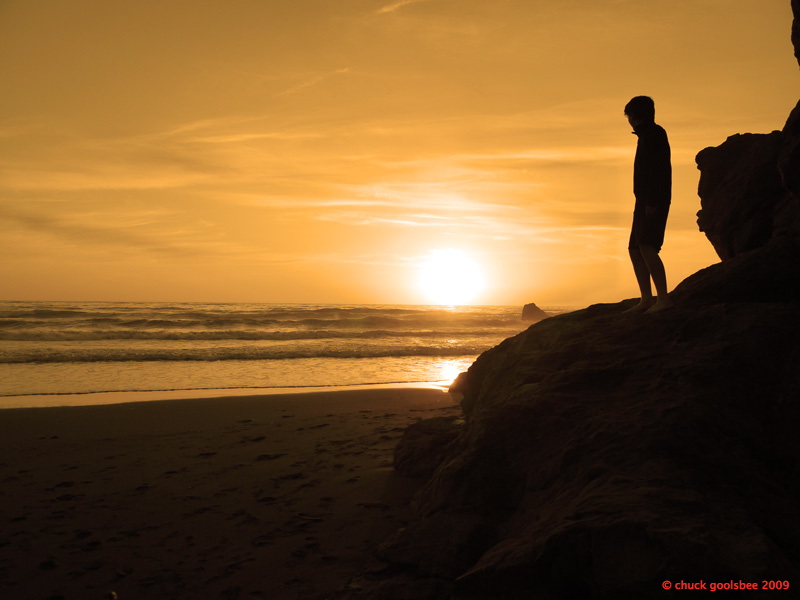 Nicholas climbing on rocks on a California beach at sunset. Taken with the G1.
---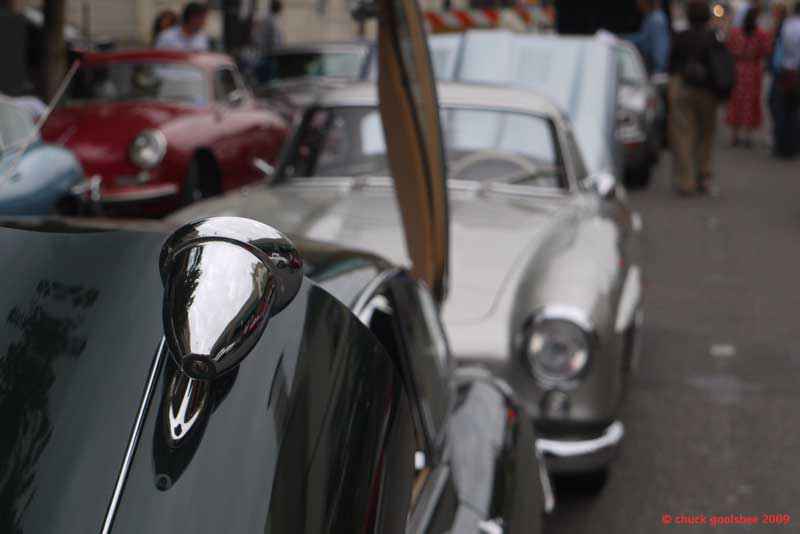 John 'Mad Dog' Morrow's freshly restored 1966 E-type rests bonnet-up in the foreground with the silver 300sl and the 65E behind it. In many ways this is a detail shot of the Talbot bullet-style mirror on the E-type's wing with an interesting though out of focus background setting the scene of the chaotic scrutineering process where 60-some cars are inspected for the rally. Shot with the G1.
---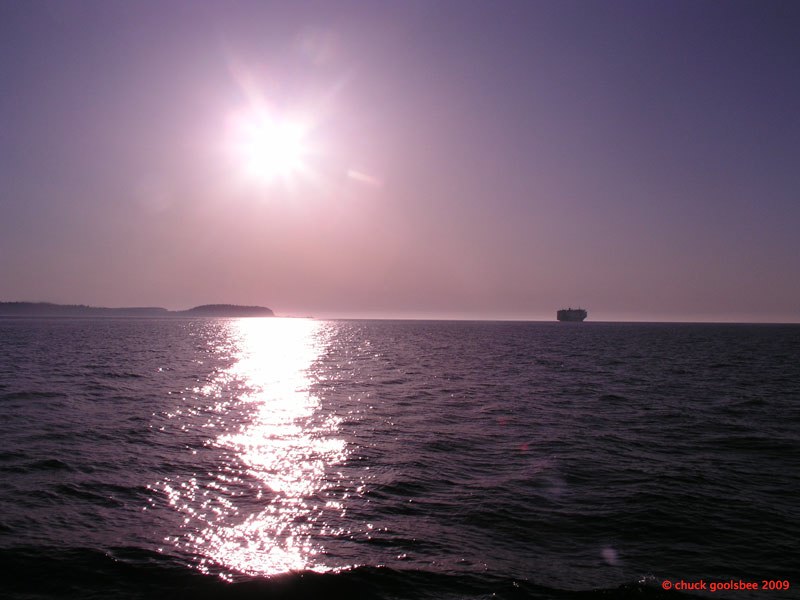 Taken with the Olympus C-5050 on the Port Townsend to Keystone, Whidbey Island Ferry crossing as the sun set on a Spring day in May. I was returning home from a memorial service for a friend in Port Townsend on this beautiful Spring day, and a very large Roll-on/Roll-off car carrier leaving Seattle heading out into the Strait of Juan de Fuca passed our little ferry's bow at relatively high speed and continued off into the sunset. RoRo's look very odd, as they are giant parking lots on a hull. The unusual shape makes for an interesting subject.
---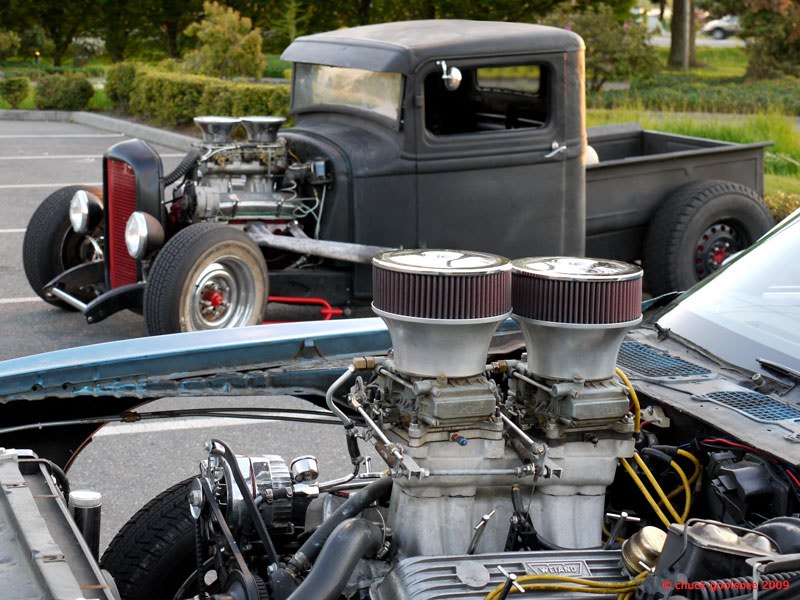 The "Rat Rod" craze has reached an apogee and is likely on the downswing, but the ethos that underlies the movement will likely never go away. As long as guys scrounge parts together into something expressing themselves in a very basic way there will always be "rat rods" around. These two examples are anything but fashionable, and a genuine expression of the rat rod creed without any apologies or even nods to looking over-done or even period-correct. The pickup in the background was built by my neighbor Rob McLane, whose son played little-league baseball with Nick. The foreground car is a stripped hulk of a early 70s muscle car. These cars were participating in our local informal car show in Arlington, WA which happens at the Burger King on SR 9 every Saturday night. Shot with the Lumix G1.
---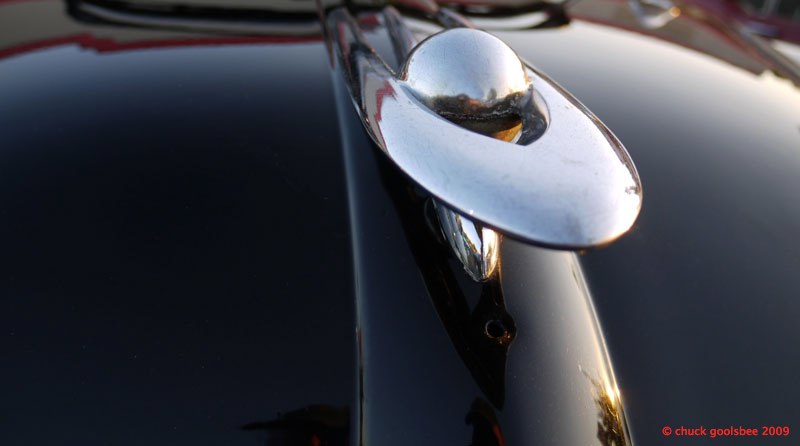 Another shot from the Burger King cruise-in, this is a unique hood ornament from (I think?) a mid-50s Hudson. Shot with the Lumix G1 (and a few bugs and dings photoshopped off!)
---
Again, I don't consider myself a great portrait shooter, but I really like this shot of Nick. We stopped at a pull-out along US 101 on the Oregon Coast when we spotted some marine mammals cavorting offshore. Of course I had the wrong lens on the G1 and by the time I had the telephoto ready the pod of small wales or dolphins or whatever had vanished. I crossed the road and looked back to shoot the car and zoomed in as far as I could on Nick, who was probably reading a book or playing on his Game-Boy. I shouted to him and he looked up and I snapped this photo. He probably flipped me off a second later and went back to what he was doing… he is after all a teenager and I'm his dad. 😉
---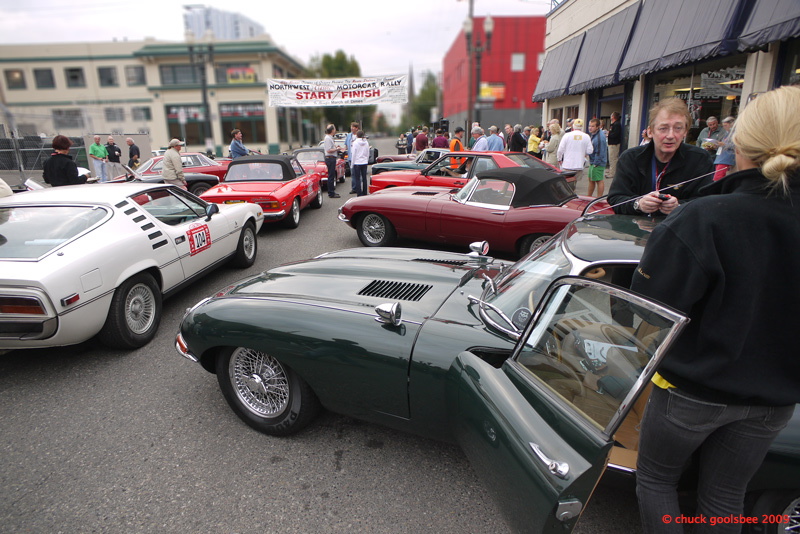 This shot captures the essence of the chaotic moments before the first cars are waved out at the start of the Monte Shelton Rally. John "Mad Dog" Morrow and his daughter Olivia discuss something amongst themselves while cars, drivers, and navigators mill about. This is shot with the G1, with the standard 14-40mm lens, but with the 0.7 wide-angle teleconverter from my Olympus attached. It is a sub-optimal setup until I can gather the cash required for the 7-14mm lens that just became available. (big hint for anyone looking to buy me a gift! 😉 )
---
After our harrowing morning in an October Montana blizzard the 450sl was looking a bit chilled. Shot with the G1.
---
Another shot from that magical evening on the northern California coast. The rainbow hues of twilight reflected on the bonnet of the 65E.