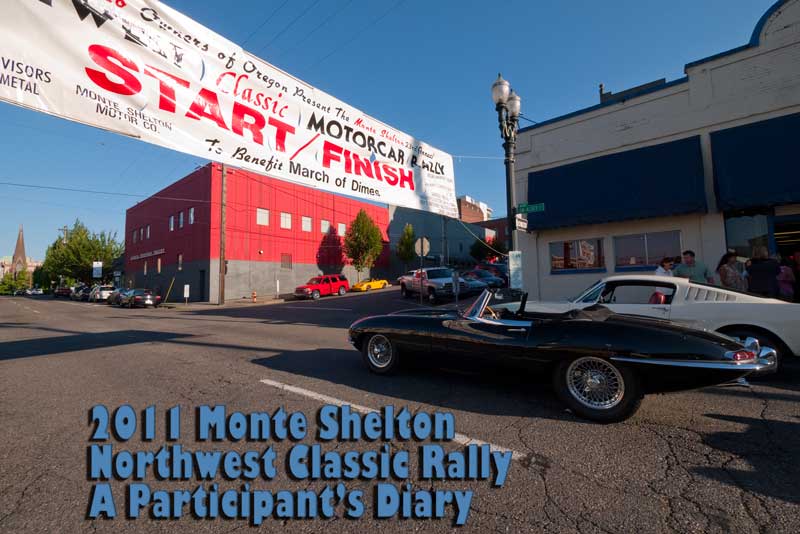 The Start-Finish banner.
On Thursday afternoon Dad & I drive up to Portland from Bend for the rally check in and scrutineering for the 2011 Monte Shelton NW Classic. Unlike past years we are not in "the 65E" – my 1965 E-type Jaguar. As I was prepping the car for the rally I discovered a failed u-joint in the rear axle, which had trashed my tires pretty bad. I've been so busy at work that time to work on the Jaguar has been severely limited – so the backup car was brought to bear: "The Cruise Missile", otherwise known as my parent's 1979 Mercedes-Benz 450sl. Nowhere near as visceral as the Jaguar, the 450sl does make long-distance driving a joy, so our trip through the Cascades and down to the confluence of the Columbia & Willamette Rivers is relaxing and enjoyable. We cross the Columbia on I-205 and take SR 14 into downtown Vancouver, Washington, where we'll spend the night. We check-in to our hotel, grab some self-service gasoline, and head south to Monte Shelton Jaguar in Downtown Portland for the evening's events.
Rally Cars Awaiting Scrutineering
We're directed to a spot where our car's vitals are checked: turn signals, horn, battery secured, etc. The Benz passes with flying colors (unlike the Jaguar where I hand-signal in time with the turn signals and keep a marine safety horn around just in case!) We then have to go sign disclaimers/waivers/our lives away before securing our car number, which this year is 28. I find an orange cone behind the Benz and place it on the roof like a dunce cap, and wander off to shoot photos.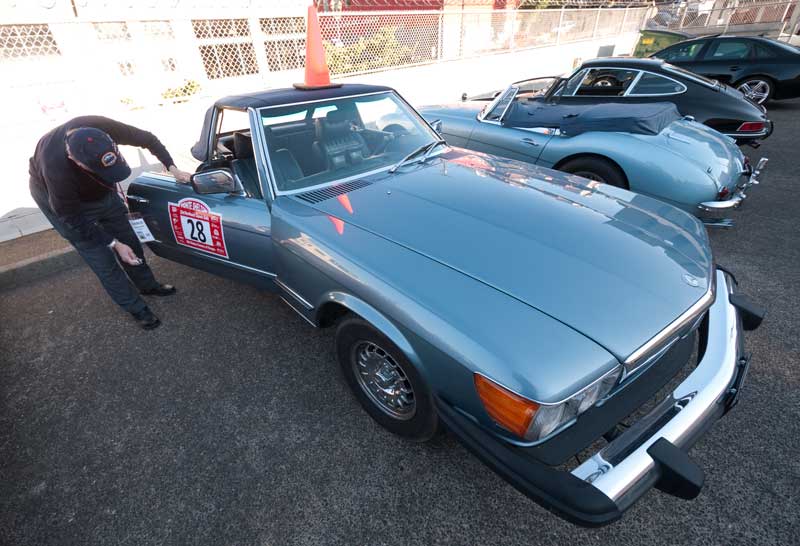 Dad puts the sticker on the passenger side
Of course, there is a array of Alfas, and a passel of Porsches, and a few unique machines as well…
Can you name this car?
Inside the check-in area was parked the oldest Ferrari found in North America…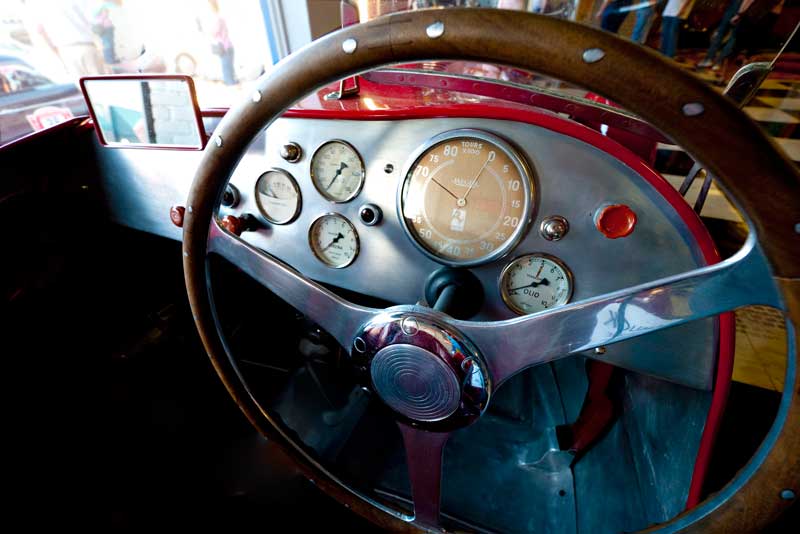 Can you name the model?
It has quite a history.
The rest of what I saw was a great mixture of old friends, usual suspects, and a few gems…
Pith Helmuts?
A Bentley
An Aston-Martin DB4 marks its territory.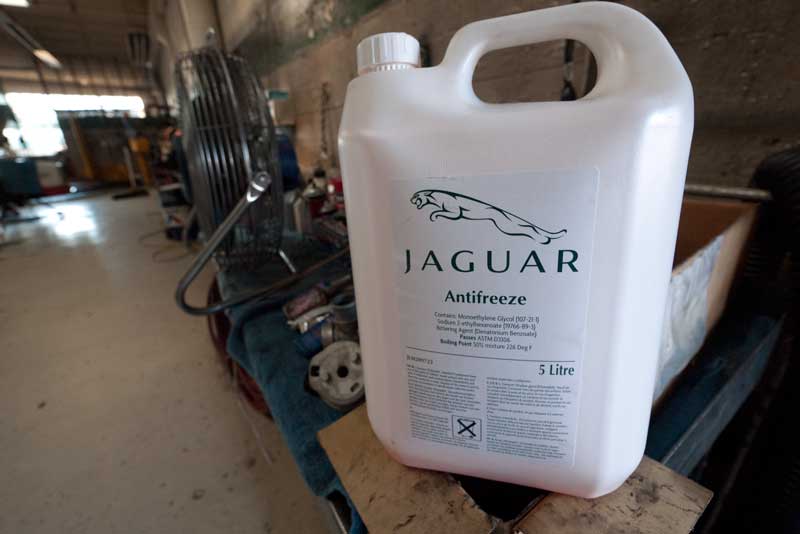 The world's second most expensive bottle of anti-freeze, I'm sure.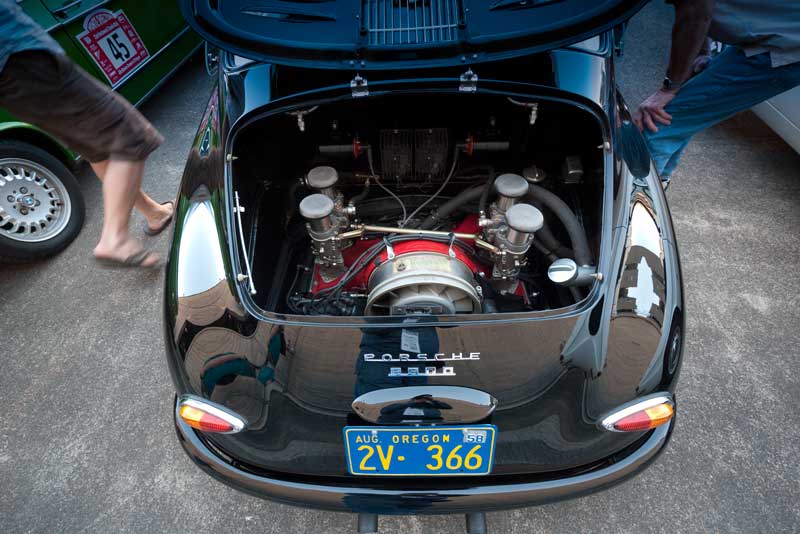 This 356 always had a crowd around it.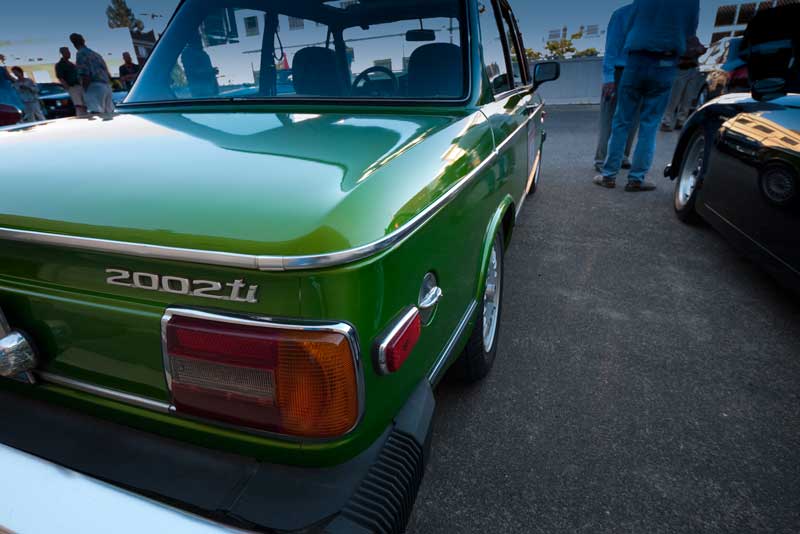 2002ti
Audi Quattro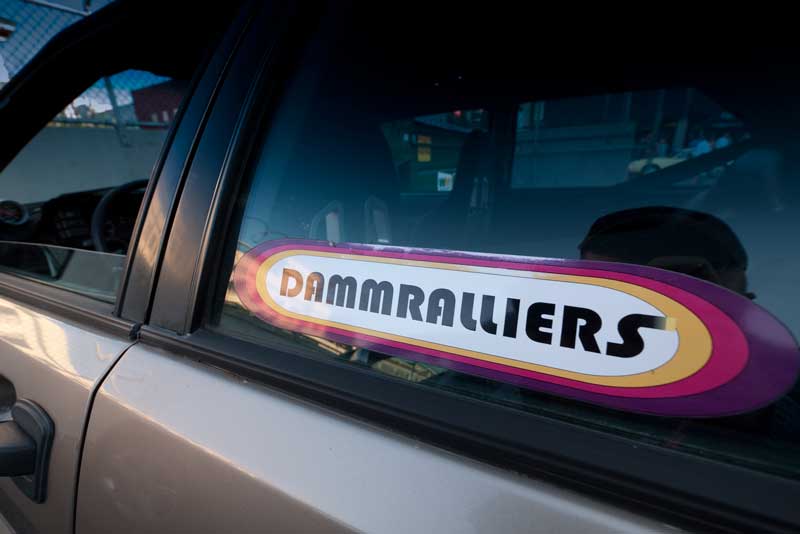 DAMMRALLIERS!
Dad sits in the 450sl.
Dad's back is not so good. He can't stay on his feet for very long before he has to sit down, so he chilled in the Benz while I walked around shooting cars. That is until the Driver's Meeting began…
Rally Chairman Reid Trummel addresses the assembled crowd.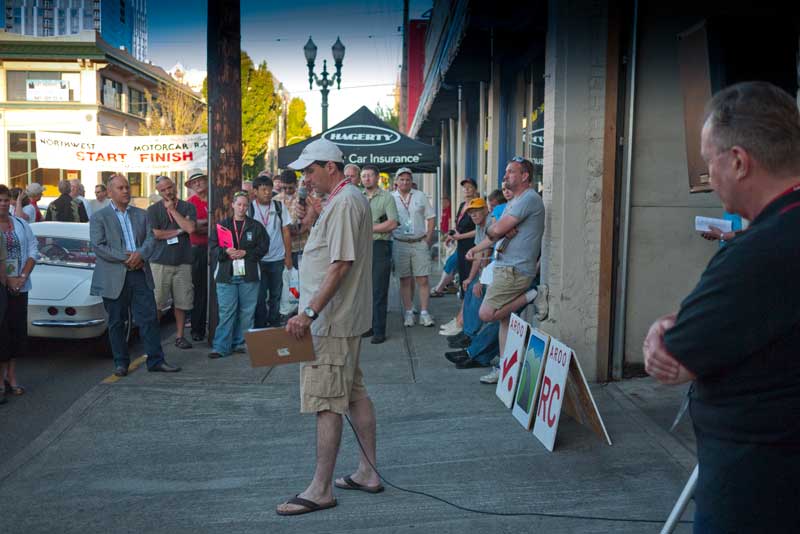 Rallymaster Simon Levear chats with his victims.
After the meeting the rallyists disperse. We head back to hotel and grab a dinner, and sleep well. Tomorrow we rally!