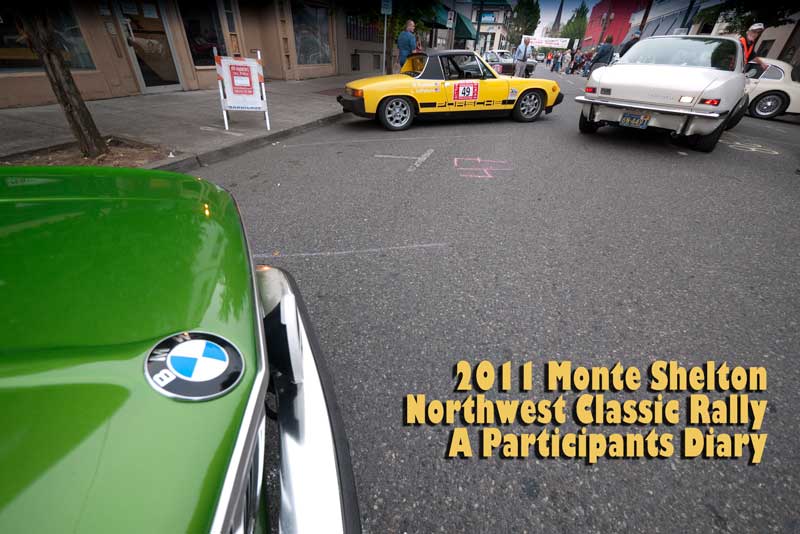 I've always felt that my father & I could win this rally – this, even though we've finished:
18th with 563 penalty points in 2007,
9th with 240 penalty points in 2008,
19th with 1151 penalty points in 2009.
Plus years of similar results in similar TSD rallies. Why do I think we can win? Because when we're "on" we are really good. It is only when we go off-course that we kill our chances. For example, in the 2009 event, we did better on day two than any other car save the overall winner. We stayed on-course and dad kept us on-time. We racked up only 53 of our penalty points out of our total of 1151 on the rally's second day. If we could put TWO of those days together, we could win. Course-following is a shared responsibility and I feel like I've honed my course-following abilities quite a bit since we started running TSDs a decade ago. I can make the required observations and more importantly, the descending order route decisions (onto/toward, protection, centerline, straightest) on the fly far better than I ever could. I know that Dad's navigation skills have improved as well. We're good at what we do, we just have to be CONSISTENT (for once!)
I come to this event mentally prepared to do as well as possible. You dear reader will suffer for this a bit, as I've left most of my camera equipment behind. I'll only shoot pics when I have the time, and forego photography for concentration on consistent performance of my driving duties. Sorry!
This year the NW Classic divided into two classes. Not based on car, but on rallying style. Standard Class cars were running under the same rules all of us lived by in the past (non-programmable calculators, speed tables, slide rules, rally clocks, etc allowed.) This year they added a "Vintage Class" which was limited to only original-equipment odometer & speedometers, and non-programmable stop watches or clocks. NO calculators or speed tables allowed. Dad wants to run in Vintage, as we've always been "seat of the pants" rallyists anyway. He's used a calculator before, but he feels like he can do just as well without a calculator. I'm just the driver, so I'm OK with whatever he wants to do.
(Of course there is also a "Tour Class" which enjoy the luxury of turn-by-turn directions, and a leader that they follow, but that's not really rallying so I don't count that as a "class" as they're not really in competition anyway!)
We have four clocks (you can NEVER have too many clocks!) with two of them being set on "car zero" time. They are taped to the dashboard just I did for Kyle on the Columbia Gorge Classic Rally a few weeks back. Dad doesn't like where I put them so I reposition them the night before. He's happy with them now, especially the car-zero one which I've put a little makeshift sun shade on with a sheet of paper.
We get up, have breakfast, and zip into downtown Portland for the "start"… I put that in quotes because the first leg is really just an odometer calibration segment that gets us out of the Portland metro area and then we'll have the "real start" after we're given our route instructions there.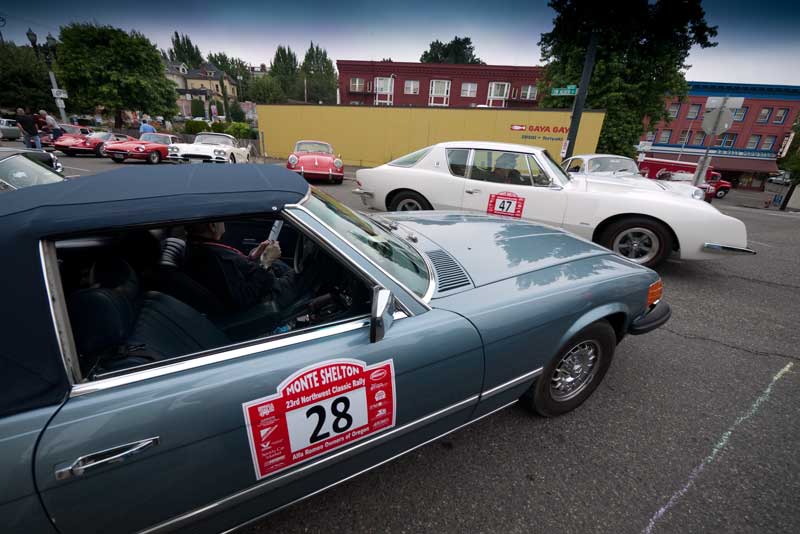 We find our parking spot, slot The Cruise Missile into it, and I wander off to shoot some photos. Dad stays behind and sits in the car – maybe running through time and speed calculations in his head to get his brain warmed up- who knows?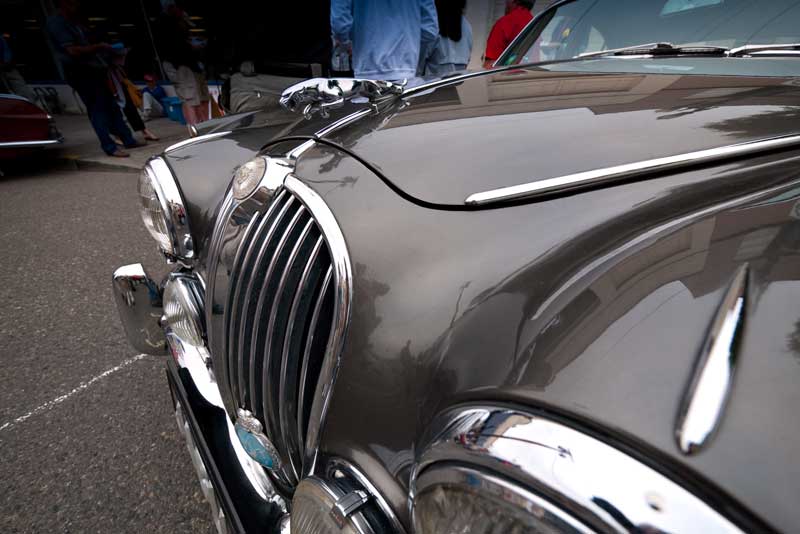 Along the way I run into old friends Alan Chockie and Antoinette Slavich and their gorgeous Alfa – then I awkwardly recall that I still have their gold medal form their top-ten finish in the 2009 event. I've been carrying it around in my daily driver VW TDI for two years – with the intent of meeting up with Alan to hand it off. We both worked in Seattle up until I moved to central Oregon last summer. Now here we are and I've left the damn medal in the Volkswagen! D'oh! I apologize for being such a dolt, and Alan agrees to get his address to me before the end of the rally so I can mail it.
A Driver's Meeting is held and we're told what to expect, and how to behave… the usual Driver's Meeting stuff. Still 45 minutes or so before we're off, so I kill the time with the camera… finding things to share with you:
The Rally is a charity event for the March of Dimes and a the start flag is always waved by a kid whose life was saved at an early date, and this year's kid is an impossibly cute boy who clearly loves this job, waving a checkered flag easily 1.5X his size as each car goes off at 30 second intervals. This is my signal to hustle down to our car and get us reedy to roll. The first two dozen cars are lined up down the center of the street, and as I walk down a block and a half I see many old friends rolling to the start.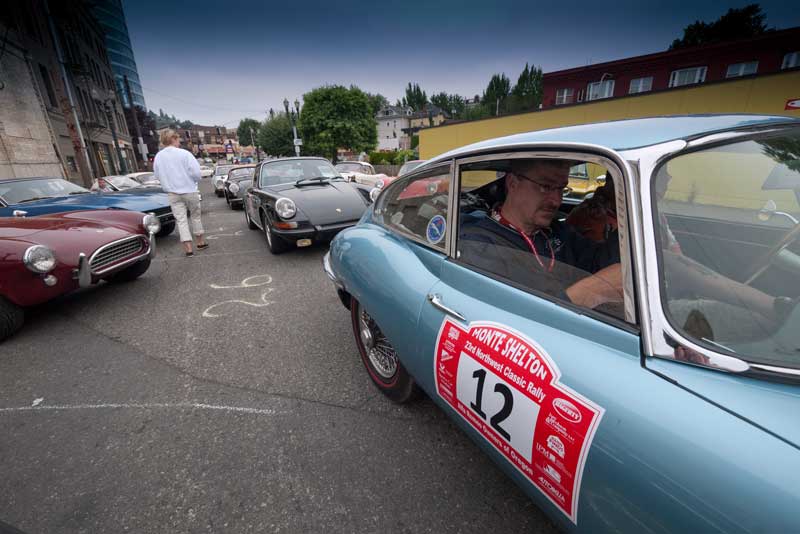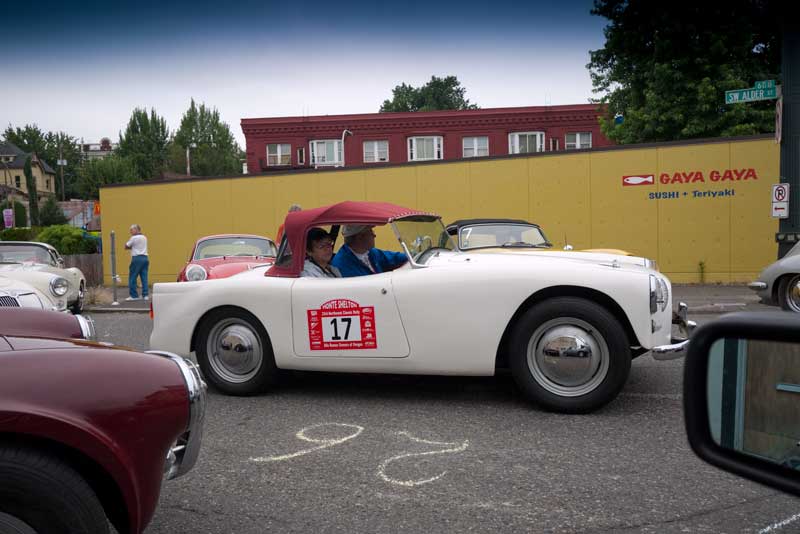 We drop into line as the number 27 car, a silver 1973 Alfa GTV driven by Kim Lindstrand and Ed Slavin goes by. We'll be looking at the back of this car at every pause in the rally for the next two days.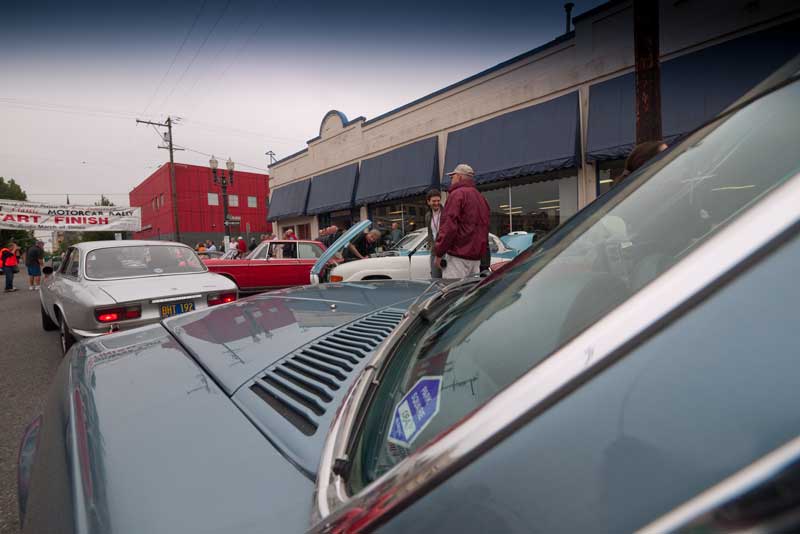 We roll up to the start and the announcer, who says something about every car says "This isn't a 1965 E-type Jaguar" to which my father replies: "The Jag is Broken!" The impossibly cute kid waves the big flag and and we're off!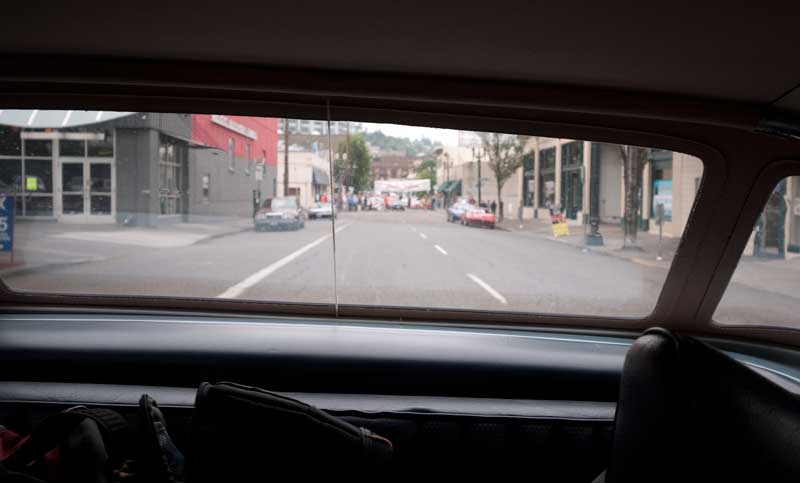 We follow the directions in the rally program that take us 19.96 miles down to Willamette Park in West Linn, OR. Our odometer reads 19.9(2ish), so we're "pretty close" to Car Zero. Certainly close enough for seat of the pants rallying. We find a parking spot and wait in the queue of rallyists of our Route Instructions. From here we will leave at 1 minute intervals and follow the route instructions which will lead us eventually down to Salishan Lodge on the Oregon Coast.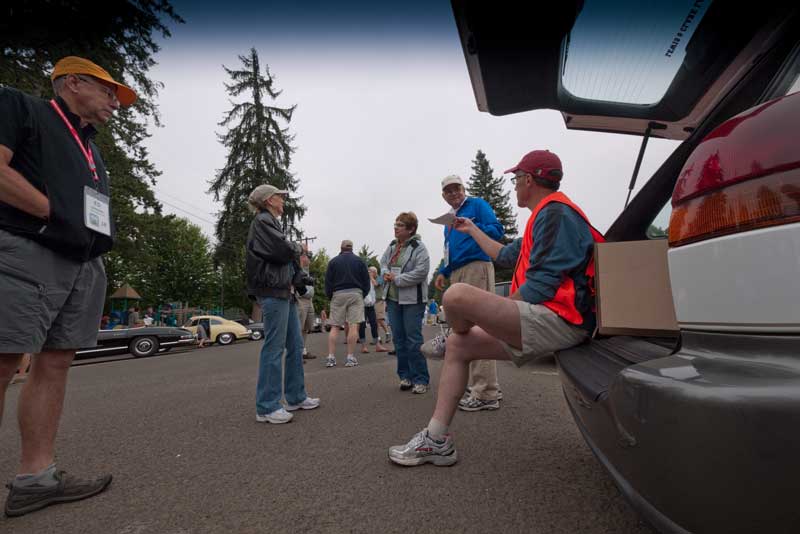 Each team receives their route instructions exactly 30 minutes prior to departure, and with well over sixty cars which left Portland at 30 second intervals just about the whole field is here in the parking lot before cars begin to depart.
This buffer of time allows me one last chance to shoot some cars while we wait.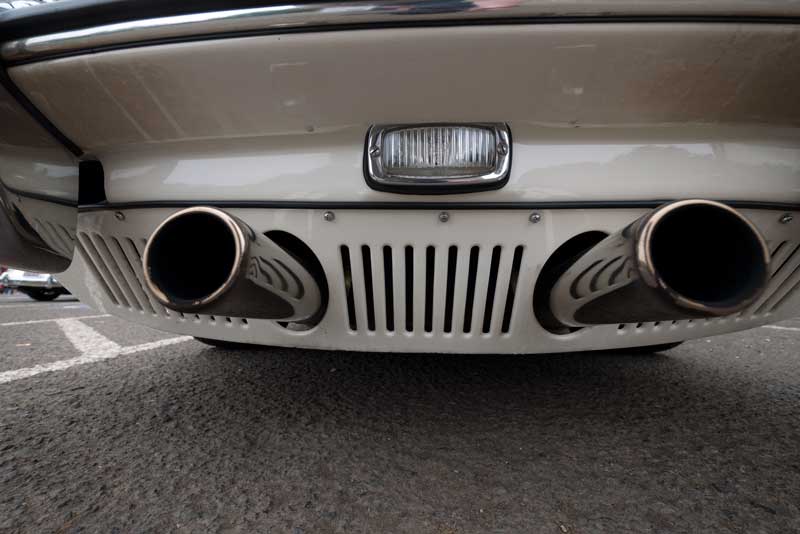 Randy Nonnenburg, who interviewed me for one of the BAT features about the event was there driving a borrowed 914. It was cool to finally meet him in person. This was his very first TSD event and he looked to be having a blast. Being 'The BaT guy" in this crowd is akin to being a big-time celebrity – or at least everyone's favorite drug dealer!
If you like my website and don't read Bring A Trailer, you're missing out!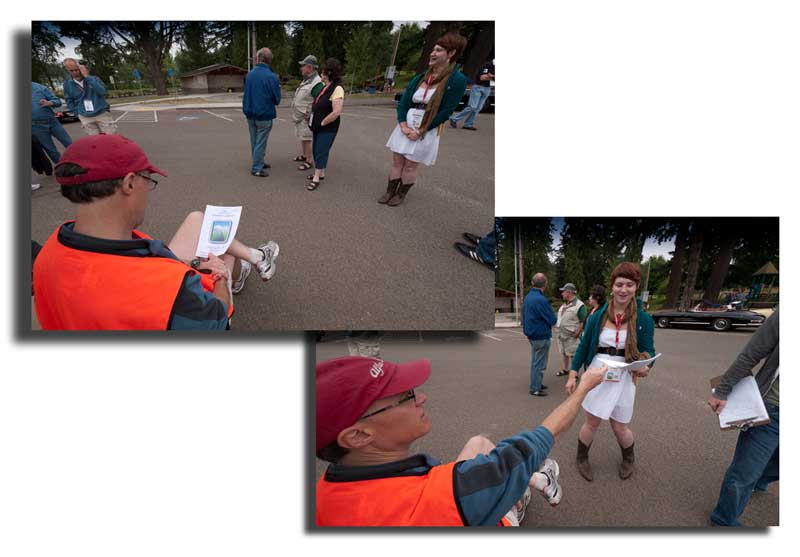 I stand right next to the rally volunteer who is handing out route instructions and it is kind of fun to watch Nervous Navigators mill about looking nervous as their time approaches.
Dad however, appears cool and collected as he takes our route instructions. We head to the car, and first scan the entire day for the infamous words that have lead many a rallyist astray: "onto" and "toward". There are eleven stages laid out, with ten "regularity" runs and one "Monte Carlo" stage.
The first stage is named "Pete's Mountain Regularity" and is a short 2.34 miles. The route sheet for it leads with the inspirational words of General George S. Patton: "Accept the challenges so that you may feel the exhilaration of victory." Dad and I quickly fall into our comfortable roles as Driver and Navigator. (In hindsight, we did very well, arriving 1 second late to the checkpoint. The average penalty for the whole rally field was 16 seconds.)
At the end of the stage we are greeted by a route control, where we are told that both the option Trap Challenge segment and the Trap Avoidance Transit are cancelled due to road construction and an overturned truck respectively. We are given a handwritten sheet to hastily copy with directions to the start of the next scheduled regularity. We follow these directions to a park, where I take a pit stop in an odd sort of unisex restroom with individual doors, but high-wall partitions between stalls – all while a woman carries on a loud conversation on her cell phone next to my stall.
The next segment is our Waterloo. The Ladd Hill Regularity is a 9.4 mile stage on narrow, twisting hilly roads, and I find myself stuck behind a pickup pulling a heavy trailer going about 20 MPH in a section where I should be doing 34 MPH. For what seems like an eternity, but is likely only a couple of minutes, I'm forced to limp along in frustration, up and down and around and around, staring at this big black trailer. When it finally turns into a driveway (making almost a full stop right before!) I put the beans to the 4.5 liter German V8 and reel in as much road and time as I can. Dad gives me a time-check at a point a few miles ahead. My plan is to sprint there as quickly as possible, then figure out how far off we are to car-zero time; ahead or behind, and adjust accordingly. So I'm zooming along like a Teutonic Valkyrie screaming my way to Valhalla, and… Surprise! Of course we come to a checkpoint. Grrrr. (At the time we had NO IDEA how far off time we were, but later we find out we were 23 seconds early.)
The next two segments were not scored for some reason or another (I never found out why) but the second of the two did have an off-course Route Control (based on a TOWARD direction) which caught about half the rally field with a one-minute (60 point) penalty.
The next segment, 'The Webfoot Road Regularity" looking at the score sheet later, caught a lot of the rallyists in some bit of route-finding, as very few scored well, but somehow Dad & I pulled it together and racked up a mere 4 seconds of penalty, being just a bit late to the checkpoint. Now we were deep in the Oregon Wine Country, and traffic was thick. This segment, "The Hopewell Regularity" took us 17.5 miles through vineyards to our lunch spot on a beautiful hilltop overlooking the Willamatte valley. We racked up a 6 second late penalty to the next checkpoint, but were stuck behind queue of three cars when we passed it. Nothing we could do to improve that one.
Lunch though did lift our spirits, as it was the traditional NW Classic Salmon feed.
We enjoy some great company at our table, and soak in the fantastic view and tasty salmon, salad and cookies.
Right before lunch we filled up the 450sl with gasoline, so we'd be able to concentrate on rallying the entire afternoon.
A 10 mile transit takes us to the start of the next segment, named "The Perrydale Regularity." The route instructions provide little detail on this 10.5 mile segment, but Dad does some time calcs in his head and gets me a series of time splits at various turns and stops along the way. We stay very close to car zero time but Dad thinks we're ahead. Of course we come over a rise and the checkpoint appears. Dad tells me to slow down, but gives me very little instruction on HOW MUCH to slow down. I just brake and slide by the checkpoint. (Looking at the scoresheet later I see a penalty of 4 seconds for being early – testament to how dialed in my father was that day!)
The next segment, "The Ballston Regularity" has a true quote atop the Route Instruction that reads: "Like the Asian game of GO, TSD rallying is a game you can learn in one day and spend the rest of your life trying to master." So true. But once in a while you're trying to master, you actually do master. As we're rolling along this segment we are really nailing the time. Every time check we're right on. Then comes the inevitable 6 mile section with no time checks available… all you can do is stay on the right speed and hang in. Somewhere near the end we pass the checkpoint and Dad says "just stay on the average speed", and I do. We hit the end of the TSD and we're right on time. No idea of course how well we really did, but we feel great. (Looking at the scores, this is our one triumph of the day, we zeroed the segment – a little reward for Ladd Hill.) The park where the segment ends is completely lacking in shade, so we head back along the route a half-mile or so and wait out the delay before the start of the last TSD of the day.
The quote above the route sheet for this one is the famous racing line "To finish first, first you must finish." The Hebo Road Regularity plays out a lot like the last one, except the long section near the end without time checks is longer, and the average speed is a funny number harder to calculate with. Dad does his best to keep me on-time, and based on our back calculation from the last time check about a mile after the checkpoint and 1.5 miles from the end of the segment we thought we were very close. (We were 5 seconds early)
The final segment of the day is named "The Little Nestuca Monte Carlo" and takes us 7.7 miles through the coast range and down to US 101. Monte Carlos allow you to run at any speed you wish, just so that you do not stop within sight of the finish, and then pass the finish at your precise time allotted. Our long-time strategy is to sprint ahead, then find a spot where we can wait, then proceed. My job is to time our our arrival precisely. Dad's job is to give me a countdown so that I can grasp the time as it relates to space. I try to roll up at a reasonable speed as he counts down to zero, with a little burst of speed right as he says "Zero" to time the front wheels across the imaginary finish line as he says the "O" in zero. We've nailed countless TSD's following this process.
I don't know why, but for some reason Dad decided to play right-seat-driver this time and told me to change speed, instead of keeping to the plan and counting down numbers. Somewhere around 12 seconds to go he stops counting. This is as close to dropping a blindfold over my eyes as you can get. We are 4 seconds late across the line.
The ten mile transit to the Rally hotel takes us through the traffic nightmare of Lincoln City on the Oregon Coast on a Friday evening in summer. We stop and fill up the car, then head south to the lodge. The traditional post-rallying margaritas await us in the parking lot and we swap rallying stories for a bit – then head to our rooms and crash for a while before dinner.
Dinner turns out to be quite good, despite the large crowd. We sit with some old rallying companions, Ray & Roslyn Cohen from West Vancouver BC, who drive an immaculate white '62 Corvette. I also speak with Alan Chockie, who shares with me a tale of fuel delivery woes with his Alfa. It is a shame as Alan & Toni are usually such strong competitors! They spent the better part of the afternoon trying to get the Alfa to run, and blew all the afternoon segments. "To finish first, first you must finish."
The guest speaker is an off-beat one for this group. We usually hear from some car-related person, but this time we hear from Markus Horning, who is a scientist who studies pinnipeds, that is seals and sea lions, off the coast of Oregon, Alaska, and Antarctica. He turns out to be excellent and I learn more about the subject than I ever dreamed I would!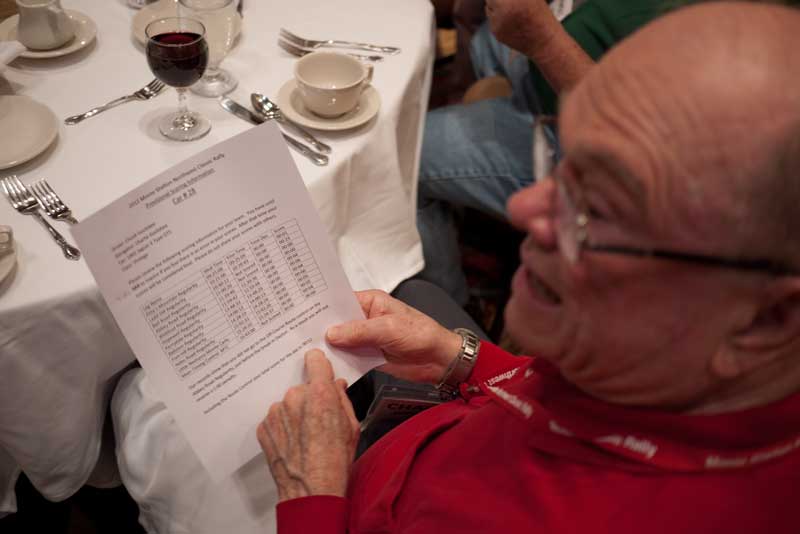 After dinner and the guest speaker they hand out score sheets and we're in fourth place overall and first in Vintage class with a total penalty of 00:52. So we've finally put together a Day One like our last Day Two. No off-course adventures or getting lost – just consistent performance. Lets hope we can keep this up and repeat it again tomorrow.
Stay tuned!
Note: I'm writing this a full week after the event, as work and life has kept me quite busy. I chose to write it in present tense to keep with my traditional "liveblogging" style, even though I couldn't pull it off during the event due to wifi connectivity problems. I can't promise that I'll post the next section by tomorrow, but I'll try and have it done as soon as I can. Hang in there.