Just doing a pre-edit brain dump on an article I might submit about the BMW E21/320i. It's status as an affordable classic. Feel free to comment, correct my typos and suggest edits. Likely need to shave about 200-350 words from here… also need to refine the wrap-up. Photos coming later… when the sun comes back.
————–
"Marsha, Marsha, MARSHA!"
Oh, the forever lament of the middle child. Ignored by the family for just being in that middle space between the over-achieving elder, and the darling youngest. The collector on a budget seeking hidden bargains often will find them in between their higher-valued siblings. One such example is the BMW 320i, also known as the E21. Slotted between two more often desired models, the 2002 and the E30, the humble E21 is an under-appreciated and affordable way into vintage BMW ownership.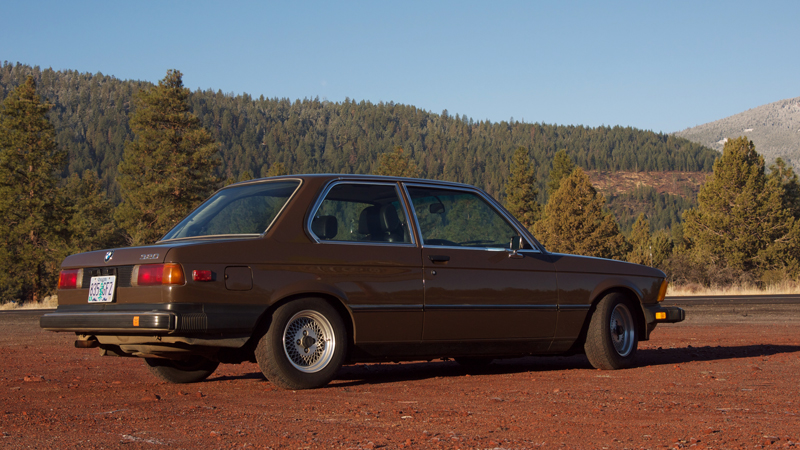 That is, if you can find a good one. That is difficult, as many remain, but few remain original.
The E21 sold in huge volumes around the world, with more than 1.3 million built between 1975 and 1983. It was the car that launched the BMW 3-series, and cemented it in the mind of many, especially here in the USA, as "The Ultimate Driving Machine." BMW started using that slogan in 1975 and stuck with it until 2006.
Sandwiched between the 2002 and the E30, the E21 just hasn't yet lived up to the hotness of its siblings in terms of value, but there are signs that could be changing. The 2002 is a darling of enthusiasts. Light, nimble, modest production numbers, with a robust drivetrain and an elegant appearance compared to the boxy E21. The followup to the E21 was the sleeker E30, which enjoyed a fourteen year run with many variations of engines, fuels, and even the first official BMW Motorsport variant the M3. Values of 2002s and E30s have enjoyed some good runs over the past decade, whereas the middle-child E21 values have remained relatively flat. However that's why we're here in Affordable Classics, since much of what made its siblings great can be found in the E21, along with some potential value upside.
From the 2002 the E21 inherited a bullet-proof engine, the venerable BMW M10. This single-overhead cam four cylinder was produced from 1962 through 1988 and powered everything from big sedans to FormulaOne race cars. It is a simple, reliable powerplant available in varying displacements from 1.5 to 2 liters, both carbureted and fuel-injected. In Europe the E21 was available in 1.6L, 1.8L, and 2.0L displacements. They were named "316", "318", and "320" in predictable Germanic fashion. Besides badging, single headlights are identify the 316 & 318, and the 320 sports dual headlights. In North America only the Bosch K-Jetronic mechanical fuel-injected 2.0L version was offered initially, and the last three model years ('80-'83)it was downsized to 1.8L and fitted with a catalytic converter, but no matter the displacement all North American cars were badged "320i". There was an "S-package" called the "320is" in the USA after 1980 which featured Recaro seats, a 5-speed gearbox, limited slip differential, and many other appearance, comfort, and performance additions that previously had to be special ordered. In Europe an E21 was offered starting in 1977 with the BMW M20 straight-six engine that eventually came to North America in the E30 3-series cars, but it was never offered in any North American E21. The US-Market 320i was available with A/C, but were also fitted with enormous "diving board" bumpers.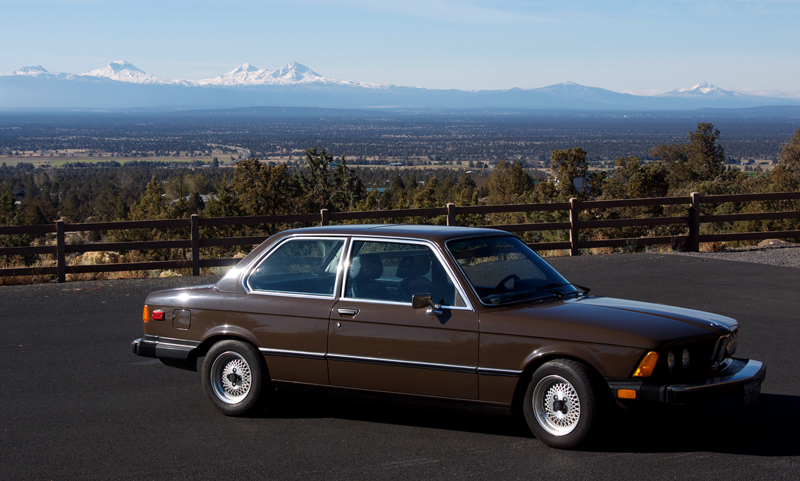 The origin of the 3-series
The BMW 3-series launched with the Paul Braq penned E21 in mid-1975, but it wasn't until 1977 that you could buy one in the USA. With overall design cues from the E12 5-series sedans, the E21 was limited to two-door coupes only. (Coachbuilder Baur GmbH converted just under 5,000 E21s to their targa-roof "TopCabriolet" between 1978 and 1981.) The interior was lauded in the contemporary press, with very comfortable seats, U-boat-like red instrument illumination, and a dash that wrapped around, with the center console angled toward the driver – a feature that remained a mainstay of the BMW 3-series until very recently. In the early 80s the 320i was seen as a "Yuppie Car", an aspirational lifestyle object for successful professionals, and garnered the sort of social commentary we see today reflected in cars like Tesla's or the Toyota Prius – it defined the sort of person you appeared to be. It was a huge success for BMW and sales increased year over year, firmly establishing BMW in North America. Here was a car that looked conservative, but rewarded its driver with about as much fun as you could have up to the federally-mandated 55 MPH maximum. Rivals responded with similar compact executive cars, such as the Mercedes-Benz 190 (W201) aka "Baby Benz".
Most have been driven, and modified
If you've been exposed to a wide variety of car people, you'll note that some sub-groups LOVE to drive, and sometimes modify their cars. Vintage Bentley owners fall into this category, and don't seem to mind driven, or non-original cars, so long as everything is well-documented. BMW people are like this too. It is rare to find low-miles, unmodified BMWs, and when you hang around people and their Bimmers the conversation inevitably gets around to what mods have been applied to their cars. They also drive them. Long journeys to BMWCCA meets and events are common (Ocktoberfest, Sharkfest, Z-fest, Festorics, et al.) So finding an original, low-miles E21 is going to be tough. Many have had 6-cylinder engines or other performance mods installed. Most have been just plain used up. However restoring them is relatively easy and parts remain widely available. A 320i is an excellent project car for the new collector with a modest budget. Weak points are few. The odometer, which can break if the trip odo is improperly reset. The hazard light switch, which fails to "on" and will drain your battery (ask me how I know.) Beyond those two things, standard cautions about rust, degraded rubber/plastics, and mechanical inspection apply. The M10 engine's primary weakness is overheating, so check for leaks around the head. Avoid examples with leaks or that run above the halfway point of the temperature gauge.
Current Market
You're not going to find an E21 crossing the block at Monterey anytime soon, so until that day happens your best bets to find yours are BMWCCA classifieds, and online auction sites. Prices range from $3,300 to $9,000, with a few outliers into low 5-digits. Originality, miles, and condition are going to drive the price. The pictured example was bought online for just over $6,000 and driven home a thousand miles without incident (beyond replacing headlights along the way.)
Future Market?
History may ultimately forget the BMW E21 as a middle child, and properly recognize it as the "Ur-Ultimate Driving Machine" – the true origin of the 3-series. The car that launched BMW from a niche player into the dominant maker of sports sedans, and lead to its amazing success in the US market. The tide already seems to be turning in Europe, where the Verband der Automobilindustrie (the German Automotive Industry Association) which among many other things lobbys for, and tracks the "oldtimer" market, noted that the BMW 320i gained more value (61.2%) in 2017 than any other make/model in Germany. This value increase was over 2x the car that came in second place, its cousin the E24 6-series coupes. Get one now, while they're cheap, and have fun driving a very affordable bit of almost forgotten recent history.