I left Arlington around 9 am and drove south to Seattle, stopped at my sister's house and picked up my Dad, and we drove down to Portland, Oregon for the start of the 20th annual Monte Shelton Northwest Classic Rally. This evening was just a reception, driver's meeting, and tech inspection.
We passed tech (because I thought fast and bought an air horn at the hardware store last weekend. When my intermittent horn failed to blow when I pressed the horn button, I just hit the air horn and "presto!" I pass. 😉 )
I grabbed a few photos to capture the scene at the tech inspection/reception, and whet your appetites for mechanical wonder over the next two days: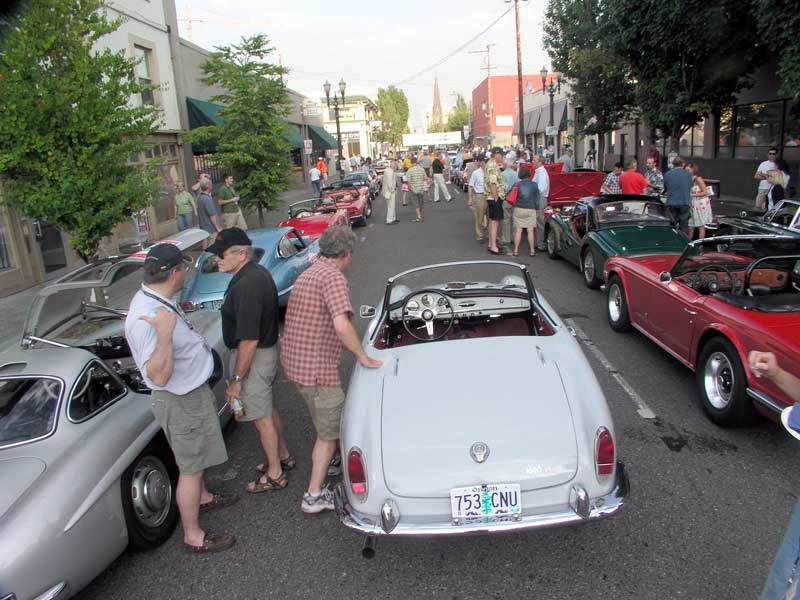 Above: The scene looking east along Alder.

Above: Can you name that car?

Above: Love the paint on this Jaguar XK 140.

Above: While I was looking at this a bystander asked "Is this a 12 cylinder engine?" I let him know exactly what it is. Do you know?
Afterwards we went back to our hotel across the Columbia in Vancouver WA, after filling up the Jaguar. 21 MPG on the trip down(!)
See you tomorrow (provided I can get online at our next hotel, which is in the boonies.