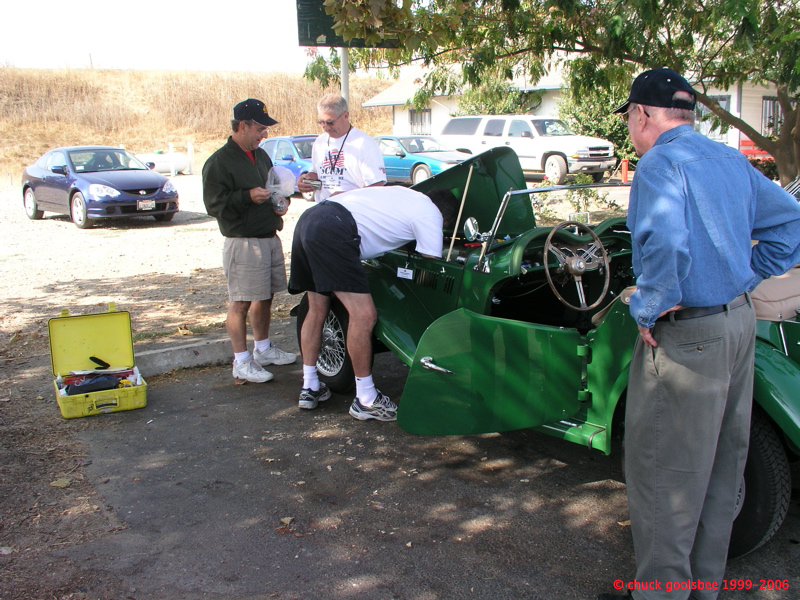 This photo was taken at the 2003 Mille Autunno rally/tour. On the very first day we left Marin County, up through the Napa valley, and would our way through hills and along the Sacramento River north towards Chico for lunch. Midmorning we spotted a rally participant in a FRESHLY restored post war British car wounded on the side of the road. We pulled over and it looked as if I saved the day for them by puling out my tools/spares box (the yellow thing on the ground on the left… it is now painted hammertone silver to match my air intake plenum, but I digress!) and producing some spare wire and crimp-on ring terminals. It seemed their generator wiring disintegrated after 100 miles or so.
Once again able to proceed under their own power, they sped off while I played Tetris to get all my bits back into the mail slot that Sir William Lyons laughably called a "boot" on the Jaguar. Unfortunately we caught up to them later, off again on the side of the road, this time with a fatal engine issue. It was a shame as this LBC was in perfect post-restoration shape cosmetically and looked like a hoot to drive. They obviously needed more shake-down cruise time before it would be ready for a 1200 mile tour through the Sierra and NorCal! Oh well.
(As it is far too easy for them, Paul & Roger are disqualified from participation!) Any guesses as to the marque and model of this pretty green car?