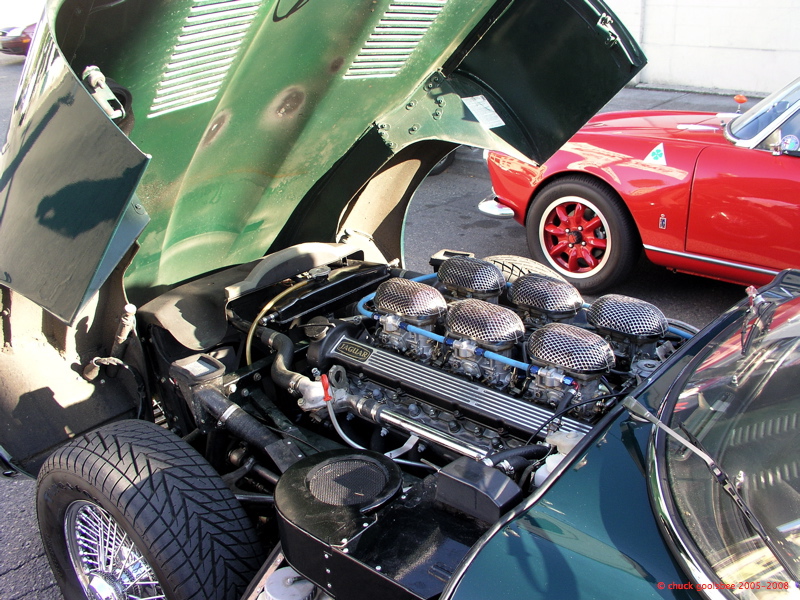 The Series 3 E-type always looked like a bit of a mongrel to me, especially under the bonnet. The V-12 seemed shoe-horned into too small a space and the goofy dual-carb intake manifolds looked like a "reach" to me as they fed a bank of six cylinders from way down low on the side. The bonnet itself, seemed mis-applied to its contents. Unlike the straight-six XK engine before, where the bulge in the middle provided clearance for the cam covers and the louvers provided a place for hot air to escape, the Series 3 installed rain shields(!) to compensate for the louvers and nothing filled the middle bulge at all. Finally the engine itself is almost invisible in the Series 3, buried under manifolds, linkages, wires and whatnot.
This car managed to address some of the issues above with some simple modifications. It nearly pulls off a win from the jaws of defeat, with a bank of Webers down the middle (though obviously the front ones are rubbing!) and the heads of the V-12 are actually visible. No risk of fuel leaks on the exhaust manifolds either.
I spotted this car at last year's Monte Shelton, but I don't remember seeing it after the start, so I think it DNF'ed. Oh well.