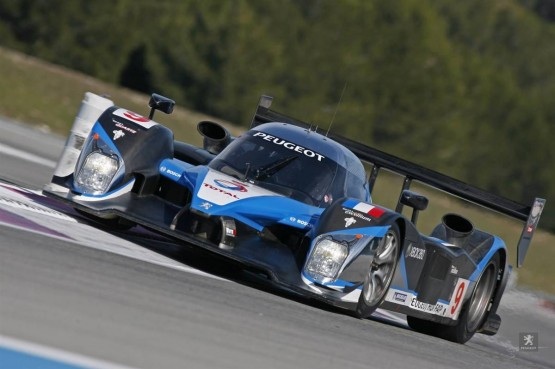 I dragged myself out of bed at 4:30 AM to catch the last few hours of the 24 Hours of Le Mans today. As always it proves itself to be the greatest event in motorsport. No other event tests cars and drivers like Le Mans. Leading the way always in technical innovations the sport welcomed Diesel power just a few years ago and the cars have dominated the LMP1 (Le Mans Prototype) Class ever since. To date that has meant Audi and their all-conquering R10 cars. In 2007 another manufacturer fielded a Diesel entry: Peugeot. They chased Audi and would have, SHOULD have, beaten them last year as their 908s were three seconds a lap faster than the Audis. Audi however proved that speed is not everything and managed to pull off a near-miraculous win by staying focused and running a great race, using strategy and tactics. Many have attributed the win to tire choice in the rainy final laps, but really it was the Audi team's complete performance, from start to finish over 24 hours that kept them within striking distance for that final tire choice. (If you haven't watched "Truth in 24" the documentary about last years' race, do it now!)
This year Audi came to the race with a new Diesel-powered prototype car, the R15 TDI but Peugeot capped a long pursuit of Audi with a victory for the 2009 event in their 908 HDi FAP. The winning car was driven by David Brabham (Australia, son of racing legend Jack Brabham), Marc Gené (Spain), and Alexander Wurz (Austria). Fishing second overall was another Peugeot 908, followed by the only Audi R15 to finish the race making a clean sweep for Diesel power. Six of the top ten finishers were Diesel cars in fact, as all the Peugeots finished along with two of the old R10 Audis being run by a privateer.
Still think Diesels are noisy, smoky, and slow?