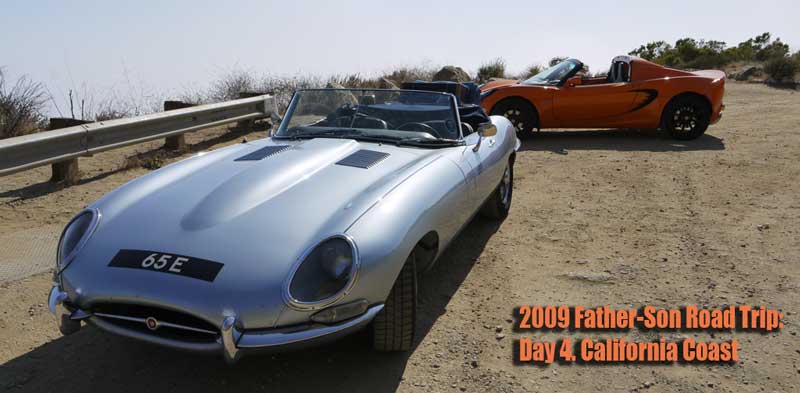 After sleeping better than your average hibernating grizzly bear, we awoke to an amazing home cooked southern breakfast at Chez Mouton. Eggs, bacon, and home-made biscuits by Jerry & Kate. It was mmm, mmmm good! Tres Bon!
Jerry then hopped in his 1964 E-type coupe and took us for a wild ride through the mountains to Ray Livingston's house above Santa Cruz. I know Jerry and Ray via participation on Jag-Lovers.org, via their E-type forum/mailing-list. It is a great group of enthusiasts who really help and support each other. My E-type would have literally killed me long ago if it were not for guys found there online. They provide not only support but years and years of collective, practical experience of maintaining E-types.

View Larger Map (As I was following Jerry on parts of this route and not doing any navigation beyond watching his tail, the route depicted may not be exact!)
The route to Ray's house goes through the hills above Palo Alto. Jerry has driven this route hundreds of times and is one of the most competent high-performance drivers I've ever met. It is a joy to follow Jerry on a road like this. All you have to do is focus on the back of his car and drive. Follow his cues and you'll nail every corner. I've had the great pleasure of following Jerry before… a heavenly driving experience. Later that night when summarizing the day's drive to the Jag-Lovers E-type group Jerry wrote:
Once again I fell in love with the E Type. It's really the most satisfying car I have driven on roads like this. The car is so balanced and mobile and powerful that you can just dance the car through the turns. Coming out of a turn with power, you set up for the next properly banked curve by feathering the throttle and maybe a touch of brakes and moving to the outside of the lane. The car hunkers down and smoothly settles into a roll position as you dive into the turn and start to accelerate. As you unwind the wheel and apply power, it smoothly rises up and explodes out, ready for the next brake and turn. Such a satisfying dance! The Boxster and M3 can do as well, maybe a little faster even, but neither can provide that aesthetic feedback you get with the E Type. "The perfect tool for practicing the art of fast driving" said Road & Track.
Unfortunately this time Jerry's brake lights stopped working. (one of the first things I learned about E-types from the Jag-Lovers group is how flaky the pressure switch is that operates the brake lights. I've changed mine at least 4 times since I acquired the car.) Without lights for me to key into and time my braking it was very difficult to follow Jerry as tight as I wanted to. I had to fall back a bit to make sure we had adequate distance to recognize braking, but still close enough to stay with him. Made for an even more challenging drive!
Chris took some video with the compact digicam, which I'll post asap.
We arrived at Ray's place up in the mountains, and found him, in typical "Mad Engineer" mode, operating his CNC Mill:
Ray has made some amazing parts for E-types: brackets for Wilwood brake conversions, steering rack mounts, and of course his famous "Bloviator" (a wind dampener for E-type roadsters.) Today he wasn't making Jag parts though, he was making parts to improve his CNC mill… because he can. I joked that he would expand and improve his mill until it became self-aware and then takes over the world. Before we all become enslaved to Mr. Livingston's mill however… we have a road trip to finish.
We chat about his mill, and look at Jerry's brake lights (yes, it is the pressure switch) and discuss a few minor issues with my car. (Ray later gave me some pins he machined to replace some badly worn ones on my car's doors as a parting gift.) We of course have a look at Ray's Mad Engineer Inventions, such as the final prototype Bloviator mounted on his car, and the EDIS system which is still in development, but running on his car quite well.
My car has suffered an issue for several years where it occasionally has trouble starting, which usually manifests itself when the weather is hot. This is rarely an issue when I'm home in the Pacific Northwest, but here in California it seems to happen about every third time I try to start the car. I assumed it was the starter, but on this trip I began to suspect it is the starter button on the dash. I wanted to show this to Ray but of course when I went to start the car it fired right up. I shut it down and tried again and was able to reproduce the issue. He thinks it is the solenoid. My car is equipped with a Nippondenso gear reduction starter that is supposed to be immune from these issues. In fact many folks replace their original Lucas starter to put these sorts of things behind them forever (of course just as many swear by their old reliable Lucas starters, so as with all such debates disagreements will persist forever!) My car though has had a spotty record since it was "re-restored" post flood. Like so many parts and modifications made by the suspect "restorer" it appears this bit will be problematic until I fix or replace it. Oh well.
Of course now having proved itself unable to start sometimes now it would not start at all, so the group of us push-started the 65E and then we thanked Ray and roared off south towards our next destination, the Laguna Seca area.
Our next stop was at Lloyd Nolan's house near Laguna Seca. Lloyd is another participant on Jag-Lovers.org, and is the caretaker of a late 1971 Series 2 E-type roadster:
From Lloyd's we drove into Carmel Valley Village for lunch. On the way as our three E-types were waiting at a stop sign for a left turn onto a main road into town when a red Series 1 E-type OTS made a left turn right in front of us onto our road. The look on the driver's face was priceless. Once he snapped out of his shock he smiled and yelled "Nice cars!" before roaring off up the hill. We had some great food, at a small local eatery.
We parted ways after lunch, Lloyd & Jerry heading to their respective homes, and us heading west to the Pacific, and turning left. For Chris and I it was a relief to arrive once again in the cool coastal fog. Heading south through Big Sur was nice, though the views were very limited due to the fog.
I recall reading the biography and journals of George Vancouver, who circumnavigated the globe with Captain Cook as an officer, and later returned to the Pacific Northwest in Command of the Discovery to chart its waters, naming nearly all the physical features of the land that I now call home. One amazing bit of coincidence that I'll never forget is how Vancouver missed meeting Alexander Mackenzie by a matter of days, both having travelled to the same spot, by varying routes and methods. Vancouver by ship, around the tip of South America, and Mackenzie by canoe and foot across the entirety of what is now Canada. Both explorers sought the same objectives; a Northwest Passage and greater knowledge understanding of the Pacific Northwest. Its places, people, trade, and wonders.
I was about to have a similar meeting, 250 years, and 2000 miles south.
Chris and I were trapped behind a line of cars, who were trapped behind an RV, and directly ahead of us were two motorcycles. Harleys in fact. The nearest Harley had two people on it and the woman in the rear position was quite asleep. Every time the bike rounded a corner her helmeted head would bob lazily over to the outside. Enter a right-hand bend, bobble over to the left. Turn left and her skull wobbled right. All the while the incessant blattering of the Harley's V-twin was pounding on MY skull like a Marimba player at a Clambake. How this woman slept with that "blat! blat! blat! blat! blat! blat! blat!" all day long is beyond me. Recognizing that there was no hope of ever getting around the motorcycle, and since the RV at the head of this parade had rolled past several turnouts we were doomed. Doomed to travel a wonderful road at one-half to three-fifths of the speed limit, while having our skulls endlessly rapped by Milwaukee's Worst… and perhaps having to dodge a falling soporific rider looking to be transformed into roadwurst.
At a roadside viewpoint I pulled out and arranged the 65E with its nose pointing down onto the highway at a steep angle downhill, should the starter not fire once we decided to get underway again. Just as I shut down the engine and started to climb out of the car a guy going northbound in a bright orange Lotus Elise literally stopped on the highway and honked. He shouted to me "I just sold one of those… to get this!" He executed a sharp left turn as the traffic on the southbound side pulled away and parked perpendicular to the Jaguar. Climbing out of the car he said: "Are you on Jag-Lovers?" I replied: "Yes, I'm Chuck Goolsbee so you must be Eric The Bastard!" Most people when confronted with such an accusation would react poorly, however in this case it really was Eric The Bastard so he broke out laughing.
"ETB" is in fact Eric Scott Williams of LA, who jokingly refers to himself on Jag-Lovers as "Eric The Bastard" (with his wife being "Mrs. Bastard" of course!) Eric set out to build the ultimate E-type and experienced many frustrations and pitfalls; so many that my story seems mild in comparison. So he sold his car not long ago and bought this Elise. He calls the experience "Changing his religion."
We chatted for a while, and he told me about his Lotus, and I told him how I really like them and would certainly buy one if I had the opportunity. (None has appeared as of yet however!) He was heading to a Lotus event at Laguna Seca, and clearly loved his new toy, but… I could see a misty expression of lust whenever he glanced over at the E-type shining in the sun. He is clearly smitten, but has also been burned. The lust did seem more powerful than the revulsion; however the deed is done, the car is gone.
What an amazing chance meeting! Had that Harley not been beating on my bonnet with unpleasant sound waves, backed up behind a line of cars, we would have passed each other at combined speeds of about 100 MPH, an orange northbound smiling blur meeting a silver-blue southbound smiling blur. We'd "known each other" for six years, yet only via text over TCP/IP, and here we were standing on the side of the road, shaking hands and swapping tales… by sheer chance.
Life is indeed a wonderful thing.
Jerry had suggested a route that went off the CA Hwy 1 via a VERY small, almost hidden road that goes up into the hills and comes out north of Paso Robles. Eric however told us that the Elephant Seals were hauled out on a beach just south of that point and that we really should see them. We said we'd consider it and thanked him for his advice. Parting ways we roared off in opposite directions with smiles and good feelings having met a friend at random along the way.
We drove the speed limit, which on a road like this, in a car like this, is a ton of fun. Unfortunately very few cars here actually drive at the limit, so eventually we ended up being stuck at the back of a queue. Occasionally there was enough space and conditions to warrant passing but more often we just chose to exit the road and soak in the views.
As the day was going into evening the road was clearing out and traffic thinned to just a handful of cars. Along the way Chris & I discussed the "twisty/narrow road vs. Elephant Seals" options and I left it for him to choose. We had already driven a whole lot of wild roads so he chose the seals. So we passed the turnoff (which is barely marked) and continued on towards the seals further down CA Hwy 1. Chris spotted them long before I saw the sign. Once you looked at the beach it was unmistakably covered in seals… long oblong gray and brown shapes all piled up on the sand. We found the turn-off, parked and I changed lenses on my new camera…
The seals were funny to watch. Mostly they slept. One or two would always be moving around however, trying to get more comfortable. It seems that each is convinced the seal next to them has a better spot so they maneuver to try and get that spot. Much growling, howling, posturing and even biting ensues. Once settled, they all lie back down and snooze some more. As these images have nothing to provide scale it is hard to ascertain the enormous size of these animals. We have sea lions and harbor seals in our region, but they are dwarfed by these gigantic elephant seals.
After watching the seals for a while we climbed back into the Jaguar and headed south. The sun was starting to fall and unlike at home where the summer evening twilight lasts for hours here it gets dark very fast. Looking at the map we decided to head inland to Paso Robles to find a place to stay. Not too far south of San Simeone we swung left, and up onto CA Hwy 46, which climbed out of the fog and away from the slanting rays of the setting sun. The setting was spectacular, and I had to stop to shoot a few photos to share with you:
After cresting the hill we raced our lengthening shadow through the Paso Robles wine country down into the valley.
Arriving in Paso Robles itself we found a TraveLodge and checked in, then went and found a place for dinner. Chris chose pizza and we pulled into the parking lot of a pizza place. A 20-something woman came up to Chris as we climbed out of the Jag and told him how lucky he was to be traveling in such a cool car. Chris, being a tad shy really didn't know what to say so I said "Thanks" and told her a bit about it. She didn't want to talk to me though. 😉
The pizza place had a great array of local wines so I picked a Petite Sirah and ordered our pie. We split a medium between us, with my half having garlic and jalapenos and his Chris' with pepperoni. The jalapenos were seriously hot so I had to have a glass of water to quench the fire before I sipped the fine Peachy Canyon 2005 Durif. I only drank one glass, and corked the bottle to bring back to the room. Chris crashed into bed and I polished off the bottle while I edited photos. I couldn't write or post much to the website since the bandwidth at this hotel was somewhere between a 14.4 and a 56k modem!
Once I sorted out all the photos I too climbed into bed and crashed hard. It had been a very long, yet very enjoyable day.