Out of the frying pan and into the E-type.
Nicholas has joined me now for the northbound leg and I handed him my little Nikon Coolpix compact camera to document the trip from his perspective. Most of the photos you'll see from now on will be taken by Nick.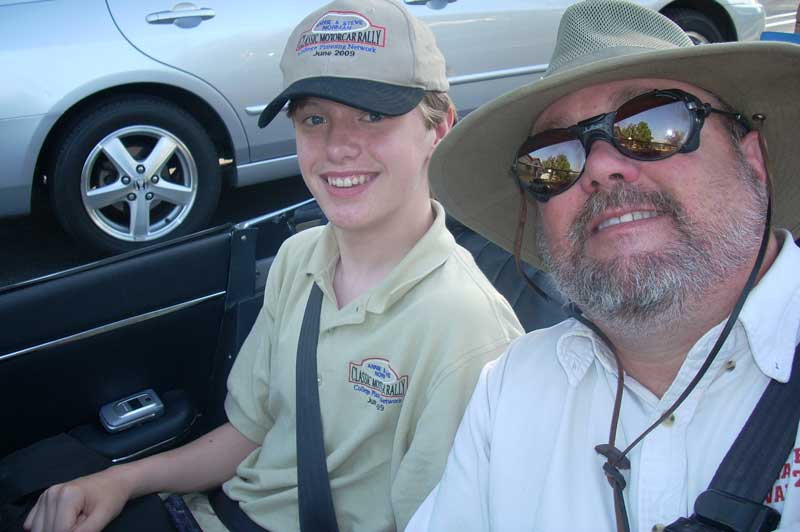 (I'm fairly certain the above map approximates our route)
Also joining us for the first two days or so of the northbound journey are our host Larry Wade, and a family friend from Norway, named Øyvind Aamodt. Larry owns an early Series 1 E-type.
Larry & I decided to head for the mountains rather than take the coast route, at least for the two days we'd be travelling together. This meant an early start as well as an inevitable run across some flat, hot territory along the way. We agreed upon a 7 AM start, and in reality it became more of a 7:30 AM start. Both of our cars needed gasoline so we stopped in town to fill up. Nick grabbed some snack foods as we had not made any breakfast at the Wade's place. I sent him in to pick whatever he wanted while I filled up the car. What he bought was… terrifying. (Note to self, 15 year old boys are goofy.)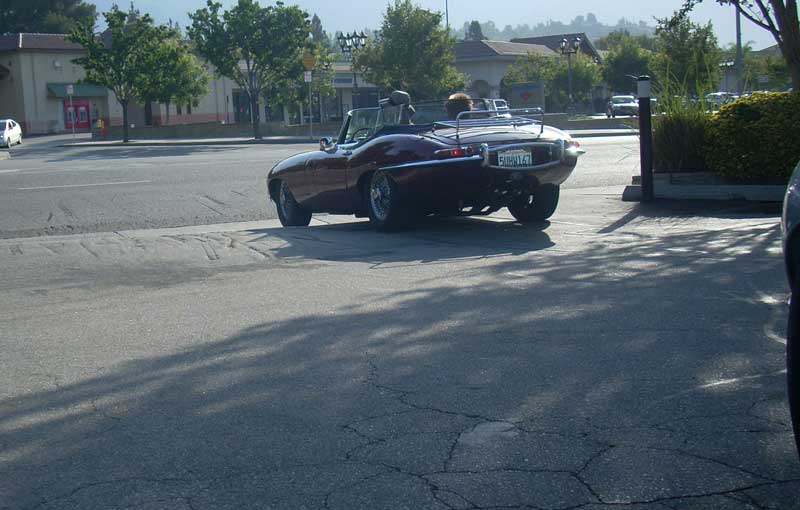 One thing I hated about the Los Angeles area in general is this odd way they build what the British call a "forecourt"… the transition between a parking lot and the road. Nearly every one I encountered went UP out of the parking lot over a sidewalk, then sharply DOWN to a gutter-like area of the road, then UP again onto the road itself. All of them were scraped and dinged like you see in the above photo, and all of them required very careful negotiation with the Jaguar to not end up high-centered. I scraped my exhaust and just about every one, and in the case of the parking area at Dan's in Santa Monica had to abandon the idea of using it. Silly.
We left La Canada via CA 2, I noted that my cooling fan was not running, and my radar detector, which shares a fuse with the cooling fan, was not working. The car was not yet overheated but as we were about to head into the mountains on what was going to be a hot day I needed to address the issue pronto. I got Larry's attention and we pulled over at a wide spot on highway 2 just as it started up the hill. I hopped out and grabbed a fuse and fuse puller from the toolbox and swapped in the correct one in the fuse block behind the dash. The old one LOOKED OK, but it was obviously suffering from a minor defect. This explains the radar detector going off every so often, such as driving over a bump in the road, or just randomly at times. The fan fired up as soon as I turned the key, indicating that this new fuse was a good one. The radar detector also came on fine, and stayed on all day long.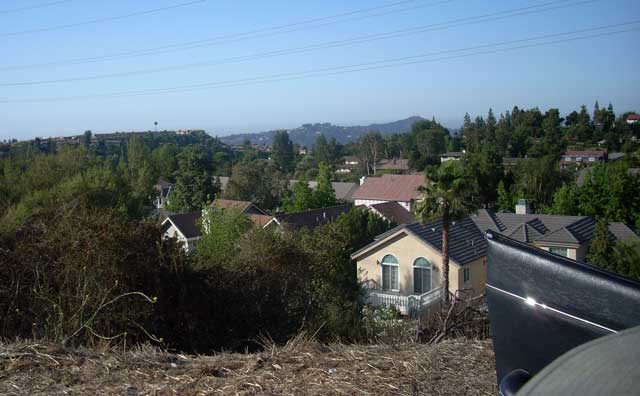 We ascended the Angeles Crest highway partway, grabbing one last look back into the Los Angeles Basin for Nick before we turn north-west along a different road.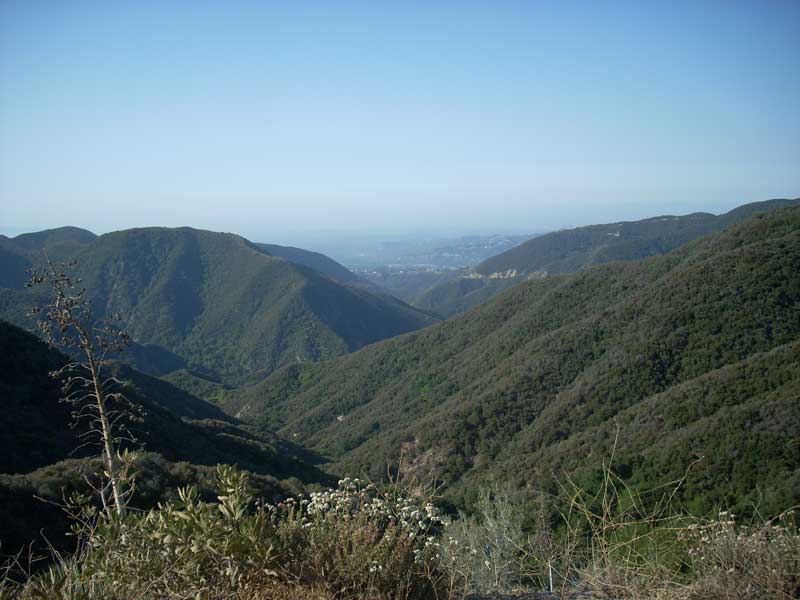 Larry leads us along a series of very small roads that roughly follow the San Andreas fault, which here runs west-northwest on the north side of the mountains. He jokes that if we experience a big quake while here we'll be on the coast route again. We follow them along, twisting and turning. Nick & I relieved of any navigation duty, just look around a lot at the plant life, which to us looks as alien as something from another planet. Larry makes a few wrong turns, but always recovers before we've gone too far. Eventually we pop out at the north rim of the mountains and catch a glimpse of the western wedge of the Mojave which intrudes just south of the Sierras.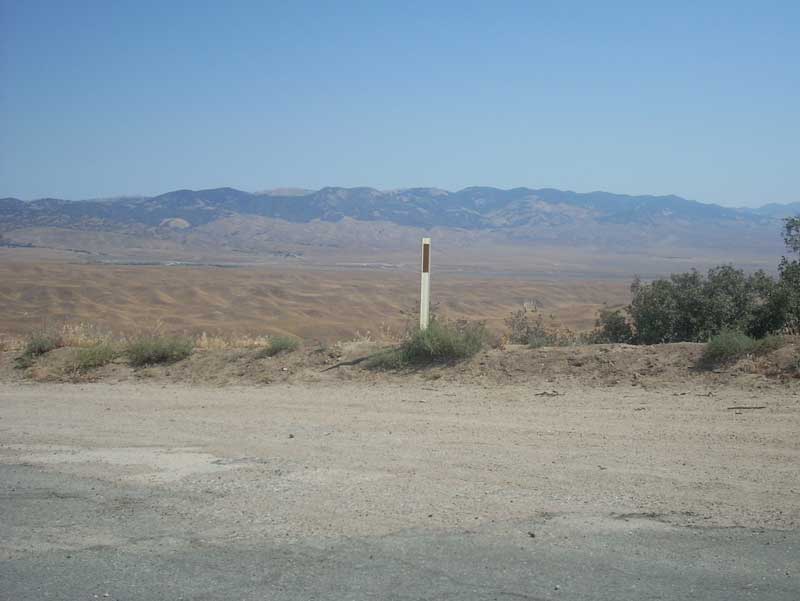 We climb over a ridge, by a few reservoirs and run into Interstate 5. I know my rules say "No Interstates" but here we don't have much of a choice. We ride the freeway down the Grapevine and into the flats of the Central Valley. The heat is oppressive. Soon we take CA Hwy 99 away from I-5 and start our fast run towards the mountains and cooler weather. Unfortunately it will take several hours to make that run and Larry & Øyvind pull off and into the parking lot of a California icon: In-N-Out Burger. He says he's got to put his top up to get some shade. It is 105°F and it is only going to get hotter.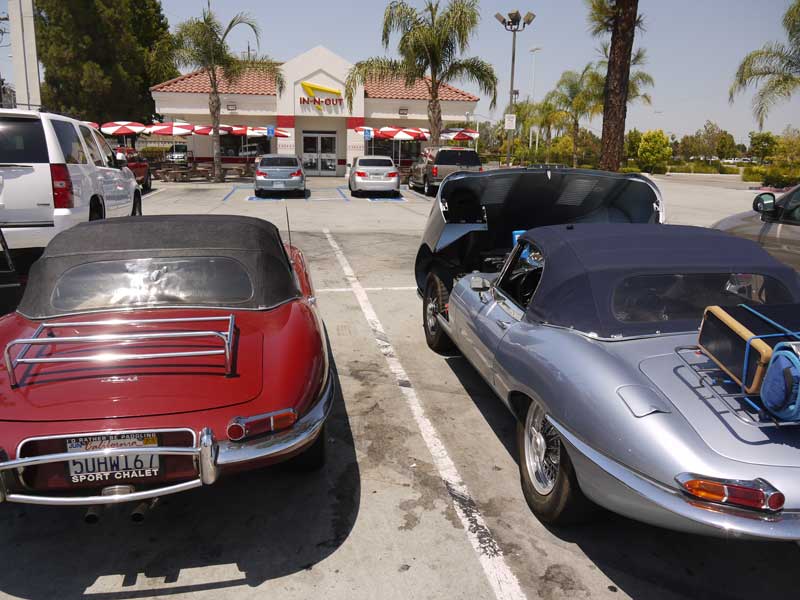 We decide to do the same, and when Larry tells us of the 'Giant cisterns of Lemonade' waiting for us inside, we change the rules on the spot and head in for a quick lunch and cool drinks.
The air conditioned environment is a blissful relief from the oppressive heat outside. Nick & I order lunch and I drink copious amounts of cold fluids while we rest in the cool air. The burger is pretty good, but the cold drinks seem to revive me enough to get under way again.
As I've said many times I don't really fit inside this car with the top raised. The plane of the top essentially intersects my head with both the canvas, and a metal support rib. In order to fit inside I have to scrunch myself into a rather uncomfortable position, but… I'll be honest, I am happy to be out of that brutal sun. We keep the windows down, but even the wind is hot. The only relief is the cold drinks we bring with us, and soon drain. Even their ice melts in a matter of minutes once we get underway. We're wilting.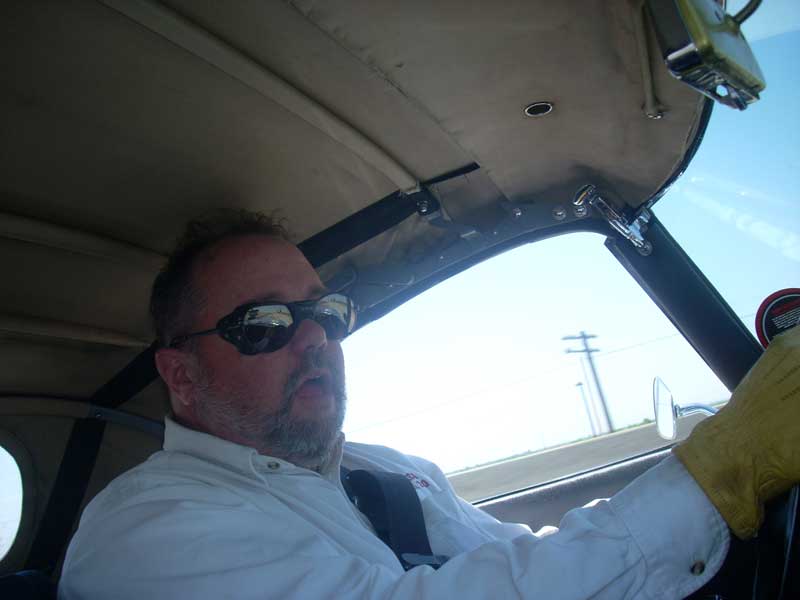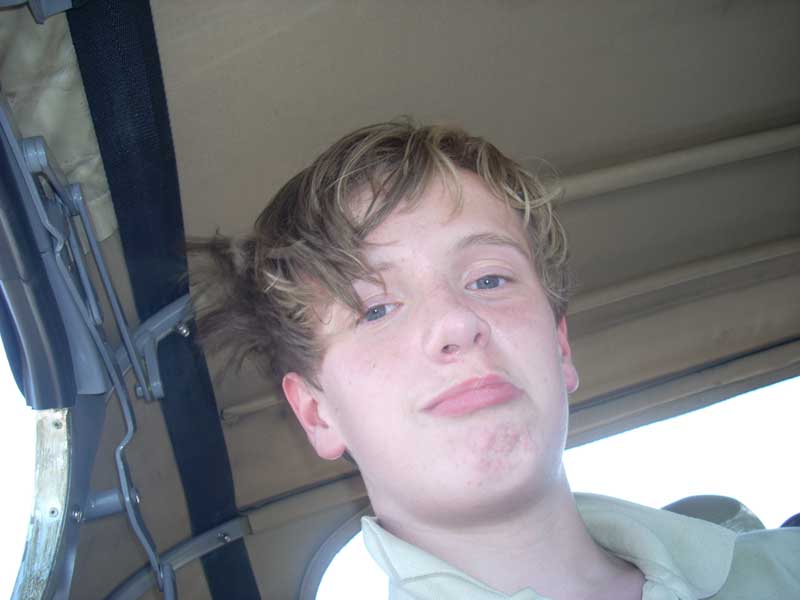 Our water bottles contain hot water. The interior surfaces of the car are too hot to touch. (Thankfully we're sitting on towels atop the seats… we live by Ford Prefect's sage advice.) There's nothing really to see except agriculture so Larry & I trade places to provide better scenery for each other.
We make a gas stop in Kingsburg, and Larry informs me that we are very close to our departure from this hot run and will soon be climbing into the mountains. It can not be soon enough! Thankfully he is right and we veer off onto highway 41 and soon find ourselves in the trees.. It is still hot, but not as oppressively hot as it was on the valley floor.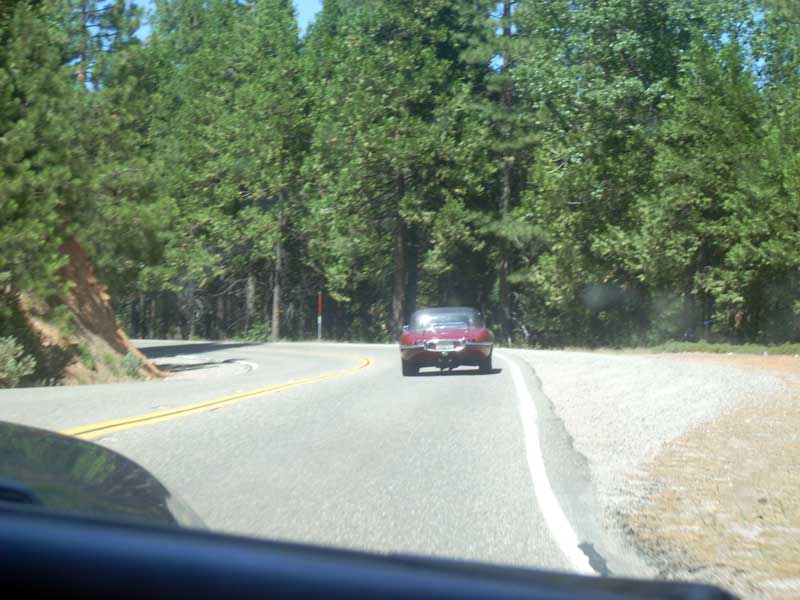 We arrive at the park gate and while Larry is paying his entry fee I pop open the clips holding the 65E's top onto the windscreen and open it up. Since my car is a mid-series 1 E-type with the later style seats this is not the proper procedure; the top does not fully retract without leaning the seatbacks forward, which means getting out of the car. My turn comes to pay the entry fee and I find out why Larry was delayed: the NPS lady in the booth says she had a '67 E-type when she was young and was thrilled to see ours out on the road. She has always regretted selling hers and we've made her day by arriving in two, at the same time.
Just inside the park we both pull over and properly stow our tops and head for the Valley.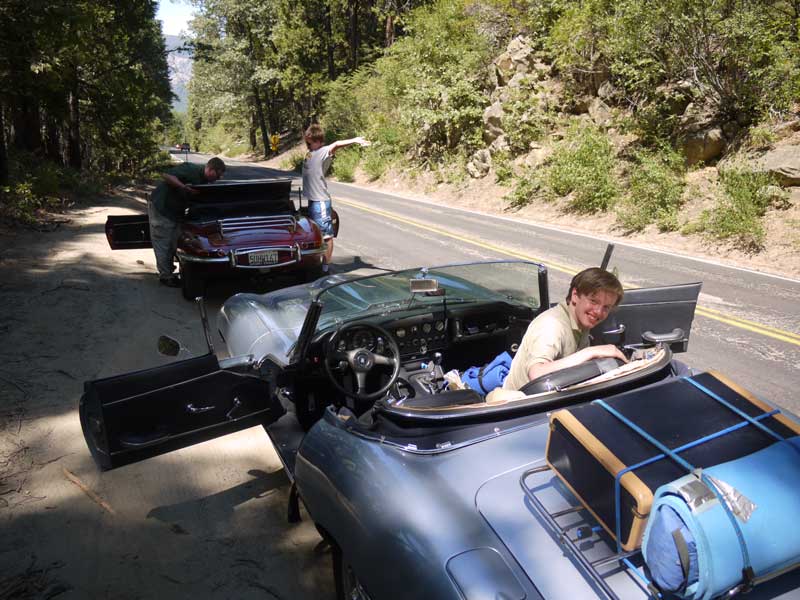 Nick made this odd video as we drove along towards Yosemite Valley. No big scenery, just the two cars rolling along through the forest.
While not really cool, it was refreshing to be out of the oppressive heat.
Our first glimpse of the fabled valley came a bit later as we rounded a bend and there appeared the top of El Captain and a full view of Half Dome.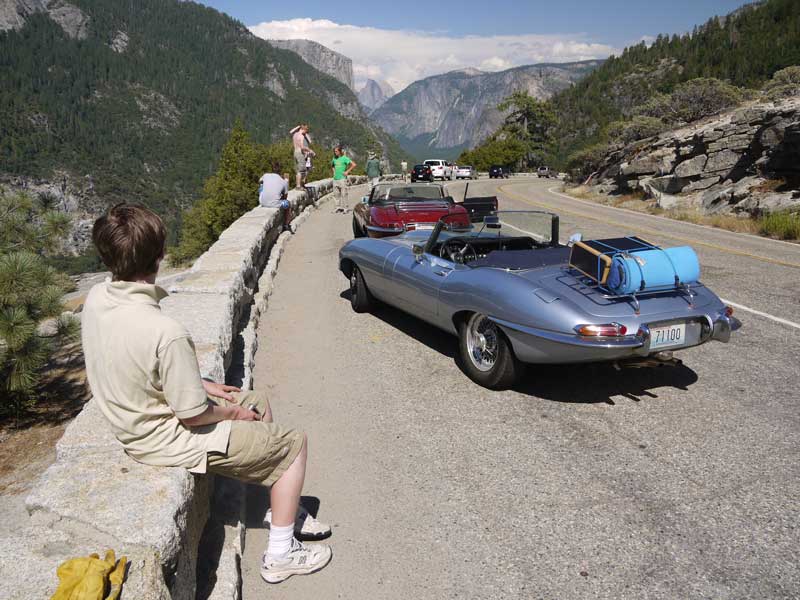 I visited the Valley in the late summer of 1983 while returning to college from a climbing trip in the northwest. I was without my climbing partner so for me it was strictly sightseeing and I remember being awed by the big walls. To come back again, with Nick in the 65E was a joy. The best part this time was arriving so late in the day. The crowds had thinned out considerably. If I was patient, I was able to get photographs of the landscape, and our cars, without any other cars or people around… a rare thing in a place like this. (I try to get "beauty shots" of E-type's for Roger Los' XKEdata.com calendar every year.) I love to shoot in locations like this as the results can be very good, but managing to find the moment to get the uncrowded, well-lit shot is damn near impossible in a well-trafficked location such as Yosemite.
Not long after we went through a tunnel and then found another (more crowded) overlook with a famous view:
Another challenge was parking the 65E in a location that allowed for easy push-starting. Since Nick was doing the pushing the ideal spot had a clear downhill grade in front of the parking space. Thankfully the late hour allowed finding these spots easier. We followed Larry through the valley itself. Having the top down is really a benefit as seeing the sites was easy with a full hemisphere of visibility.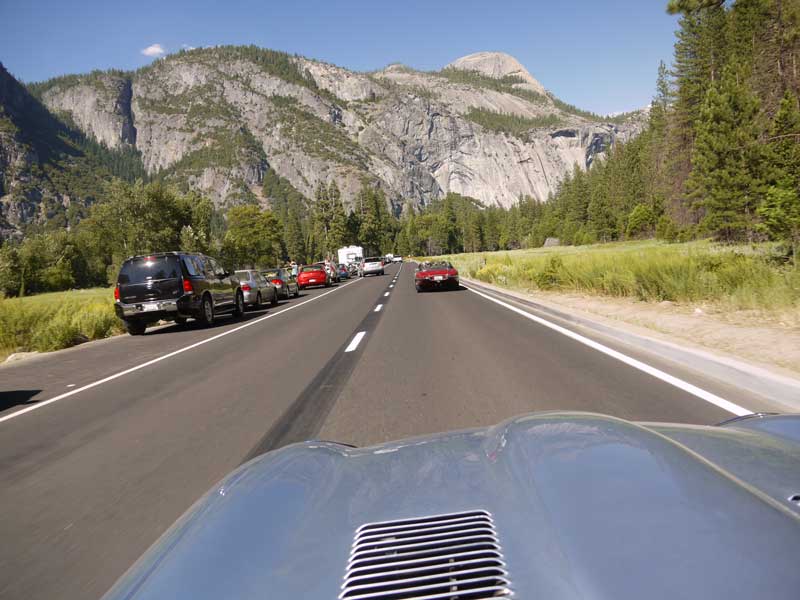 We made our way to the end of the road and stopped to consider our navigational choices. We had to find a place to eat, and a place to sleep. Larry intended to find the latter in the National Forest land east of the Tioga Pass Summit, but looked for the former right here in the park. He said that Tuolumne Meadows has a cafe that sells good burgers, but when I reminded him that it was almost 5pm he checked the hours and sure enough they close at 5. Larry then called the lodge and they said dinner was booked, but suggested calling White Wolf, a small facility on the way to the Meadows. He called and they had space at a table at either 7:15 or 7:45. Since it was along our route I said let's do it: 7:15. We backtracked through the Valley and I stooped here and there to "show & tell" Nicholas about some of the famous climbing routes: Royal Arches, The Lost Arrow, Salathe Wall, Dawn Wall, NA Wall (I let him figure out why it is named that.. he's a sharp kid. 😉 ) and of course the Nose Route. I stopped (but did not turn off the engine!) under the latter and pointed out some of the more famous features.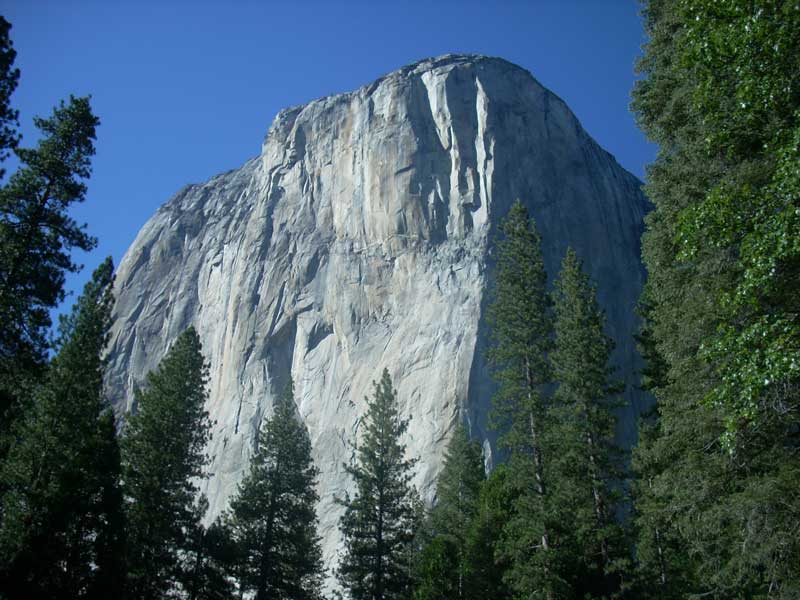 We left the Valley behind and ascended towards the fabled White Wolf and dinner. We arrived 2 hours prior to our scheduled dinner. It was markedly cooler, and there was a large campground adjacent to the small eatery/store. Larry went off and scouted for a campsite while we sat and drank cold water and rested. The 65E was parked in a spot that afforded relatively easy push-starting so best to leave Larry & Øyvind the scouting duties. Øyvind arrives to inform us that they have secured a great camping spot just a ways down the road, so Nick & Øyvind help me push-start the Jaguar and we go and set up our tent. The spot is less-than ideal, as there is no real slope for an easy start, but I figure I'll have 3 pushers, plus me, come morning, so I don't say anything. We get a lot of strange looks from the other campers, as 45-year old British sports cars are not a very common sight on the road, much less at national park campgrounds at 8000′ elevations. Having tow of them parked amid the campers and SUVs was indeed a strange sight. It didn't help that after our tents were set up and the camp readied Larry & I opened up our cars' bonnets to finally have a long cool look at each others' engine bays. Larry's engine has been completely rebuilt since last I saw it in 2006, and mine has had a bit of work as well. We compared pain and suffering, as well as a few delights to while away the time before dinner.
(I have no photos of the latter part of this day as all of our camera batteries were dead, sorry)
Dinner itself was very nice. Our waitress was wonderful. She took my battery charger into the building and supplied it with electricity while we enjoyed our meal out on the front porch. The meal itself was excellent and the waitress proved herself even more wonderful when she brought seconds of the amazing dessert to Øyvind and Nick, as well as the other two teenaged boys at our shared table. Batteries recharged, wine consumed, and dinner polished off, we walk back to our campsite for the night. Larry & Øyvind climb into their tent, and I let Nick bed down first, while I wander off and climb a large boulder (an easy 5.3 difficulty, though having my shoes untied made it a bit of a challenge!) to lie atop it and watch the stars for a while.
A great end to a great day.