Morning came after a great night's sleep. Christopher & I packed the car and ate a quick bite of our leftover "camp food" and then fed the Jaguar its second favorite breakfast: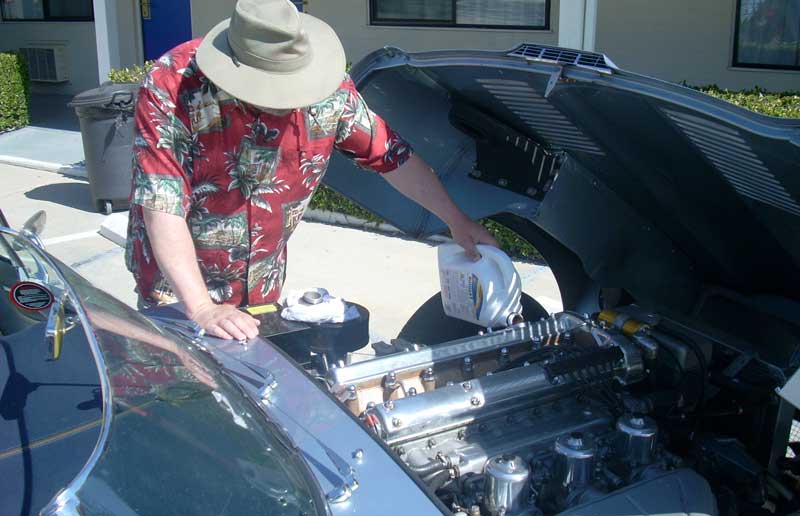 Today's route, complete with navigational errors!
We drove south through Paso Robles, stopping to feed the Jaguar its very favorite breakfast, a little high octane. We proceeded to San Louis Obispo to stop at XK's Unlimited to pick up the small clips to fix the chrome strip in the sill of the passenger side. That mission accomplished we headed down the coast, via the Santa Ynez Valley to Ventura where we had lunch at a place suggested by a buddy of mine, Mike Harvey, who lives in the area, but who could not join us due to work commitments. We'd seen them before but here's a reminder that we're not in Kansas, or more accurately anything remotely "north" anymore:
We continued down CA Hwy 1 through Ventura County. We just kept rolling along. I spotted a name on a highway sign that forced me off-track: Mulholland Highway. I'd read the history of this road and figured I had to drive it. We hung a U-turn and headed for Mulholland. It climbed the mountains and then arced eastward. My map (dated 1999) showed it extending all the way through to east of Downtown LA. I intended to drive it to the end and come back to Santa Monica via surface streets. Terrain varied from barren hillsides to developed residential areas.
One thing was driving me mad however. The sun at this latitude was coming down at a much higher angle than what we're accustomed to. Here it kept hitting the chrome at the top of the windscreen and blinding me, even with my sunglasses, so we stopped in a shady spot and I dug some flat black tape from the toolbox to run along the chrome. It worked like a charm.
We followed Mulholland and then all of a sudden it just stopped. The pavement ended and then the road just stopped. According to my map it should have kept on going but here it was, a dead end. We doubled back and descended Topanga Canyon back to the Pacific Coast Highway. At the bottom was the worst. light. ever. Chris & I literally sat in the queue to turn left for 35 minutes!
The light would cycle green for about 15 seconds, then stay red for 5+ minutes. To make matters worse there was some homeless guy with a basket on a stick he'd wave at traffic and people would stop to try to drop cash in it while the light was green! Whisky. Tango. Foxtrot.
Once on PCH I called my buddy Dan O'Donnell in Santa Monica. He vectored us into his place. It took a few calls and re-routes but we finally made it. The Jag was just too low to make it into his parking garage, as the ramp went up over the sidewalk, then down into the garage. There was no way that my exhaust would clear this obstacle, so we found a parking spot on the street, and fed the meter. We spent forty minutes chatting and enjoying a cool drink with Dan and his wife, then moved the Jag to a public parking garage. Afterwards we went down to a local pub to meet up with some mutual friends. On our way there we find out via some phone calls that none of them can make it so it's just me, Dan, and Chris.
We enjoyed a drink, dinner, and a pleasant conversation. I always enjoy talking with Dan as he's a good friend, and a source of wisdom. I hoped some of it rubbed off on Christopher.
Afterwards we were treated to a drive around the area to see some sights and found a few vintage machines, both parked and for sale.
After leaving Dan's we head towards La Canada, where our hosts for our LA sojourn, Larry Wade's family live. In my conversation with Dan he explained how Mulholland Drive was "broken" some time ago, so we found the other end of the break and continued from there. After we finished driving Mulholland Chris & I got lost a bit in the San Fernando Valley, bought some gas, and eventually managed to find our way with Google Maps on my phone.
We're here.