Working on some stories for the website Bring A Trailer. Feel free to comment/correct in the comments.
BAT Success Stories: Two almost flawless Arrive & Drives.
I've never owned a BMW until a few years ago, now I have a shop half-full of them; two of those are thanks to BAT. I'd never even driven a BMW until 2011 when I joined a 24 Hours of Lemons team who campaign a beater 1990 325i (E30). A few laps into my first race I fall in love with the little lightweight coupe and its perfect balance between power and handling. Thus begins an addiction.
I bought a used 2007 M Roadster (E85/S54) as my daily driver a year later, which is a pure joy to drive. Then, last summer while visiting Portland, Oregon for a week of business I tack on an SCCA Track Night and Portland International Raceway, and a BMW Club tour through the Oregon Wine Country. At PIR the only car in my advanced run group that out-runs the M Roadster is a race-prepped Mustang with 2X my horsepower, and I still managed to stick to his tail through the corners. Then the next day on the tour I find myself behind a late 80s E24 M6. The big coupe never fails to pull away from me on every straight. I'm dumfounded. How could this old car do that? I'd seen E24s for years but never really noticed them… even a good car-guy friend in Bellingham, WA has two "Sharks"… but I always look right past them at his E-type Jaguar.
But here this elegant and clearly luxurious machine is also now making me work to catch up to it in my, lightweight, fairly minimal roadster. And the sounds that it makes… GLORIOUS! At every rest stop I linger over the M6, looking at every angle. I decide I had to have one. Thus begins my hunt…
I search in a lot of places beyond BAT, but none of them provide the wealth of options supplied here. Along the way I stumble upon a wonderful little 320i (E21) that I am passingly familiar with, having seen it around central Oregon for years. I couldn't resist bidding on Lot #666, and ended up winning. I was working for a company in California at the time, and had an event near LA coming up, so I arrange to meet the seller during my trip, have a look at the car, and make arrangements for picking it up a week later. Upon meeting the owner we discover in that small-world way of things that we have over a half-dozen mutual friends… all car guys. The BMW 320i is exactly as described. I take it for a drive around the neighborhood, poke and prod a bit under the hood and in the wheel wells… it seems ready to go. And GO I have to do very soon, because winter is set to arrive any day back home in central Oregon. Satisfied this is going to work, the following weekend I hop an early morning flight to LAX, grab an Uber to the previous owner's place, jump in the car and start the 841 mile drive home.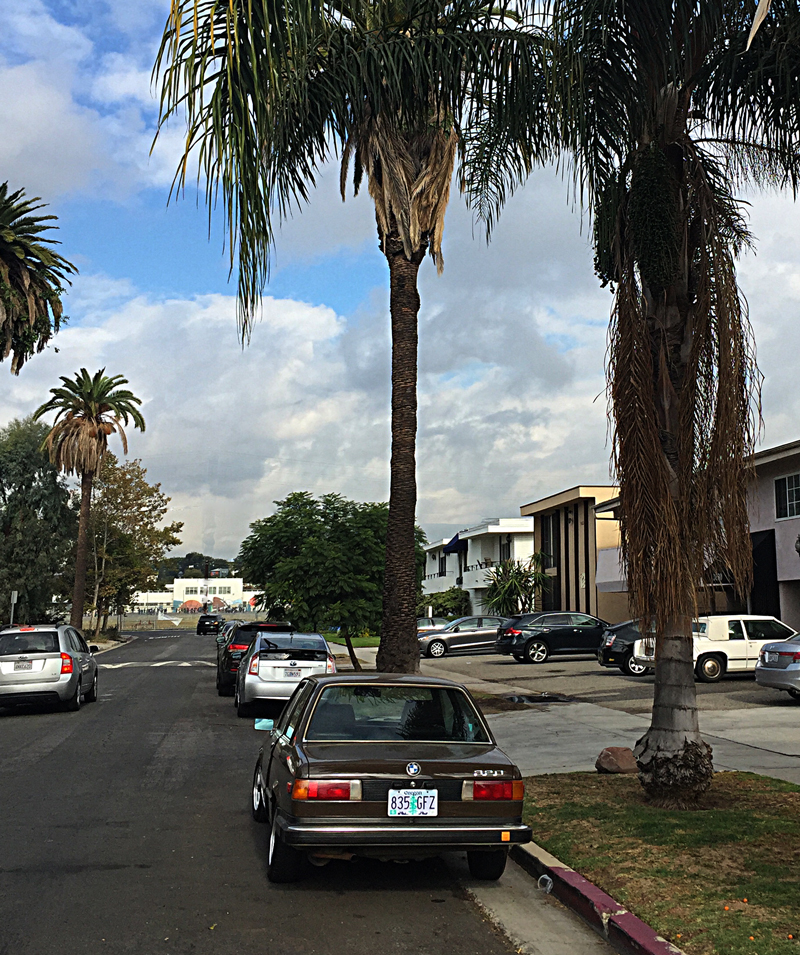 Morning traffic is winding down as I head north out of LA basin via I-5, and up and over the grapevine. The car is reasonable in heavy traffic with a good clutch and a working audio system, but it is a bit stressful to be in this little vintage machine surrounded by distracted commuters. It is a relief to clear the north end of the metro area and into the mountains and out of the heavy traffic. However, on the way down into the vast California Central Valley, it begins to rain.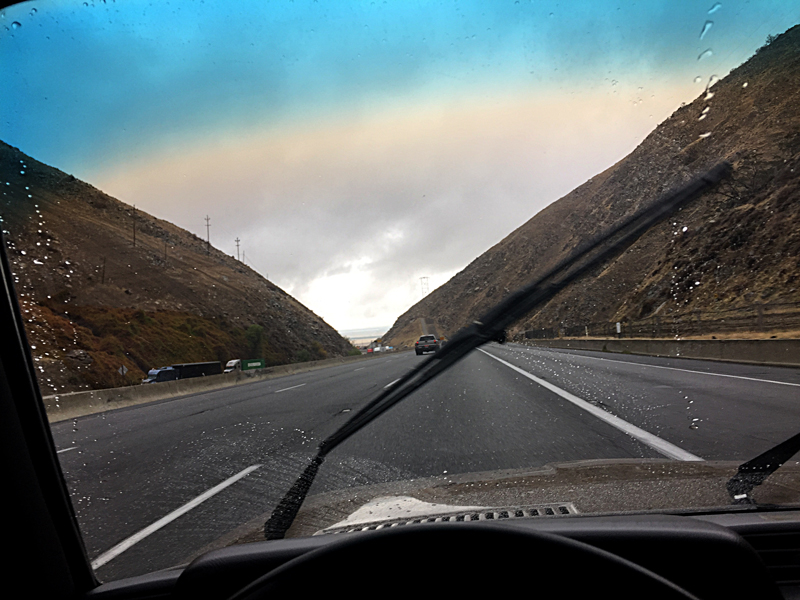 As anyone who has driven the length of California's Central valley will tell you, it is a pretty dull drive. Work and pleasure take me to California often, and I rarely drive I-5 unless I have to. There are hundreds of fun, alternative routes to enjoy in California, but for getting all the way through the state in the shortest amount of time I-5 will do the trick, perhaps at the expense of your sanity. Left lane loafers, and hundreds, if not thousands of large tractor-trailers make it more of a drudgery than an autobahn. Throw in a bit of inclement weather, and it only gets worse. Californians appear to be confused and frightened when droplets of water fall from the sky. My original plan is to drive straight through from LA to Oregon in a single day, which is usually a reasonable goal, but with rain? Not probable. The forecast calls for rain on and off all day, so my speeds are limited and traffic occasionally frustrating.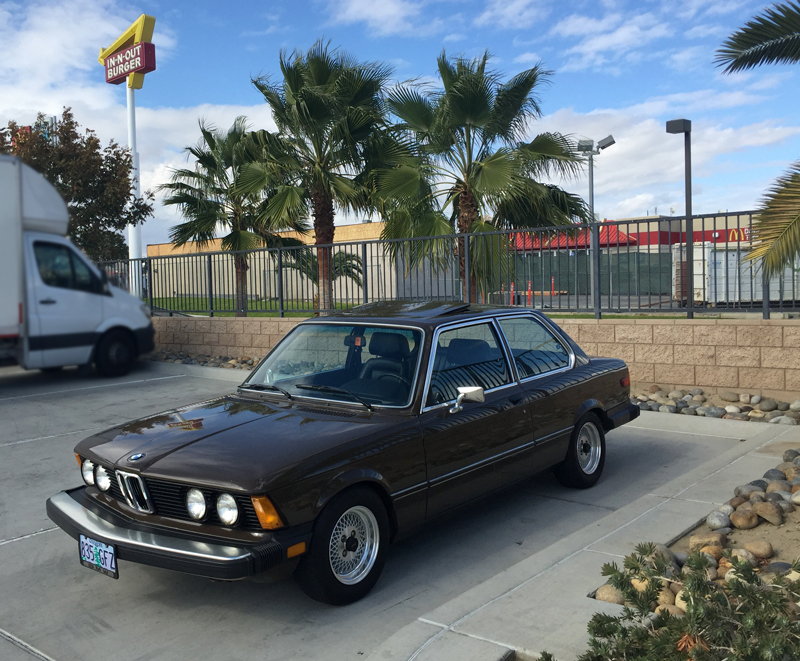 Having done the long race car tow down I-5 to Buttonwillow Raceway too many times, I know there is an In-and-Out in Kettleman City, whose opening time coincides with my passing by, so I stop in for a late breakfast/early lunch. A good test of how much you like a car comes from that "look back moment"… when you walk away, pause and look back to soak in the view of your automobile. The weather at this moment is cool, sunny, and near perfect, and frankly the car looks great. Yes, it is a seventies throwback (bumpers and all), especially in brown, but it is really growing on me.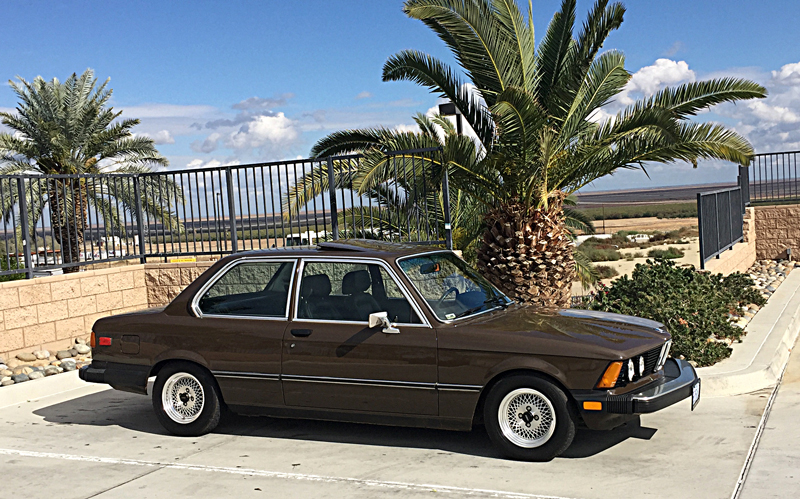 The middle portion of the Central Valley is just on again, off again rain and a long, long drive along a dull superslab, with occasional stop-and-go traffic through cities. Three hundred and twelve miles from LA, the car turns over 144,444 miles. Thinking back on all those miles I remember my own perceptions of the E21 when it was new. I remember people raving about the ergonomics and the red interior dash lighting. Indeed these seats are still comfortable and supportive after 36 years and 144k miles. I also remember the E21 as being one of the cars that establishes BMW as the automaker it is today. They were "yuppie cars" back in the day and represented the car you bought when you'd "made it."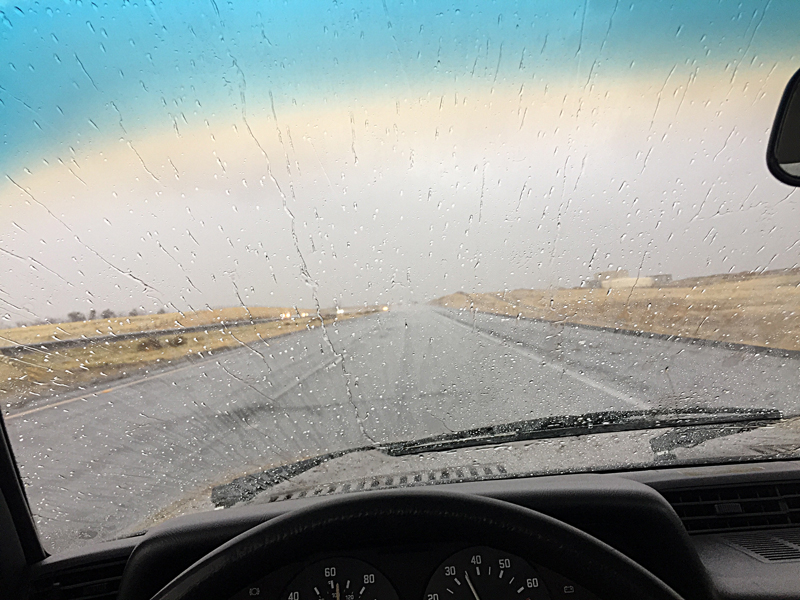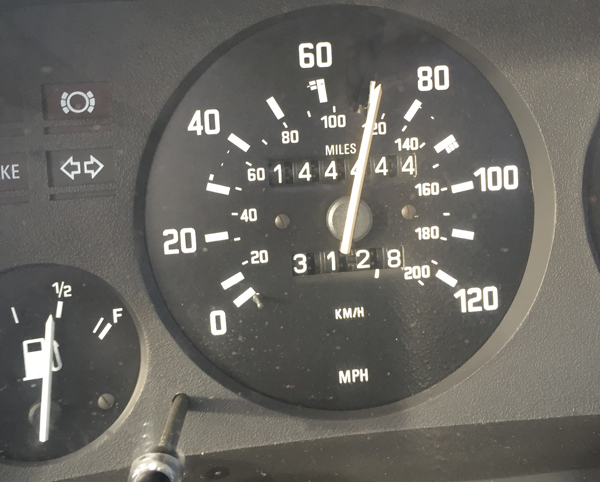 Traffic through the rain in Sacramento really stalls my progress, but I know the rest of the route would be relatively traffic-free and likely can be completed on a single tank of gasoline. However while I'm filling up at a Costco near the airport and steeling myself for sundown coming in a few hours, I note that the headlights are not working. Only one of the four illuminate… I am pretty sure I checked their operation in LA, but perhaps they failed along the way? About an hour north of Sacramento I find a NAPA store near the freeway and stop to replace them before the sun goes down. The parts store has the correct headlights, but the process to remove the old ones and install the new ones takes a lot longer than I anticipate, with a lot of different screws and grill parts to remove to access the lights themselves. However, having all the tools in the car's factory-supplied toolbox is super-handy (got to love those Bavarians!) Of course, it keeps raining on me as I do the work out on the street. One passerby stops to admire the 320i and tells me of the ones he worked on back in the day as a mechanic at a dealership. One of the joys of road tripping in an old car is the removal of social barriers… the car itself introduces you to people that would otherwise never even talk to you if you were in a Camry.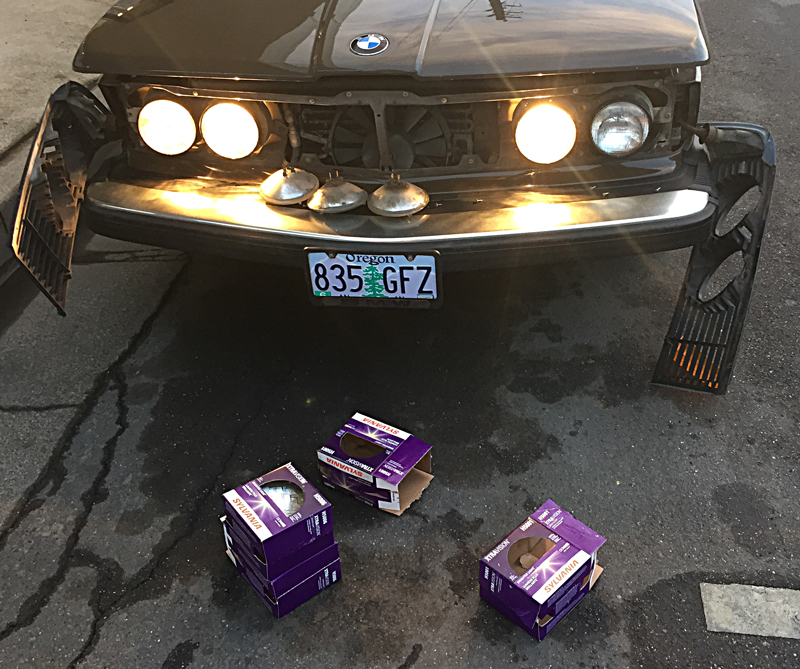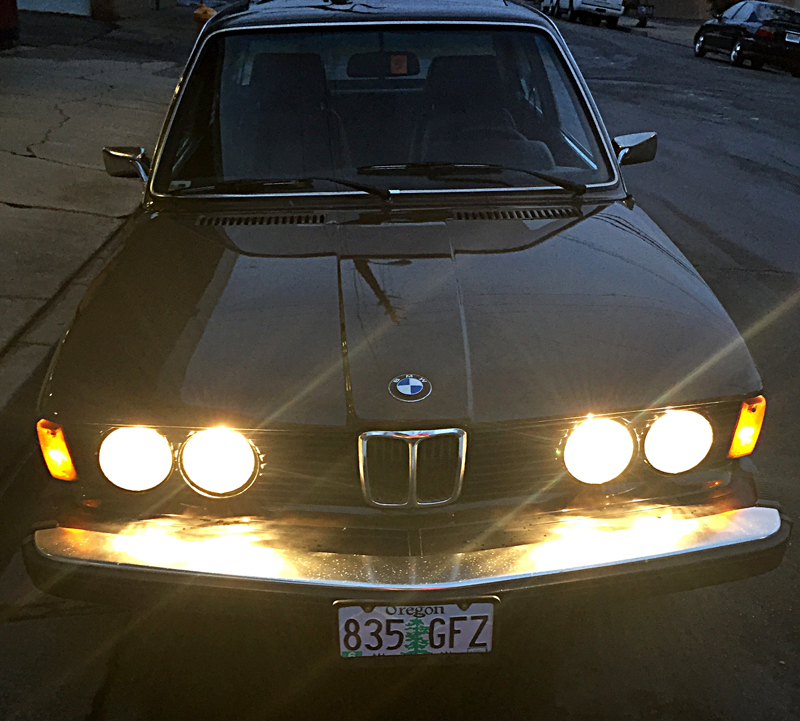 By the time I have all the lights working and the front of the car all put back together it is dark, raining, and I'm hours behind schedule. After driving in the darkness and rain for a while I finally abandon the plan to drive all the way home in one go. Mostly because I know that the last three hours of driving are on US 97, which in my experience is liberally strewn with deer along its entire length, especially after dark. A friend back in Bend hit a deer in their Lexus this very day, and I have no desire to become a statistic with this vintage BMW. I keep driving on the Interstate as far as I think reasonable, which turns out to be Redding, CA, and grab a hotel room for the night.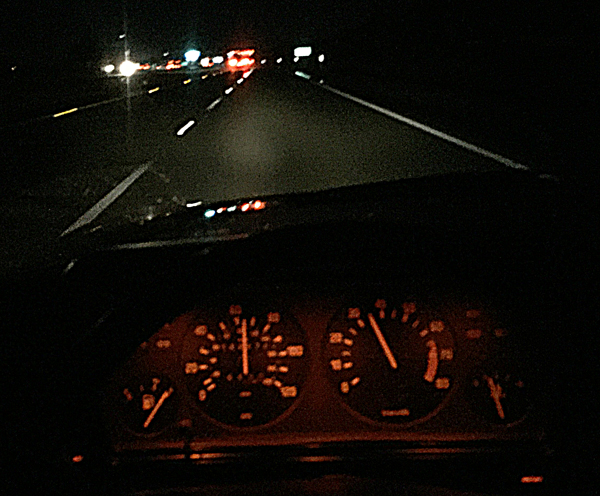 Being a natural early riser helps when you have a lot of ground to cover, and I am up and on the road before dawn. Road food is grabbed shortly before departing the Interstate near Mt. Shasta at the Black Bear Diner, a NorCal institution, and traditional breakfast stop on my north/south runs.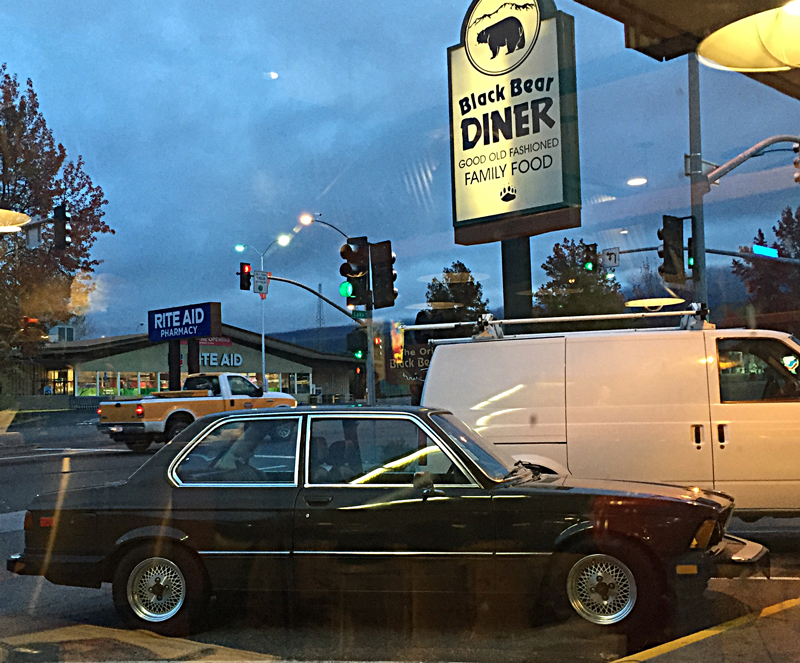 Once I depart the Interstate the road empties and the car comes alive. No longer just droning along a superslab, we're now taking hills, curves, making occasional passes, actually rowing the gears. This car is fun. Light, responsive, and tight. What a joy! In 1979 I was driving my mom's Buick Le Sabre, while this car's original owner was taking it from the dealer in Salem, Oregon over the Santiam Pass home to Bend. He was having a lot more fun than me in the big blue Buick!
A bit after sunrise I arrive at the California-Oregon border, and stop for a commemorative shot of the car (re)arriving in its home state.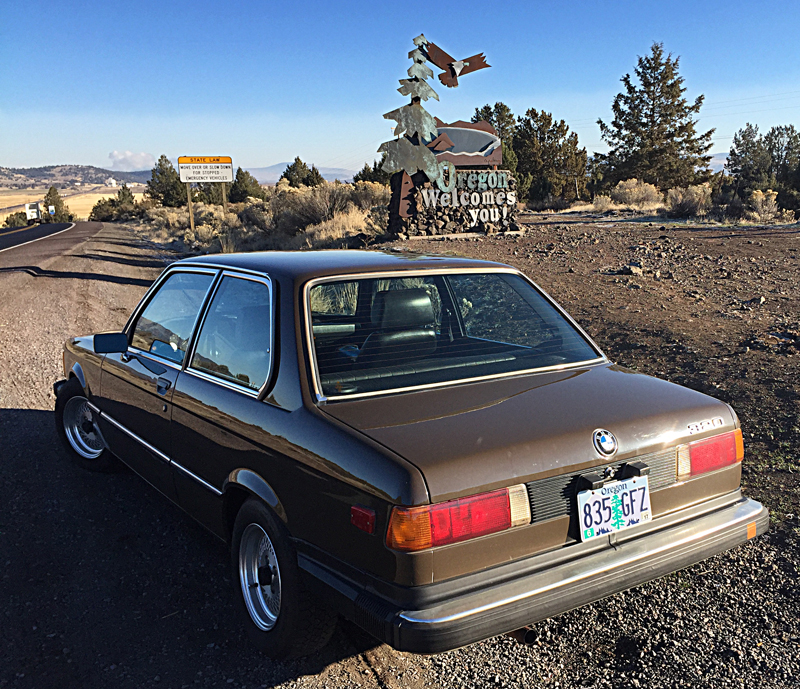 Sadly, the fun comes to an end as the road gains altitude and I'm greeted with the first bits of frozen road surface. Initially it is just the places where trees or telephone poles cast a shadow across the road. My first indication of this is the car losing grip under me for a brief moment of terror as I pass through a shadow cast by roadside trees. It regains grip and I back off the throttle to slow down. Sure enough with every bit of icy road, the car comes unhinged from the surface. Clearly it has the wrong tires for these conditions. Thankfully the sky is clear, and the temps are warming. This won't last too long…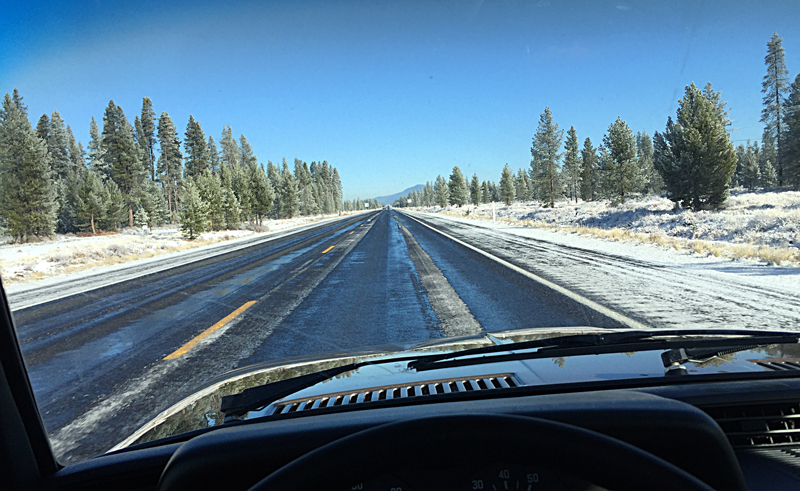 This is the reason I have been in a rush to get home, as winter is always coming here in central Oregon. I have literally experienced snowfall in every month of the year, and November is when it arrives and stays. As we skiers say "October snows comes and goes, November snow stays and grows." The other ever-present weather event in central Oregon is sunshine, as the Cascade mountains provide a trap for the moisture streaming over from the northern Pacific Ocean. Thankfully the sun and other traffic clears the frozen stuff off the road surface pretty well and by mid-morning the pavement is clear and dry. Late morning has me driving through Bend, and then on the back roads out to my house on the slopes of Powell Butte. It is a beautiful day and a great place to capture the return home to central Oregon for the sepiabraun BMW E21/320i.
Since the drive home, I've brought the 320i on a few drives around central Oregon with the "High Desert Sports Car UN-club" (an ad-hoc group of funsters who like to DRIVE their old cars), including a closing-day ski outing in late May when the BMW sported period-correct, rain-gutter mounted Yakima ski racks. It has also traveled to Portland to attend BMW Club events. Always collecting a few compliments and thumbs up when out and about. The car is fun and reliable, even the A/C blows cold. So far the only real issue has been the hazard light switch – it fails to "on" triggering the lights on, which then drain the battery as it sits, flashing away in the garage. I've come to learn is a common issue with E21s, and I'm planning on fixing that over the winter, meanwhile the battery is disconnected. The feedback I hear most often is about the crazy "diving board" bumpers. Honestly I'm quite conflicted about them. On the one hand, the car would look a lot better with a euro-bumper conversion… however this car is remarkably original, and in excellent condition. The paint is great. Just a few dimples here and there. The interior is amazing, looking more like a car with a just few years on it, not thirty-seven. The patina is enough there to testify to its originality, but not enough to make the car look tired or worn out. I think I'll do my best to preserve the car rather than modify it.
Great little car at a very reasonable price… a happy acquisition.
Next up: The E24 M6, from Wisconsin to Oregon.