This is part two of a two-part series. Part one is here.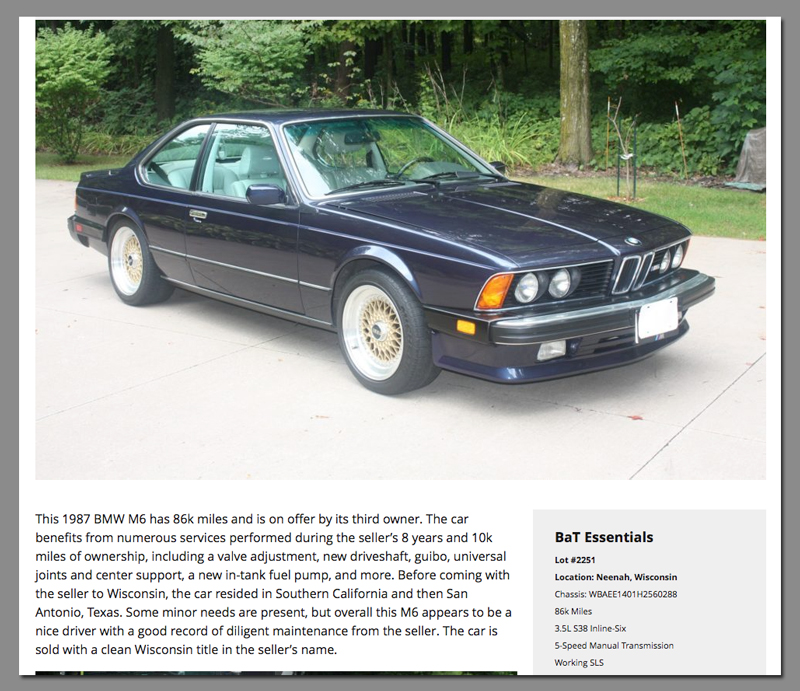 Just about every E24 M6 that appears on BAT over the past year has drawn my attention. I've actively bid on several, including a few that I lost in the final minutes to a higher bidder. Most of my attention went to M6s that are not either Black or Red. I've owned a black car before and never liked how it shows every flaw. I've just never liked red cars. Sorry for all you red car lovers, but to me they look flat, completely lacking in depth. In my opinion the metallic blues are the best colors, as they have amazing depth and change in different lighting conditions. The week before this auction there was another M6 on BAT, upon which I was the high bidder, but it failed to meet reserve. I was having a few offline conversations with the seller, when this one appeared. Soon regular BAT commentators are calling me out by name: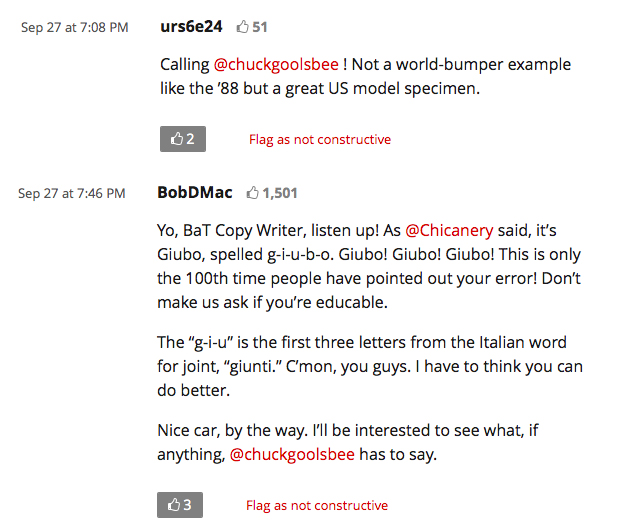 I happen to be in Maui with my girlfriend (she has taken me there for my birthday) as the auction is coming to a close, so I set an alarm to get me off the beach and back to my laptop in time to make some bids. As with every BAT auction, the finale seems to end up like that final showdown scene in "The Good, The Bad, and The Ugly", with two or three bidders virtually staring at each other, and finding the courage to up their bid as the timer counts down again, and again… and again.
Turns out I am the last man standing.
Afterwards I exchange a few emails with the seller David in Wisconsin, and we discuss my idea of driving the car home to Oregon. I ask him if I'm crazy. He confirms that I'm crazy, but he also feels the car is good to make the ~2000 mile trip. He made a similar ~1300 mile drive home in the car from San Antonio, Texas. David tells me the owner previous told him that the car has never been rained on, much less driven in rain during his ownership, and that it was only on David's Texas-to-Wisconsin trip almost a decade ago, that it had rains on the car. So if it rains on me in those 2000 miles I'd break the streak.
My time window for getting the car home is once again closing, just like the last time. Winter is coming. Except this time I'm driving more than halfway across North America, not just up the coast. Well over two times the distance, and through areas where weather can be very unpredictable. I think back to the cross-country drive my father and I made to bring a car home when we were trapped in an October Blizzard in Montana. Rain is bad enough… do I really want to risk an M6 in snow?? Looking at the calendar and my schedule, it has to be soon or sooner. Work has me traveling a lot and I'll have to squeeze it into a longish weekend… I pick October 21-23. The long range weather forecast says it should be clear that whole weekend across the entire route. I buy two one-way tickets from Portland, OR to Appleton, WI for October 20th, and invite my girlfriend's son Stewart along to be my co-driver.
David suggests I book the Holiday Inn near the airport, but I find that there isn't a hotel room anywhere in eastern Wisconsin that night. Plenty the night before and the night after, but none at all this night. I ask David if there is some big event happening, and after a bit he remembers the Chicago Bears are playing the Green Bay Packers. He says he will have a house full of kids and grandkids, but we are welcome to stay in his mobile home in the driveway. Works for us! The flights are uneventful, and David meets us at the airport. Upon arrival he unveils the M6…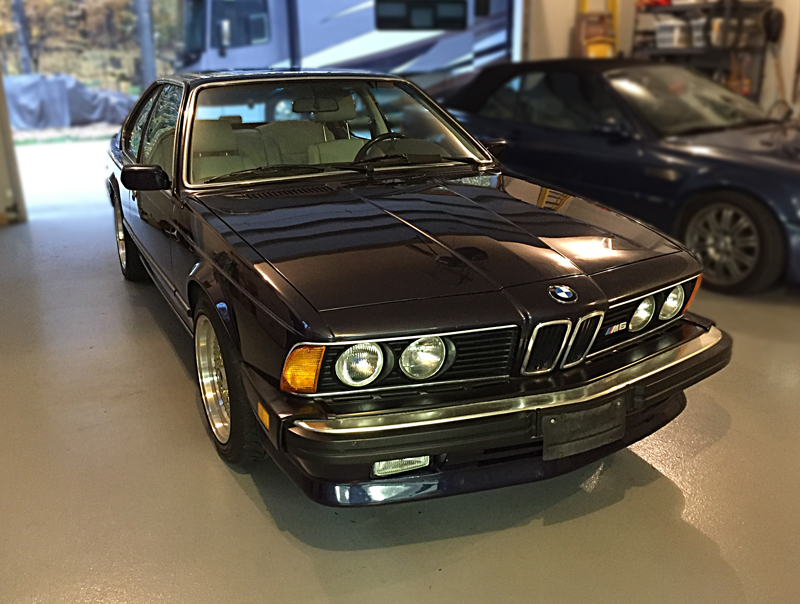 Sundown is approaching and David tosses me the keys for a quick test drive. I take it around the block and verify that everything is in working order. The short-shift kit is numb and awkward, but otherwise it is quite drivable. The lights work, so I feel we are good to go. David sets us up in the mobile home, gives us a tour of his small collection (including a C2 Corvette and an E30 M3) and invites us in for dinner. Over wine we tell car stories, and enjoy good food and midwestern hospitality.
The next morning we make a pre-dawn start and begin our trek west. I have loaded up the potential routes in my phone, along with weather data. Wishing to avoid the potential for another Montana blizzard, I choose the southern route, dipping down towards Iowa, then Nebraska, picking up the route of the old Oregon Trail, then through southern Wyoming, clipping the corner of Utah, across southern Idaho, and then US 20 home to Central Oregon. The whole Iowa-to-Idaho route will be Interstate highway driving. I generally avoid Interstates on vintage car road trips, but this is a dash to get home during a short good weather window, not a see-the-countryside meander. Our goal is to make Lincoln, Nebraska the first night, "somewhere west of Laramie" the next, maybe Boise the following night, then home. No real schedule though, just drive until we are tired or it gets dark. If bad weather comes, we'll seek shelter and wait it out.
Weather is clear and cool so far. Wisconsin is just as I remember it from my midwestern childhood.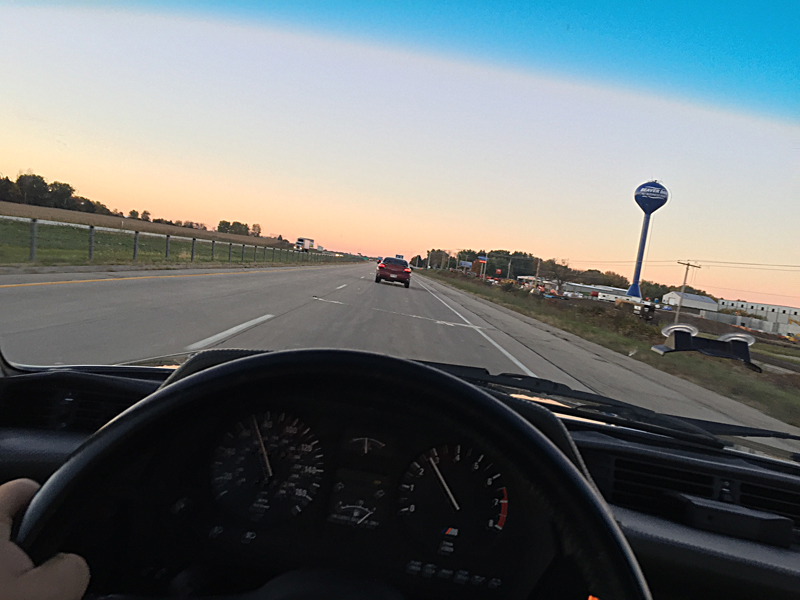 At our first fuel stop we find a few minor issues with the car. Of course they are electrical since it is a BMW. The 12v adapter has a penny lodged in it, so we can't put our phone chargers or radar detector in it. Also the stereo appears mute. We brought a Bluetooth Cassette Adapter with us to enjoy music off of our phones, but no amount of fiddling will get any sound from the car's audio system; not via the cassette, nor the radio. Oh well. We stop for breakfast near Madison and using the tools from the BMW trunk toolbox manage to fish out the penny, only to find the 12v adapter is dead as a doornail.
We carry on in silence, with just the music from the S38 motor to carry us along the highways of western Wisconsin and eastern Iowa.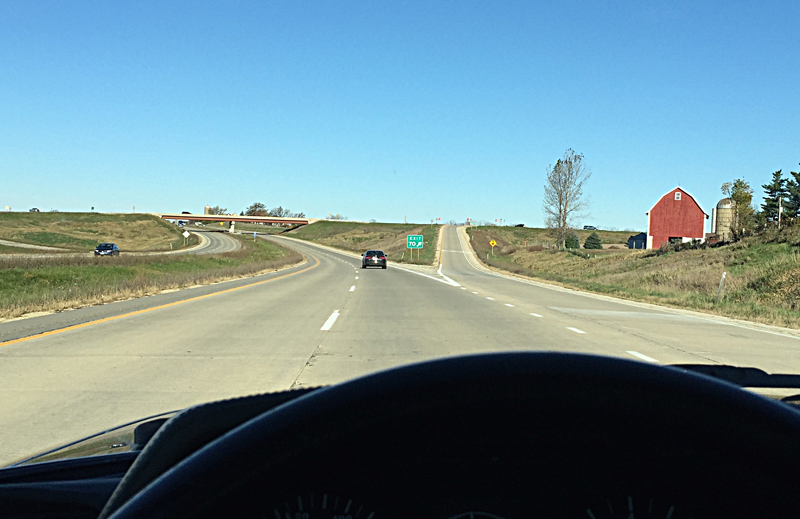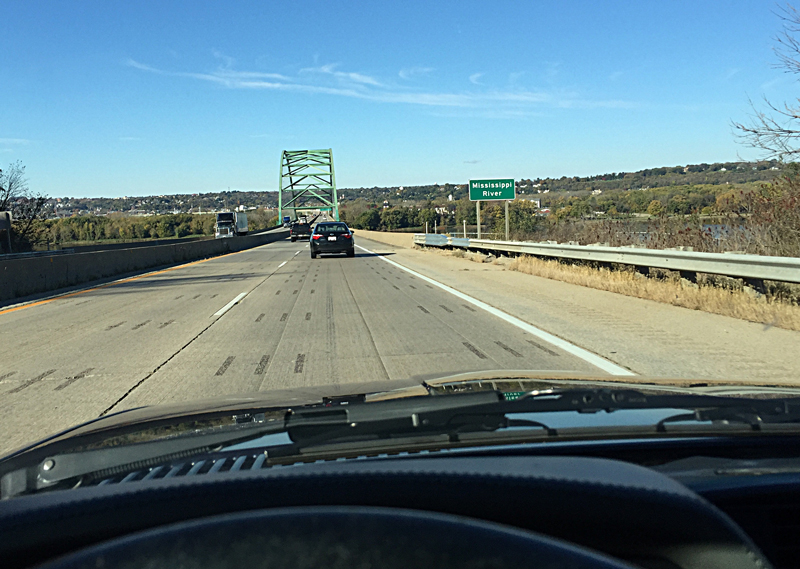 I have several old coworkers just east of Des Moines in Altoona, and a car-guy friend west of Des Moines in Earlham. I have pinged all of them to let them know I'll be in town that day and would love to catch up. The meeting with ex-colleagues doesn't pan out, but I do meet up with one of the three briefly at a Starbucks nearby. Afterwards we stop and pick up one of those car jump-starting things with 12v ports to charge our phones and run the V1, then motor west to see my old car buddy Kent in Earlham. I tell him I'm driving something he will like, so he is waiting outside his residence when I drive up. He is grinning with approval at the M6.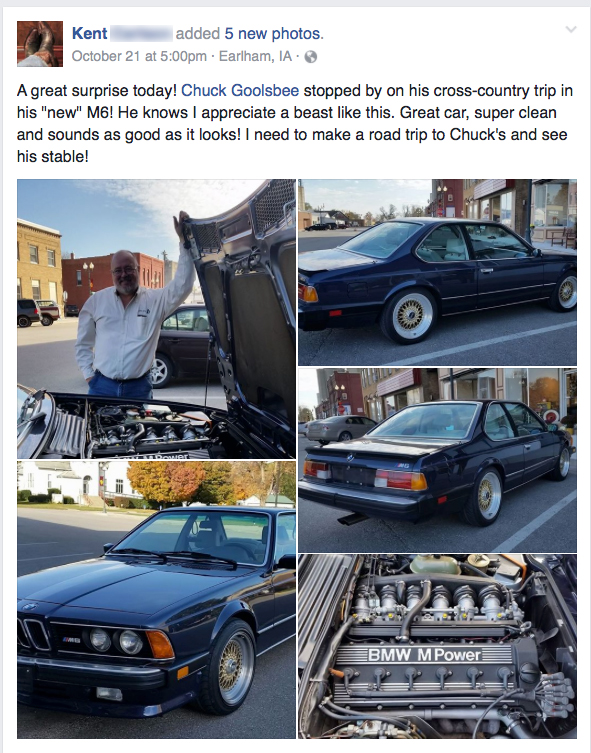 Leaving Kent's place, with Stewart at the wheel of the BMW I start telling him about my first first crazy cross-country dash in a vintage car back in 1999 on Brock Yates & Martin Swig's "Cannonball Classic" car rally. My dad and I drove my father's E-type Jaguar, and it basically fell apart around us from St. Louis to California. BUT, I do recall, and tell Stewart about eating the best steak of my life in Lincoln, Nebraska. My dad and I fell behind the rally while fixing the car, caught up to them in Lincoln, but missed the official event dinner, so instead walked to a steakhouse near the hotel. I promised Stewart I'd find that same steakhouse, or something equivalent, and that we'd be dining on some prime cuts that night.
As Stewart drives, I search Yelp and hotels.com to find a steak dinner and a hotel respectively. Reminiscent of the night before, I'm coming up empty on hotels in Lincoln itself, but do find one about 40 miles west. Around 2pm I call a steakhouse in Lincoln and leave them a message with a reservation for 6:30pm. When we arrive in Lincoln we find out why the hotels are all full; downtown is wall-to-wall crowds in Cornhusker garb. Clearly there is a big college football game the next day and downtown Lincoln is packed with fans. Football is really screwing with our car-fetching cross-country dash!
We find a spot to park the car near the steakhouse, walk over only to find that they've been booked full for days. They apologize for not calling me back. We walk into a few other places but all have multi-hour waits for tables. We give up on dinner in Lincoln and head to the hotel out west. I ask the clerk for a recommendation for a steak, and she points me to a Mexican place down the street. Checking Yelp and sure enough this town is bereft of any steakhouses. Mexican it is: I have some Carne Asada. Not quite what I had in mind.
My sleep is interrupted by a zillion freight trains and their whistles in the night, but somehow I'm awake before dawn, and surprisingly so is Stewart. The sky is brilliantly clear in the gloaming, and as I'm loading the M6 I note the roof of a Chevrolet a couple of cars down sporting some hail damage… a strong reminder why we're doing our best to get home swiftly.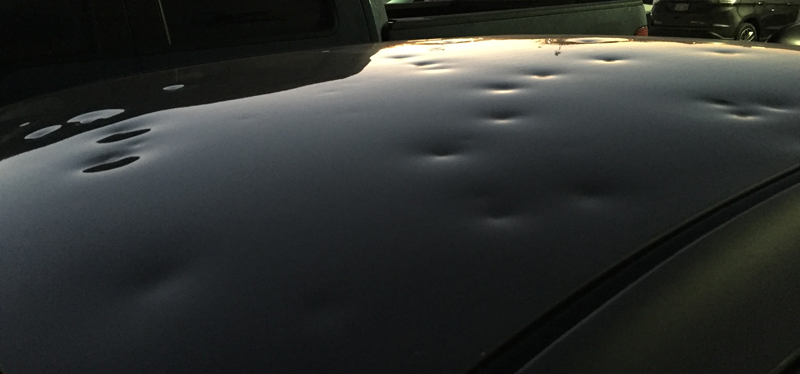 Stopping for breakfast in a car-themed eatery just off the interstate, we find the food isn't very good, but the decor is awesome.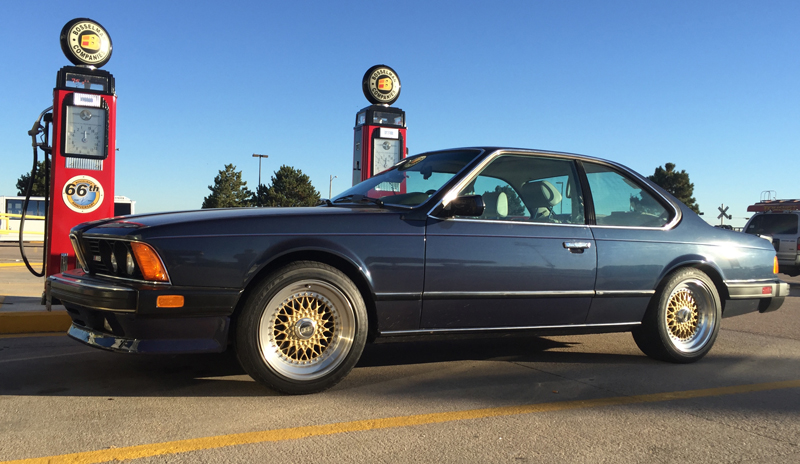 As we drive west on I-80 through Nebraska it becomes clear we are leaving the Midwest behind, and approaching the true west. The trees become sparser, then change from deciduous to conifers, if they appear at all.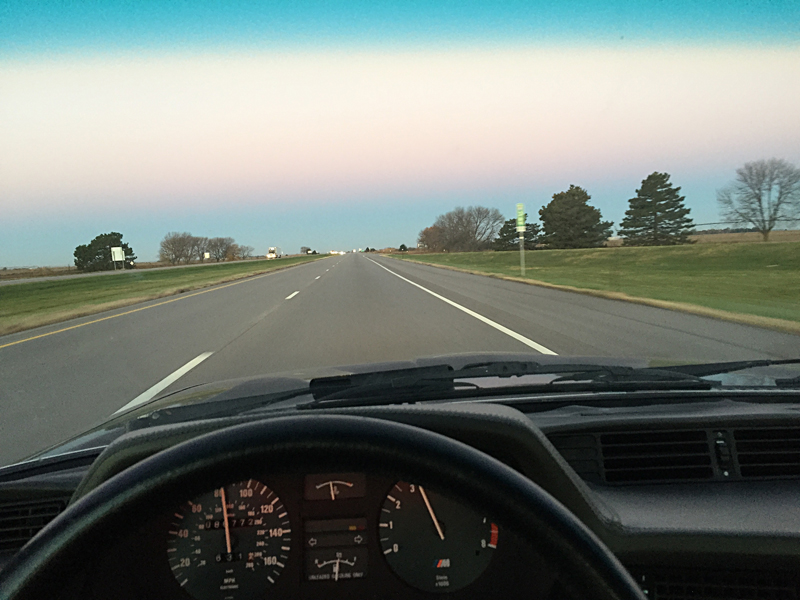 Despite this lack of trees, a large wooden structure appears spanning the whole interstate near Kearney, Nebraska. I have no idea what it is, but figure I'll look it up later…
Stewart and I swap driving duties at every fuel stop. The M6 has a remarkably small gas tank (a bit over 14 gallons) for such a large car that only manages to achieve ~19 MPG. So we stop every few hours to fill it and change seats. A few other issues have arisen with the car, such as the self-leveling suspension, which in Iowa started going a bit wonky off-and-on, and now is in full-time wonky mode. The rear end is cycling up and down. I grab a video out the window (I removed the wind noise, which is overwhelming.)
Hard to see, but the rear end is cycling up and down every 15 seconds or so. Feels really odd in the car. Googling around on our phones pulls up a lot of data on how to remove the SLS and replace it with standard shocks and springs, but very little on actually troubleshooting the symptoms we are seeing. A project for when we arrive home. We also swap a few fuses to clear up window issues… there is a big box of fuses in the glovebox that match the rating for the windows, so maybe this is a recurring problem?
The Interstate dips to within sight of Colorado. I ask Stewart if he has ever been there, to which he answers "no"… I tell him "Well, it's right over there, but we don't have time to visit." I imagine the border is akin to the edge of the dry town where I went to college, except unlike the strip of liquor stores, I imagine in Colorado it is all pot shops. Who knows? We never will, we have a car to get home before winter arrives.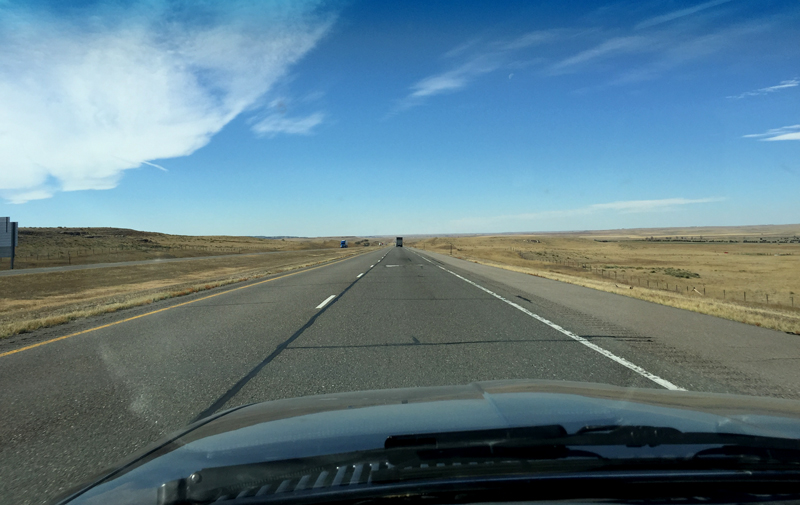 The weather by the way is excellent so far. Clear. Cool. Really perfect. We roll into Wyoming and based on our progress I call for lunch in Cheyenne. Seeing a sign for a steak place, we head there to make up for the disappointing dinner last night. Sure enough, lunch more than makes up for it! The place we find makes a great steak. Fulfilled, we book a room online for Evanston, Wyoming and once again head west. As we've driven west, the speed limits have increased: 65, 70, 75, and now 80. This autobahn-style driving suits the M6 well. I'm driving the shift after lunch when a Wyoming Highway Patrol car merges onto the road a few thousand feet ahead of us. I back off the throttle a bit and pace him, maintaining our distance. I haven't been going that fast, but I do want to maintain a good pace since we have a long way to travel to get to our hotel. It is interesting to observe his behavior from a bit behind, and with a V1, as the patrol car hits oncoming traffic with Ka band radar from time to time. After what seems like forever, he finally gets a read on some vehicle that properly piques their revenue-collecting interest. We watch amazed as this Dodge Charger abruptly dives off the left side of the road, down into a very steep embankment at a crazy angle, and at fairly high speed… all "in the interest of safety" of course.
Sigh. Danger avoided, we pick up the pace again.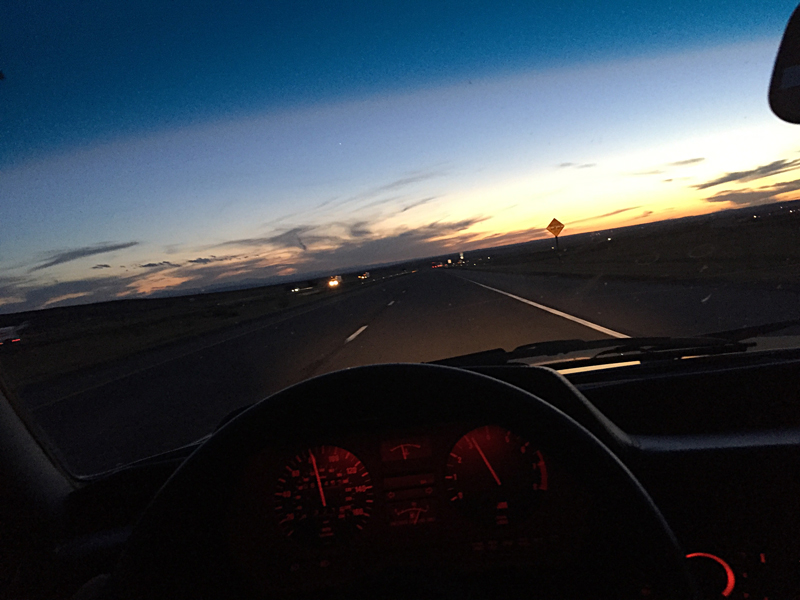 As the sun sets and we're still around one hundred miles from our hotel. I'm having some regrets for committing to go that far at lunchtime. As it gets dark I slow things way down. One of my biggest fears is hitting a deer, and the eighties-vintage headlights just don't do the job that modern lights do. I find a nice big tractor-trailer to pace and use its lights to keep me safer. Eventually we make it to the hotel, grab a good dinner, and fall into a deep slumber.
Early Sunday morning, we snarf down the hotel breakfast, and hit the road. The weather is once again perfect, but my data tells me it is changing. A storm is set to hit the west coast. Home is within striking distance today if the car stays together mechanically, and based on its performance over the past two days, I'm very confident it will be fine. Yes, electrical glitches exist, but mechanically so far, so good. In my experience overheating is what will kill a BMW engine, and right now it is 28ºF outside, and our high temp will be around 60ºF. I think we're good.
Stewart sleeps while I drive the first few hours after dawn. It is an odd bit of Interstate that I've never driven yet in my life. I've been all around it, but never this little stretch between Evanston, Wyoming and Ogden, Utah. Nothing special really, just 75 miles I can add to my highlighted Rand-McNally Road Atlas back home of highways I've driven.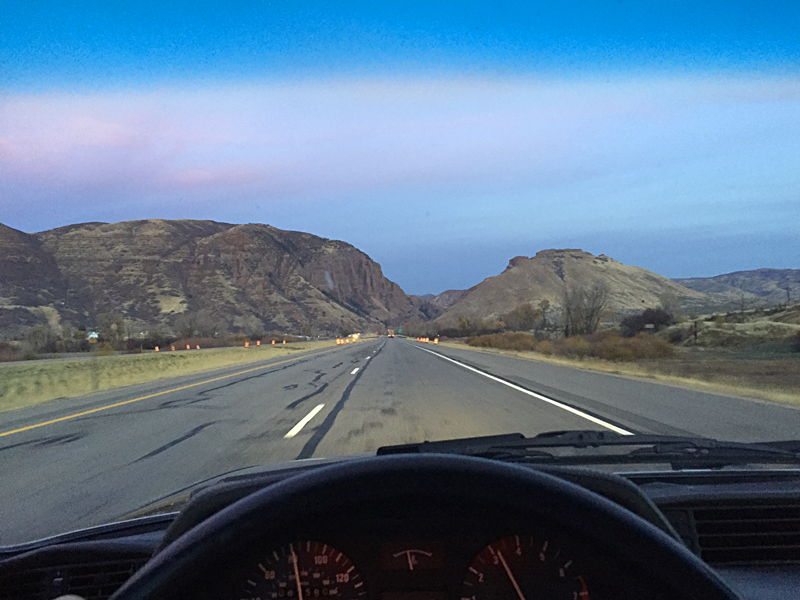 Other than a few construction zones, we make remarkable time through Utah, thanks to its 80 MPH speed limit. I-84 after the I-15 split north of Ogden is an empty, lonely road. Everyone is hustling and I get the M6 up to some autobahn-ish speed to see how it feels. Solid. Capable. Comfortable. This is a true GT in every sense. Fast, race-bred drivetrain. Firmly planted suspension (SLS quirks aside). Super-Luxurious, leather-wrapped everything interior. Firm, bolstered seats. The car has… presence; both parked, and blasting down an Interstate. This is NOT a sports car, it is a Gran Tourismo, writ large.
Utah now far behind us, everything is going wonderfully, beyond me driving the tank to near dry. I've blown by Twin Falls and am now looking at a dwindling fuel supply and eight miles to the next exit.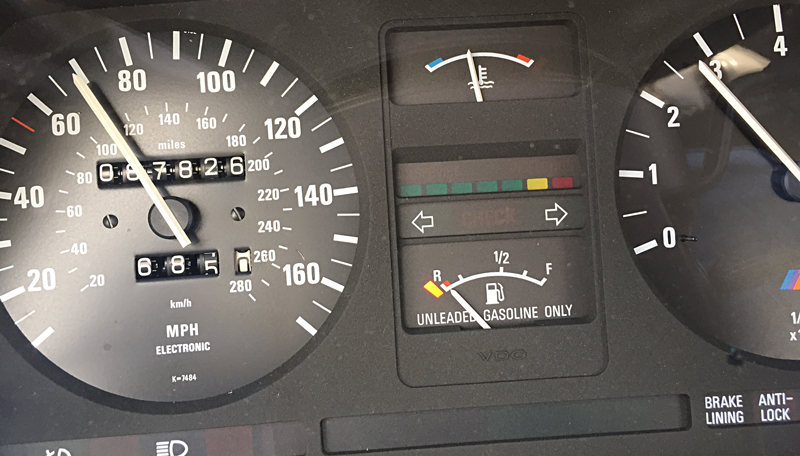 Then eight miles later I discover that exit is closed, as are the next two, as we've been routed to the opposite lanes due to a construction project. Figuring it is now or… a call to AAA as we run dry somewhere up ahead, I exit just past the town of Bliss, and double-back to find gas. While filling I grab a gas can from the store and toss 5 gallons into it. Can't hurt as I figure if we top up as we leave Idaho, we will have enough on board to get us home. The stretch of US 20 across eastern Oregon ahead of us is long, lonely and really only has a single town with gas stations. Buying gas in Oregon is needlessly complicated.
Stewart takes over driving and I while away the miles spotting interesting cars or napping.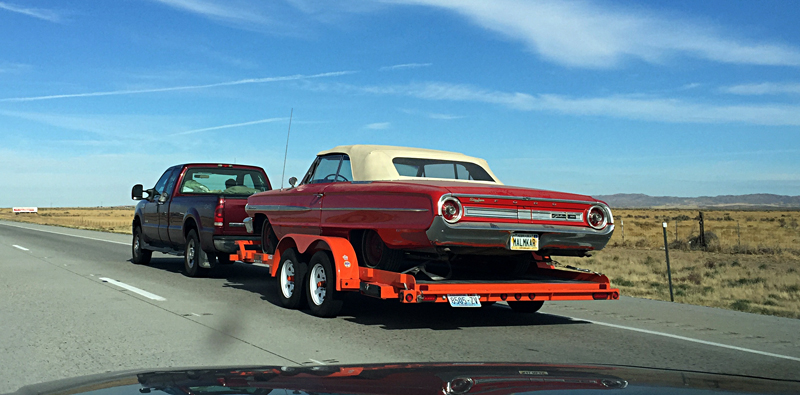 Stewart declares a hunger emergency as we are driving through Boise. I offer to break our rules about "no fast food" to grab a quick lunch and keep moving. He agrees, so we find a spot where he can have a burger, I can have tacos, and as soon as we finish eating we get back on the road. About to leave Idaho, I direct Stewart to a gas station I know very well, as I've stopped there dozens of times over my life. Why? It is the last self-service station we will encounter on our trip. Oregon is a bizarre throw-back and does not allow self-serv gas. Legally, you can pump your own Diesel fuel, or gasoline into motorcycles and classic cars. Technically this BMW is a classic by Oregon rules, but I'm traveling without plates and only an Oregon DMV paper trip-permit on the rear window. I really don't want to get into wrestling matches with pump attendants, while we discuss the finer points of laws written in Salem who knows when. I have 5 gallons in a container, and if we top off here we should be good to make it all the way home with a few gallons to spare.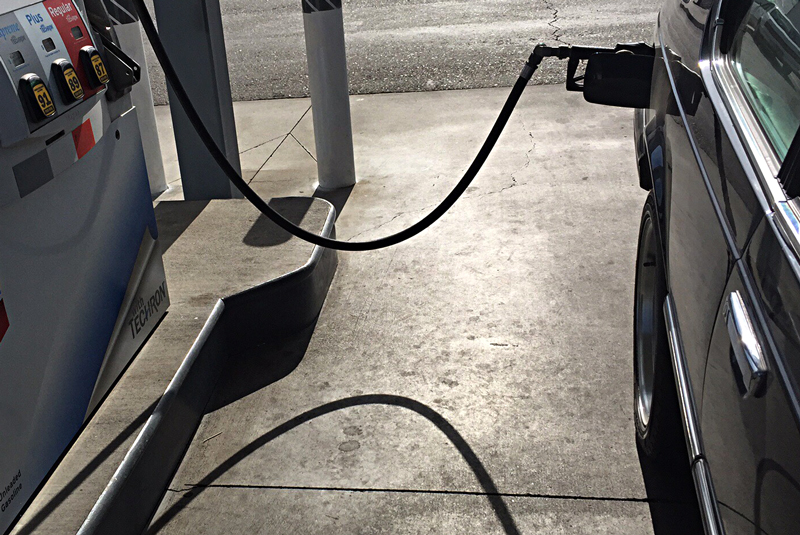 When you think of Oregon, you usually imagine rain-drenched firs, and web-footed folks in gore-tex. That may be true for the coast and Willamette Valley, but in climate terms eastern and central Oregon are arid deserts. Not hot. In fact altitude and latitude make them quite cold, but still very dry, as the high Cascade mountain range wrings all the Pacific-born moisture from the weather as it moves east. Eastern Oregon is much like Nevada just to the south: dry, mountainous, and sparsely populated to an extreme. Once we climb out of the Snake River Valley we have about 250 miles of driving with just one, very small town between us and home. Stewart and I split the driving over this section, with me taking the car the final stretch of largely empty roads to home. It is clear the weather is changing, as big clouds are roiling over the Cascades just to the west. 2048 miles. Sunshine, clear skies. Mild temps. Not a drop of rain.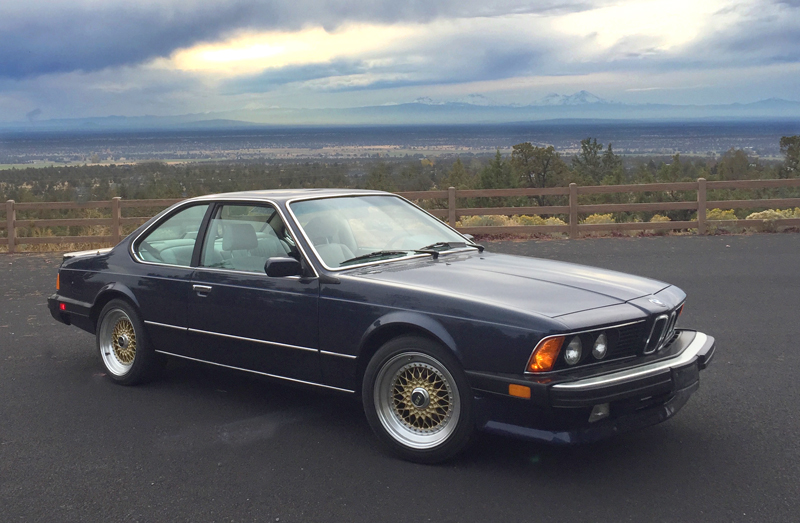 (Sure enough, it rains, with high winds, for the next straight week. Our timing was perfect.)