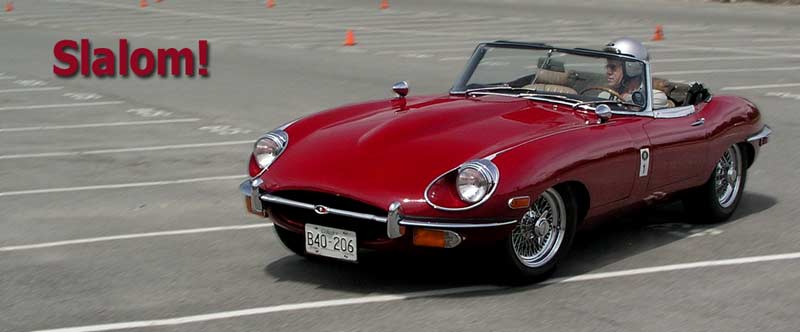 Above: Bruce Cox's freshly painted S2 on the slalom course.
This past weekend I attended the Canadian XK Register's first Slalom of the season in Surrey. Had a blast and turned a personal best time around the course.
Earlier last week I received a phone call out of the blue while I was at work. It was a reader of this very website who lives in the UK by the name of Nimal Jayaratna. He owns a 1961 E-type OTS and found my website via some Jaguar links. He was visiting Seattle on business and figured he'd try to contact me to chat about Jaguars. I went one better and said "come on up to my house this weekend and we'll do something fun!"
I dragged him up to Vancouver in the 65E to see the JCNA slalom event. I think Nimal had a good time. 🙂
Bruce Cox from Burnaby was there. He recently completed a DIY paint job on his Series 2 E-type, and it looks fantastic. Awesome job Bruce! (Are you available for hire?) 😉
I didn't have my son Nick there to help me out on the course (Nick reminds me of the course layout while we're underway… very helpful!) but I still did pretty good. I did my first run at a lope just to get the feel for the course… and somehow managed to clip a cone. I didn't even note my time. The subsequent runs were better as the day went on. Here are the results in seconds:
47.041, 46.740, 46.788, 46.399
My previous personal best was 47.4 so I'm very happy with the results.
Practice makes perfect, and after the official timed runs I told Nimal to grab a helmet and climb in. We took two more runs and of course, since the pressure was off we ran it in 46.182 & 46.035! Whoo hoo!
Here are some pics from the fun runs:


The car was a tad "understeery" in its feel, which I found odd. I'll have to look into that and report back.