So Nick J finally figured out the "other British car" that was parked next to me at last weekend's car show. The only hint I gave was that it had an alliterative name.
I've always wanted to see, and DRIVE one of these. I knew that there was one somewhere nearby as I've caught glimpses of an Atom now and then. Sure enough, I find out that this one lives literally a stone's throw away from me(!)
Unfortunately I had all that deck repair work to do this weekend, so I had to leave the 65E all alone at the show and catch a ride home. The show was scheduled to run until 4 pm, so I planned to head back in the early afternoon. I guess they wrapped up early as nearly all the cars were gone when I came back a bit before 3. Oh well. I chatted very briefly with the Ariel owner. We both said "I've always wanted one of those" to each other so I said we should get together and drive each others' cars. The timing was not good that day however. I had to run back and keep plowing along on the deck. (sigh)
Someday soon. Of course the guy who I had arranged to swap drives in his Lotus Elise seems to have vanished (hey, if you are out there…!)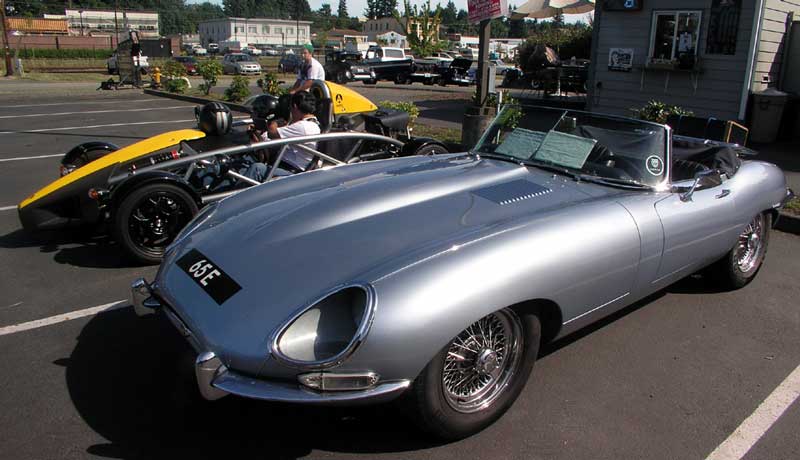 Anyway, some impressions: The Atom is much larger in real life than in photos. Of course, the E-type is always much smaller in real life than people imagine (at least the short wheelbase versions like mine) so side-by-side they make an odd pair. The Atom is about the same length, but MUCH wider than the E-type. The tube frame is actually very thick… I was expecting something like a Lotus Seven, but this stuff is seriously beefy. This version is driven by a GM Ecotec 4-banger. It did not have any particularly amazing note to it, but I'm sure this car is more about handling and quickness than aural sex.
I really wish I'd had more time to spend at the show… I'm sure I would have found out more. It will have to wait.
T-minus 10 days to the GTTSR by the way.