One of my frequent commentators, jculpjr recently asked about what sort of camera gear I use. It was a timely question as I'm seriously considering a new camera. I'd like to throw out a wish list so to speak and hopefully get some feedback that will help me make a choice. Your participation is welcome.
This is the machine (photo from a contemporary review) I've been using to capture images since 2002: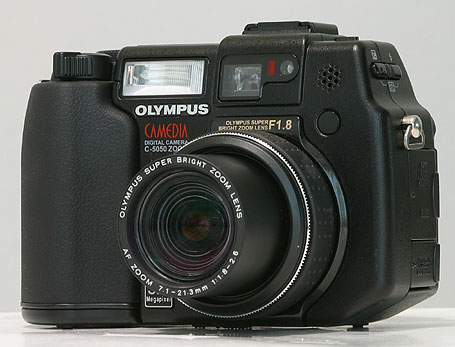 It is an Olympus C-5050 zoom. It has been a great camera for me and I still find it useful, however it is getting a tad beat up and it has some weaknesses that I'd like to eliminate with a new machine. However, let me start by telling you what I like about it most, in order of importance:
It is small and lightweight.
It runs on AA batteries.
Did I mention it is small and lightweight?
It has fairly easy controls, and a lot of manual settings.
It works well on "point & shoot" mode quite well.
It shoots VERY well in low-light conditions.
It has this nifty flip-out LCD: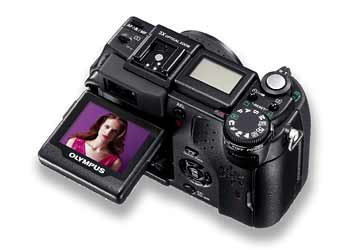 You have no idea how handy this is when shooting with the camera at arm's length, something I do a LOT. It flips both up AND down, meaning I can hold the camera way above my head, or down on the ground an still see the LCD screen.
Some other nice things about it:
It has a "movie" mode, so at the flip of a switch it can be a video camera, with sound.
It has lens adapters so I can shoot with a wide-angle or a telephoto.
It has never given me trouble.
Now, here are the things I hate about it:
Whenever I change batteries, the date/time reverts to midnight 01/01/2002. This is annoying especially since all the other settings (flash, drive mode, etc) are saved!
It is NOT an SLR. It has a viewfinder, which I adore, as that is how I prefer to shoot, rather than looking at a screen, but that viewfinder does not see what the lens sees. This is fine when working with the built-in lens, but utterly fails when you add a lens adapter. In the latter case the lens almost always blocks the viewfinder. This hurts as I shoot with a very wide angle lens MOST of the time.
The tripod mount is off-center from the lens. A design crime of the highest order in a camera!
The LCD is small compared to today's cameras.
So my ideal camera is a Digital SLR, that is small and lightweight with a good, reasonably-sized multi-angle LCD. After that, I'd like it to have great lenses, good controls, and the ability to shoot video & sound. Size is my primary concern though. I used Mark Collien's Nikon D-something on the GTTSR and it is am amazing camera… great lens(!) and awesome photos but my gawd… it was friggin HUGE! I just don't want to lug around something that big & heavy.
So I'm all ears if you have some suggestions. I have ZERO brand loyalty, and am open to any and all comers.