June 30, 2006
June 28, 2006
Legend has it that Captain Joseph Hazelwood had been drinking beers and vodkas in the hours before his ship became tragically intimate with Bligh Reef in Prince William Sound. I will admit to having a margarita on Monday night, though my oil tanker is thankfully nowhere near the size of the Exxon Valdez. I also didn't run into anything, certainly not a reef… my catastrophe was a bit more complicated.
You see, I have a home-brew Diesel fuel setup that filters waste vegetable oil and turns it into something I can put into my car. Being a lazy human with neither the time nor the energy to pump heavy, thick oil through 30 and 10 micron filters, I have created a system that takes advantage of a free energy source to push oil through a filter; namely the mass of the planet and its by-product, in the form of gravity. Oil, like any liquid, naturally flows downhill. I carry the oil up the "hill" in 5 gallon increments, which takes me 10 seconds. It comes back down the hill, this time through filters, at somewhere between a drip and a trickle. It can take a week to produce 20 gallons. This is fine since gravity pretty much works all the time: 7/24/365. Gravity is a reliable source of energy since planetary mass remains more or less constant, and should it experience rapid change, lowering the cost of operating my car will likely become the least of my worries. The only variable I need to be concerned with is ambient temperature.
Summers in the Pacific Northwest are not what anyone outside of McMurdo Sound would describe as "hot"… in fact on the first day of summer of 2003 I spent my day sitting in a chair in front of a roaring fire updating my website after the New England 1000 rally, with outside temps 15 degrees above freezing. But this past week we experienced a relative "heat wave", with temps reaching 90°F (33°C). We are not mentally or physically prepared for such levels of heat here. Very few facilities or houses have air conditioning, as temps rarely exceed 80°F (26°C) thanks to our latitude and close proximity to the largest body of known water in this solar system, perhaps even the universe.
Monday I was working from home, and towards the end of the day I was doing some pre-sale mechanical work on the Bug before it went on ebay. I was out in the barn around 3pm, and everything looked fine. Around 5 pm I had made myself a margarita and wandered out to the barn again and was greeted with a shocking find. Coming out from under the pickup truck was a steady stream of vegetable oil. I ran to the back to find the bottom barrel of my gravity-fed system copiously leaking from an overflow condition. I shouted to Nicholas, who was out playing with the dogs to run and get the truck keys. I dove for the stop-valves to put a halt to Isaac Newton's invisible forces.
Nick returned at a run with the keys and I got the truck out of the oil spill. Veggie oil destroys rubber. Tires are made of rubber last I checked. By now Sue and Chris have arrived to find out what was going on. I started evacuating things from the expanding puddle, running oil off the top of the overflowing barrel, put Nick to washing off the truck tires, while the others brought me a pile of old newspapers. I spread the newspapers out over the spill: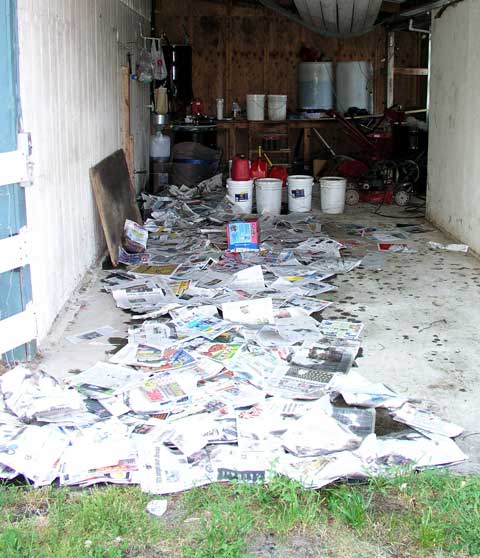 I finished removing everything removable from the space (it needed a cleanup anyway), spead some of my oil absorbant and couldn't really do anything until the newspapers soaked up some oil. We decided that after this little flurry of family activity that we needed to take a break, so we went out to our local Mexican food restaurant and had dinner (I had another Margarita!)
I took the next day off work to focus on the cleanup. The night of sitting on the oil did the trick with the newspapers, they were soaked. Off they came and into a 55 gallon drum, and another layer went on. While that soaked I set fire to the previous layer in the drum, and performed a general nonoil cleanup of the area. Entropy had led to disorder, which I set to correcting. I also processed what oil remained in the barrels "uptream" to cover the deficit lost in the spill and 20 additional gallons I had picked up from the burger joint I get it from the previous week (you can see that in the form of white PVC 5 gallon buckets.) I have no idea exactly how much I had lost, but I suspect it was between 15 and 30 gallons. That represents about 650 to 1500 miles of driving! Oh well.
Thankfully it is completely organic, and completely non-toxic as it is basically rapeseed (aka "Canola") oil, and molecular bits of potato, with some onion ring batter thrown in as well. Actually since this was at the "end" of my processing system it was pretty clean (filtered to 10 microns) so virtually pure oil. I take it from that last stage down through a combo 5/1 micron filter sock and from there into 5 gallon jerry cans. So unlike Hazelwood's blunder, my spill wasn't going to do significant harm to my local environment. In fact, it's benign to the point of being edible. One of our dogs in fact ate some. To them, a bit of spilled oil is a treat. Dogs are not known for their discriminating palletes, especially ours.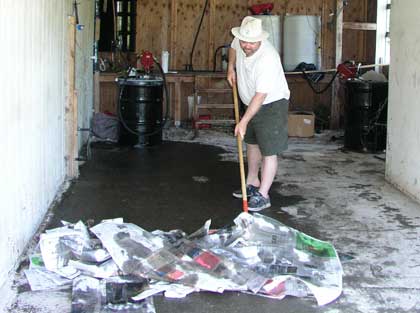 Above: Yours truly sweeping up oil-soaked newspaper.
After the second layer of paper came up, I fired up the pressure washer with a inline injection of Simple Green cleaner and started to spray: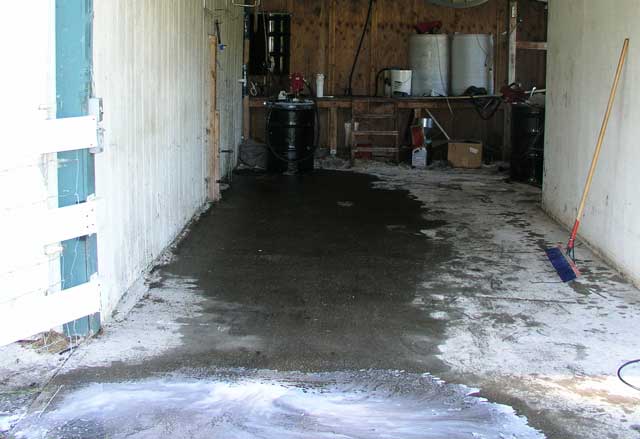 The cleaner was spread over the entire area, and allowed to sit for a bit, then the long, slow process of going over every inch of the affected area under high pressure spray began. Pressure washing is something of a Zen activity. It requires focus and concentration. You have this object, that if allowed to behave naturally, would be flying around haphazardly, being propelled by a 2100 PSI stream of water. You have to hold onto it, then make it do what you want, which in this case is coax a film off of, and some level of saturation of oil out of concrete. Thankfully oil and water do not mix, so you can visually see when you have removed most of it, and move on to the next section. It took a while, and two full passes at the area, but I'm pretty sure I managed to get most of it up.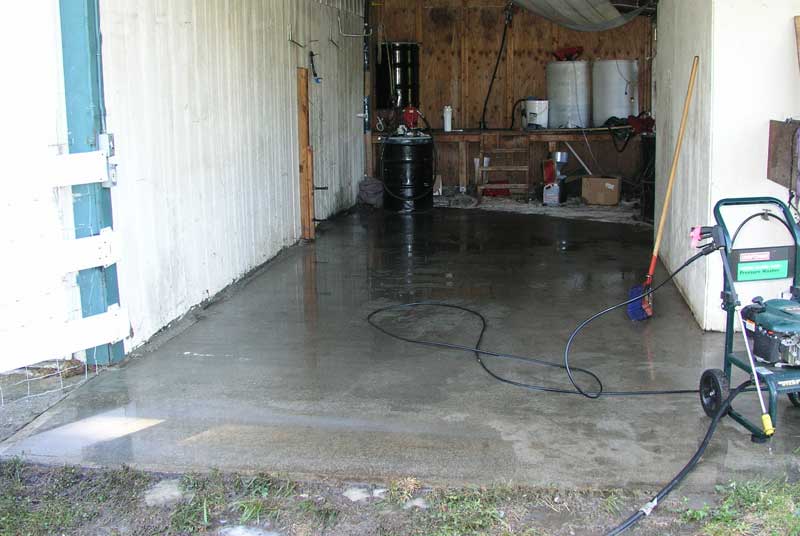 We'll see after it has some time to dry. I didn't bother to look at it this morning when I left for work. I really don't want to look at it until I know I'll have some time to start work again. The upside of this situation is that I now know that my filtration system goes from a trickle to a torrent when the temperature approaches 90°F. It all seems logical in hindsight of course, since in the depth of winter the stuff would barely drip. Sometimes the blindingly obvious takes a little hindsight to light it up.
Thankfully, it was only a portion of one barrel, not a portion of 1,480,000 barrels.
I'll drink to that!
June 27, 2006
June 25, 2006
June 24, 2006
June 23, 2006
Older Posts »