If you recall, back in December we had a fierce windstorm that brought down a 103′ tall Douglas Fir in our backyard. We subsequently removed all the branches, and the top 30′ or so of the trunk to repair the fence. Since then life has been quite busy and complicated. But with Christopher finally away, we found ourselves a free weekend.
My friend Shawn Hammer, who grew up working for his dad's logging company has the skills and experience to deal with this sort of thing, and he volunteered to assist. Armed with a chainsaw, he deftly had the tree down on the ground, and the bifurcated trunk separated. From there it was just a matter of slicing the trunks into fireplace sized chunks for me to later split.
Above: Shawn works his way along the first trunk.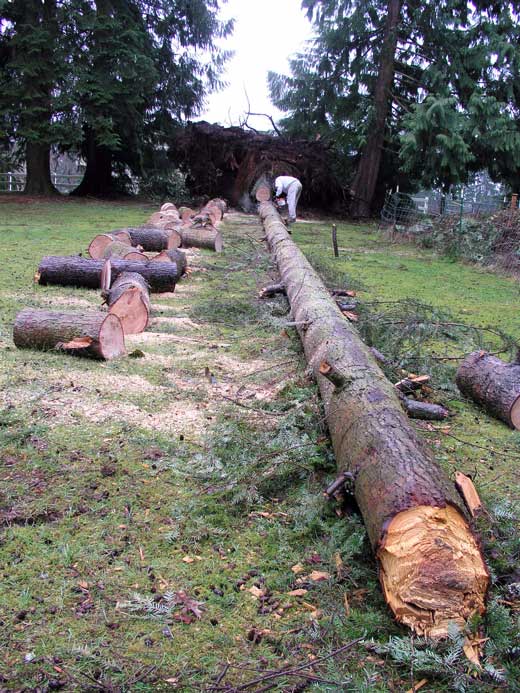 Above: One down, one to go.
Thanks Shawn!
Now my backyard is filled with small Tootsie-Roll proportioned wood cylinders. Nick & I will have to gather them all up and move them to the driveway, and as soon as the sun comes out, I'll have to start splitting and stacking them. At some point this spring I need to rent a back-hoe with a box blade to fix our gravel driveway, and I'll take that opportunity to right the root ball.