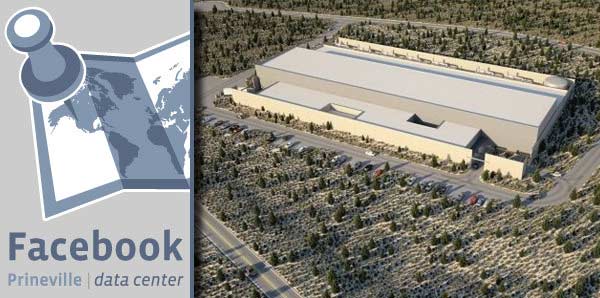 Now I can finally tell everyone what's been going on… what all those cryptic status messages I've posted on Facebook & Twitter over the past several weeks have meant:
I've taken a position with Facebook in their Technical Operations group as the Lead Datacenter Technician at their new Prineville, Oregon facility, working for Ken Patchett. I've talked often about the migration of the datacenter industry into rural areas, and now I'm living up to that conclusion. Facebook is a rapidly growing company and performs technical operations on a scale I never could have experienced at digital.forest, so I'm very excited about this opportunity. In the decade I've worked at d.f I was immersed in every facet of the datacenter business except scale, as our largest project ever topped out at ~2MW/10,000sq'. Day One at Facebook for me will exceed that scale by a wide margin. I can't wait to meet my new colleagues and be a vital part of building and operating the best facility on the Internet. I start at Facebook on Monday, August 2nd.
Sue has found a position as a Public Defender in Crook & Jefferson counties. This move will something of a homecoming for Sue as she was born in Prineville and grew up in various small towns in central and eastern Oregon – her dad worked for the USFS. We'll be close to family now too, as Sue's dad and two sisters still live there. When I first heard about Facebook's choice of Prineville for their new facility I joked to Sue about her birthplace being suddenly thrust into the limelight… then a few months later they called me! It was like fate or something. She's very excited about being able to move back to Oregon. Due to the Oregon State Bar process she can't start practicing law until early October, but we hope to be all moved down there by early September at the latest to have Nick ready for school.
Nick is mildly apprehensive about all this, as he's really settled into a good spot in life here in Arlington. He has all those things teens need: great friends, good grades, and a passion (running X-C.) As much as we tell him that he'll be able to find all that in Oregon, he doesn't know that … yet. We hope to find a place where he can fit in, so we've been emailing the coaches of the various X-C teams in the area.
We're currently shopping for a home down there (dictated by Nick's terms above, and of course with some good shop or barn space to build my "Garage Mahal") and will update everyone with our new address as soon as that process comes to a close.
It is of course tough to say goodbye to our home of the past eleven years here in Arlington, and our friends, family, and colleagues. But we'll still be in the region. Come visit us at hit the slopes!
This is the beginning of an exciting new chapter in the Goolsbee's life. As always stay tuned to follow along!