There is a lot of blather online about how the automotive industry is transforming into a "mobility" industry. From ride sharing to autonomous vehicles, we're supposedly hurtling towards a very different future. Well, not really because as creatures of habit, we still drive our own cars, usually alone, about 99.999% of the time. But all the hype? It's on self-driving cars.
I've written plenty elsewhere about how I'm very bearish on autonomous vehicles. I just don't think it is a viable goal to be expending so damn much engineering focus and resources upon right now, given there are far greater problems to be solved. But becasue traffic in Silicon Valley, Seattle, and other technology hub cities, we have software people trying to engineer their way out of their miserable commutes… or at least allow them to spend more time on Snapchat and Netflix while they (don't) drive to work – but somehow still do it in their own personal vehicles.
In the end the lawyers are likely to kill this baby in its crib.
Meanwhile however, the ways of getting around are changing, and mostly for the better. Ridesharing, which likely can trace it's origins to the same traffic annoyances of yet another group of Silicon Valley software nerds… ("I bet we can use an app to optimize people into cars to reduce the number of cars that are slowing us all down.") has effectively disrupted the entire taxi industry by making it a far better end-user experience. Traditional taxis, at least outside of places like London or Manhattan, have always been spotty, inconsistent, and in my experience, a frequently awful experience. Dirty cabs, often retired police vehicles, so you felt like a perp rather than a valued customer, and drivers who often lacked even basic communications skills. Add to that a largely cash-based transaction, or if they took credit cards it was far from frictionless. Apps like Uber and Lyft have made the transaction itself utterly seamless and swift.
I've mostly used ridesharing services while traveling, or to avoid the risk of getting a DUI. For the former it is now routine to use an app to get around in a city I am visting for a short time. For the latter it is a lifesaver in every sense of that word.
I don't live in Portland, Oregon, I live about a three hour drive away from it, but I visit Portland often. In several of my recent visits I noticed various BMW vehicles scattered all around the city emblazoned with a "ReachNow" logo. Curious, I looked it up online and learned it was a sort of car sharing service. I downloaded the app, set up an account (which involves registering your Drivers License and a credit card), and… didn't use it for months.
But last week Testa Rossa and I were in Portland for a family gathering and some appointments. Time to give ReachNow a try!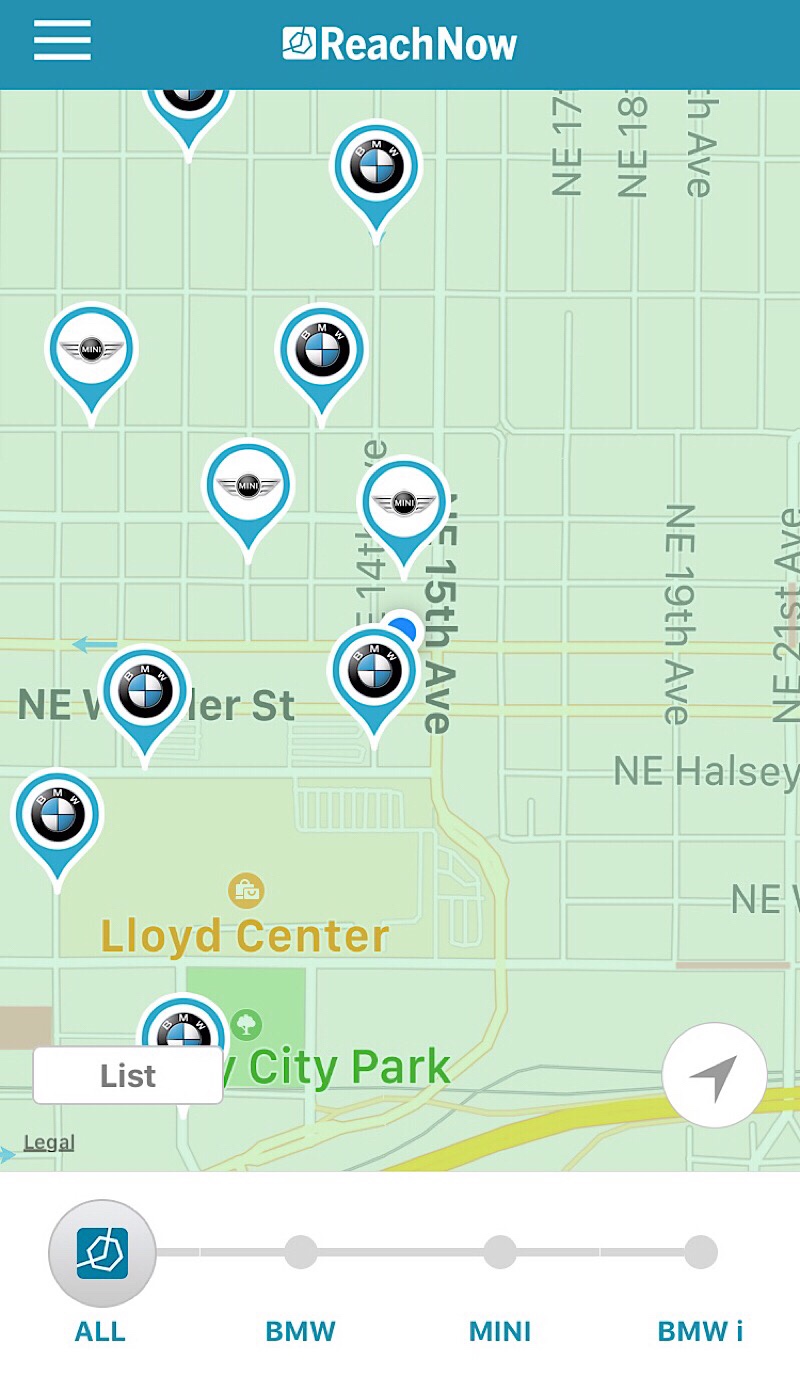 When you launch the ReachNow app the default view is a map view of your immediate surroundings, and an ability to sort vehicles by "All", "BMW", "MINI" and "BMW i". BMW i is just i3 cars at this time, no i8s, sorry. But I imagine if they expand that product line more variety could become available. Initially it was the i3s I spotted with the ReachNow logos that piqued my curiosity. I can't imagine buying one, but I'd like to give one a drive, but sadly in my week of using the app no i3 was ever nearby. Oh well. The MINIs all seem to be Clubman models, and the BMWs either 3-series sedans or X-series SUVs.
To grab a car you click on the nearest vehicle and it will tell you what sort of car it is, what it's expected range available, and a few other details you might use to pick what works for you, such as how long it will take you to walk there. It also allows you to "reserve" it, which makes it not appear on other people's searches. This gives you time to finish what ever your're doing and start walking towards the car.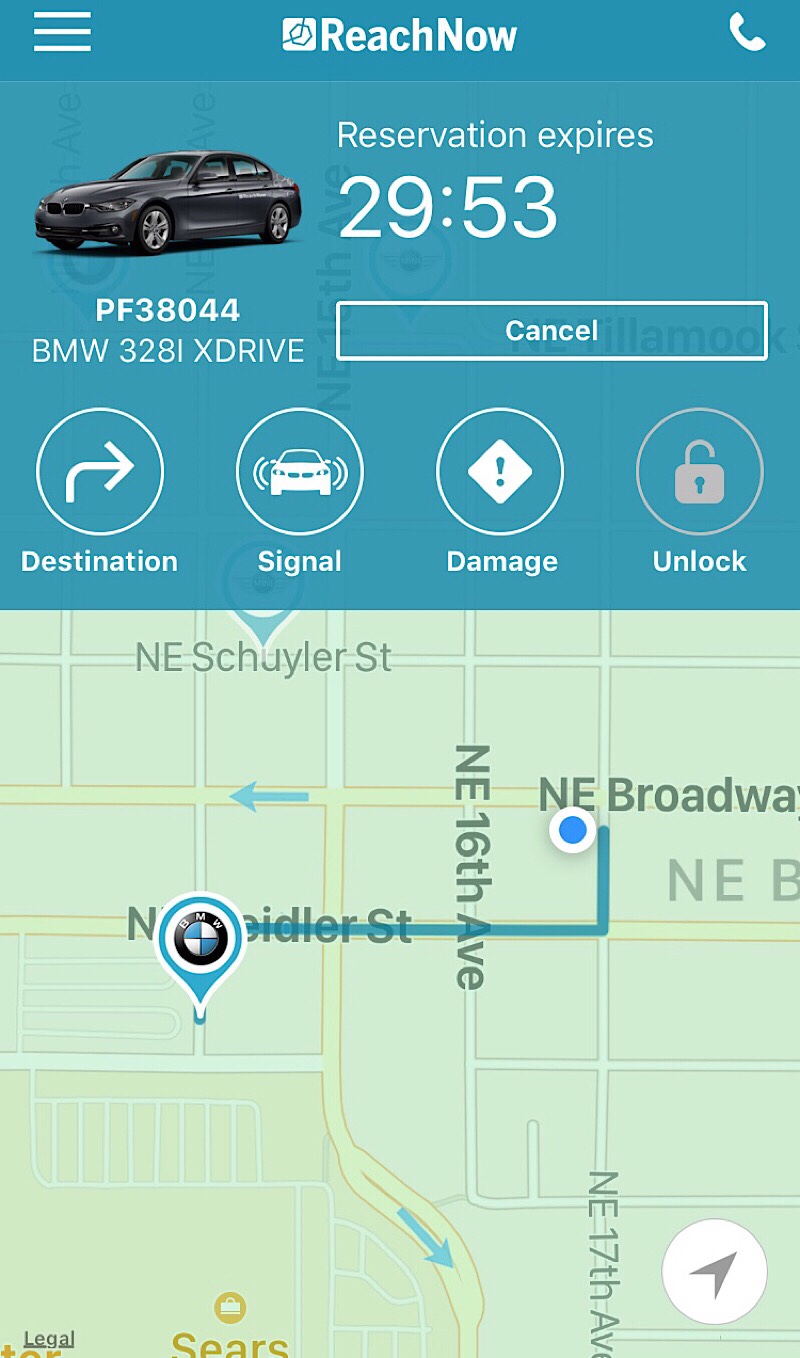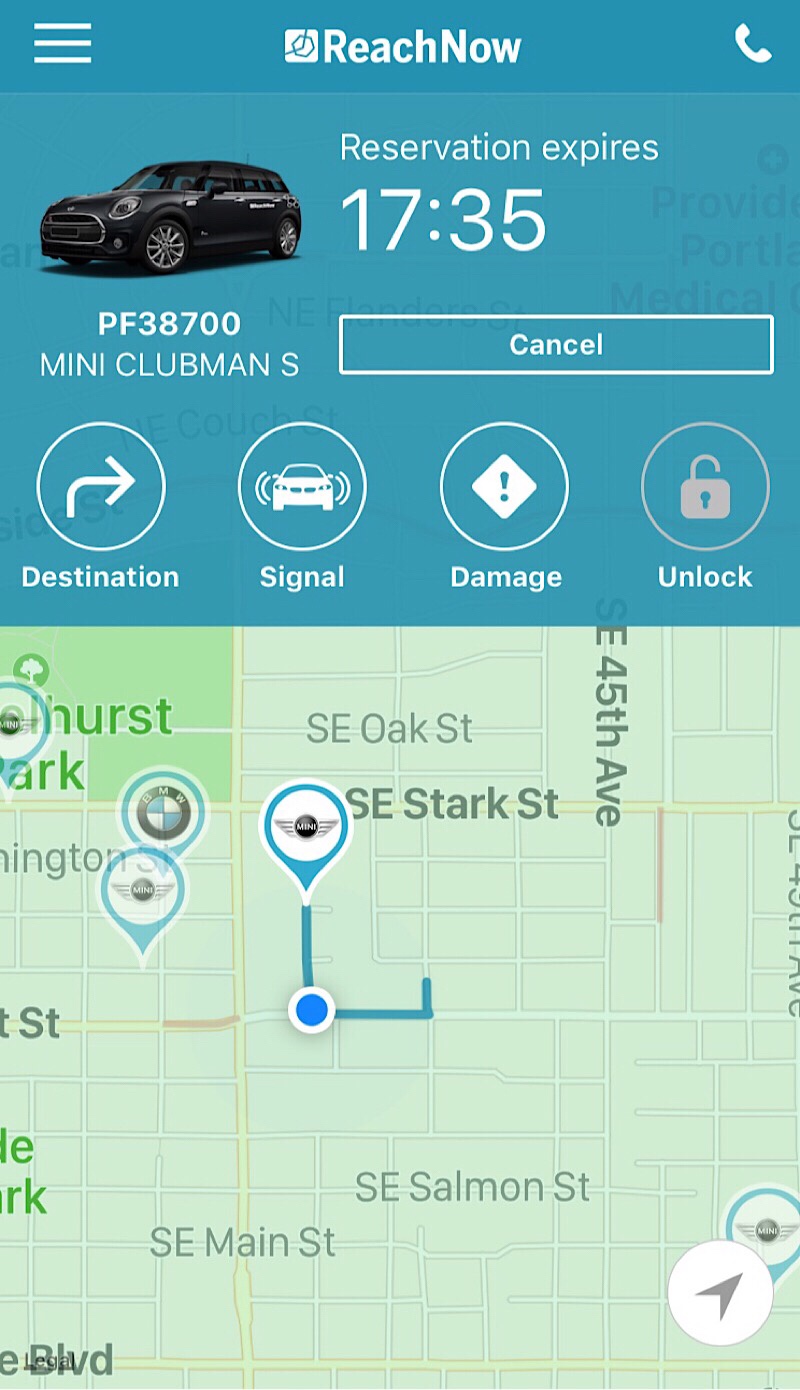 Once underway on your walk, the map updates live with your location and route. You'll note on the app screen there are an array of buttons that include "Destination", "Signal", "Damage", and "Unlock". I'll admit I never investigated the "Destination" function. The "Signal" button however I found invaluable. On every trip but one, it was after dark, and (shocking I know…) raining. When you press that button on screen, the lights of the car flash a few times, allowing you to see it from afar, or in our case in a dark and rainy night in Portland. I never used the damage button, again mostly because it was always very dark and I would not have been able to assess and report any damage anyway. The app does present you with a screen that points out an existing damage report, complete with a diagram of the car and damage called out. The unlock button is pretty self-explanatory. When you approach the car, it enables and you can see an LED in the windshield that changes color as your phone comes in range, and you press the Unlock to gain access to the car.
The first time I got in a ReachNow car (a 3-series BMW) it required a call to support to figure out how to start it. Normally the center console screen welcomes you, and you enter a PIN. Instead this car's screen was stuck on something else. Thankfully support was able to clear the error and get me going pretty quickly.
After that first time however, I never had another issue starting the car. I was always greeted by the PIN enter screen. Billing doesnt start until you either start driving, or select "begin trip" from the main screen. Just like a rental car, it always seems like I get cars that were previously driven by somebody well under 5 feet tall, so oftentimes I couldn't even get in the car without making significant seat adjustments, so like using rental cars I tend to spend a bit of time adjusting things like seats and mirrors before I even think about driving, so it is nice the billing doesn't start until you're underway.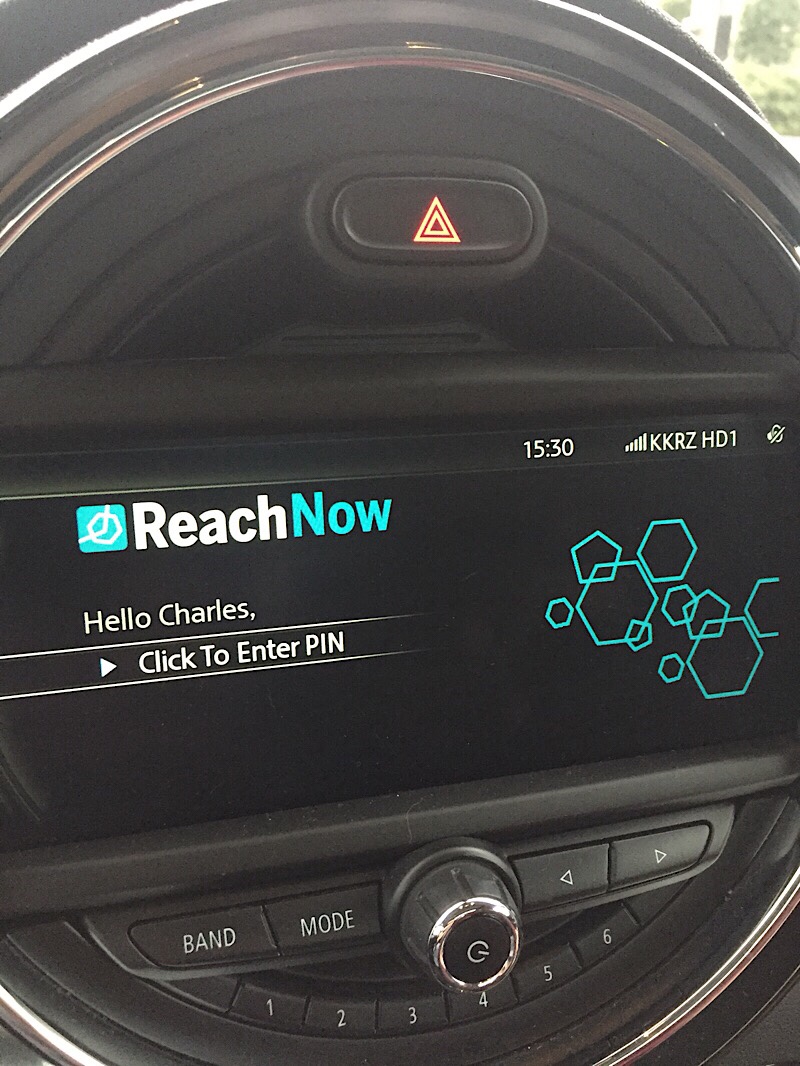 Parking is odd. Basically they allow you to park anywhere on a street where parking is legal. No need to feed a meter if it is a paid parking area such as downtown. Just park, lock, and go. You can also park the car and "keep" it by not ending your trip. You pay a reduced rate per-minute to park it, but the car remains for your sole use until you end your trip. So you could park it in a store parking lot, and use it to haul your groceries home after you shop. I never did any of that, because our trips in Portland were all simple point-to-point affairs. For example, we drove to a movie. Once the movie ended, I opened the app and found a car two blocks from the theatre.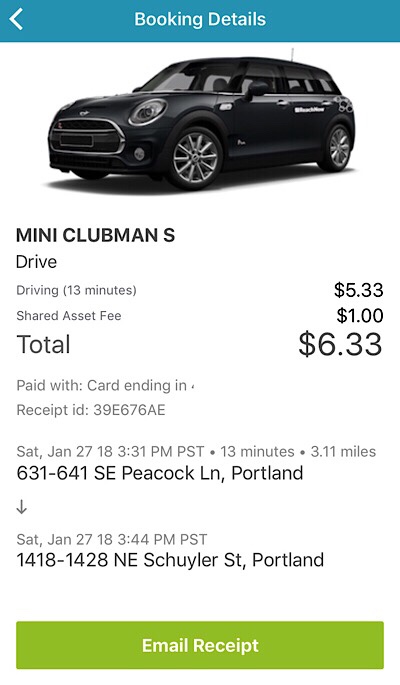 Once your trip concludes, you are presented with a receipt, and an opportunity to provide feedback. Pleasantly, I found that the cost per-trip was usually about 35%-50% less expensive than a comparable one with a ridesharing service such as Lyft or Uber.
Over the course of a week we took several trips, and other than the first trip we never really had any problems. The last trip's car did reek of weed (shocking I know… Portland) and the car was complaining about low tire pressure in the right rear tire. If there is any real problem with the ReachNow service I could think of this is an example, in that there is a shared resource that may not be cared for equally by all members. While I doubt anyone smoked weed in the vehicle, it was clear they smoked a LOT of weed before they got in, so the odor was VERY strong. I reported this and the low tire via the feedback tool in the app, and I hope the car was collected and cleaned/maintained… but who knows?
I certainly appreciate having the ability to grab a car and drive it pretty much on-demand.On the final trip of the week we combined ReachNow with ridesharing to mitigate the risk of DUI, as we drove to a social event that involved drinking, and rode home in the back of a Lyft.
Life takes me to both Portland and Seattle often, cities that are covered by ReachNow. I'll certainly be making more use of the service.