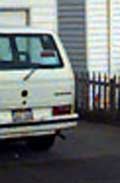 The above is the sole digital photo I have of my old VW Vanagon. I found it in my photo library. Taken with a primitive digital camera in 1996, it was a photo of my house, which I was selling on the Internet as we planned to depart for the UK. Note the "for sale" sign in the rear window of the van as well. We sold the Vanagon to another small family in our neighborhood. I hope it served them as well as it did us. If I find a analog photo I'll scan it and put it here too.

I noted that VW is going to be selling a badge-engineered Chrysler minivan as the VW "Routan"… what a sorry state of affairs. They teased the world with a retro-Bus 7 years ago to wrap up their resurgence of the Beetle design. It never has come to fruition. Instead we get this. below is the text of a comment I left on TTAC early this morning…
Back in the early 90s when my kids were little and my dog was big I have a '89 Vanagon "Wolfsburg Edition". Built the year the Wall Came Down. I loved that box-on-wheels. So OK, 80 MPH was about as fast as it could go without being dropped from high altitude, but as a family hauler and hockey bus (I was a goalie, and my wife played "D" on local adult rec team) it was unparalleled.
Our two annual vacations were always in that machine. In winter we would load the kids in, and the luggage and skis onto the Yakima rack up top, lay down the bed in the back, throw in a cooler between the seats and drive 24 hours straight from Seattle to central Colorado where my parents live at the base of a ski hill. "Hi Mom, here's the grandkids, see ya later!" 😉 The other trip was a summer wander all over the West, either US, Canada or both. That Vanagon was the cheapest and most utilitarian funtcional RV ever built. No, it wasn't a Westphalia camper, but the 2-2-table-3 seating arrangement was fantastic, and terrifically functional for hauling kids. The passenger (myself or my wife) could stand up and walk to the backseat ferchrissakes! The kids could sit facing each other, even strapped into those damn car seats, and be engaged in sibling rivalry yet be out of fist range!
My only complaint was thedesign of the fold-up cupholdeers, they were all destroyed within a year of buying the thing. So were all the replacements. Just a bad design.
The tightest turning circle of any car I've ever owned. Very easy to maintain and self-service (important for this home mechanic!) Fun to drive in it's own looney sort of way. You could park it anywhere as the footprint of the thing was in reality about the same as a Jetta, but with that big sliding door and the fact that the front seat riders can easily walk back to it meant that door clearance was never an issue.
I sold that Vanagon when I was transferred overseas in early 1997. I wish I hadn't.
It is a shame that 50 years of design and refinement were abandoned by VW. The Vanagon was essentially the apogee of the original VW Bulli/Combi Bus, just with the "wasserboxer" engine in the end. Literally. Nobody thought outside the van shaped box like VW. Their products were always offbeat and unique.
To badge-engineer something from Chrysler is an insult. Though I agree with others and say that at least they've tarted it up beyond its ugly start. The problem with most "minivans" is that they are just station wagons with a sliding door. They are NOT vans. They lack the utility of a van. They lack the room to maneuver INSIDE that a van gives you. VW vans have a long history of being second homes on wheels and nothing from Chyrerberus is going to get that job done.
We've all been waiting for that New Bus to complement the New Beetle, and VW craps out THIS TURD?? Whisky Tango Foxtrot?