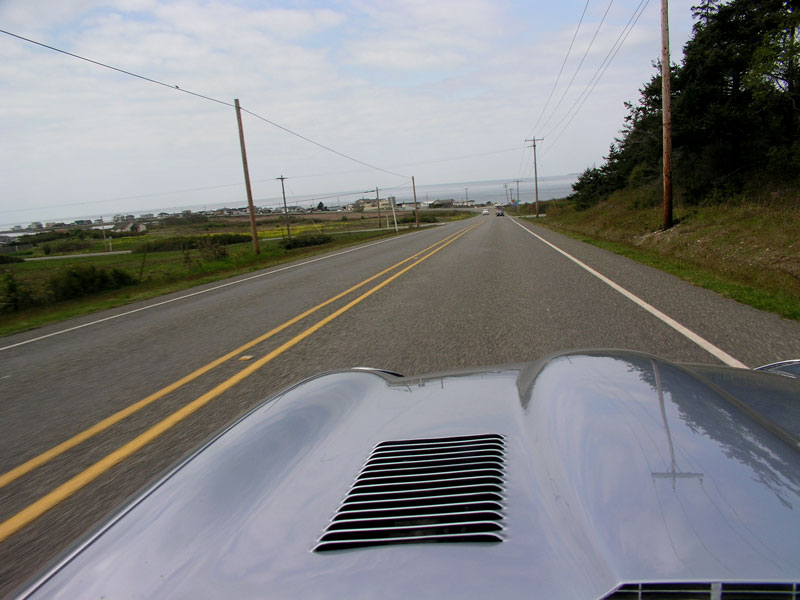 Nicholas & I participated in the mammoth 28th Annual Tulip Rallye, put on by the MG Club today. What started as a wet yucky day, ended surprisingly well. For the rest of the tale, click "More"…
It was raining when I woke up this morning. Damn. I checked the weather forecast and it only predicted a 20% chance. Poking about online I saw that the rain seemed to be localized south of us, with one more squall line approaching. Things up in Skagit appeared to be better. So we saddled up, and headed out – top up and taped in. We stopped to fill the Jaguar with petroleum products, and Nick with snacks, then ventured up I-5 to Burlington… right through that squall. It was coming down in buckets and Nick held is raincoat against his side of the car to keep the leaks from dousing him. The rain abated as we descended Starbird Hill down into the Skagit Valley. The Cascade Mall parking lot was already bursting with all manner of cars, half of them old and British. MGs, Healeys, Triumphs, Morgans, Minis (and MINIs), Jaguars, Land Rovers, etc. Plus Alfa Romeos, Corvettes, the Solstice/Sky club, and a smattering of Porches, VWs, Opels, Mazdas, Subarus, a Lancia and a Lambo, and who knows what else. Well over 300 cars eventually participated. Had the weather been better I imagine we could have had 400+.
It seemed there were about a dozen or so Jaguars, but they were scattered all over the parking lot. One that was unmistakable though was a simply HUGE Mark IV that wafted about the parking lot looking like royalty: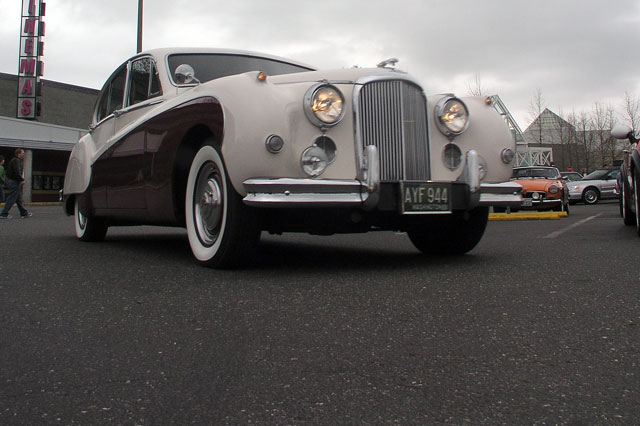 We drew car # 248, and waited our turn for the start. I wandered around the parking lot, snapping future "Car Photo of the Day" images. I noted one car that at first glance I mistook for a Lotus, but which in closer inspection was an MG Midget with a lotus-like bonnet. When the owner popped open said bonnet, hammer in hand I had to rush over and capture the unique "old brit car ownership" moment: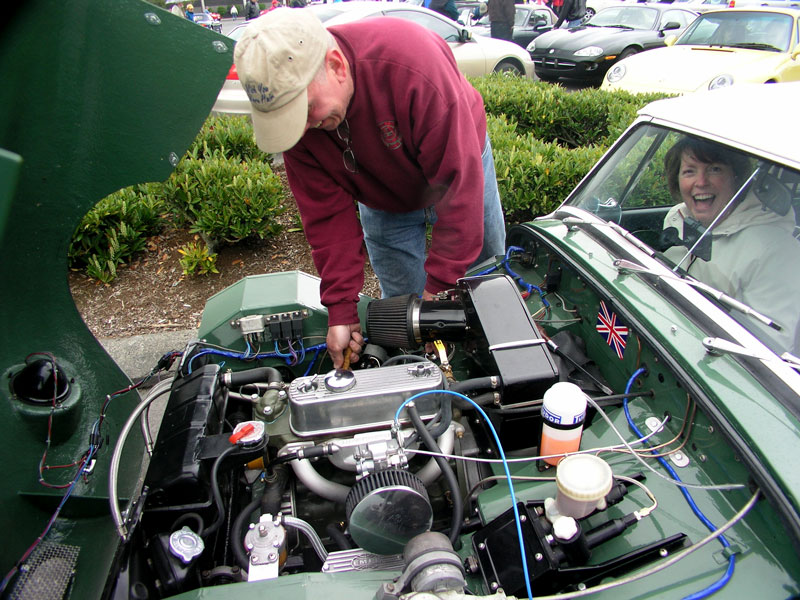 Yes, he was coaxing his starter to life with the usual tool. Despite the comic aura surrounding the act, the A-series engine woke right up and ran when the magical tap was administered.
Our time to go finally arrived and despite us watching people obviously having issues getting questions answered right from the start, we fell into the same trap and struggled with the first three questions. However, we soon fell into a good groove and started feeling better. Working our way south and west out of Burlington, through Mt. Vernon, and on towards La Conner, we travelled through the dreaded Tulip Zone.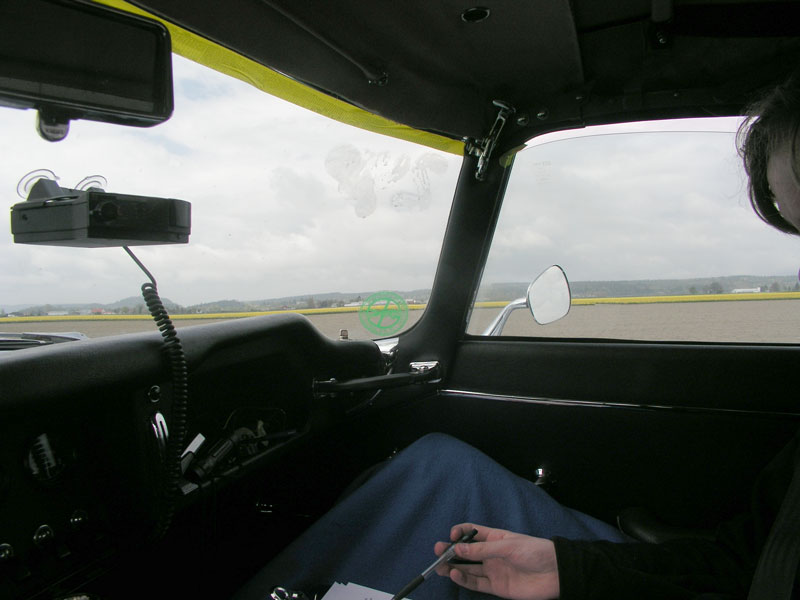 Thankfully the traffic was light as it was early in the day and up until now, it had been raining. There were still light showers around and as we went through La Conner I became frustrated with the limited visibility under the top, so stopped and put it down. Part of success in a gimmick rally is being able to look around to see the potential answers to the dumb questions the rallymaster has cooked up. Relieved of the obstructing top, we found the elusive answer that was stumping us in La Conner and buzzed away over the Rainbow Bridge over to Fidalgo Island.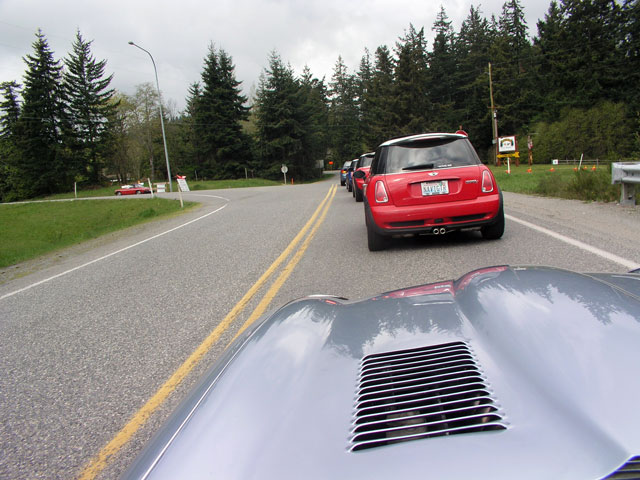 The route took us over Deception Pass, under the jets of Naval Air Station Whidbey, around Oak Harbor on back roads, then down to Coupeville where a rest stop awaited us at the High School. We made a donation to Northwest Harvest, grabbed a home made cookie (yum!) and found the answer to the mystery question. From here the rally route was simple, in fact it followed EXACTLY the way I drove a few weeks ago on my first outing of the Spring with Greg Bilyeau. Nick and I grabbed a lunch to-go at a drive-through in Oak Harbor, answered the remaining questions, and went to the Swinomish Casino for the finish. We turned in our score sheet, ate our late lunches, then passed the time wandering about the parking area, looking at and photographing cars.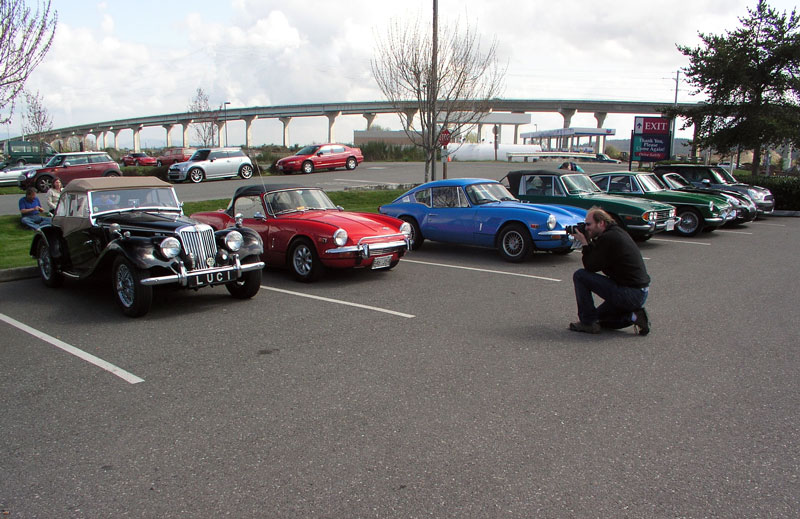 Above: Our own Sandro Menzel shooting a photo of an MG.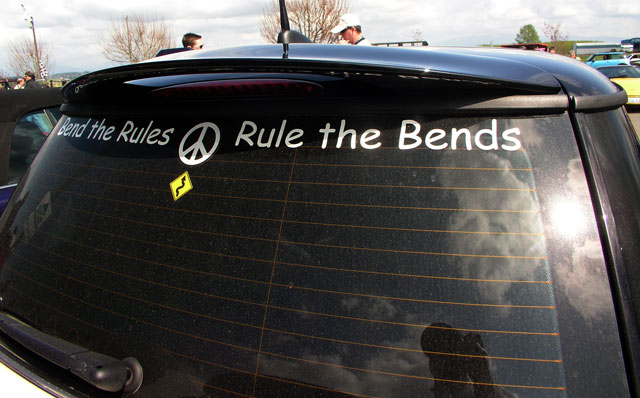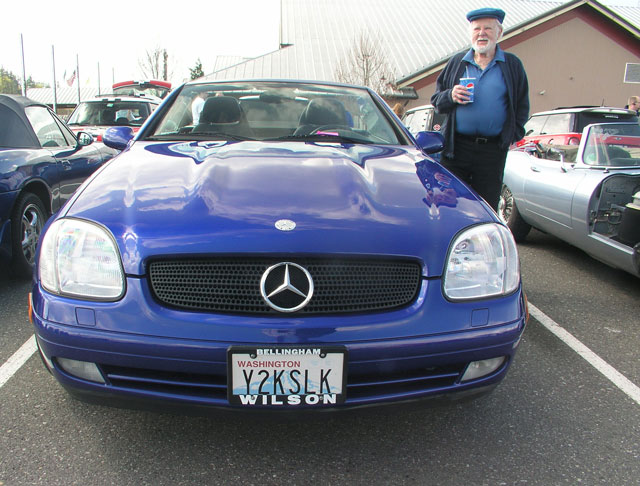 Nick failed to win a door prize, to his disappointment. He even wanted a boxing nun! (I would have much preferred the Griot's Garage orbital polisher!) Oh well. Redemption came however when they announced the winners. You compete against either your club (if more than X are entered) or against all cars of your marque. It turns out we scored best in the Jaguar class, so Nick (as Navigator) collected a trophy!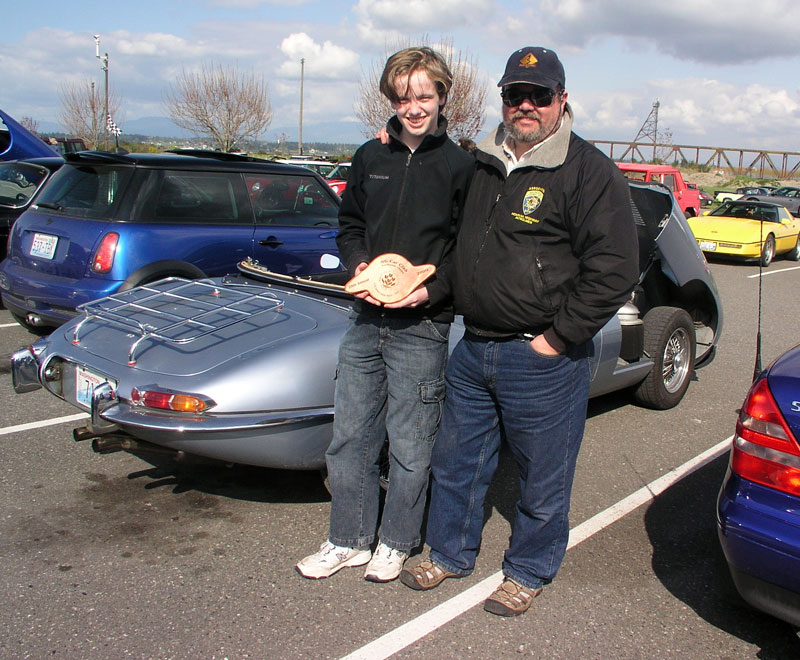 I deserve no credit, I just drive. 😉
A great day out! The sun even arrived and stayed the rest of the day.
The dreaded Tulip Traffic caught us on the way home, so we were late, but it didn't bother us, we're winners!