Here's a four-part wrap-up of what I think are my best photos taken this year. I'll number them so you can cast your vote for favorites in the comments section. Most of these are car-related, as you would expect. Keep in mind that several of them are not so much great photographs as they are captured moments or places that say something to me. Most however are overall good shots. Let me know what you like, and why.
These were shot with my usual repertoire of three cameras, and I'll try to identify which camera was used for each. I'm still getting the hang of my newest camera, the Panasonic Lumix G1. It has a LOT of promise, and will likely start making some great images for me once I get the hang of it. The G1 was bought mid-way through 2009, so early photos were shot with my trusty old Olympus C-5050 zoom, a 2002 vintage digital camera. Despite its relative low resolution and limited lens, I had been shooting with it for so long that it became an extension of my brain and eye. I'm astounded on occasion how great the images from this camera can be. Finally I have a Nikon Coolpix L11, a 2006 vintage point & shoot that I bought dirt cheap for use doing time-lapse videos. Since it is so small I tend to carry it around with me almost all the time – mostly to shoot random oddball cars for the CPotD series – but I also hand it to my kids when we are traveling for them to use as "their" camera. Nick especially burned up the memory card on our father/son road trip.
Note: I'm not happy with the JPEG output of PicMark, the application I use to add the copyright notice on the images, (the B-17 image is completely borked!) so expect some higher quality images later today when I can re-run the images from the originals
---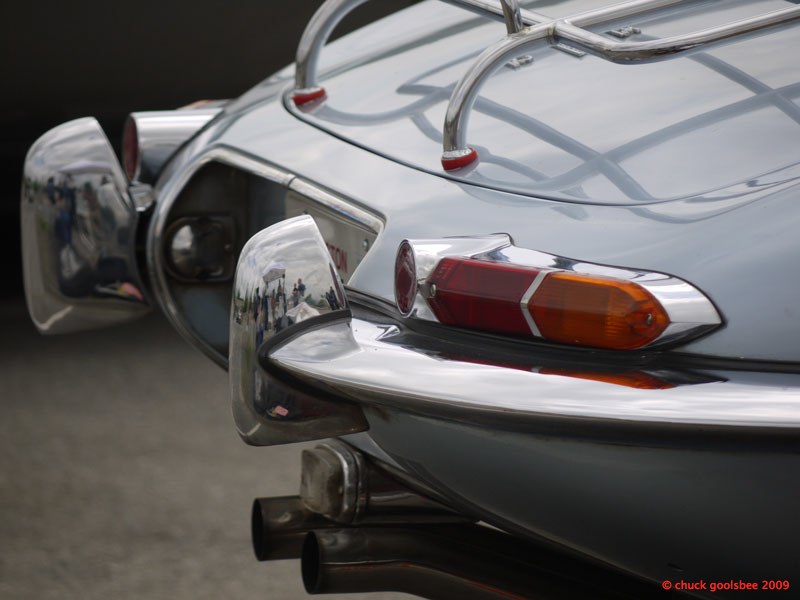 1. 65E tail.
The E-type is a compendium of long-radius curves and ovals. The only place on the car that gets complicated is the rear, especially on the open two seater (the coupe's rear has a more elegant resolution of these converging shapes.) At a pause in the action on-course of a JCNA slalom event in Vancouver BC I swung around and snapped this study of my own car's rear end. I like the way it turned out.
This is one of the first shots I made with the G1 and the telephoto lens I picked up for it. After years of shooting with short lenses and ultra-wide angles having a true telephoto again (my last one was with my old Pentax in the 80s!) was a revelation. Long lenses open up a different world. Traditionally people use them to shoot far-away objects. I can see that value for people who shoot things like birds, such as my buddy Chuq. I mostly shoot cars, so for me the telephoto allows me to shoot detail shots without the radical distortion that usually comes along with my wide-angle lens. That distortion has its place, but sometimes the compressed perspective of a telephoto is preferred.
---
2. Ferries & Duwamish Head, Seattle.
This shot has just so much "Seattle-ness" to it. Taken on a Spring morning on Elliott Bay as I was on my way to a funeral of friend in Port Townsend. This was made with my old Olympus. My car was loaded last on the cross-sound run from Colman Dock to Bainbridge Island. Just off the port bow of my Jetta was this interesting clevis fitting framing the view so well. I didn't think much of the image when taken, but looking at it later I fell in love with the composition.
---
3. Jags at Art Center Show.
I attended the Art Center School of Design Annual Car Show in July, on the "travel day" for my boys. Chris was flying north to Seattle, and Nick was flying south to LA, while I killed a day in Pasadena. The presented cars were amazing and I have a zillion shots to share as obscure CPotDs in the coming months. I was also able to see a few cars in the flesh I had not seen until that day. These two Jaguars though are as familiar to me as can be, as my father owned both an E-type and an XK 120 among his cars. The positions of the cars demanded a "father/son" composition and playing with aperture gave me the right amount of positional focus. I love capturing descendants in this way, and have done it many times before with various marques of vintage cars. It never fails to produce a pleasing composition, for any type of viewer.
---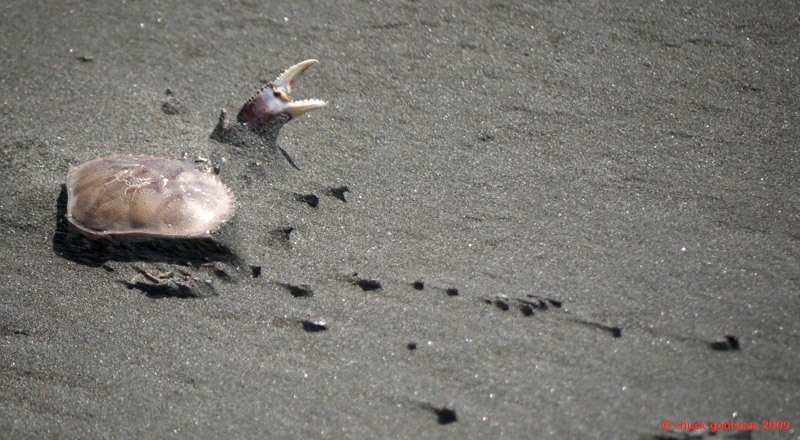 4. Zombie Crab emerges from the Sand.
As Nick & I were cavorting on an Oregon beach on our return trip from LA I spotted this crab shell and claw on the sand.
Shot with the G1.
---
5. Stillaguamish Rainbow.
This photo was taken just a couple of weeks ago, and I documented the discovery and capturing of this phenomena here. Shot with the G1.
---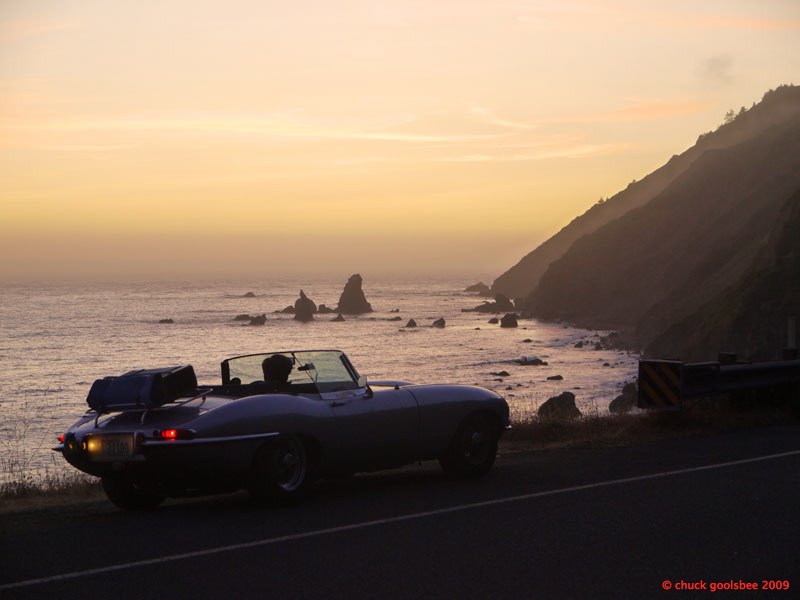 6. Sunset on CA HWY 1.
I think this image in my personal favorite of 2009, but I suspect that is more about my fond memories of a magical moment than any inherent quality of the image… you tell me! This was near the end of a wonderful day that started at the Blackhawk Collection in Danville, CA, then through San Francisco and the Marin, Sonoma, and Mendocino coasts. We watched the sun set on a beach then continued north in twilight. Along the way the post-sunset light was just so magical. When CA HWY 1 left the coast I stopped, turned around and parked on the side of the road with the engine running (no starter, remember?) In exceedingly low-light conditions and no tripod I think I pushed the G1 as far as it could go.
This image was chosen for the XKEdata.com 2010 calendar.
---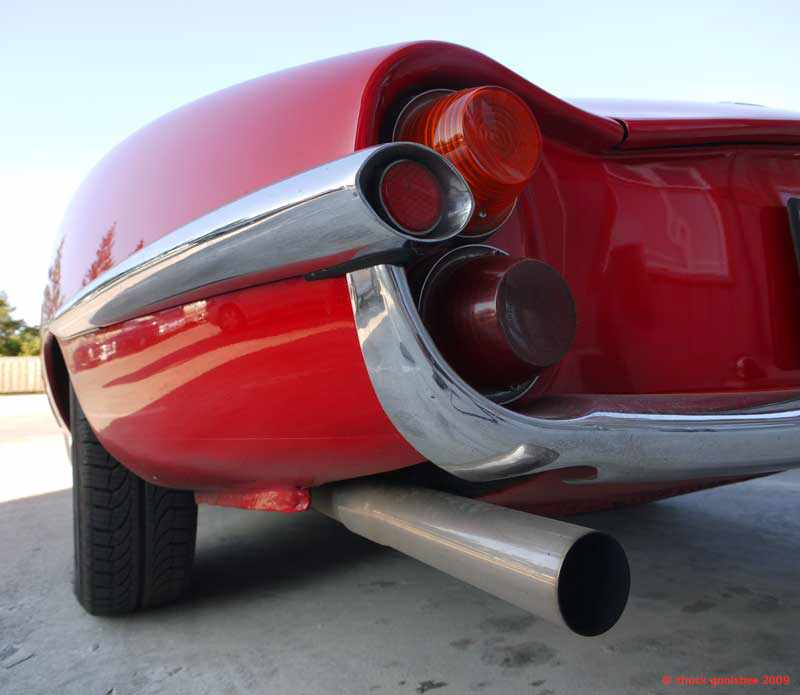 7. Alfa Romeo Giulia SS
The Giulia SS from Alfa Romeo is such an unusual looking car. It loves to be photographed. I tried to present this one from an angle rarely seen though. Ignoring the normal studies of the remarkable windscreen, standard side- or three-quarter car photos I went to the rear and rest the G1 on the curb. I like how the image looks. Those who know the car will instantly recognize it, but anyone else still has a pleasing composition that keeps the eye going round and round… just like it should with a Giulia SS!
This Alfa Romeo was with us on the 2009 Classic Motorcar Rally in Victoria, BC, Canada.
---
8. Auburn Speedster at Art Center
The Auburn Speedster is for me the most beautiful car ever made in America. I will admit to have been fairly ignorant of them up until 1998 when I first saw one actually being driven on public roads at the New England 1000 vintage rally. I was captivated! This car really captures the exuberance of American industry in those pre-war days. Unlike Packards, Pierce-Arrows, and other pre-war greats, the Auburn was not only elegant, it looked fast even when sitting still. Erwin "Cannonball" Baker drove an Auburn Speedster from New York to Los Angeles in 56.5 hours in 1933, inspiring the "Cannonball Runs" of the 1970s. Unlike the competitors 40 years later though the Auburn didn't have Interstate highways, or in some cases even a road itself! What a car! This Auburn was photographed at the Art Center Car Show in Pasadena, CA with the Lumix G1.
---
9. 300sl at TSD Segment Start.
The iconic 300sl "Gullwing" Mercedes-Benz presents photographers a true bit of 1950s zeitgeist and timeless beauty. Born of Stuttgart's famous racing program that began with the first Mercedes, and reached its legendary peak with the pre-war "Silver Arrows" of Grand Prix, the 300sl was the really the very first true supercar. Ultimate luxury and race-winning performance available on the street to the man who could afford it. Most cars like this are locked away in museums and private collections, but true motoring enthusiasts know that a vintage car's place is really out on the road. This 300sl is owned by just such a person and here it is competing at the 2009 Monte Shelton Northwest Classic Rally. The Monte Shelton is a fantastic vintage rally with a keen level of competitive time-speed-distance rallying, meaning that it requires excellent communication between the driver, responsible for maintaining exact speeds, and following the directions of their Navigator, who does the heavy mental lifting of course interpretation and time calculations. This is no sedate tour! I compete on these rallies with my father who serves as my navigator. As a driver I have a bit of downtime at segment pauses while we wait for our time to drive. It was at one of these pauses when I captured this 300sl lined up at the start of a TSD segment in Warm Springs, Oregon.
---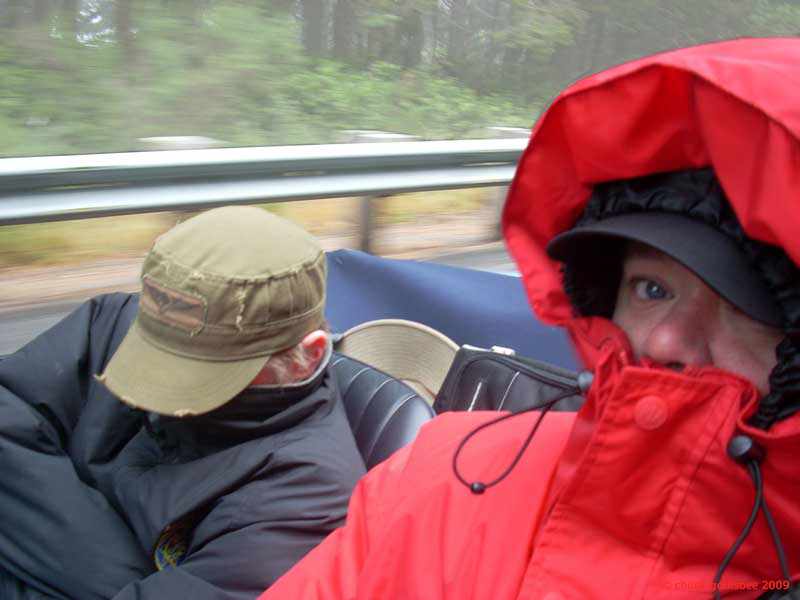 10. Summer on the Oregon Coast!
On the third day of our southbound leg of our Father/Son Road Trip Christopher & I woke up to frigid fog on the Oregon Coast. After breakfast we drove towards the California border in conditions so cold that the Jaguar's temperature gauge never moved off the peg! E-types are famous for running "hot" but the car never had the chance to warm up no matter what I tried (I need to build a portable radiator cover for it this winter.) Upon reaching Brookings, the last town in Oregon before you reach California the car was running on four cylinders, as two spark plugs were hopelessly fouled. A quick stop at a NAPA for new plugs, and our arrival in California sunshine soon had us in shorts and the car running fine. Not so much a great photo as a captured moment unique to the Pacific Northwest. Shot with the Coolpix L11.
---
11. Nick at Sunset
On our homeward leg of the Father/Son Road Trip Nick and I became beach bums of sorts. After literally baking in the car for two days from LA through the Sierras to the Bay Area the relative cool of the coast run was paradise. We stopped often at scenic beaches (where we could park pointing downhill to roll-start the "starterless" car!) which allowed Nick to run around and expend the energy that active 15 year olds have in abundance. He would run around, climb rocks, etc. and I would walk slowly and just photograph the magic. This particular beach is very far north on CA HWY 1, not long before it departs the coast for the Redwood Highway. The sunset on this day seemed to last forever, and at a moment of relative and contemplative calm I captured this image of Nicholas in a distinctively un-Nick like pose.
---
12. B-17 leaving Boeing Field in Seattle.
Again, an early shot with the telephoto on the G1. I was sitting at my desk at work when the distinctive sound of a multi-engine radial propeller-driven aircraft hit my ears. I'm used to seeing odd aircraft coming and going from Boeing Field but this was a real treat. Starting with a B-24, and a P-51, and finishing with this B-17 I was treated to a parade of historic aircraft. Not a great photo so much as a captured moment.