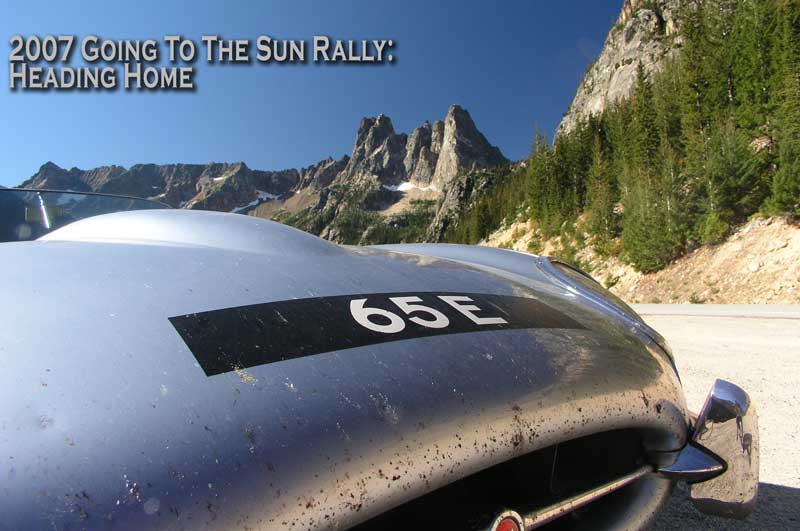 The rally is over. The participants are scattering in all directions. It is time for Shaun & I to head home.
We're planning on taking northern route home, for the most part following MT 200 and WA 20 (aka The North Cascades Highway)… a nice route that stays in the mountains the whole time. The Rockies, Cabinets, Selkirks, the various Columbia sub-ranges… then up and over the wide part of the Cascades. This is the route that my son Nick and I drove in 2003 when we first brought the 65E home. It is my favorite way to traverse Washington.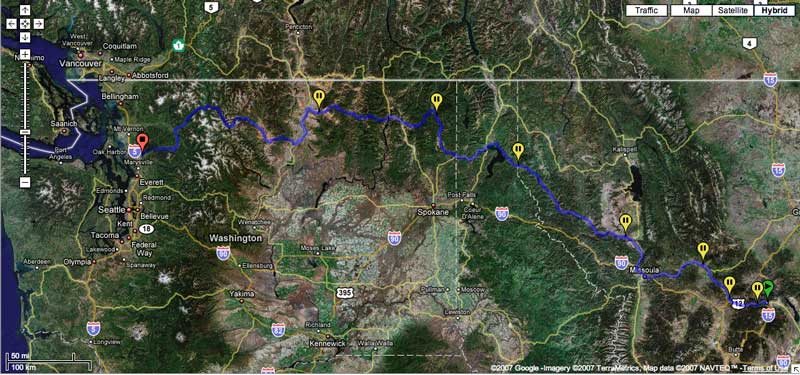 Click "more" for the rest…

Photo by Shaun Redmond
We eat a nice breakfast at the hotel, and enjoy a great farewell conversation with Sir John and Margaret. Sir John White collects Case Tractors, and is an entertaining man to converse with. Margaret is a Newfie by birth but lacks the ability to talk like one. Afterwards we wave goodbye to the other rally folks and head out to the car. We've accumulated just enough extra stuff to require using the luggage rack for the trip home. Shaun's two day packs and my bike messenger/laptop bag go in the FedEx envelope called "the boot" on this car along with the tools, and my overnight bag bungies onto the rack. We fire up the car and head west on US 12. We retrace our steps from yesterday, slightly altering the route towards Missoula.
We're rolling along on MT141 between Finn and Helmville, near Nevada Lake, about right here when we come flying up behind an unusual car. (at 05:50 in the timelapse)

Photo by Shaun Redmond
Given that it is a Chevy with California plates, we assume it is a Google Streetview car. We blow by the GoogleCar, and it pursues us. I guess the driver is looking for something more interesting that dry grass to have on the streetview… and what is more interesting that an unusual car like a 1965 E-type Jaguar? heh.
He follows us for a good long way… almost to Missoula. So look for us at some point in the future on Google Maps or Google Earth!
At the intersection of MT141 and MT200 Shaun really likes the hillside above it, and snaps a photo. I don't know why. (05:31 in the timelapse)

Photo by Shaun Redmond
The weather is perfect. The car is running great. The roads are wonderful. We got a bit of a late start, but we're happy. We grabbed a box of leftover cookies from the rally event last night, so we don't even need to stop for lunch. 😉
Everything seems perfect until we roll up against a mini traffic jam for a road striping crew. They're painting BOTH sides simultaneously and requesting that people not pass… since they've blocked both routes around them, it is impossible anyway. They are c r a w l i n g along. We poke about behind them. I can't really see anyway due to the truck in front of me, but eventually we come to a place where passing is feasible, though not wanted by the paint crew. The cars at the back of the pack start passing, so eventually we do too. (05:18 to 05:11 in the timelapse… you can see the GoogleCar pass us here too, though we go by him not long after.)
This seems to be our morning for oddball car sights. Not long before we hit I-90 for a brief stint through Missoula, we encounter a car with a hilarious combo of bumper stickers. When we read it both Shaun & I bust out laughing. It is so funny I bet you can even see us laughing in the timelapse! (04:27)

Photo by Shaun Redmond
If you don't get the joke, slap yourself.
We go through Missoula on I-90 for a short stretch, and then north on US 93 and then northwest on MT 200 again along the Clark Fork. We follow this road all the way through Montana, Idaho, and Washington, though it changes names. MT 200 in Montana, Idaho 200 in Idaho, and SR 20 in Washington. Great road. Except Idaho of course. Thankfully that part is short as we're going through the panhandle.
Between Dixon and McDonald Montana we encounter another E-type Jag. This one a dark blue, or black Fixed Head Coupe, going the opposite direction. It is a really odd moment. We crest a hill and it is coming towards us and my brain does one of those 'huh' things, where I recognize the shape, but my brain tells me it can't be what I am seeing. Sure enough my brain finally goes, "yeah, that IS what you are seeing." We wave at each other, and it vanishes over the crest of the hill we just came over. It all happens in the blink of an eye. I've watched the timelapse frame-by-frame and can not see it. The JagCam is set to fire every 4 seconds, so the whole thing must have been 3 seconds long. A moment lost forever. Oh well.
Later Richard from Missoula tells me it was either Helge Birk, or Dr. Loren Rogers. If you are out there guys, let me know!
We pull over at one point for kidney relief and I habitually open the bonnet for a look. There is oil pooling on the intake manifold, which I clean up… another thing to attend to once we get home. (~02:09 in the timelapse)
At Thompson Falls we get some gas, switch drivers, and I walk over to a NAPA parts store and grab some exhaust sealant to cure that rattle. (01:39)
Shaun takes the wheel for the short jump through the Idaho panhandle. I don't need another ticket, and this part of Idaho is pretty densely populated.
JagCam Timelapse part 1:
---
Lake Pend Oreille is on our left for a good portion of the drive through Idaho. But most of it seems to be heavy traffic, construction, and the city of Sandpoint. This is where Nick & I spent a night in 2003 and went for a cooling swim in the lake. Today is kind of cool, and we choose to keep driving. We're not quite on pace to make it all the way home, but it could still happen. Shaun drives us along through the traffic. At one point we come up behind a Ford Model T pickup, cooking along pretty fast for an old old car! Before I can dig the camera out for an on-road shot, he pulls off to the right up a driveway. I grab a shot though.
Shaun remarks that he's never seen a Model T go that fast, at least not a stock one.
We finally get through Idaho, and over into Washington. The transformation is amazing. (04:52 in the second timelapse.) Within a mile of the border crossing we're back in very rural and quiet roads again. US 2 splits from SR 20 and goes south, and all the traffic goes with it. The driving is much more enjoyable. We follow the Pend Oreille river for a while, then switchback up and over the south end of the Selkirk Mountains, (03:45 to 03:05) and down into the town of Colville (02:45). We drive all around town looking for a place to eat. Shaun picks a teriyaki place (we'll make a Seattleite out of him yet!) and we head in for our "Sumo Bowls".. which as you can imagine, are HUGE. 😉
Stuffed like sumo wrestlers, we climb back in the Jag and motor west into the setting sun. We head through Kettle Falls, then up and over a pass. The sun is very intense and the temperature drops radically. At the top of the pass we stop, clean off the bug-splattered windshield and don our warm coats. (~00:35 – 00:25 in the timelapse)

Photo by Shaun Redmond
At some point on the way down into the Okanogan Valley the JagCam stops capturing since we've run out of disk space. D'oh!
You don't miss much though, as the sun is right in our eyes and I'm sure the iSight camera just would have washed it all out. The drive is a bit harrowing though as it is PRIME deer-on-the-road time of day, and visibility is tough. I'm thankful for my overly rattly, noisy exhaust as it now becomes very useful. As we approach any deeply shadowed area where the glare prevents me from seeing, I just back off the throttle and the exhaust growls and pops and makes enough noise to spook away any potential mammalian collision opportunities. It is nerve-wracking however to keep going into these blinding direct sun rays, then into dark, tree-shaded black holes. Of course AI have some yahoo in a big SUV who insists on riding my ass as well. Every chance I get to run away from the behemoth I take, but they keep catching me eventually as I slow to go through the blind stuff. I keep envisioning being sandwiched between a deer, or worse yet a steer(!), in front and this 5000 lb hunk of steel and morons behind me. I finally have enough clear vision and road space to leave them behind for good.
We drop into the valley and stop in Omak to look for a hotel room. We could probably keep driving and get home tonight, but we don't relish the idea of deer-dodging our way up the Methow Valley and Shaun really should see the North Cascades in daylight. It is dark now and Omak has something like 4 hotels. Shaun rejects all but one, and that one has no rooms. We keep driving. The next town is Okanogan and we find a room there and crash. Our Sumo Bowls still digesting there is no need for more food. No Internet access means I can't off-load data to my server, so I clear out space on my portable firewire drive and clear off space on my laptop's hard drive for the timelapse tomorrow.
JagCam Timelapse part 2:
---
The last day…
Shaun & I wake up, check out, and fettle with the car a bit. Add some oil. We note a missing nut on an exhaust stud. I don't have a proper brass replacement, but we do find a right-sized one in the toolbox. I also tighten up the exhaust clamp under the car. It seems much quieter now. We roll out of Okanogan, up and over the Loup Loup Pass, and down into the Methow Valley. We stop for breakfast at a small place on the outskirts of Winthrop, avoiding the Ultra El Touristy main part of town. I have a breakfast sandwich and a gigantic hot chocolate. Shaun has the same, but with a coffee and a milk. The sign was right. (05:46 – 05:23 in the "part 3" timelapse)
From Winthrop we drive up the valley, past Mazama and Early Winters (R.I.P.) and then up to Washington and Rainy passes. The view of the granite spires of Early Winters Spire and Liberty Bell are stunningly awesome in the morning light. We stop to grab some photos… (04:36 – 04:14 in the timelapse)

Photo by Shaun Redmond
The car needs a wash, but it still looks great.
Nice.
Once up and over the passes we head down the long series of mountain valleys to Ross and Diablo lakes. We stop at a few overlooks, and soak in the scenery.

Photo by Shaun Redmond

Photo by Shaun Redmond
The views are wonderful. Glacier carved mountains above, teal blue lakes below. The power lines and dams are a bit of a distraction, but I'm happy to have them as they produce the electricity that runs our datacenter and provide you these bits you see displayed on your screen!
Shaun is awed by the routing and suspension of the power lines through the mountains. Frequently they just anchor guy wires to the canyon walls and hang insulators off them for the power lines to hang from. No pylons required. He shoots pictures of them as we zoom by underneath. I'll spare you those pics. 😉
We turn south off of SR 20 at Rockport and onto SR 530. If I were a horse I'd be able to small the barn, as this is my neighborhood. This is where I take my "Sunday Drives." On State Route 530, as the Sauk River flows north from Darrington I point out to Shaun what I call the Sauk Mulsanne, a long straightaway with a slight kink in it, just like the famous straight on the Circuit la Sarthe.

Photo by Shaun Redmond
Just past Darrington we pull off and I hand over the wheel to Shaun for the honor of the "final lap" to home. I choose the spot of the famous "Miss January photo I took in 2004 as the driver swap spot. Old habit I suppose. It does allow me to grab a final photo:
A look back at Shaun, Whitehorse Mountain, and the JagCam.
Oso, the bridge over the North Fork of the Stillaguamish, and then finally Trafton go by, we turn off the highway. I show Shaun, "Mr home power" one of my neighbors, who has built his own hydro power plant at the base of Ebey Mountain. A few more turns and we're in my driveway. We swap seats once again, as backing into my barn and up on the wood spacers around the lift is an acquired skill. We're home.
Nick is out in the backyard on the lawn mower. It takes my family a few minutes to realize that we're back.
Here is the JagCam Timelapse part 3:
---
Shaun takes the whole Goolsbee clan out to diner at our favorite local place, La Hacienda. Afterwards Shaun & I take the Jaguar to the local Saturday night "car guy" get together at the local burger place. There was a big car show today at the Arlington Airport and the cars are all buffed clean and shiny. It is funny to see the road-weary, bug-splattered, and dirty Jaguar there among the Chromium Queens. It is an ironic visual reversal of what you would expect. Here is the high-born European royalty looking scruffy next to the mundane Detroit mediocrity. 😉
I like it.
The Big Adventure is over. Nothing left to do now beyond getting Shaun to the airport for his flight home to Toronto, my return to work, and lots of little repair and maintenance issues on the Jaguar. I hope you enjoyed coming along for the ride with us. It was a ton of fun to do. Shaun is an excellent travelling companion, handy with a wrench, adventurous in navigation, even-tempered and friendly. I hope he enjoyed it as much as I did.
He has to finish his P1800 restoration so we can do the Targa Newfoundland!