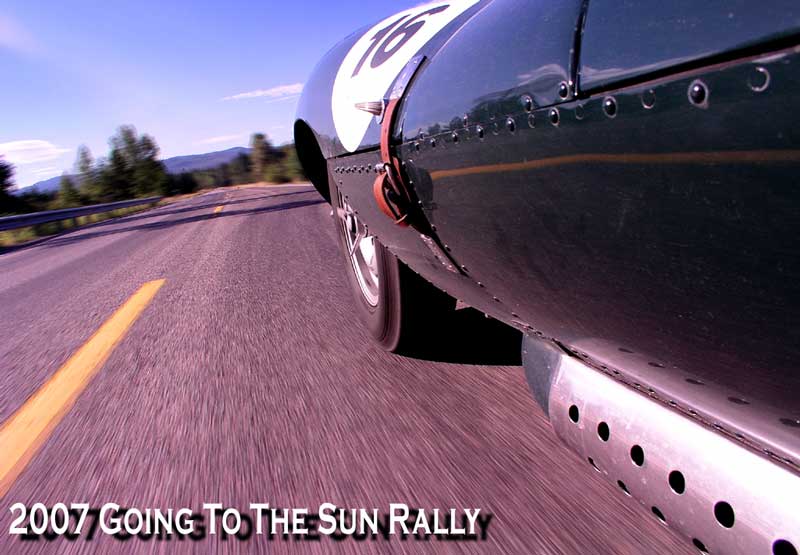 Today is the last official day of the 2007 Going To The Sun Rally, and I've spent virtually ALL of it as a passenger. Go figure.
Click "more" for more…
Here's how that works. Philippe Reyns offered me a ride in the Jaguar XKSS. This is an offer I cannot refuse! Ever since I was a boy there are two cars that have been firmly lodged in my mind in an iconic fashion. One of them is the Jaguar D-type. The other is Jim Hall's Chaparral racers from the 1960s. You see my father was, and still is a sports car nut. When I was very little I had toy cars, and the two that imprinted themselves on my impressionable little brain were the D-type and Chaparral. I had the privilege of seeing Jim Hall's cars being driven in anger at Road America in Elkhart Lake when I was a boy. To my knowledge, I never saw a Jaguar D-type "in the flesh" until very recently. Here I find myself in the presence of the rarest of D-types, the XKSS. Not only in the presence, but being offered a ride in one! How could I refuse?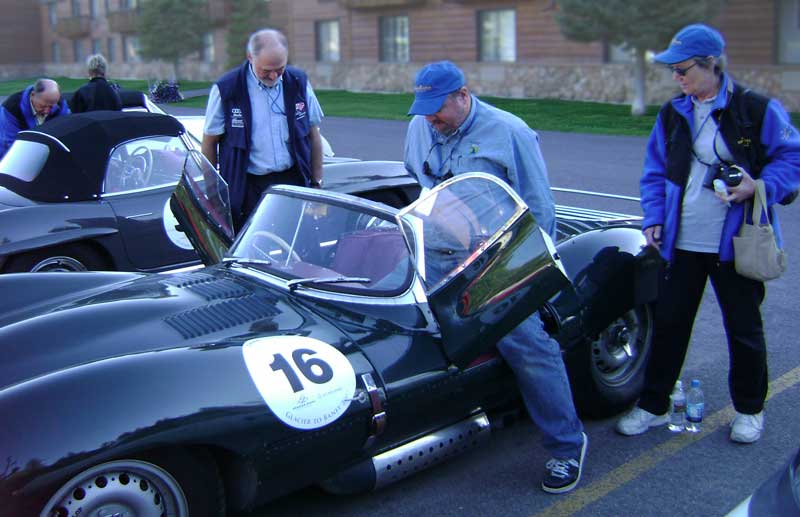 Photo by Shaun Redmond
But first I have to get into it. I'm a big guy… "an old fat goalie with bad knees" is how I describe myself. I don't lend well to being folded up into small spaces. This car, like all Jaguar sports cars was designed with somebody like Norman Dewis in mind. I've never met Mr. Dewis, and I hear he is a wonderful man, with a big heart, and a big smile… but in terms of size I'm two Normans. 😉 Philippe shows me the proper procedure for climbing in, and I fold myself into the passenger seat of the XKSS. I'm sure it looks very funny, "like a trained circus bear in a parade" as Sports Car Market said recently about tall people in another small British car of the same era.
Everyone gets a good laugh at my expense, and Shaun takes some photos of me squeezed into the car: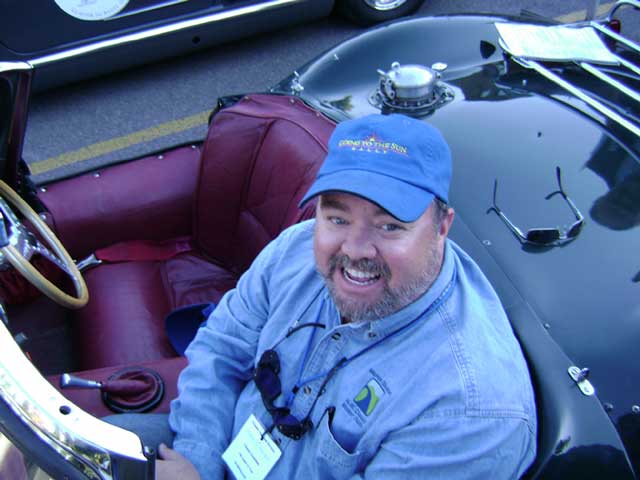 Photo by Shaun Redmond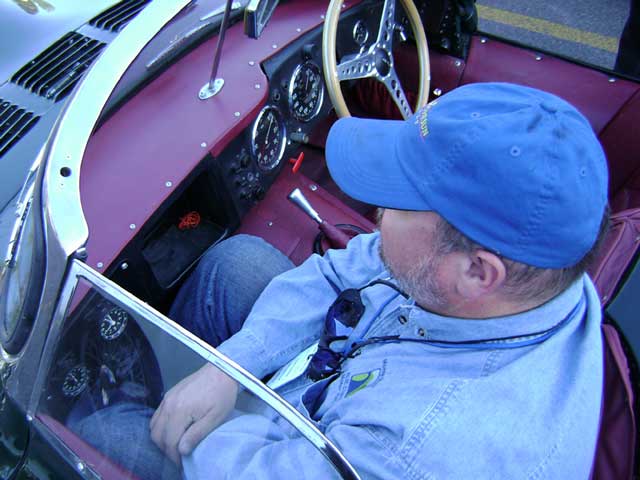 Photo by Shaun Redmond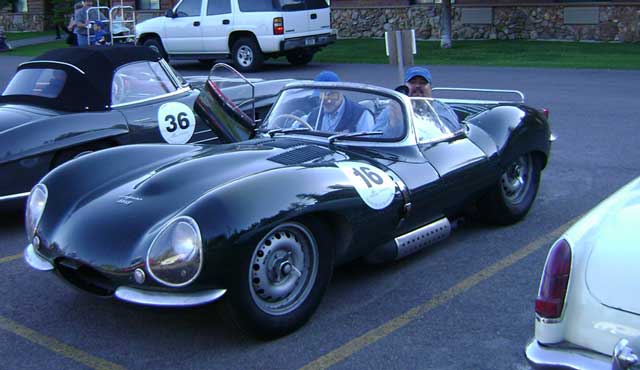 Photo by Shaun Redmond
That last photo is taken at about the same time as the photo above it. Cool eh?
We pull out of town and a few more people get a chuckle at seeing the big man folded up into the little car…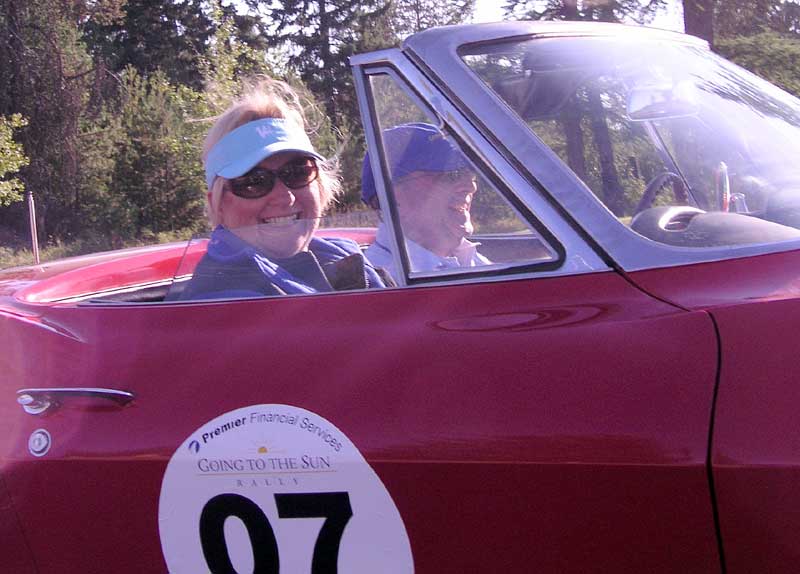 Above: Kathy & Nick Blackman laughing in their Corvette.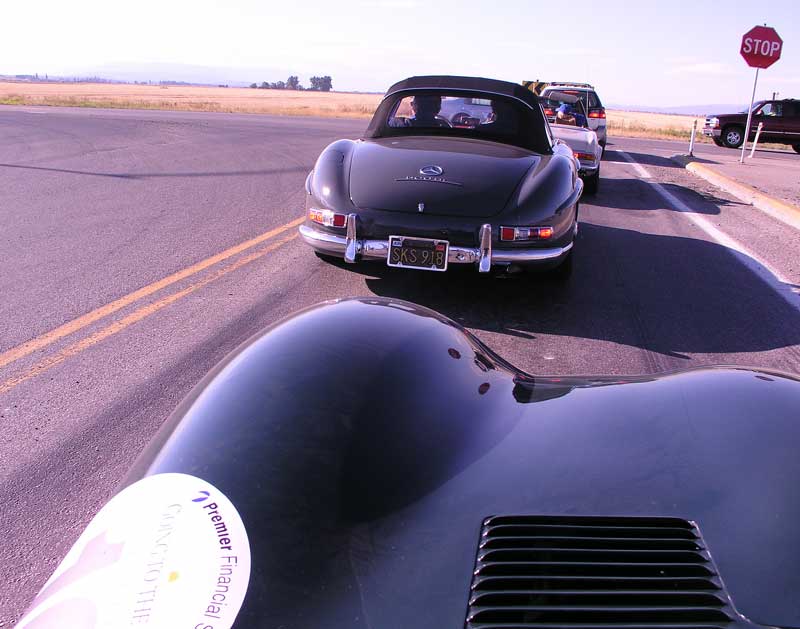 Above: waiting at a stop sign behind Dick & Matilde DeLuna's 300sl Roadster.
Initially I thought it would be just a quick 20 minute run down the road or something similar. Instead it turned out to be a half-day, from our hotel in Whitefish to the lunch stop near Missoula. I start the trip taking lots of photos, as I think it will be short. As the realization sinks in that Philippe plans to keep going, I stop shooting and start letting it all sink in. I'm one of those guys that goes to "see" live music and sits with my eyes closed, focussing all my effort on listening. Being in this car was sort of like that for me. I spend a lot of time on each sense in turn. Feeling the car rumble and move. Noticing how at certain frequencies the engine firing order resonates in my spine. The smell of hot metal and oil. The sounds of Sir William's Sixth Symphony, …unplugged. The unique gearbox and how different it is from my E-type's transmission (it has very "tall" gears compared to the E-type.) The light, playing on the bonnet and those sensuous curving wheel arches. The feel of the aluminum.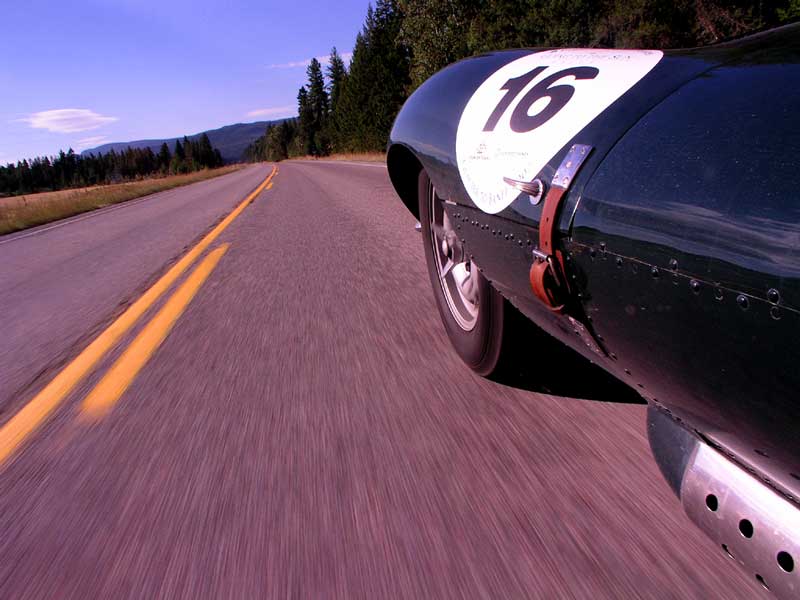 Anyone who follows my website recognizes that photo above. It is one of those iconic "chuck" shots. I take a bunch this time, playing with shutter speed and camera angle trying to get that "just right" amount of background blur & foreground sharpness, the right light and the right ribbon of road out in front. I never quite get the exact image I am looking for (I REALLY need an eyeball in my fingertip for that!) but overall I'm happy with a few shots.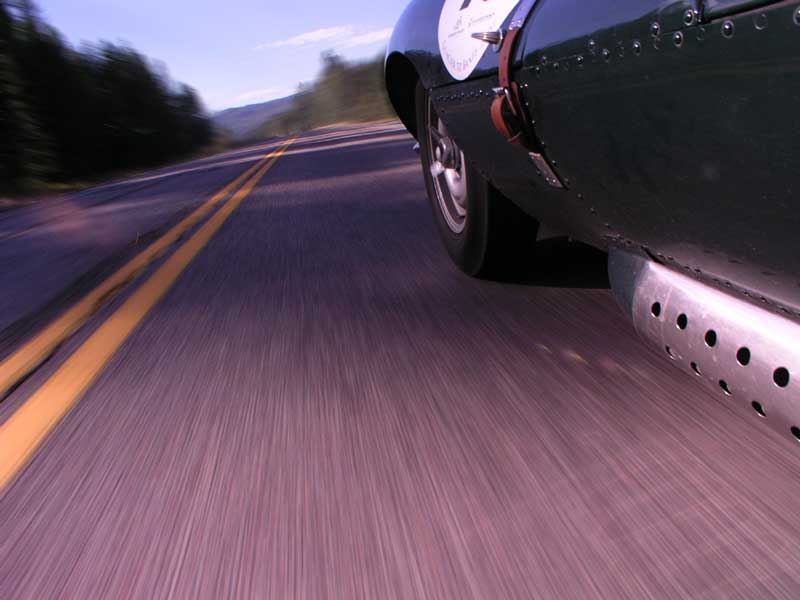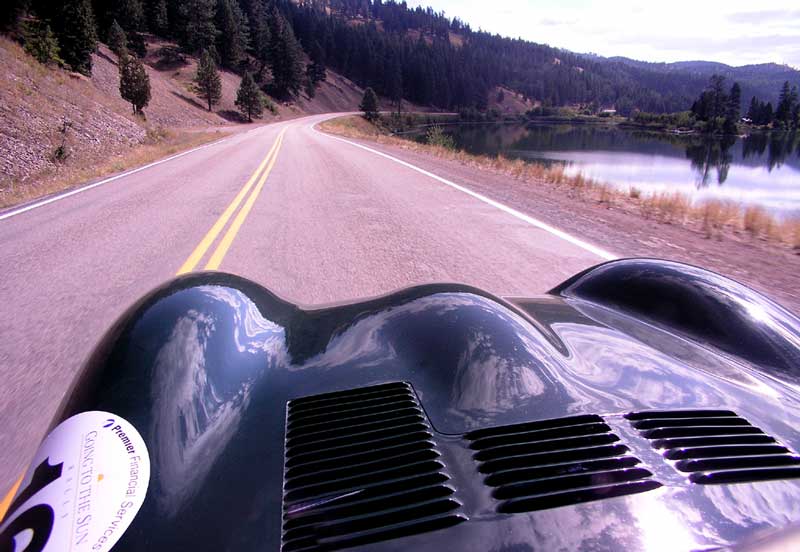 Philippe and I talk on occasion, usually when we go through towns, as the car is too noisy at speed to carry on a conversation. I mostly ask about the car, driving it, comparing it to others, and a little bit about the history of it. I also ask about the period-correct Rally clocks in the dash. It would be great to have a set in the E-type for the competitive Vintage TSD rallies with my father, or my son Christopher.
The car is very fast and we pass everything on the road. At one point though we are cruising along at 90-something when to my left a car appears. It is a Subaru Forester, passing us. As it pulls in front Philippe and I lean in toward each other and say at the exact same time "Jerry"… it is a comical moment. It is Jerry Nell, whose #15 XKSS is out of the rally with Engine trouble and he is driving a rental car. Jerry is a competitive guy. Having the Subaru planted on our front bumper sort of ruins the ambiance of my photography, at least in the forward direction.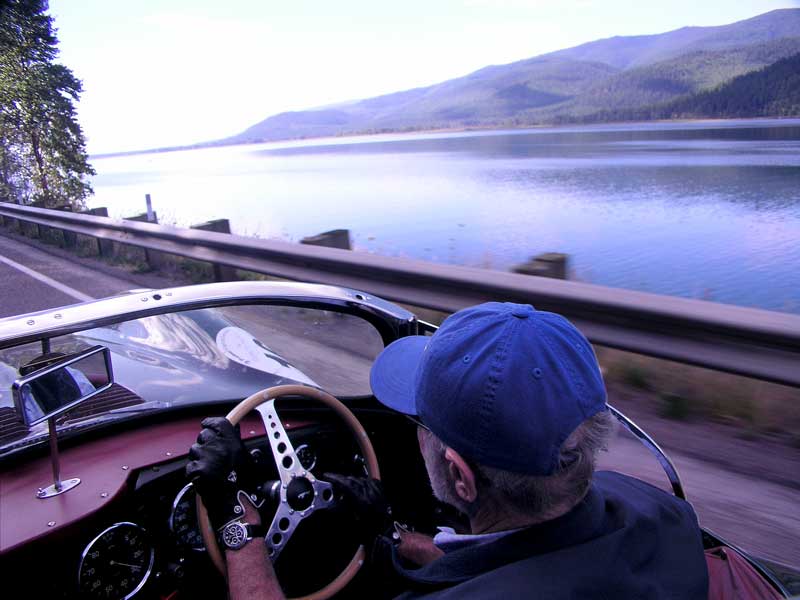 Philippe Reyns is a very quiet and unassuming man, with a wry smile and a soft voice. He is all business when behind the wheel though. He races Vintage Lolas for recreation and has that intensity of a Driver when piloting the XKSS. I would too, so I can appreciate his manner in the car.
One thing we did not work out beforehand was how to communicate when he required assistance when passing cars and trucks on 2-lane roads. I tried to provide coherent hand signals… a sort of 'come here' for 'nudge out so I can see ahead', a palm out for 'no go', and a thumbs-up for 'good to pass'. It seemed to work OK. The noise at speed was not so much wind noise, which seemed less than in the E-type, probably due to the wrap-around nature of the windscreen in the XKSS, but really the exhaust, which is right next to the passenger and is quite loud.

Above: Video shot yesterday by Shaun when he rode along with Phillipe after the XKSS was repaired in Kimberly BC.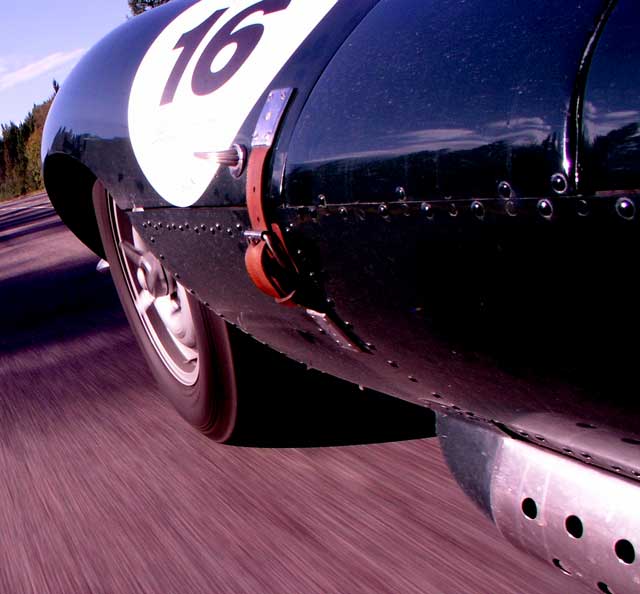 The one thing that is startling about riding in the XKSS, at least on the passenger side, is the heat. The exhaust, oil sump, and transmission tunnel are right at your feet. You are wrapped on three sides by hot metal, with minimal insulation to protect you. I brought along my leather gloves, but never put them on my hands… in fact I never intended to. I slipped them under my feet. The abbreviated passenger space has very little legroom. In fact the term "legroom" is a complete misnomer in the case of the XKSS. Your legs are folded up in front of you, between your chest and the dashboard. What you have is "footroom" and it is like parking your feet in a hot oven. I move my feet around a lot, so as to prevent my shoes from melting off. I find the most comfortable position is crossing my legs and placing the soles of my feet against the opposite walls of the space. Unfortunately this is also the hottest position, so I alternate that with placing my feet on the firewall. Less hot, but more cramp for my bad knee. It isn't as bad as Shaun lead me to expect, but it certainly is not Grace or Space. We certainly have Pace though!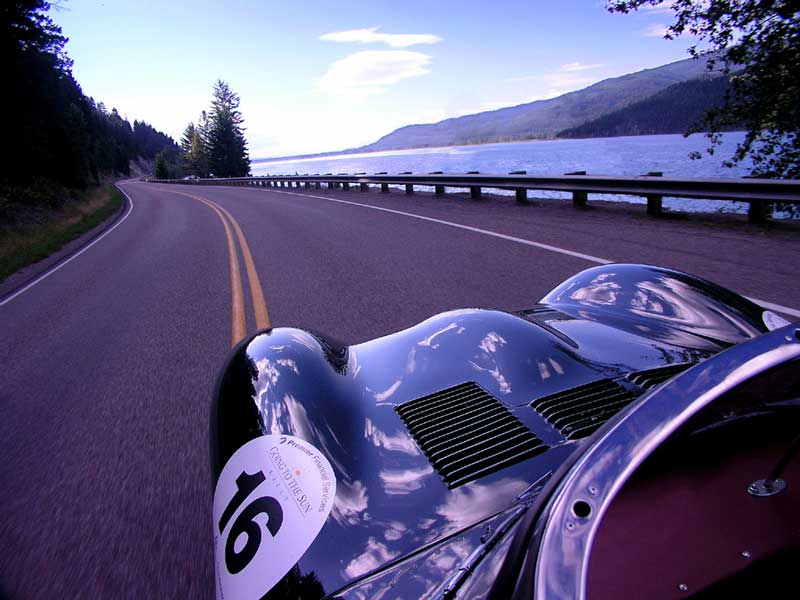 We come to a bit of navigation for the final stretch to lunch. The route book says, take a left on such-and-such road and follow this gravel road for 1.5 miles to the Paws Up Ranch. I find the road, and we turn left. We go 1.5 miles and find… nothing. We keep going. About 2 miles in we encounter a pickup truck going the other way. The driver stops and say "nice car!" We thank him and ask if this is the way to the Paws Up Ranch, he says "You're on the right road!" We continue. Obviously the route book is wrong, as we've now driven about 2.5 miles on gravel road. Poor Philippe. He looks stressed. We encounter a fly fisherman and ask him directions, but he is as lost as we are. We continue on… for what seems like 4 miles. A UPS truck comes flying around a corner and I wildly signal him to slow down and stop. For one I did not want him to fly by kicking up gravel all over the rare Jaguar, but I also figure he would know where we were and how to get where we are supposed to be. He also says "Nice car!" We thank him and ask the way to the Paws Up Ranch. He says go straight and take a right at the bottom of the hill, head towards the cluster of green buildings. Sure enough we drive around, then down a hill and plainly see the green buildings in the distance. All told we cover between 5 and 6 miles on dusty, corrugated and rocky gravel roads in the flimsy and fragile XKSS.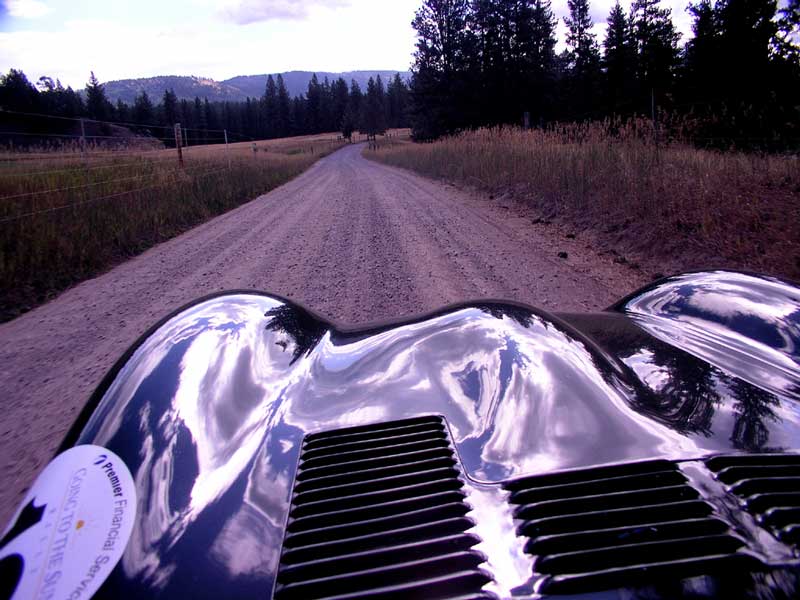 This car was made for high speed on asphalt, not bouncing down rural unpaved outback routes. For that, you need an XK 120! (read all about that adventure here.)
We drive into the Paws Up Ranch from the back. The highway is plainly visible ahead in the valley, so the Route Book is plainly wrong. The ranch staff greets us, surprised at our direction of arrival. They realize that something is amiss and send somebody out to the road to direct the remaining rally cars to the proper entrance. Apparently several of them take this wrong road, but none of them are as persistent and perhaps as foolish as Philippe & I and go the whole way! Within a few minutes a few more rally cars show up, most by the correct route and we wander in for lunch. They have laid out a fantastic spread for us.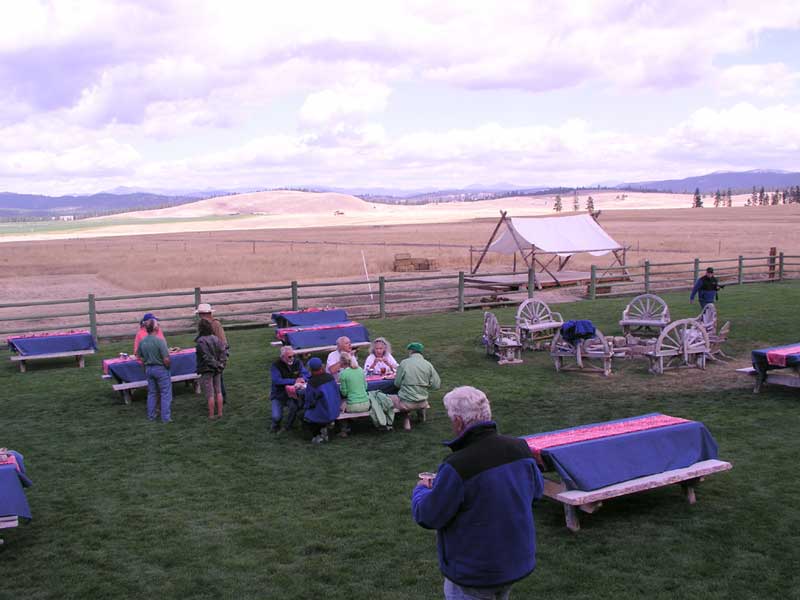 Once again, I stake out my spot in the shade. We Seattleites dislike the sunlight just slightly less than vampires do. Lunch is BBQ beef & chicken, with salad and pasta. Francoise & Shaun show up not long after we've sat down. I enjoy a bottomless glass of iced tea, which takes away the parched and dusty feeling I had upon arrival. I sit and look out over the valley, with dry yellow grass, green trees, blue skies and white clouds.
I could get used to this.
Of course, having spent a few years in Montana back in the '70s and '80s I know that come January this scene will look and feel VERY different, so I chase that thought out of my mind.
I wander out to the parking lot to find Philippe and Greg Lerback, one of the rally mechanics giving the XKSS a thorough once-over. It is justifiable given the rough gravel road we took to find this place, and the extra LOAD the car was carrying over said road.
---
Let me take this chance to express a very heartfelt "Thank You" to Philippe & Francoise Reyns for the opportunity of a lifetime: to experience the morning's drive in their XKSS. I will never forget it! Merci beaucoup!

---
I poke about the 65E, preparing for the afternoon run down to Helena. The route they have picked is the reverse of the way that Brian Medley & I drove last year on our way home from the 2006 GTTSR. What I recall from that trip is archetypal Montana valleys and wonderful two-lane roads. I was looking forward to the drive.
Shaun comes up, along with Wayne Golumb and he's ready to drive the E-type (having had a "test sit" in it last night.) Shaun has worked a deal where he'll drive the Mk2 with Graceia, and I'll take Wayne in the E-type. I'm OK with that. We hop in and I drive the gravel driveway and a little ways down the highway to a gas station at an intersection and hand over the car to Wayne. The benefit here was more chances to shoot photographs. We encountered the Norton's, and their two E-types. Theses are two cars that we really haven't seen on the road since the first day of the rally when they pulled onto the Interstate behind us. Funny how that works. I did not have any time to prepare myself, but I manage to get a great shot of Garth Norton and his son in their red Series 1 as we pass.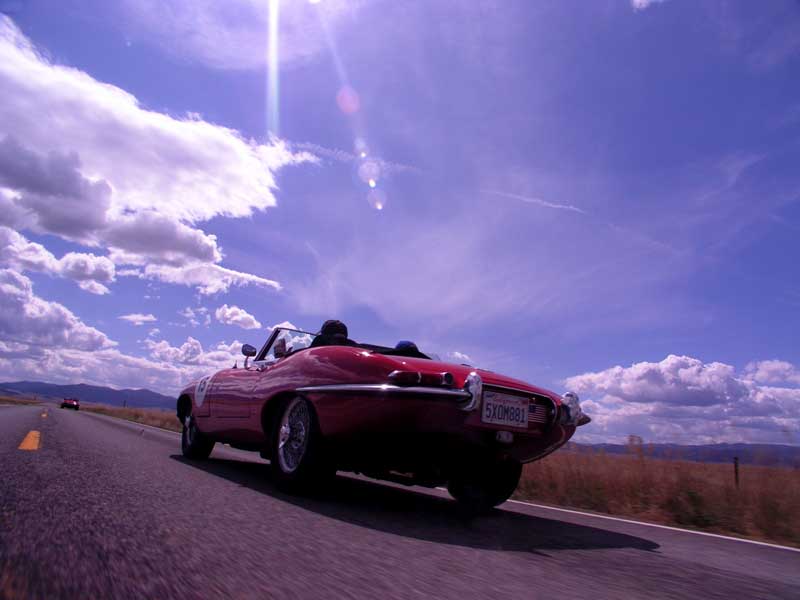 You can see his wife in a red Series 2 up ahead. I try to photograph her car, but only manage to shoot the sky. Go figure. Of course it didn't help that Wayne was driving like he was on the Autobahn! I look over at the speedometer and he's over the ton. Well over.
I have a mild panic for a sec, but then realize… hey, this car can take it. So I sit back and enjoy the ride.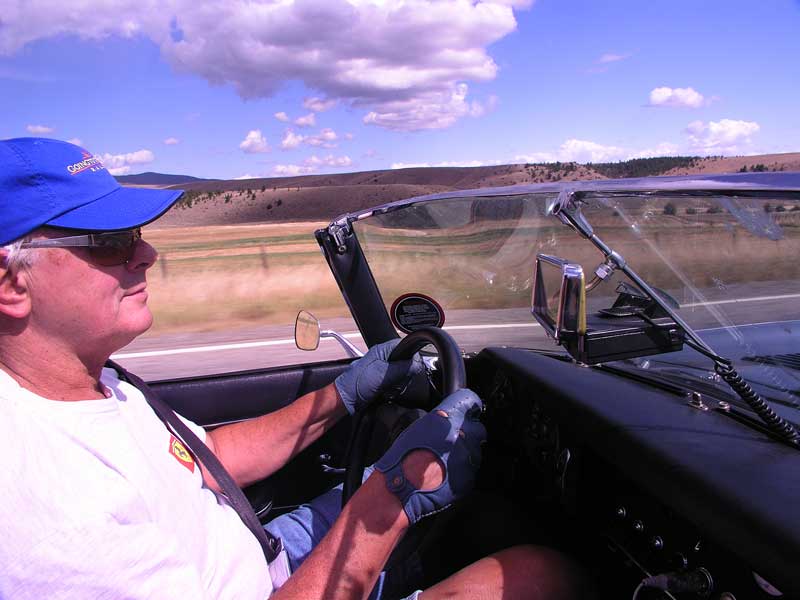 Wayne has a 1955 Ferrari 375. It is broken so he's in the loaner Mk2. He's really liking the torque of the XK motor but really wants to drive an open car and feel what that motor is like in a true sports car. He is ecstatic. Really likes the E-type. He is taking corners at triple digit speeds, which freaks me out a bit, but the tires don't even squeak. I suddenly remember that there was a time when I drove this car JUST LIKE THIS. (My Dad is laughing now as he reads this, aren't you Dad?!) That was before I poured a LOT of money into it, not to mention a lot of scraped knuckles, sweat, and tears. I guess I just have been a bit too conservative in my use of the machine. It seems to be alive right now, roaring down straights and hugging corners at ludicrous speeds. I relax and smile. The realization that my own fears are based on illusion is in a way comforting. Mind you I'm probably not going to drive it all the way home at ludicrous speed, but I'm reminded now of what the car is capable of… and we're nowhere near 10/10ths. Not even 7/10ths.
I love this car.
At one point, Wayne brakes near the crest of a blind hill, and I turn to him and say, "What's the matter, afraid to catch a little air?"
He chuckles at that and continues on, riding the car like a Pony Express rider being pursued by marauding Comanches.
We meet US 12, the road that Shaun & I rode into Helena on our way in from Missoula, Lewiston, etc. We encounter George Follmer in his 911… another car that I have never, or rarely seen on the road during this rally. I make the most of the opportunity: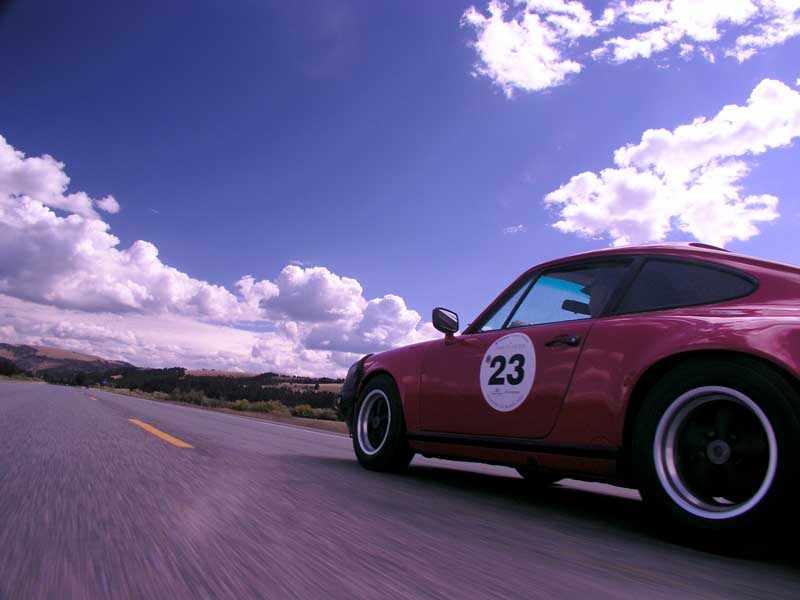 Wayne passes him at some outrageous speed, only to come rolling up behind a local Sheriff, so he releases the loud pedal and we roll along quietly for the rest of the way into Helena. The JagCam falls off at the EXACT same spot of the road that it did the last time we went this way. Odd. I don't notice it this time until we have finished the run to the hotel. Oh well. Mr. Follmer passes us and I take another photo. This time I had the wrong lens on and instead of getting the whole car, I get this: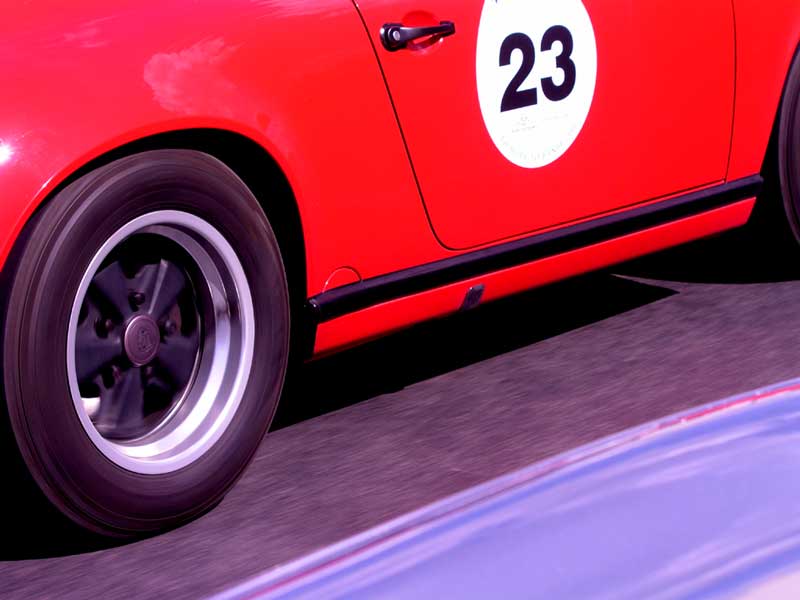 I kind of like it… in an abstract sort of way. 😉
We arrive at the hotel and I start the ritual of cooling down and unpacking the car. Wayne thanks me for allowing him to drive the car. Shaun & Graceia show up in the grey saloon, and he comes over to help me with the ritual.
We check in and then head down to the banquet room for an informal "awards ceremony". Most of the official stuff was done last night in Whitefish along with the auction. Tonight though we watch a slide show from the Official Rally Photographer, and present the awards to the deserving folks (all the time I was compositing the day's JagCam footage.) The Mechanics get, and deserve a standing ovation. They busted their asses on this trip and performed some miracles along the way. There were only 3 cars they couldn't fix, and two of them were basket cases, and one of them they devoted a full day to… only to be stymied. They worked every day and every night and drove as much and MORE miles than we did. Excellent Job Guys!
Afterwards, we join the Reyns, Nells, Larsons, and Rally Organizer Jim Sitton for dinner. It is a wonderful evening all covered with that afterglow of a big event. It is not over for us though, we have almost 800 miles of driving to get home. I'll post that next.
Meanwhile, enjoy the JagCam footage from today… and YES we finally captured an entire day's worth! Shaun claims that he stops the car for two deer in the road at one point in the morning, but I can't find the frames. let me know if you spot them. (Watch the sky at the 1:30 mark! =) )
---